The international snack subscription box industry is booming. There are now lots of companies that offer monthly deliveries of snacks, candies, and other goodies from all over the world.
MunchPak and Universal Yums are two of the most popular international snack subscription boxes on the market today. They both offer an affordable way to try unique foods from around the world without leaving home.
But which one should you choose? With so many similarities in what they provide, how do you pick between these two excellent options?
That's where we come in! We've reviewed both services to help our readers make their decision.
The Battle of the Snack Boxes: MunchPak vs Universal Yums
In this article, we'll put MunchPak and Universal Yums head to head to see how they stack up against one another.
We'll set the baseline by first looking at things the two companies have in common. Then we'll dive into each of their offerings to see how they compare.
We'll also take a look at some key differences in both services, so you can decide which one is right for your needs and budget.
Are You Ready? Let's Get Started!
SUMMARY

MunchPak Snack Subscription:
Best variety of snacks from multiple countries around the world each month. Plenty of options for discounts and promotions.

Universal Yums Snack Subscription:
Best deep dive into a single country each month through snacks and information about the country. Cohesive, thoughtful and high-quality experience.
Universal Yums vs MunchPak: Lots Of Similarities
First, let's take a quick look at the similar features for each subscription box.
Both companies offer:
unique snacks from around the globe that are delivered right to your door every month
a wide assortment of sweet, sour and savory snacks in every box such as candy, cookies, potato chips, gummies and chocolate
3 sizes of subscription boxes to choose from
quick and easy signup process
similar price points
annual subscriptions that save money (lower price per month)
free US shipping
ability to temporarily pause or skip a month
gift subscriptions
a descriptive product booklet with each box
online shops to buy individual snacks that have been featured in past boxes
snack box solutions for businesses and workplaces
It's also important to note that there are a few things both companies can not accommodate.
Orders can not be customized for your personal preferences, dietary restrictions or allergies.
Past subscription boxes are not available for purchase.
You may also like:
– 11 Must-Try Snack Subscription Boxes
– TokyoTreat Japanese Subscription Box
MunchPak and Universal Yums: 5 Big Differences
So as you can see, on the surface, both snack subscription box companies seem pretty similar. But there are some key differences that you should know about before making your decision.
Let's take a look at them now.
1. ORIGIN OF THE SNACKS IN THE BOXES
Probably the biggest difference between MunchPak and Universal Yums is the origin of the snacks that are included in each monthly box.
Universal Yums: Snacks From One Country
Universal Yums subscribers will receive a Yum Box every month that features snacks from only one new country. For example, if the featured country is Mexico, then all treats in that box will only be from Mexico.
Depending on your perspective, this can be a good or bad thing.
If you are someone who really enjoys learning about different cultures through food, then this monthly box might be the best option for you.
However, some countries tend to favor specific flavor profiles. For example, the snacks in a Mexican box might tend to be spicy or have popular Mexican flavors like chili and tamarind. These aren't flavors that everyone likes so you might not enjoy the overall box as much.
One nice feature is that when you sign up for your first box, you do get to select from 3 different featured countries.
No matter the featured country, you'll still get a nice mix of sweet and savory treats ranging from candy to chips to cookies to chocolate.
MunchPak: An Assortment Of Snacks From Multiple Countries
Each MunchPak box includes international snacks for multiple countries around the world.
In a single box, you could get treats from a variety of countries like Japan, Thailand, Mexico, Taiwan, Bulgaria, Indonesia, Netherlands, South Korea, Canada, Italy, Greece, France, Israel, Germany and many more.
Sometimes MunchPak will include regional US snacks too. These are usually American snacks that can only be found in certain areas of the country.
If you're someone who likes to experience as many different foods as possible, then MunchPak might be the better option for you since it offers such an eclectic mix of international treats from around the world.
SUMMARY OF ORIGIN OF SNACKS
Each company approaches its selection of snacks differently. It really comes down to your preference of receiving snacks from one country (Universal Yums) or multiple countries (MunchPak).
---
2. BOX SIZES AND NUMBER OF SNACKS
Both companies offer 3 different size boxes – basically small, medium and large boxes.
The main difference here is that MunchPak specifies the exact number of snacks that you'll get in each monthly box. Universal Yums offers a range of treats the monthly box contains.
Here's the breakdown:
Small Size Box
Universal Yums Yum Box: 5-7 snacks every month; starts at $15 per box with an annual subscription
MunchPak Mini: 5 snacks; starts at $12.95 per box annually
Medium Size Box
Universal Yums Yum Yum Box: 10-12 snacks; starts at $25 per box annually
MunchPak Original: 10 snacks; starts at $22.95 per box annually
Large Size Box
Universal Yums Super Yum Box: 18-20 snacks; starts at $38 per box annually
MunchPak FamilyPak: 20 snacks; starts at $42 per box annually
SUMMARY OF BOX SIZES AND NUMBER OF SNACKS
MunchPak has a slight edge on price. But Universal Yums may include 2 more snacks per box depending on the month.
---
3. PACKAGING
While packaging probably won't be your deciding factor, it's still definitely something that you should consider.
Here's a breakdown of how each company packages its snacks:
Universal Yums Packaging
Universal Yums uses a simpler blue packaging box that has a pattern of white snack icons. It has more of a refined look.
It's a sturdy box, but didn't have any protective overwrap. My box was slightly damaged from shipping. But because the snacks were very well packed, everything arrived in good order.
MunchPak Packaging
MunchPak uses brightly colored packaging with full-color food icons and a cheery smiley face. It definitely makes their box stand out more at first glance.
I like that the two smaller size MunchPak boxes came with a plastic wrap around the outer cardboard packaging. It helped to prevent the box from getting damaged when my friendly mail carrier set it outside in the rain.
However, the snacks inside the box don't seem to be packaged as securely.
A few of my more delicate snacks, like wafers, were damaged from the jostling around during shipment. It may be been due to the weight of the heavy bottle of soda which you can add on for an additional charge.
SUMMARY OF PACKAGING
MunchPak has fun packaging design, with a helpful protective overwrap. However, some contents were slightly damaged. Universal Yums has a more subtle look, but possibly more secure inner packing of products.
---
4. BROCHURE AND INFORMATION IN THE BOXES
Because these are international snack boxes, there is a good chance you'll encounter snacks, brands and flavors you've never heard of before. The packaging of the snacks may be in a different language too.
So it's important to have a brochure in the boxes to help you identify what each snack is.
Both companies include a brochure, but one company goes above and beyond with even more information.
MunchPak Brochure
Each MunchPak snack box includes an 8-page, full-color booklet. It shows a photo of each snack and provides a brief product description including the country it is from. The booklet is also has a few random fun facts about food from other countries.
The back cover often features a social media contest with a chance to win a free subscription.
Universal Yums Brochure and Package Inserts
Universal Yums also includes a product booklet. But it also came with an impressive array of other fun information too.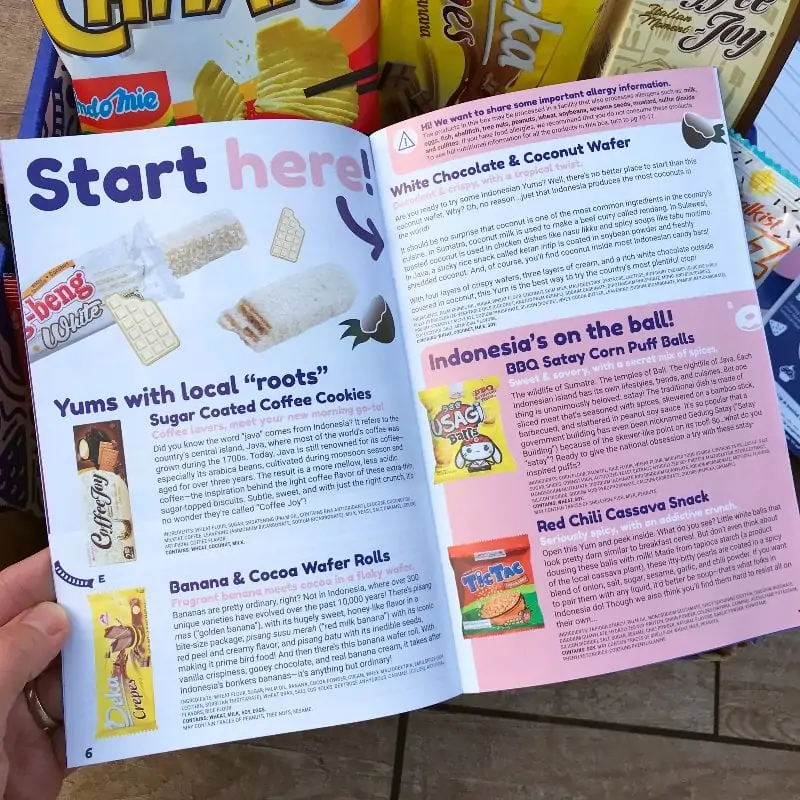 It's all these extras that really make Universal Yums feel like an overall experience, instead of just a box of snacks.
In my box, I received:
A double-sided, full-color 8.5×11 insert featuring a fun map of Indonesia, a "Yum Scoreboard" to rank your favorite snacks, recommendations for additional snacks to try and a scavenger hunt game.
A large sticker from the featured country (Indonesia).
A full-color, 16-page booklet with not only product details, but also trivia, games, nutrition panels and plenty of information about Indonesia
SUMMARY OF BROCHURES AND INFORMATION IN THE BOXES
Universal Yums has a superior collection of extras in the box, making it feel like a more cohesive, thoughtful and curated experience.
---
5. PROMO CODES AND DISCOUNTS
Price per month is a big factor when it comes to deciding which snack box is right for you.
As mentioned above, MunchPak has a slight edge when it comes to price per month. But they also have some other interesting incentives that are worth taking a look at.
When visiting the MunchPak website, a pop-up window offering a discount on your first order will often appear.
They offer a referral program where you can earn points towards future MunchPak boxes by encouraging friends and family to sign up with your unique link.
They often run social media contests to win free MunchPaks.
I personally have not found any promo codes or discount offers for Universal Yums subscription service.
SUMMARY OF PROMO CODES AND DISCOUNTS
You'll have a better chance of finding discounts, promo codes and savings with MunchPak.
---
So Who Wins The Battle For Best Snack Subscription Boxes?
The best answer is "it depends". Both subscription boxes are great, but which one you choose will really depend on your needs and preferences.
WHY CHOOSE MUNCHPAK
The major advantage to MunchPak is the variety of snacks from countries around the world each month.
I was pleasantly surprised at the great mix of sweet and savory treats I received – candy, chocolate, gummies, cookies, potato chips and more.
I also liked seeing familiar name brands that I see in US grocery stores, but in unique flavors that are only available in other parts of the world – like Turkey Leg Cheetos!
So if you want the largest variety of interesting international snacks, the MunchPak subscription service is definitely your best choice.
WHY CHOOSE UNIVERSAL YUMS
If you're looking for a more refined snack box that goes beyond just snacks, then Universal Yums is definitely the way to go. Each box offers a glimpse into the culture of different regions around the world.
I was truly impressed by the overall quality of the Universal Yums box. The treats were great, but the most memorable part for me was the experience that was created by the booklet, trivia, fun facts, games and other interesting information. I felt like I actually came away knowing a little bit more about the culture of the featured country.
If you are looking at buying a gift subscription or using the box for educational purposes, the Universal Yums box would make an excellent choice.
---
So there we have it: Universal Yums vs MunchPak.
If you're still undecided and you've got the budget, then it might be worth trying one month of each subscription service to see which service you like better!
You should also check out our full review of both subscriptions. We include a complete overview of each subscription box as well as tons of photos so you can see what you can expect if you were to order a box of your own.
You can see those in-depth subscription box reviews here:
I hope this article has given you some insight into the differences between these two great companies. Happy Snacking!