Move over Turducken – there's a new sweet treat in town! Enter PieCaken, the craziest confectionary concoction yet to meet the Thanksgiving table.
It's part pie, part cake, and 100% delicious.
In this article, we'll give you the scoop on this viral dessert phenomenon including all the flavors that are available and most importantly, where you can get one! (Hint: It's Goldbelly!)
You may also like: Best Gourmet Food Gifts Online
What Exactly is PieCaken?
The Original PieCaken is a Thanksgiving dessert sensation that manages to smoosh together two classic desserts: pie and cake. It's a multi-layered marvel, featuring a layer of cake and two entire pies (crust and all!) nestled within.
The foundation of this dessert is a pecan pie, which is stacked with an entire pumpkin pie and then crowned with a layer of spiced cake.
This delicious feat of bakineering (baking + engineering) has cinnamon frosting slathered between the layers and around the entire outside.
And as if it couldn't get more decadent, there is a huge helping of apple pie filling on top to bring in a 3rd pie element!
FUN FACT: PieCaken has hundreds of positive reviews from 100% verified real customers on Goldbelly!
The Mastermind Behind the PieCaken
Zac Young, the inventive mind behind the PieCaken, is a celebrated pastry chef with a talent for dessert innovation. You might have seen him on popular cooking shows like Chopped, Unique Sweets and Top Chef: Just Desserts.
In 2015, he invented the PieCaken and immediately captured the curious taste buds of dessert lovers everywhere. The PieCaken catapulted to international stardom, leaving folks around the world salivating for a slice.
FUN FACT: PieCaken was such a smash hit that New York City experienced a shortage of pumpkin puree due to high demand in production.
The dessert reign as a unique Thanksgiving tradition shows no signs of waning as it continues to be a seasonal best-seller on Goldbelly year after year.
Expansion Of The PieCaken Empire
Since its launch in 2015, not only has this dessert icon maintained its popularity, but it has also sparked a revolution. There is now an army of PieCaken varieties expanding far beyond its original Thanksgiving roots.
Four years after the original PieCaken was born, lightning struck again with the launch of the exclusive Goldbelly Christmas PieCaken.
This holiday extravaganza fuses four festive favorites, Pecan Pie, Eggnog Cheesecake, Red Velvet Cake, and Cherry Pie, into a mouthwatering 6-pound flavor explosion.
But mark your calendars because just like the fleeting magic of the holiday season, this culinary delight graces us only for the month of December!
All Of The PieCaken Flavors
Be sure to check the PieCaken Bakeshop often for the latest and greatest versions that are available. Cakes are made in limited quantities and only available during the season they represent. And some cakes were made once and will never return again!
Here's a list of all the PieCaken that have come through the ovens.
1. Original T-Day PieCaken: Currently the only cake that's available year-round. Made with pecan pie, pumpkin pie, spice cake, apple pie filling, cinnamon buttercream and oat crumble.
2. Christmas PieCaken: Made with chocolate pecan pie, eggnog cheesecake, red velvet cake, cherry pie filling, amaretto buttercream
3. PassCaken: Made with matzo-crusted coconut macaroon pie, flourless chocolate cake, raspberry mousse, gold-coated chocolate and sea salt matzo crumble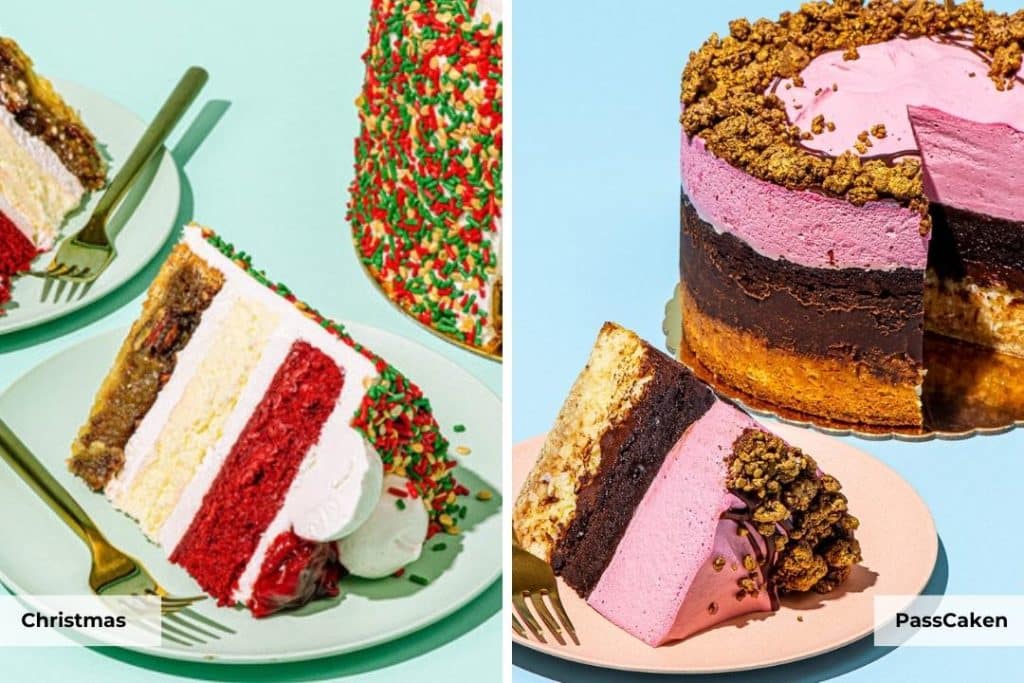 4. Red, White & Blueberry PieCaken: Made with red velvet cake, vanilla cheesecake, wild blueberry pie and lemon frosting
5. St. PatCaken: Made with whiskey pecan pie, Bailey's cheesecake, Guinness green velvet cake, and salted caramel buttercream
6. Strawberry Lemon PieCaken: Made with lemon cake, strawberry swirl cheesecake, zesty lemon frosting and strawberry rhubarb pie
7. Red Velvet PieCaken: Made with chocolate pecan pie, vanilla cheesecake, red velvet cake and strawberry champagne buttercream
8. PieLogen: Made with toffee pecan pie, eggnog cheesecake and chocolate caramel yule log
10. Red Hot Velvet PieCupen: Made with chocolate cream pie, red velvet cupcake, red hot cinnamon frosting and champagne truffle
11. Spill Your Heart Out Cake: Made with multiple layers of devil's food cake, chocolate mousse, strawberry cheesecake frosting, rose champagne glaze and sprinkles
FUN FACT: The PieCaken has been featured in Oprah's "O-List", Live with Kelly & Michael, CNN, the New York Times and Bon Appetit. Chowhound recently named it "The Most Epic Holiday Dessert of All".
PieCaken Copycats
And the excitement doesn't end there—countless copycat recipes have sprung up, offering the chance for everyone to whip up their very own PieCaken creations in every imaginable flavor combination. It's a dessert frenzy that just keeps getting sweeter – literally.
Where To Buy A PieCaken
You can place an order for nationwide delivery on the PieCaken Bakeshop via Goldbelly. The original PieCaken is 7″ in diameter, 5″ tall and weighs a whopping 6 pounds! It will serve around 10-12 people.
PieCakens will arrive frozen in dry ice. Plan to thaw the dessert in the refrigerator overnight before serving. Or you can order in advance and keep it frozen for up to three months.
You can click the button below to see all the PieCaken flavors that are currently available and join the waitlist for some fun "coming soon" flavors too. Enjoy!
Up Next: 10 Best Gourmet Christmas Cookies To Order Online
Micky Reed, a two-decade veteran in the food and baking industry, leverages her influential Three Snackateers food blog and Instagram presence to collaborate with industry giants like Ben & Jerry's and Crumbl Cookies. Her work has been featured on Delish, PopSugar and more. Her expertise as a product curator for one of the world's largest international snack subscription box companies solidifies her status as a key player in the field.