Love brownies? Us, too! Box brownies are the perfect treat – they're easy to make, delicious, and satisfying. But sometimes, they can be a little… lackluster.
That's why we've put together this collection of tips to help you make the best boxed brownies ever. Whether you're a beginner baker or a brownie aficionado, these tips are sure to up your brownie game.
Keep reading for 15 simple hacks to make box brownies better!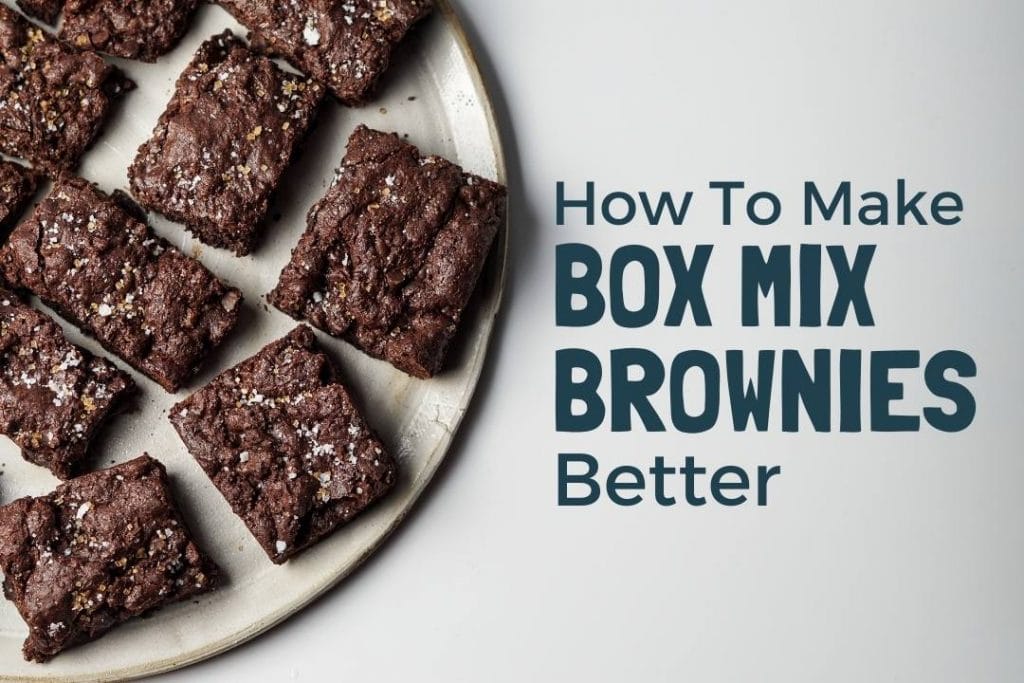 You May Also Like:
– 15 Best Gourmet Brownies You Can Order Online
Start With The Best Brownie Mix
If you want to bake up some great-tasting brownies, a great place to start is with a high-quality brownie mix.
One of our favorites is Easy Ghirardelli Brownie Mix. Even The Food Network and Taste Of Home have named the Ghirardelli brownie box mixes their favorite!
Substitute Oil With Butter
The back of your boxed brownie mix likely calls for vegetable oil. Substitute the oil for butter in your brownies for a rich, homemade flavor.
You'll want to use melted butter that has been cooled to room temperature in your mix. The ratio of oil to butter is 1:1 which means you use the same amount of melted butter as the recipe calls for oil.
Related Reading: How to Make Icing Without Butter
Add A Splash Of Vanilla Or Other Flavorings
Try adding a little vanilla extract to the mix. The vanilla will enhance the chocolate flavor and give the brownies a richer, more complex taste.
You can use a high-quality vanilla extract or my personal favorite, vanilla paste. You can also add other flavored extracts like almond, peppermint or orange.
Add Salt For Balance
Even the best brownie mix can be improved with a simple hack: add salt. A pinch of salt helps to bring out the chocolate flavor of the brownies and balance the sweetness of the sugar.
For an extra special touch, drizzle the top of your brownies with caramel and add a sprinkle of sea salt.
Love salted caramel? Try these delicious Salted Caramel Cracker Bites.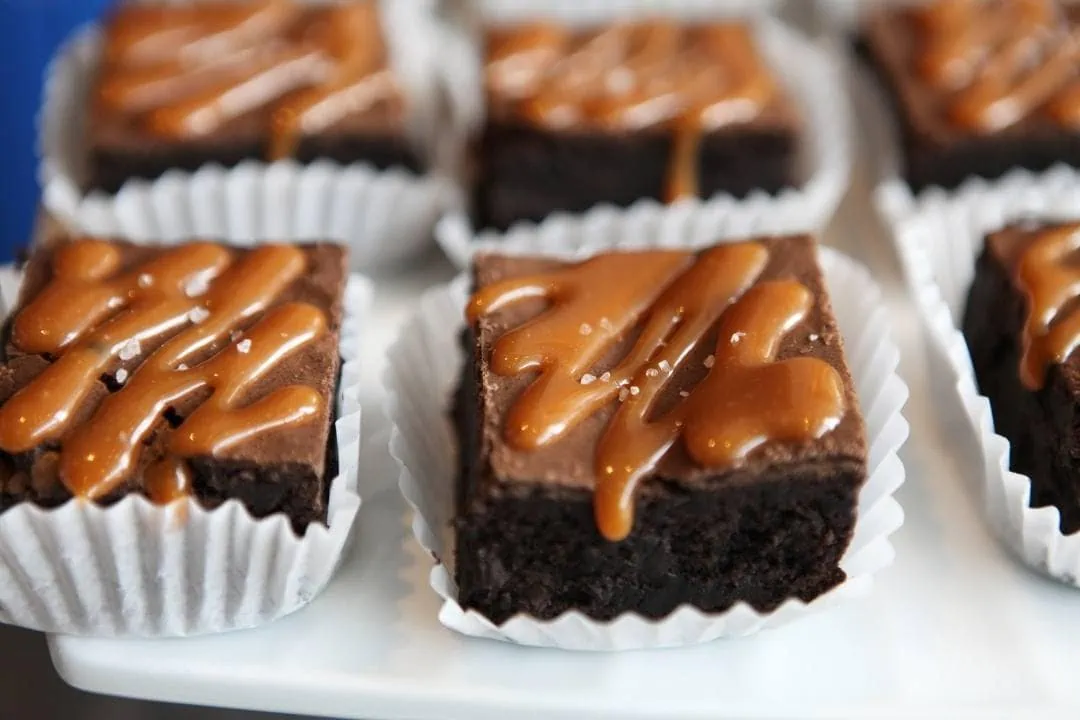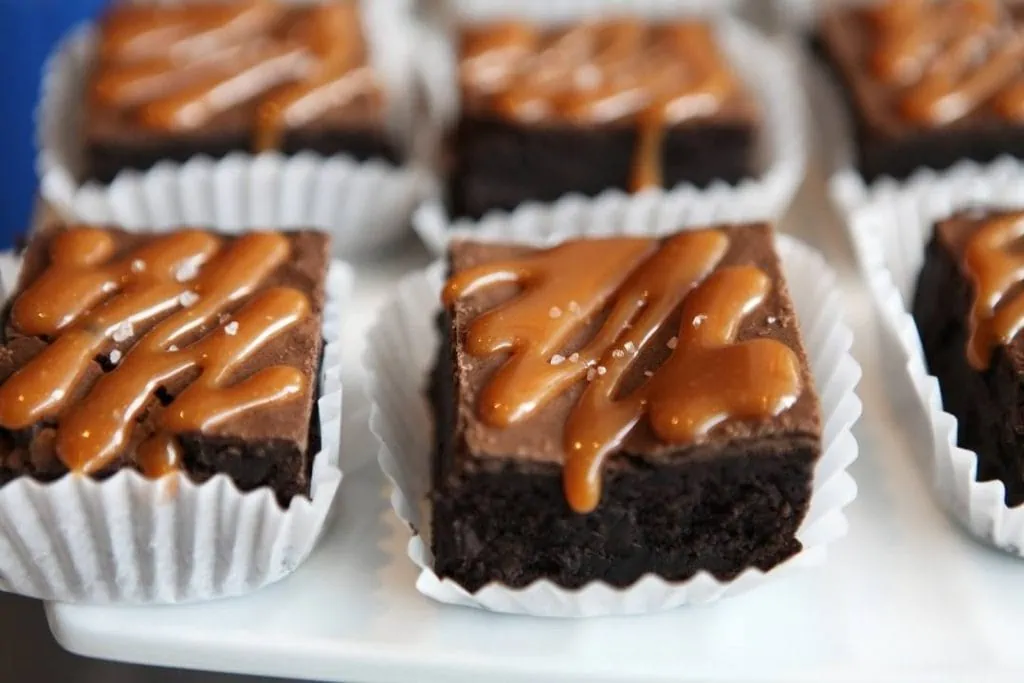 Replace Water With Milk, Buttermilk or Heavy Cream
While water does an adequate job of creating moist, delicious brownies, milk, buttermilk and heavy cream can all help to create an even richer flavor and texture.
If you're using milk, look for a variety that is higher in fat content for the best results. For an even richer flavor, try using buttermilk or heavy cream.
Just keep in mind that these liquids will also make your brownies more dense, so be sure to adjust your baking time accordingly.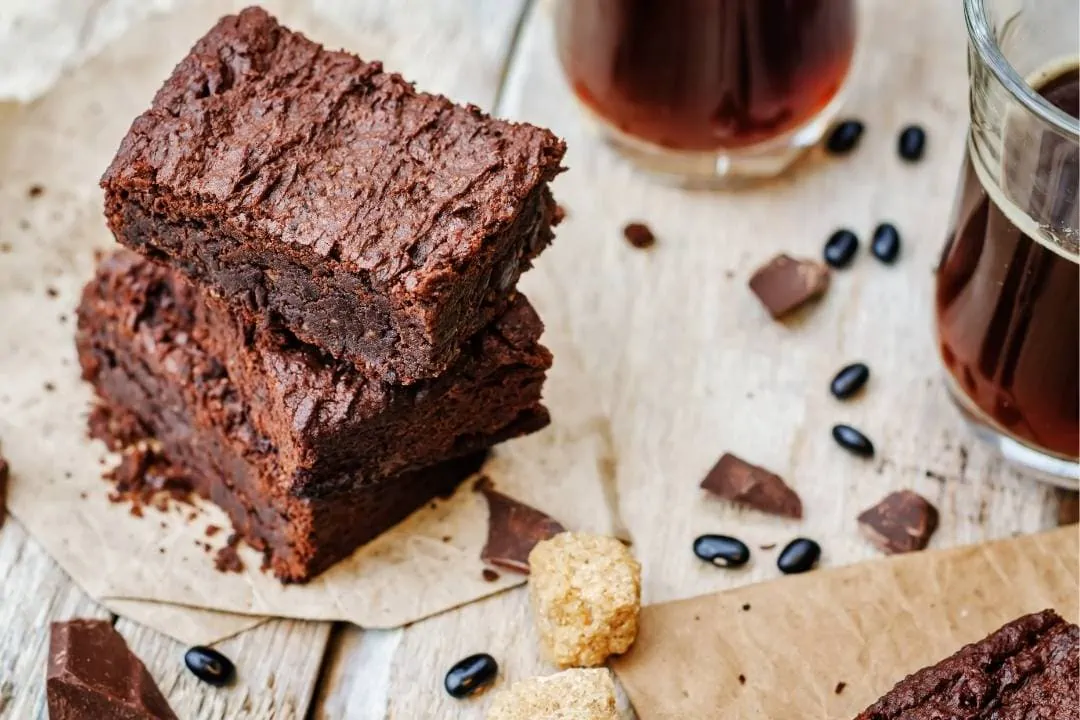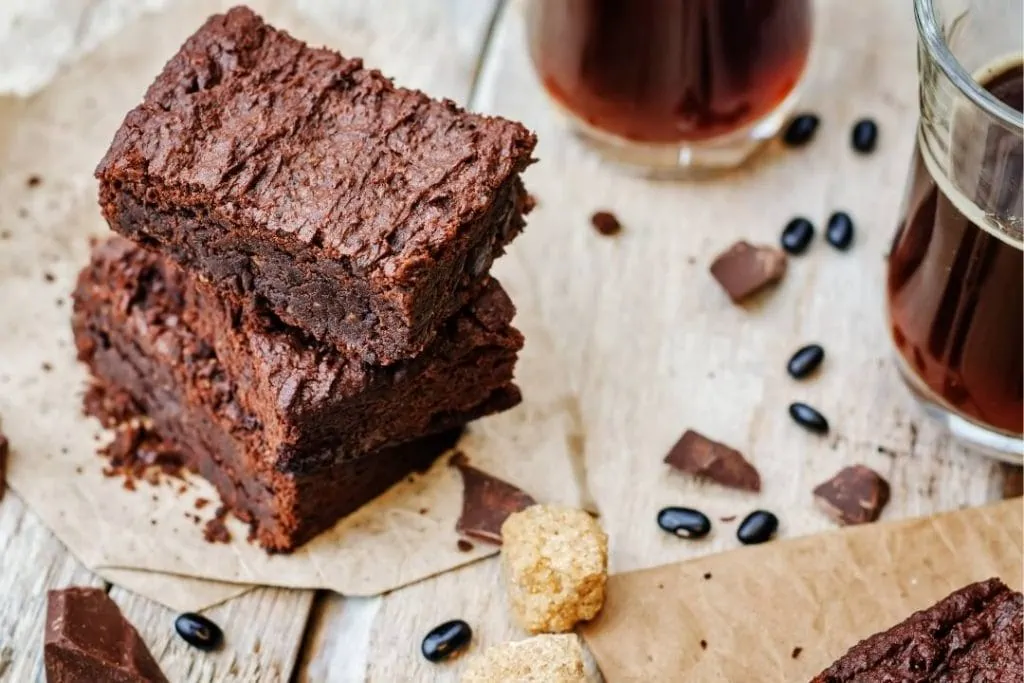 Try Coffee Instead Of Water
If you're looking for a way to add a little extra flavor to your brownies, consider using coffee instead of water. This simple hack can make a big difference in the taste of your finished product.
Coffee is naturally acidic, which helps to balance the sweetness of the chocolate. Additionally, coffee brings out the rich flavors of the cocoa beans, making for a more intense brownie experience.
When using this hack, be sure to use brewed coffee that has cooled to room temperature.
Add Espresso Powder
Similar to the above tip to replace water with coffee, adding espresso powder will also intensify the chocolate flavor in your brownies.
Espresso powder is just coffee beans that have been ground, brewed and dried. It dissolves easily and tastes amazing in recipes to make the chocolate flavor sing!
Just add a teaspoon or two of espresso powder to your favorite brownie mix for an extra boost of flavor. You can experiment with different amounts of powder to find the perfect balance for your taste buds.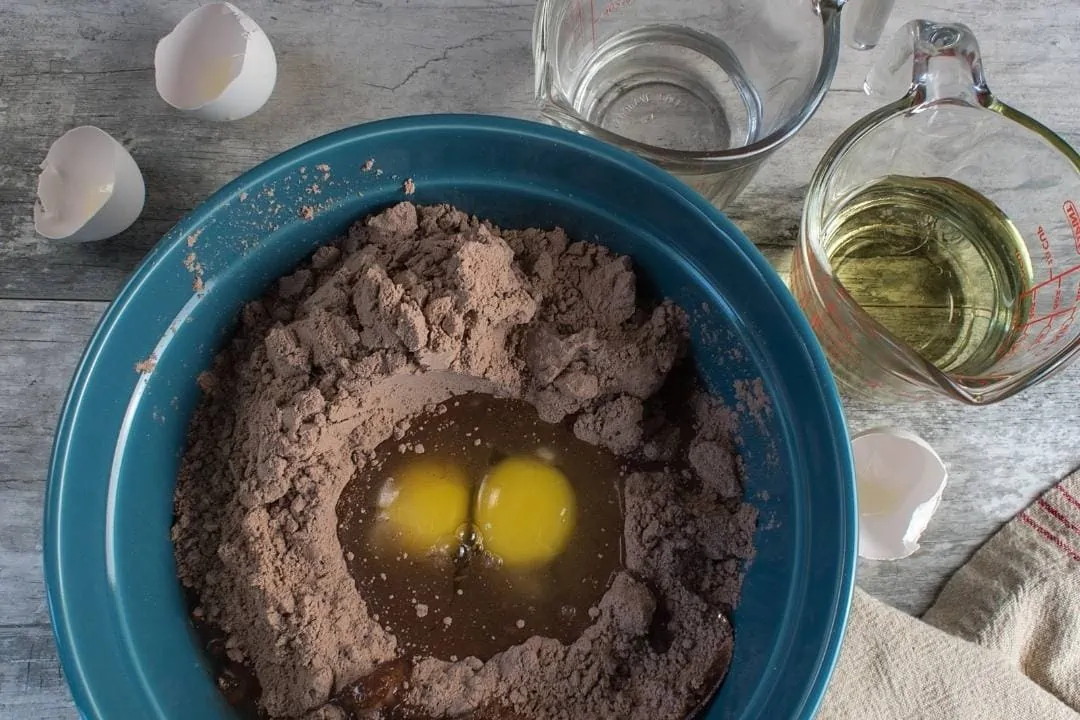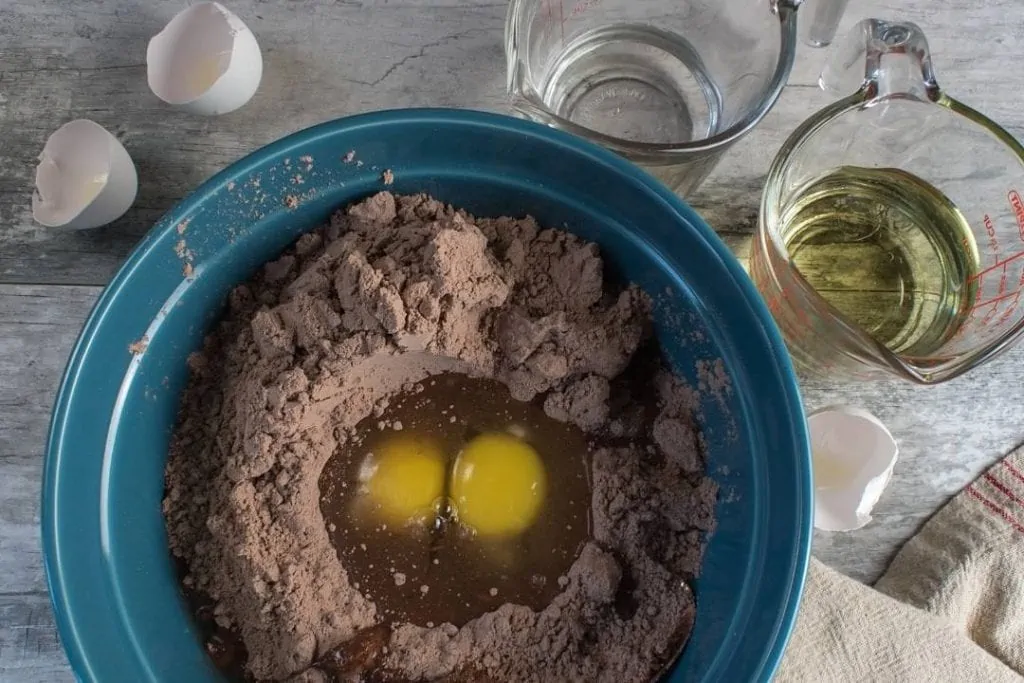 Add An Extra Egg
If you're in the mood for a thicker, cake-like brownie, try adding one more egg than your recipe calls for.
Use An Egg Substitute
If you've run out of eggs or just prefer not to use them in your brownies, you still have plenty of options.
You can replace eggs in brownies with other ingredients like flax or chia seeds, applesauce, yogurt, tofu, ripe bananas and even carbonated water. Learn more about the 10 best egg substitutes for baking brownies.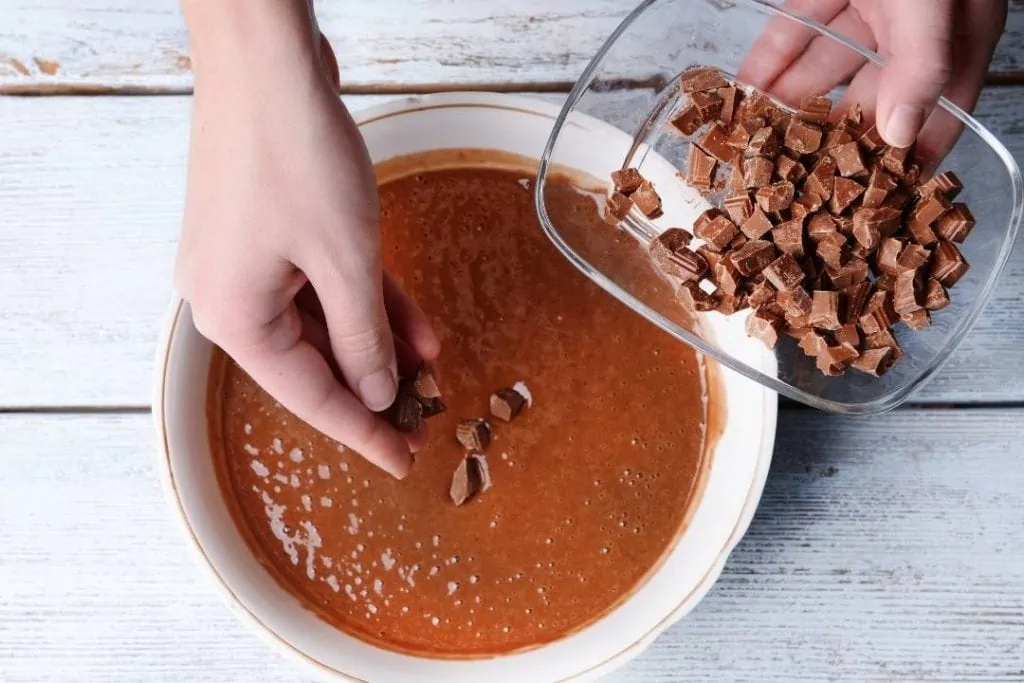 Add Even More Chocolate
This brownie mix hack is sure to please any chocoholic. Simply add even more chocolate to the mix with chocolate chips or chunks. Even a chocolate candy like M&Ms would be great!
You can use milk chocolate, dark chocolate, or white chocolate depending on your preference. This will make the brownies even more rich and decadent.
If you want to take it one step further, you could even add a layer of chocolate buttercream or chocolate ganache on top.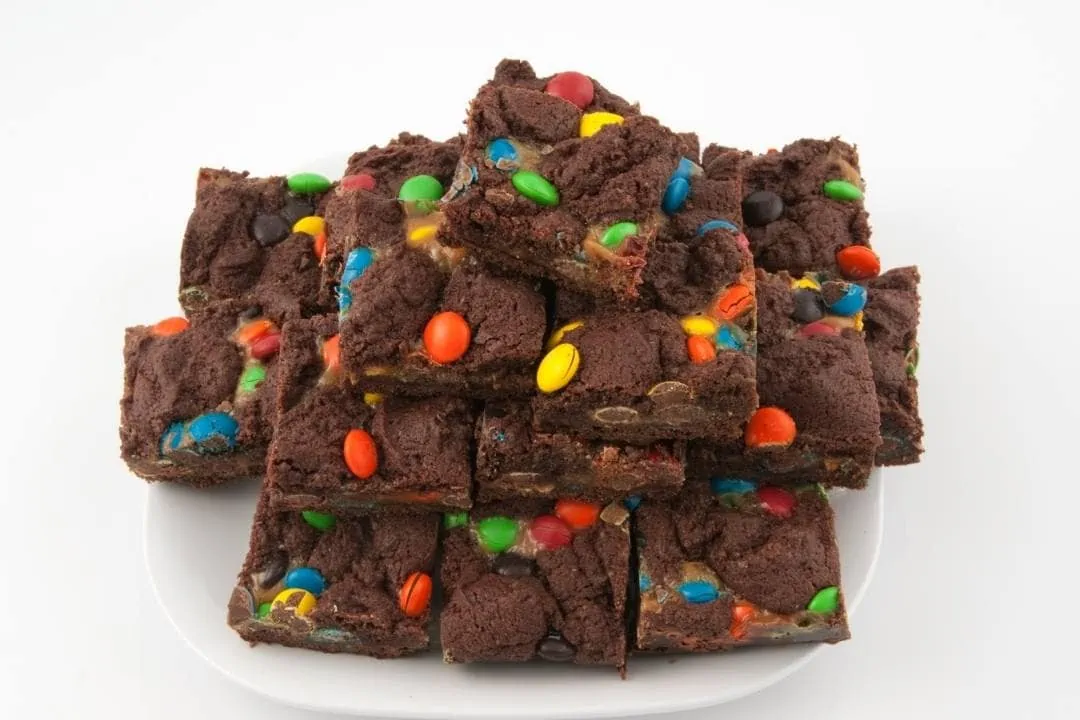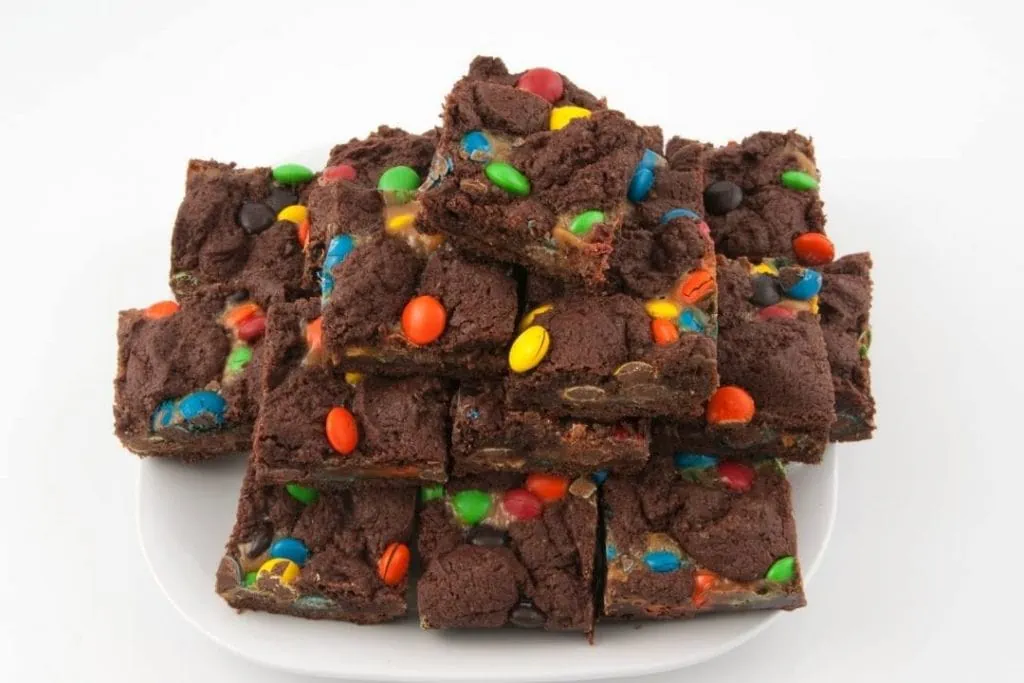 Use Mix-ins & Spices For Color, Texture & Flavor
Candy is one of our favorite brownie mix-ins. Try adding some M&Ms, Reese's Pieces or even just some chopped-up candy bars like Butterfinger or Twix.
For an extra festive touch, you can use holiday-themed candies like mini marshmallows, red and green M&Ms or crushed peppermint candy.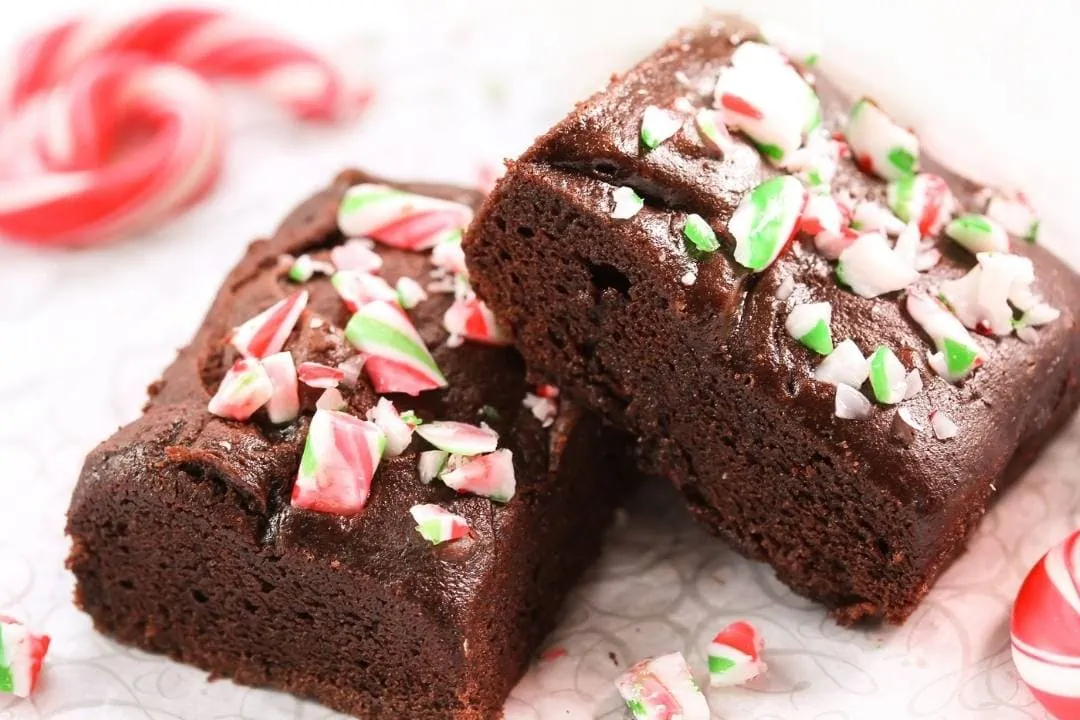 Chopped cookies are another fun brownie mix in. Oreos and Thin Mints are really delicious in brownies. You can stir them right into the batter, sprinkle on top of the batter before cooking or add them on top of frosting after baking.
You can also try adding a swirl of a softer, but flavorful mix-in like marshmallow cream, nutella or peanut butter like in this Chocolate Peanut Butter Brownies recipe.
Nuts are another great way to add some texture and flavor to your brownies. Try adding some chopped peanuts, pecans or walnuts like in this Classic Fudgy Walnut Brownies recipe with chocolate frosting.
Or, for a real treat, try using chocolate-covered nuts. Just be sure to chop them up so they don't make the brownies too hard to bite into.
Spices are another great way to boost the flavor of brownies. Cinnamon, cardamom, and nutmeg can all give your brownies a warm and inviting flavor.
For a more exotic twist, try adding a teaspoon of curry powder, smoked paprika or ginger. You might even consider a dash of chili powder or cayenne to give the brownies a kick!
Don't Overmix
One easy tip that all brownie-makers should know is to not overmix the batter. Overmixing can result in tough, dry brownies that are less fudgy and more cake-like.
Don't Overbake
If you're a fan of fudgy, gooey brownies, then you know the importance of not overbaking. It can be a little tricky to tell when brownies are actually perfectly baked. Learn more about 5 ways to tell when your brownies are done.
Prevent Brownies From Sticking
One common problem is that brownies tend to stick to the pan, making them difficult to get out of the pan in one piece. Luckily, there are a few easy solutions.
First of all, let your brownies cool completely before cutting or trying to remove them from the pan. This will help them set up properly and prevent them from falling apart. Learn more about how to cut brownies cleanly.
Another idea is to use a silicone baking pan. This will help the brownies release easier and prevent them from sticking to the pan. This 8×8″ square silcone baking pan is the perfect size and shape for brownies.
And here's one more idea for you. Before adding the brownie mix to the pan, simply line it with parchment paper. This will create a barrier between the brownie and the pan, making it much easier to remove the brownies after they have been baked.
Bonus Tip: Use two sheets of parchment paper (one going in each direction) so that you can easily lift the entire batch out of the pan once they're baked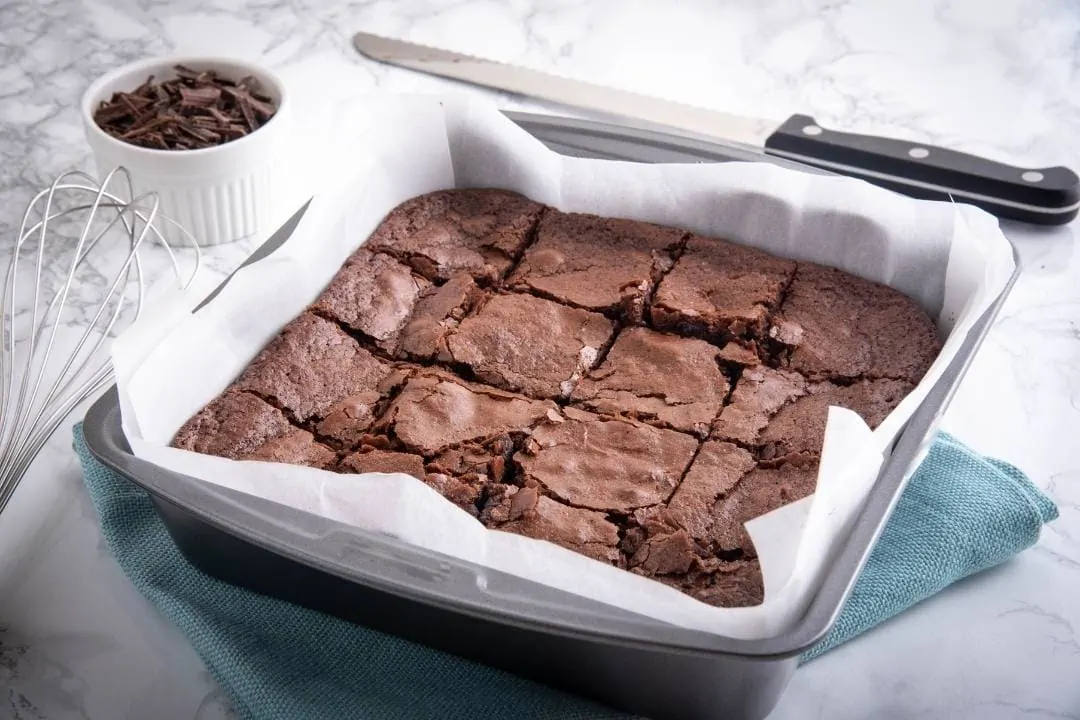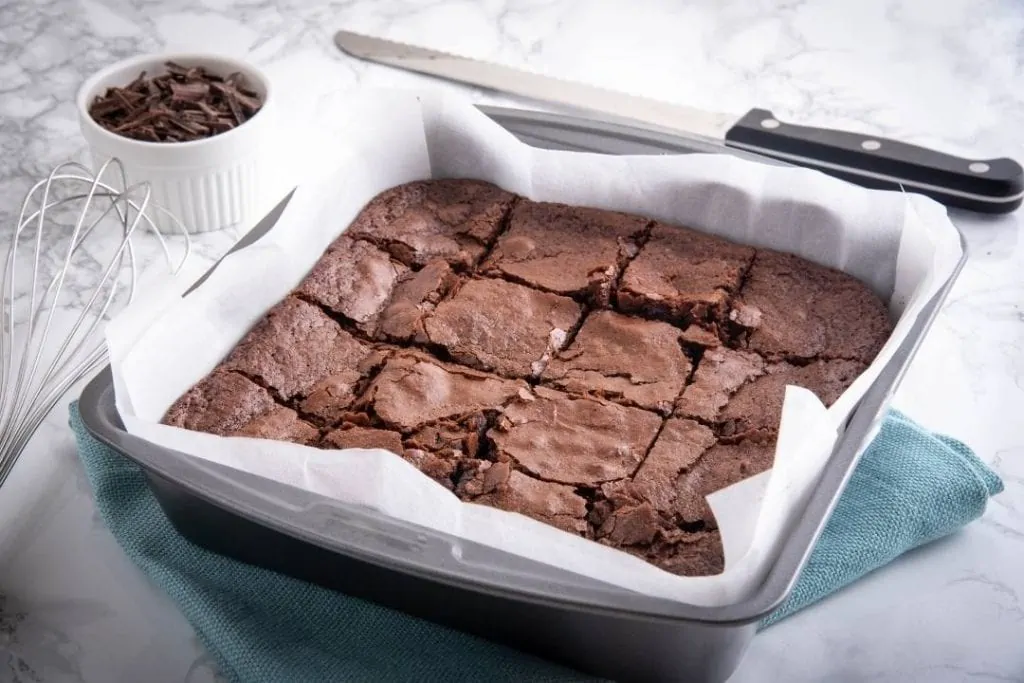 Store Leftover Brownies Properly
Brownies are always best when they're fresh. But if you have leftovers, it's important to know how to store brownies properly for maximum deliciousness. If you don't store them properly, brownies can quickly become dry and crumbly.
It's also a good idea to know how long brownies are good for when storing them on the counter or in the fridge or freezer. With proper storage, brownies will stay fresh and delicious for weeks (or even months) to come.
If you plan to enjoy your leftover brownies within a day or two, simply store any leftovers in an airtight container at room temperature. To help keep your brownies fresh and moist, you can wrap them tightly in plastic wrap and/or aluminum foil.
In most cases, you don't need to refrigerate your leftover brownies. However, if you used any perishable ingredients or mix-ins like cream cheese, fresh fruit or dairy toppings, you should definitely refrigerate.
For even longer storage, brownies can be frozen for up to three months. Wrap your cooled brownies tightly in plastic wrap, then in tinfoil and finally place them in an air-tight freezer bag.
When you're ready to enjoy a brownie, simply thaw it at room temperature or microwave it for a few seconds.
Wrap-Up: How To Make Box Brownies Better
These 15 tips and tricks are sure to take your boxed brownies from good to great. Follow all or just a few of these suggestions next time you bake and see for yourself how tasty box brownies can be.
We hope you have fun experimenting in the kitchen and that your brownies turn out delicious. May the fudge be with you!
Up Next: 15 Best Gourmet Brownies You Can Order Online
Yield: 16 brownies
How To Make Box Brownies Better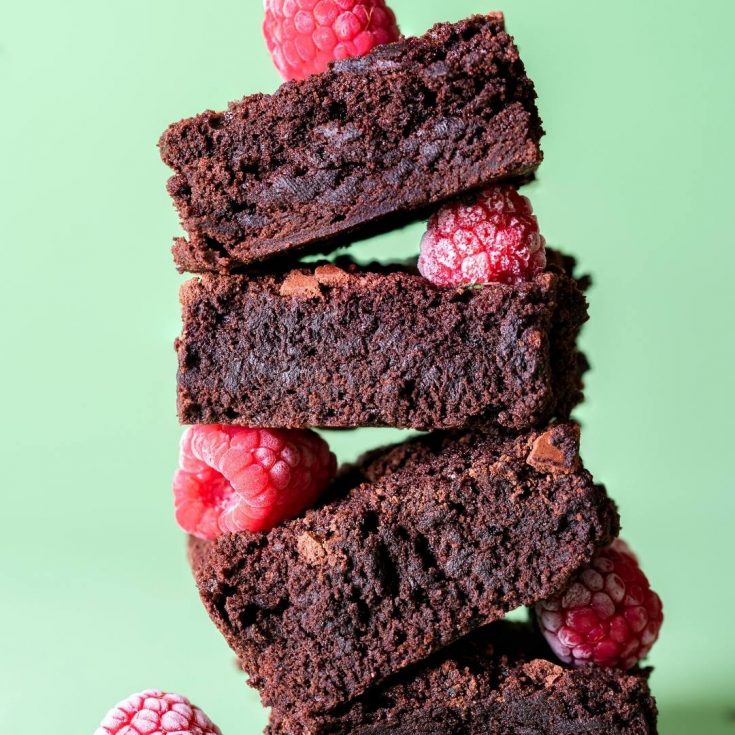 Learn how to make box brownies better with this easy recipe that is designed to take your treats from good to great!
Ingredients
Box brownie mix, any brand
2 eggs
1/2 cup melted butter
1/4 cup coffee
2 tsp vanilla extract
1/4 tsp salt
1/2 cup of your favorite mix-in like chocolate chips, crushed candy or cookies
Instructions
Preheat oven to 350 degrees F.
Line an 8x8 nonstick square baking pan with parchment paper.
Mix all ingredients together in a large bowl. Stir until just combined, being careful to not overmix.
Pour the brownie batter into prepared baking pan.
Bake 40-45 minutes or until done.
Allow brownies to cool completely before cutting.

Nutrition Information:
Yield:
16
Serving Size:
1
Amount Per Serving:
Calories:

131
Total Fat:

10g
Saturated Fat:

6g
Trans Fat:

0g
Unsaturated Fat:

4g
Cholesterol:

39mg
Sodium:

103mg
Carbohydrates:

10g
Fiber:

1g
Sugar:

7g
Protein:

1g