If you've been following trends for energy drinks, diet aids and health drinks, you may have come across the newest fad: loaded teas.
Loaded Teas are a new type of drink blend best known for the energy boost they're reported to give. The main feature of these colorful drinks is a heavy dose of caffeine, but there's also a blend of dietary supplements to help boost energy.
These drinks come in a variety of eye-catching rainbow colors and flavors, making them popular on social media platforms like Facebook, TikTok and Instagram.
However, with promises of energy, a metabolism boost and more, the merits of these popular drinks are hotly debated.
In this article, we'll take a closer look at common loaded tea ingredients, whether or not it's healthy, popular flavors and how to make loaded tea recipes at home (with and without Herbalife).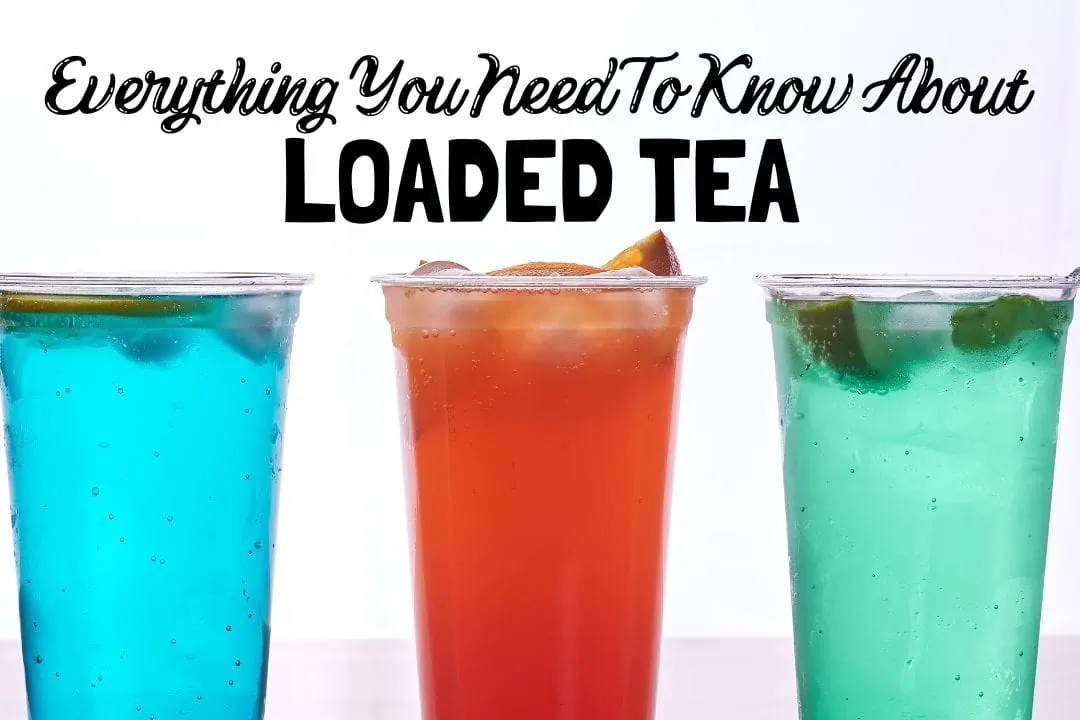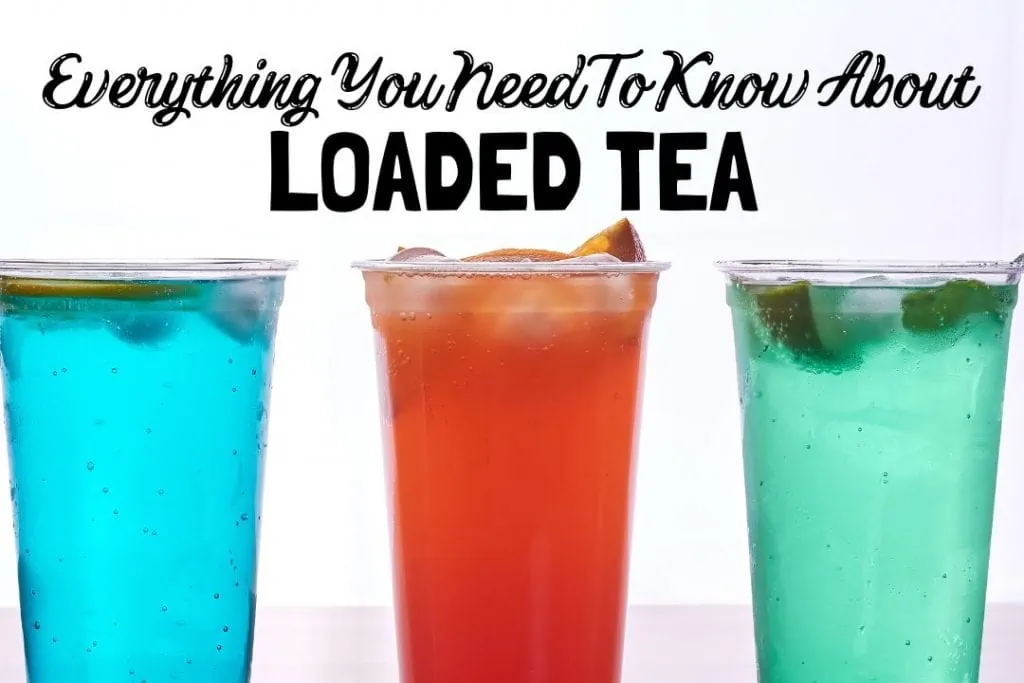 You may also like:
– 11 Best Bubble Tea Kits To Order Online
– How To Drink Boba Tea: Everything You Were Afraid To Ask!
– The Best Boba Tea Flavors
What Is Loaded Tea?
Loaded teas are a concoction of ingredients like supplements, fruit juices and tea that are intended to offer increased energy and additional health benefits, depending on the blend.
While they're called loaded teas – or boosted teas – not all of them actually have tea in them. Some are made with green tea, black tea or oolong tea, but others are simply fruit-flavored drink mixes with a blend of herbal stimulants and of course, a hefty helping of caffeine.
Loaded teas are popular because they offer a big dose of caffeine to increase your energy levels. These drinks usually have a pleasant sweet taste and attractive vibrant colors, but don't usually have the high sugar and calorie content of sodas or many popular energy drinks.
The Loaded Tea and Herbalife Connection
You can find boosted teas in some coffee and tea shops, but you'll most frequently find them in places called "nutrition clubs". Most of these clubs make their drinks with Herbalife nutrition products.
Herbalife was founded in 1980. This multi-level marketing company relies on Herbalife distributors to recruit new members and to sell products.
Their product line includes dietary supplements like protein shakes and the popular caffeine powder called LiftOff which is used in many loaded tea recipes.
Despite its popularity, Herbalife has been on the radar of the Federal Trade Commission and has been sued multiple times throughout the years for its questionable business model.
Are Loaded Teas Healthy?
Whether loaded teas are healthy is actually a bit of a tricky question.
For most people, depending on the ingredients, loaded tea can provide a pleasant boost of energy from the blend of caffeine and other added ingredients.
Some people believe these trendy drinks can boost metabolism and offer sustained energy to assist with weight loss.
Despite these health claims, there is no reputable scientific evidence that these drinks burn fat or help with a faster metabolism. If weight loss does occur, it is usually because the low-calorie drinks are used as meal replacements.
Depending on the caffeine content, herbal stimulants and cocktail of vitamins, there can be some negative side effects and risk factors to keep in mind.
The drinks may cause strain on the heart and the rest of the vascular system, resulting in side effects like rapid heart rate or increased blood pressure.
Some people may be sensitive to additives for flavoring, coloring or supplemental energy.
Excess caffeine, ginseng and guarana may cause jitters, stomach aches, sleep problems, increased heart rate and blood pressure and more. These issues are especially problematic for those with caffeine sensitivity.
While it is highly unlikely your doctor or nutritionist would recommend loaded tea as a part of a balanced diet, the drinks are typically safe for healthy adults (depending on the specific ingredients).
However, the high dose of caffeine means you should drink them in moderation. And always review the additional ingredients to make sure they are right for your goals.
Are Loaded Teas Like Energy Drinks?
Loaded teas can have many of the same ingredients as energy drinks. People turn to both of these drinks for the same reason: they are an energy booster.
Considering many loaded teas are actually just a mix of juices and supplements, they definitely have many similar qualities to energy drinks.
The marketing teams behind loaded teas know that energy drinks sometimes get a bad rap and most people associate "tea" with health. For this reason, many people believe loaded teas to be healthy because of the name, even if that isn't always the case.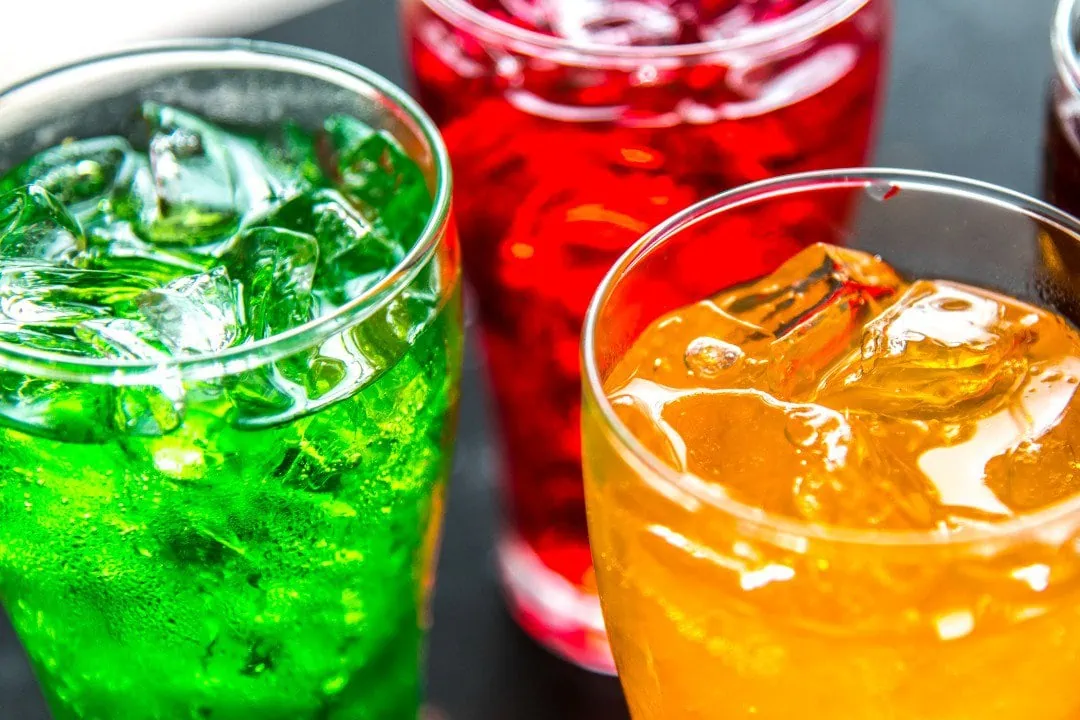 What Ingredients Are In Loaded Tea?
Every loaded tea blend has its own unique ingredients. There are hundreds of different loaded tea recipes out there. Most of them contain tea or tea extract, and fruit juices to create the base flavor of the drink.
Some of the most common additives in loaded tea may include the following. These supplements can often be found in health food stores or online.
Caffeine, usually with a caffeine powder
Vitamins, especially B vitamins and vitamin C
Biotin
Taurine
Niacin
Inositol
Antioxidants
Some loaded teas are made using pre-made caffeine flavor blends such as Herbalife Liftoff or 4C Energy Rush.
Herbalife Liftoff is a caffeine powder that has around 75 mg of caffeine and around 15 calories per serving. It comes in flavors including orange, lemon-lime, pomegranate berry, tropical fruit, pineapple and blackberry.
4C Energy Rush has around 150 mg of caffeine per stick. It comes in flavors like orange, citrus (lemon-lime), tropical fruit, berry and green tea.
How Much Caffeine Is In Loaded Tea?
Since there are so many loaded tea recipes available, there's no set amount of caffeine in loaded tea, but the average is about 160 to 200 milligrams of caffeine.
That's about twice the amount of caffeine found in a regular cup of coffee, or a can of Red Bull. It's also about half the amount of caffeine the average healthy adult can consume without undesirable side effects.
How Much Sugar Is In Loaded Tea?
In theory, many loaded teas have zero sugar added. In practice, there can be hidden sugars in pre-made mixes and teas, so read carefully.
Check the labels for names like fructose, maltodextrin or sucrose as those are also sugar or sugar derivatives.
Be on the lookout for sugar substitutes such as the artificial sweetener sucralose (Splenda), as these also may not be the best alternatives for your nutrition goals.
Also, it's worth noting that fruit juices often contain natural sugars.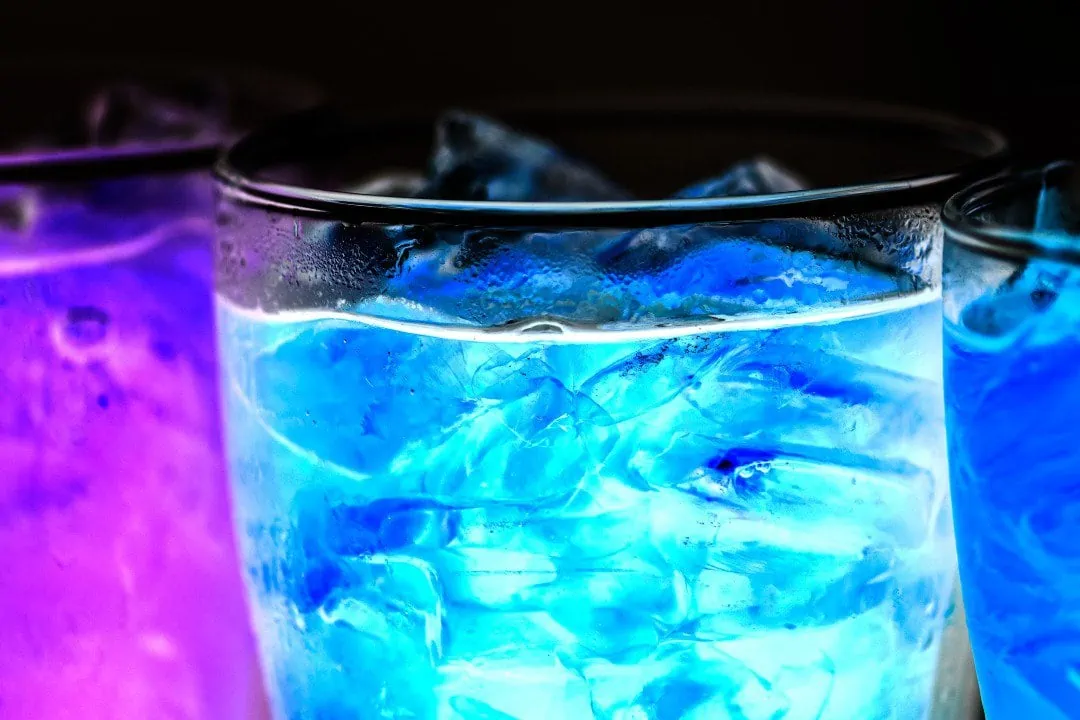 What Flavors Are Available In Loaded Teas?
Loaded teas from nutrition clubs come in a variety of flavors with buzzworthy names like Mermaid and Bahama Mama.
You can also buy premade loaded tea mixes in a dizzying array of flavors. You can find loaded tea mixes online in places like Amazon and Etsy and in some retail stores.
And of course, if you're making your own loaded tea blend, the possibilities are almost endless.
Popular Loaded Tea Flavors
Below are some common loaded tea flavors.
Grape
Banana
Strawberry
Blue Raspberry
Blackberry
Cherry Limeade
Raspberry Lemonade
Tropical Fruit Punch
Passion Fruit
Green Apple
Orange
Pineapple
Orange Pineapple
Peach
Blueberry
Cherry
Watermelon
Lemon
Limeade
Lavender Lemon
Pomegranate
Mango
Coconut
Cranberry
Dragon Fruit
Melon
Pina Colada
Margarita
Any mix and match combination of flavors
Some loaded tea companies, like those on Etsy, offer their own personal touch with colorful flavor blends that have whimsical names. Let's take a look at just a few of the fun and creative loaded tea flavors we've seen.
Best Loaded Tea Recipe Flavor Combinations
In the list below, you'll find some fun flavor combinations. Use your favorite brand of flavored teas, juices, caffeine powders, energy powders and sweeteners to come up with a colorful, great-tasting loaded tea at home.
Gummy Bear: orange, cranberry aloe, strawberry, watermelon
Mermaid: tropical, cranberry aloe, blue raspberry
Dragon's Breath: raspberry green tea, dragon fruit, tropical, cactus water
Captain America: strawberry, blue raspberry
Southern Belle: peach, apricot, orange
Beach Bum: lemon tea, lemon-lime, coconut, pineapple, mango
Blue Lagoon: raspberry tea, lemon-lime, blue raspberry
Ocean Water: coconut, lemon line, blue raspberry
Peach Pit: tropical fruit, peach tea, mango, pineapple
Sunburst: strawberry, peach, orange, mango, pineapple, green tea
Tropical Cherry: cherry, coconut, orange, pineapple, green tea
Spiced Orange: orange, cinnamon tea, pineapple
Tropic Thunder: berry, cranberry, pomegranate, pina colada, strawberry
Sangria: strawberry, wild berry, pomegranate, blackberry, green tea
Arnold Palmer: lemon, tea
Hulk: lemon, lime, blue raspberry
Purple Haze: grape, black cherry
Black Pearl: blueberry, grape
Skittlz: cherry, lemon-lime, grape
You may also like:
– What Are The 23 Flavors In Dr Pepper? (With Recipe)
– Best Liquid IV Flavors Ranked
– What Flavor is The Pretty Purple Boba Tea?
How Do You Make Loaded Teas At Home?
Making homemade loaded tea is fairly simple and very flexible. It's truly a matter of preference. Just gather up your preferred ingredients and mix them together.
Here's a very basic formula and standard recipe to make homemade DIY loaded tea:
Gather your desired tea, juices and supplement powders. Use the flavor lists above for inspiration.
Mix the ingredients together as instructed on the supplement packaging.
Fill a larger glass with ice and pour in your mixture.
Add any additional flavors, juice, or cold water as desired.
Most people use instant tea powder for loaded tea. However, there's no reason you can't use your favorite regular tea.
If you're a big fan of tea and don't want any other flavors, you can make your loaded tea with an unflavored supplement mix, mixed with the tea of your choice.
Making Loaded Tea Recipes With Herbalife
Herbalife was one of the first companies to start the trend of loaded teas. If you've ever visited a nutrition club, there's a high likelyhood your drink was made with Herbalife products, supplements and mixes.
To make your loaded tea with Herbalife products at home, you'll want Herbalife Liftoff for the energy component.
If you want to add Guarana, you can also use Herbalife's NRG Powder (Nature's Raw Guarana).
You can find hundreds of Herbalife loaded tea recipes online. Pinterest is a great place to browse for Herbalife recipes.
Making Loaded Teas Recipes Without Herbalife
If you want to make your loaded tea without the Herbalife supplements, your first order of business will be to find an energy drink mix that will replace the Herbalife Liftoff blend.
The most popular alternative is 4C Energy Rush.
The 4C Energy Rush mixes come in flavors like orange, citrus (lemon-lime), tropical fruit, berry and green tea.
There are also alternatives you can find in grocery stores and health food stores, including generic brands from stores like Walmart.
There are even more options online, especially on Amazon and Etsy, so there are plenty of places to find the mix that's right for you.
You can also find generic supplement powders for things like Guarana, Ginseng and Aloe Vera drink mix in health food stores and on Amazon too.
Final Thoughts
In terms of being healthy, loaded teas definitely have a mixed reputation. However, if you're looking for an energy boost with lower sugar and calories than your average soda, loaded teas can provide a refreshing and versatile low-calorie drink alternative.
If you're going for convenience, you can buy a premade loaded mix on Etsy or visit a nutrition club. Just be prepared that buying a loaded tea at a club will probably set you back at least $8 or more. If you go either of these routes, you'll also have less flexibility with the actual ingredients in your drink.
For total control over the quality and ingredients in your boosted tea, definitely consider making it at home. Not only will you save money, but you can also rest easy knowing exactly what is in your drink and can make it as healthy as you want.
Whatever path you choose, make sure to consume your caffeine responsibly and enjoy!
Next Up: The Best Peace Tea Flavors