When it comes to cookies, there are a lot of different schools of thought. Some people prefer their cookies chewy, while others prefer them crisp.
Some like them loaded with chocolate, while others prefer a more simplistic approach. However, one cookie that seems to have universal appeal is the Levain Bakery cookie.
Why is Levain Bakery so popular?
When it comes to baked goods, New Yorkers are spoiled for choice. There are countless bakeries selling delicious cookies, cakes, and pies.
But one bakery, in particular, has become a cult favorite: Levain Bakery. Levain has been around since 1995 and over the years has developed a devoted following.
What is Levain Bakery famous for?
The bakery is known for its massive 6-ounce cookies, which are among the biggest in New York.
But size isn't the only reason why people love Levain's cookies. They are also crispy on the outside, incredibly gooey and moist in the center, with a perfect balance of flavors.
Which Levain Bakery Cookie is better?
Levain Bakery is known for its delicious cookies, and fans often debate which flavor is the best.
The chocolate chip cookie is a classic favorite, with its melty chunks of chocolate and sweet, buttery flavor. It's called the "two-chip" cookie because it has both semi-sweet and dark chocolate chips.
The dark chocolate chocolate chip and dark chocolate peanut butter are also popular choices.
However, the chocolate chip walnut cookie is what started it all and is still the most popular flavor today.
Levain founders, Pam Weekes and Connie McDonald, created the cookie to give them energy while training for a triathlon. It's a perfect balance of sweet and salty, making it impossible to resist.
If you can't decide, check out the signature cookie assortment box that will let you try one of each of their most popular flavor. It's actually one of their best-selling products.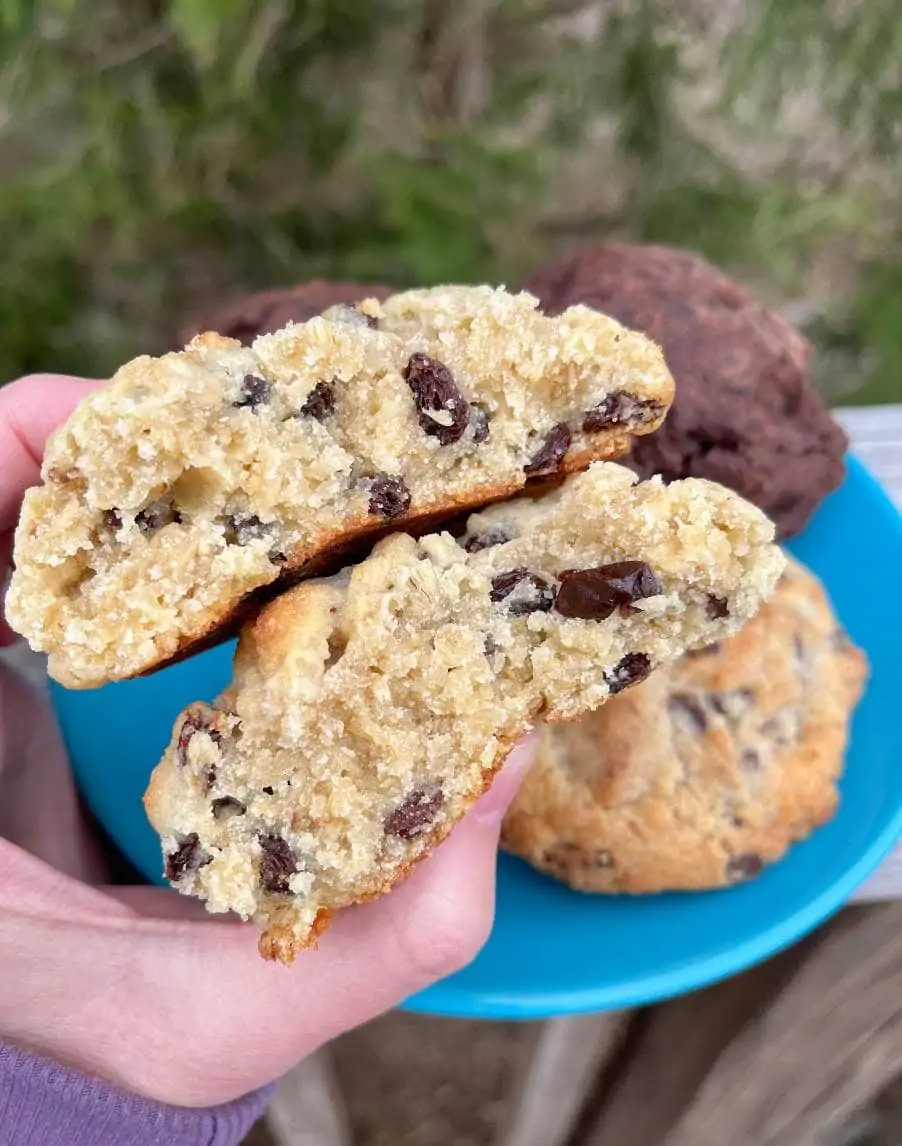 Are Levain cookies really good?
We had the chance to taste-test Levain cookies and the short answer is YES, they are delicious.
The cookies are quite large – definitely more than I could eat at one time. They are the perfect size and shape to cut into quarters to save for later (or share if you're feeling generous).
The company only offers classic flavors, so it's extra important that the flavors are spot-on. They definitely did not disappoint!
The dark chocolate chocolate chip and dark chocolate peanut butter chip are perfect for a chocolate lover. The cookies are very rich with an intense chocolate flavor. The insides are just a bit gooey and reminiscent of a slightly undercooked brownie.
The oatmeal raisin is packed with raisins, but isn't too heavy on the oatmeal. The cookie base is rich, buttery with just a sprinkling of oatmeal that plays more into texture than flavor.
And finally, the chocolate chip walnut cookie is a nice, big satisfying treat. The cookie is packed with mixins, so you'll definitely get a taste of chocolate chips and walnut in every bite.
In 2023, Levain also introduced its first vegan, gluten-free cookie. The Vegan & GF Chocolate Chip Walnut cookie has crunchy walnuts, semi-sweet vegan chocolate chips and is made with a rich, creamy cashew butter.
What is so special about Levain cookies?
Levain cookies are a bit of a phenomenon. These large, dense cookies are so popular that people are often willing to wait in line at their bakeries for hours just to get their hands on one. So what makes them so special?
Part of it has to do with the ingredients. Levain uses high-quality chocolate, butter, and flour, which gives the cookies a rich flavor and dense texture. They also contain a ton of chocolate chips for an extra dose of yum.
Levain cookies are also memorable because of their size and texture. Each cookie is 6 ounces or well over a 1/4 pound. And after you try your first Levain cookie, you'll never forget the soft, gooey, melt-in-your-mouth center.
And finally, Levain cookies are baked fresh throughout the day, so they're always soft and chewy. It's no wonder that these cookies have such a devoted following!
Levain Cookie Gift Ideas
Another reason we like Levain cookies is that they are perfect for gift-giving.
With nationwide shipping, you can send a delicious cookie gift to anyone across the country. They offer quite a few special cookie gift tins, samplers and bundles.
If you're in a hurry, you can check to see if there is a Levain Bakery location near you that can help with a last-minute gift.
They also specialize in creating the perfect treats for events like weddings and for corporate gifts.
You may also like:
– The 5 Best Bakeries To Buy Individually Wrapped Cookies
– 5 Best Cookies For Corporate Gifts
You may also like: Fruity Pebble Cake Mix Cookies Recipe
FREQUENTLY ASKED QUESTIONS
Q. How do you pronounce Levain Bakery?
This is a commonly asked question. The word "levain" comes from the French word for yeast. Although the company now focuses on delicious cookies, the name is fitting since Levain started out making artisanal bread for restaurants around New York City.
The correct pronunciation is "luh-VEN" or "luh-VAIN," with the emphasis on the first syllable.
Q. Are Levain cookies raw?
Levain cookies are a beloved treat, known for their thick, gooey center and crispy edges. While some believe that these cookies are raw, this is not actually the case. So while the cookies are gooey, but totally safe to eat and undeniably delicious.
Q. How long are Levain cookies good for?
Levain cookies will be good to eat for about a week. To store them, you'll want to make sure they are wrapped in an air-tight container at room temperature.
If for some crazy reason you won't be able to enjoy the cookies within a couple of days, you can freeze them. When you're ready to eat them, just pop them in the oven for a few minutes to warm them back up to their ooey, gooey deliciousness.
IMPORTANT NOTE! Levain does NOT recommend heating their cookies in the microwave as it will result in hard, dried-out cookies.
---
If you enjoyed this article, save it for later on Pinterest, Instagram and Facebook. Also join our Facebook Group for more snack fun!
You may also enjoy:
– Best Gourmet Cookies To Order Online
– Best Custom Cookies To Order Online
– Best Cookie Cakes To Order Online
– Best Cookie Dough To Order Online
Micky Reed, a two-decade veteran in the food and baking industry, leverages her influential Three Snackateers food blog and Instagram presence to collaborate with industry giants like Ben & Jerry's and Crumbl Cookies. Her work has been featured on Delish, PopSugar and more. Her expertise as a product curator for one of the world's largest international snack subscription box companies solidifies her status as a key player in the field.