Lay's Tastes of America
Basically, Lay's decided to release eight new potato chip flavors inspired by foods that are well known within different regions of the United States. Below is a list of the eight unique flavors and the regions they are associated with.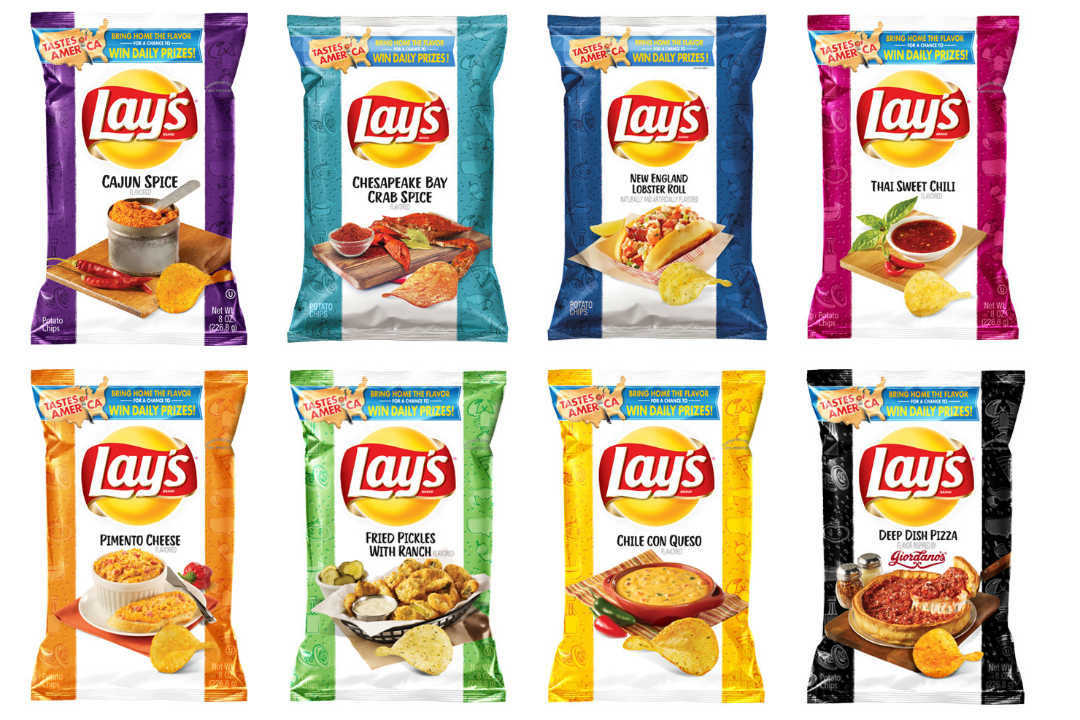 Cajun Spice – Central Gulf
Chile Con Queso – Texoma, Mountain, SoCal
Chesapeake Bay Crab Spice – Mid-Atlantic
Deep Dish Pizza – Heartland & Mid-America
Fried Pickles with Ranch – Midwest
New England Lobster Roll – Northeast
Pimento Cheese – Southeast
Thai Sweet Chili – Pacific Northwest
Four other regional favorites were released prior to the eight new flavors listed above.
Bacon Wrapped Jalapeno Popper
Fried Green Tomatoes
Ketchup
West Coast Truffle Fries
If you were looking to buy any of the new eight flavors online, I am afraid you are out of luck. They were all made available through Amazon and Walmart but quickly sold out on both websites. In stores, the new flavors are only available in their designated regions. While supplies last, of course.
Which flavors did we try?
We were lucky enough to score a bag of the one flavor available in our region, Deep Dish Pizza. If you ever visit Chicago and ask a local what kind of food to try during your visit, they will most likely tell you to go get a deep dish pizza. Lay's teamed up with Chicago deep dish pizza staple Giordano's for this new flavor.
In addition to our review of the new Deep Dish Pizza flavor, we will also be reviewing two previously released flavors, Ketchup and Bacon Wrapped Jalapeno Popper.
Deep Dish Pizza
I have read a lot of bad reviews of this flavor so far. However, I didn't think they were all that bad. Upon opening the bag, I could smell a mixture of pizza and potato chips. The chip itself definitely had a heavy pizza sauce flavor. That is somewhat accurate when you are talking about deep dish pizza, though. Deep dish pizza always has a thick layer of sauce on top of the cheese. In addition to pizza sauce, I also could taste a bit of pizza seasoning with each bite. Overall, I didn't think they were out of this world amazing but I didn't think they were horrible either.
Ketchup
Next up is the Ketchup flavor. You really have to like ketchup to enjoy this flavor. It was kinda like eating a regular potato chip dipped in ketchup. I even sensed that sugary taste that you get from ketchup. While these were edible, I would not buy them again. To the ketchup fans out there, you will probably love them.
Bacon Wrapped Jalapeno Popper
I was the most excited to try this flavor. I usually love anything jalapeno and anything bacon. And jalapeno poppers are one of my favorite side dishes! Unfortunately, I was a bit disappointed with these. I didn't think the flavor was strong enough. It may have been because the seasoning was a bit light on some of the chips. I did taste notes of bacon and jalapeno, though. Mostly bacon. These were good, but I don't think I would go out of my way to buy them again.
While we weren't able to give all of the new flavors a try, we were thankful to find our regional flavor, Deep Dish Pizza. Thanks to that random gas station in Wisconsin! If you would like to find out more about each Lay's Tastes of America flavor, click here for the official website. You can also enter for a chance to win daily prizes like t-shirts, mugs and hats!
HAVE YOU TRIED ANY OF THE LAY'S TASTES OF AMERICA CHIP FLAVORS?
LEAVE A COMMENT BELOW. WE'D LOVE TO HEAR WHAT YOU THINK!