While CBD oil is popular for its many supposed benefits, it is not necessarily known as being a tasty ingredient. The strong, pungent earthiness of the oil can be a bit overwhelming on its own – but, that doesn't mean it isn't wonderful to cook with!
In fact, when treated properly CBD oil can add a delicious, slightly herbaceous flavor to a number of classic brownie recipes. Or, you can even include specialty CBD products that have no distinct flavor at all.
Here I share 4 different easy methods for making the best CBD brownies at home using your choice of preferred CBD-infused ingredients!
Why Make Brownies with CBD Oil?
CBD oil, which is the commonly-used term for Cannabidiol, is a non-psychotropic natural substance derived from the hemp plant. Unlike THC (tetrahydrocannabinol), CBD does not produce a "high."
However, it is considered to have anti-inflammatory properties, and as such CBD oil has become commonly used for treating minor aches and pains.
While these and other claims – like CBD helping with anxiety, nausea, sleep, eczema, and a slew of other conditions – have not been scientifically evaluated and proven, a simple Google search on the subject shows that many people are firm believers in the medicinal benefits of cannabidiol.
But because CBD oil is from hemp, it tends to, well, taste like hemp. Many companies have in recent years been creating a whole slew of tasty products that attempt to mask the flavor of the oil, with everything from CBD gummies to chocolate bars to ground coffee and even lollipops.
While these goodies are often delicious and effective on their own, there is just nothing better than incorporating CBD into a batch of rich, fudgy, decadent brownies. And thankfully, there are many ways to do just that.
Read on for my tips for making brownies with CBD – with recipes and tricks for creating the best brownies from scratch or even infusing store-bought brownies with CBD oil!
The Best Brownie Recipes for Making CBD Brownies
The best CBD brownies begin with, obviously, a great brownie recipe. While CBD oil can be incorporated into any brownie or Chocolate Buttercream Frosting recipe, I figure you might as well make it a really good batch to enjoy!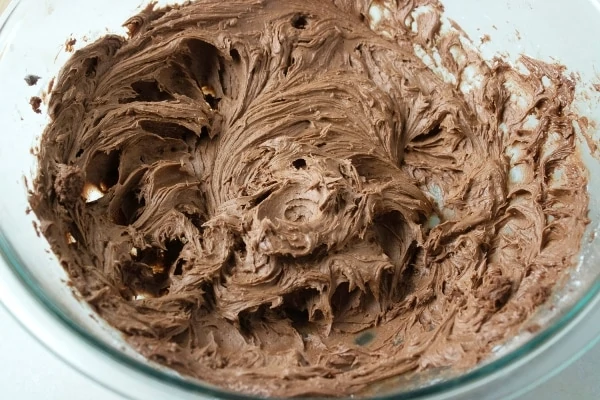 If you like your brownies with crunchy walnuts and a yummy thick frosting, you've got to make these Classic Fudgy Walnut Brownies with Chocolate Frosting.
Don't feel like actually baking? No problem! Whip up my no-bake Brownie Batter Truffles and infuse them with CBD oil.
For a super-indulgent dessert, infuse CBD oil into these Tasty Chocolate Peanut Butter Brownies made from scratch.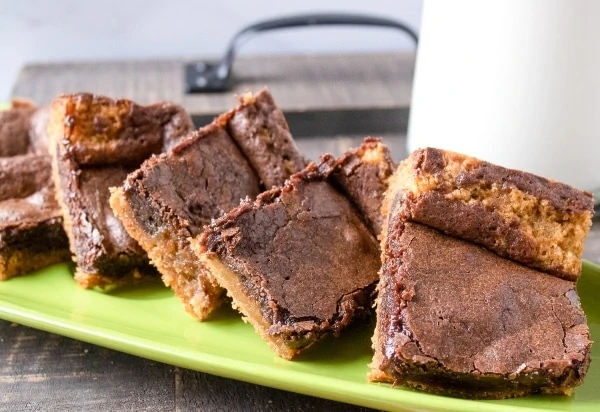 But if you're in a hurry or just looking for a simple, classic chocolate brownie you really can't go wrong with a store-bought boxed brownie mix. Or, buy pre-made brownies from the grocery and simply slather them with a CBD-infused frosting!
Note: When purchasing your CBD oil, check the manufacturer's information to make sure it can withstand the heat of being baked according to your brownie recipe of choice.
Related Reading: How To Tell When Brownies Are Done Baking
4 Easy Ways To Make Brownies with CBD
1. How to Make Brownies with CBD: Add CBD Oil or Tinctures
CBD oils and tinctures are an easy way to add CBD to your recipes. To make CBD brownies, simply add the desired amount to your brownie or frosting recipe.
But how do you choose which product: Oil or Tincture?
The main difference between CBD oils and CBD tinctures is the production process and how many ingredients they each contain.
While CBD oil is pure oil extracted from the hemp plant, a tincture is made by infusing another substance (such as alcohol) with hemp to incorporate the CBD. Tinctures therefore aren't as potent, which also means the flavor of the CBD tends to not be as strong, either.
Both oils and tinctures can be taken sublingually (under your tongue with a dropper) or used directly in foods, beverages and CBD cocktails.
CBD oils and tinctures come in a variety of potencies and flavors. Here are a few of my favorites.
Mint is a classic choice to pair with chocolate brownies. Green Roads is a trusted brand that offers a tasty mint CBD oil. Be sure to use promo code 'Snack10' for 10% off your Green Roads order.
Even Martha Stewart has launched a line of tinctures oils that come in natural, blood orange and Meyer lemon flavors. Be sure to use promo code "SNACK20" for 20% off if you place an order!
 A great high-quality option for oils and tinctures without flavor is Charlotte's Web. They offer a variety of sizes and potencies. Be sure to use promo code "SNACKATEERS" for 15% off if you place an order. 
---
2. How to Infuse Brownies with CBD: Add CBD Coffee
Coffee is great for enhancing the flavor of chocolate. Since CBD coffees are now readily available for purchase, adding CBD coffee to your brownies or icing is an easy way to boost your flavor and get a dose of CBD!
Here are a couple of easy ways:
In a brownie recipe, simply replace the water with strongly brewed CBD coffee.
In a frosting, glaze or buttercream recipe, try using very strong CBD coffee/espresso in place of the milk.
Product Recommendation: There are quite a few CBD coffee products on the market. If you're looking for a great one to try, I recommend Green Roads coffee.
---
3. An Easy and Tasty Idea for Making CBD Brownies: Use CBD Chocolate
This one of the easiest and tastiest ways to infuse your brownies with CBD. By using chocolate made with CBD, the earthy taste typically associated with CBD oil is already masked.
Here are my top 5 ways to use CBD chocolate to make the best brownies:
During the last 5 minutes of baking, add one piece/serving of CBD chocolate to the top of the brownies. Evenly space them so when you cut the brownies later, each serving will have one piece/serving of CBD.
Chop the CBD chocolate and add chunks to your batter.
If your recipe calls for melted chocolate, replace some or all (depending on desired dose and budget – this could get expensive!) with a melted CBD chocolate bar.
Create a smores brownie! During the last few minutes of baking, add mini marshmallows to the top of brownies. Remove from the oven and add CBD chocolate chunks and graham crackers pieces to the softened marshmallow.
If using a Chocolate Buttercream Frosting on your brownies, substitute some or all of the regular chocolate in your recipe with CBD chocolate.
I invite you to check out my full rundown of Where to Buy the Best CBD Chocolate Online to learn more about the many benefits of and differences between different types of CBD-infused chocolates.
Product Recommendation: My personal favorite is this dark chocolate CBD bar from Green Roads. With 62% cocoa, it has just the right flavor balance of sweet and bitter.
And the texture is amazing – it melts in your mouth. It's a great choice for baking or a sweet snack.
---
4. A Simple Way to Add CBD to Brownies: Use CBD Isolate Powder
According to Medical News Today, CBD isolate is a powder comprised of pure CBD.
CBD isolate does not have a distinctive smell or taste and comes in a powder form, making it ideal for baking.
To use in baking, simply dissolve the desired amount of isolate powder into the butter or oil needed for your recipe.
Note: The isolate is oil-soluble, so adding it to water-based items will not allow the isolate to fully dissolve and separation is likely to occur. Therefore, be sure to follow the instructions above and only add it to from-scratch or boxed brownie recipes that use butter or oil.
Product Recommendation: Direct CBD Online has a fantastic selection of CBD isolate powders you can buy online. You can browse a wide variety of reputable brands and products on their website. Make sure to use promo code "SNACK20" for 20% off your order!
Frequently Asked Questions
How much CBD should I use to make brownies?
How much to use is an important consideration, but no one 'right' answer. The right amount for you depends on your desired dosage per serving.
Pay careful attention to the dose suggestions on the packaging of the product(s) you choose. For example, if you're making 12 cookies, multiply the recommended dosage by 12 and add to the recipe.
If you incorporate CBD in more than one way, such as CBD coffee in frosting and CBD oil in the batter, be sure to account for the total CBD added to the overall recipe.
In theory, adding oils, tinctures, melted chocolate, or isolates to a batter or frosting evenly distributes the CBD throughout each serving.
However, it may be important for you to have a more precise amount in each serving. If that is the case, use a method that allows for more exact measurement such as adding a piece of CBD chocolate on top of a single brownie serving.
Will CBD brownies get me high?
No, cannabidiol does not have any psychoactive properties.
How do I select a high-quality CBD product?
Many companies have come into the CBD market over the last several years, so it is important that you do a bit of research to make sure you are buying from a trustworthy source. Here are some considerations:
As with most products, you do get what you pay for. Don't simply go with the cheapest options.
Look for companies that use naturally-grown hemp from the USA.
The amount of THC in the product should not exceed .3 percent to ensure that it is both legal and non-psychoactive.
Choose a company that has available 3rd party lab results of their testing measures.
Understand the differences between broad-spectrum, full-spectrum and isolate products.
Some CBD extraction methods use toxic chemicals. CO2 extraction and ethanol extractions are preferred methods.
Always be wary of explicit health claims as this is not allowed by the FDA.
As always, the companies and products I mention in this article are ones that I believe are reputable and high-quality.
If you enjoyed this article, save it for later on Pinterest, Instagram and Facebook. Also join our Facebook Group for more snack fun!
These statements have not been evaluated by the Food and Drug Administration. Products discussed are not intended to diagnose, treat, cure, or prevent any disease.