When the weather turns cold, the cravings for comforting hot cocoa begin. These delicious recipes for hot chocolate with cocoa powder will satisfy your sweet tooth.
What is the difference between hot cocoa and hot chocolate?
Although the terms are often used interchangeably, there is technically a difference. Hot cocoa is made with cocoa powder. Hot chocolate recipes use other types of chocolate to flavor and sweeten the beverage.
But it's truly a personal preference of what you call your mug of chocolatey goodness. I grew up saying hot chocolate, so that is what works best for me!
What is the best cocoa powder to use in my hot chocolate?
You've probably heard of Ghirardelli and Hershey's, but the options don't stop there.
According to the product review website
That's My Home
, there are quite a few good cocoa powder products on the market.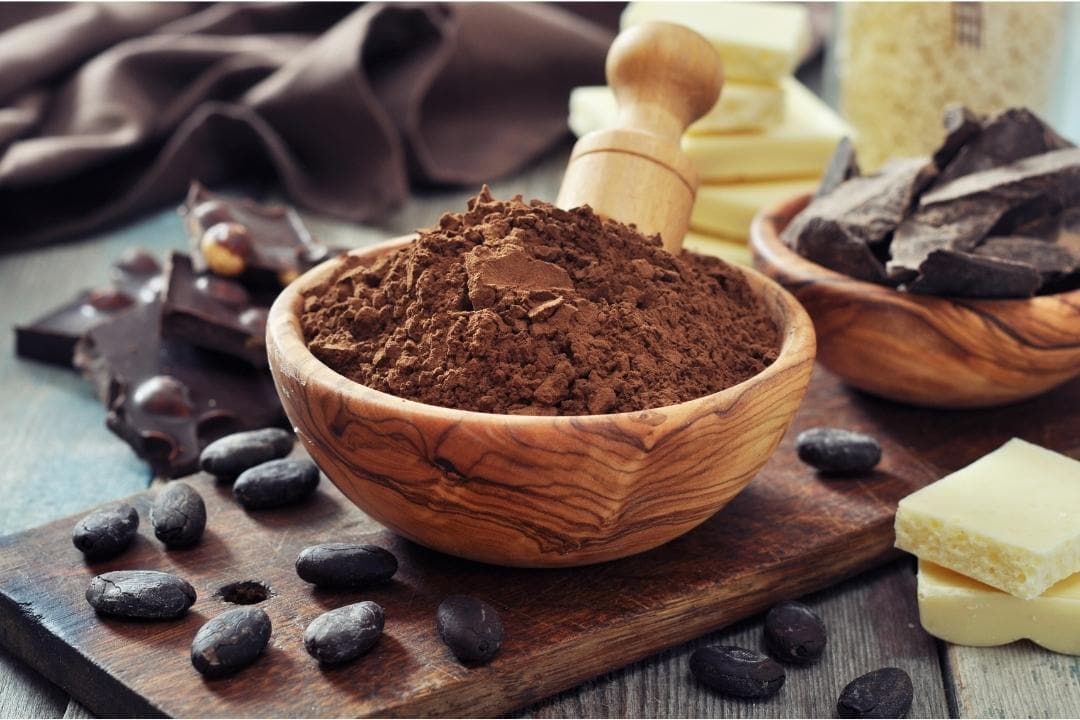 Where can I buy cocoa powder?
Cocoa powder is a common ingredient, so it's found in many stores. However, the variety and choices for different brands will vary greatly depending on where you shop.
Amazon has a wide variety of cocoa powder options for any price point. Plus, the customer reviews are always helpful. You can check out their selection of cocoa powder options here.
Grocery stores, Walmart and Target may have fewer options, but are convenient places to shop for cocoa powder.
Trader Joe's, Aldi and Whole Foods are also great places to look for alternative cocoa powder brands.
How do I store cocoa powder?
Chances are you won't use your entire container of cocoa powder just for hot chocolate.
The good news is it can also be used in other recipes like brownies, cake and cookies. You might enjoy these classic fudgy walnut brownies or these chocolate peanut butter brownies that both use cocoa powder.
While you're deciding on your next recipe, here are some handy tips for storing your cocoa powder.
The general rule of thumb is to store cocoa powder in a cool, dry place.
Store at room temperature, not the freezer or refrigerator.
Store in an airtight container in the pantry.
Unopened cocoa powder can last up to 3 years.
If stored properly, an open container of cocoa powder is typically good for up to 1 year.
Cocoa powder usually doesn't go bad, but it does lose its flavor over time.
Is cocoa powder healthy? Is it healthier than chocolate?
Good news! According to
WebMD
, cocoa powder has a ton of health benefits. Some of the benefits may include reduced inflammation, a stronger immune system and lower risk of heart disease.
On its own, cocoa powder doesn't contain much fat or sugar. But always check the nutrition labels. Some manufacturers get a little sneaky and will add ingredients like sugar. Also be sure to look for products that are at least 60-70% cocoa to get the most benefit.
Dark chocolate also has many of the same benefits as cocoa powder. The same rules apply. Look for a product with at least 60-70% cocoa and little to no added fats, sugars or other unhealthy ingredients.
9 Delicious Recipes for Hot Chocolate With Cocoa Powder
These warm and comforting hot chocolate recipes feature cocoa powder as a main ingredients. Enjoy!
Photo Credit: confessionsofanover-workedmom.com
This classic Homemade Hot Chocolate Like Grandma Made recipe tastes exactly like the title states: it's creamy and an original recipe that will have you basking in childhood memories. Sweetened and made from scratch, it's a delicious and entirely cozy treat.
Ingredient List:
milk
cocoa powder
real maple syrup
white sugar
whipped cream
chocolate candy bar
hot fudge sauce
Photo Credit: joyfoodsunshine.com
Peppermint Hot Chocolate is a fun treat and made with real candy canes! Made in a blender, this easy recipe consists of only six ingredients and is ready in no time. The entire family will love this recipe.
Ingredient List:
whole milk
granulated sugar
unsweetened cocoa powder
bittersweet or semi-sweet chocolate
vanilla extract
candy canes
Photo Credit: www.thedeliciouscrescent.com
Healthy Hot Chocolate is made with walnuts and comforting flavors of cocoa and vanilla. Sweetened with maple syrup or honey, this rich beverage is a great alternative to not-so-healthy recipes.
Ingredient List:
Photo Credit: veganyackattack.com
Raspberry Hot Cocoa is the perfect way to wind down after a busy day out in the cold. Dairy-free and made with low glycemic sweeteners, you will love this vegan hot chocolate recipe that is both nourishing AND delicious!
Ingredient List
water
full-fat coconut milk
raspberries, or frozen and thawed
cocoa powder
coconut sugar
vanilla extract
salt
stevia (optional)
coconut whip or marshmallows
chocolate
Photo Credit: jenniferbanz.com
This Keto Hot Chocolate Recipe is super low carb and great for anyone looking for a healthier treat. Ready in five minutes and made with only four ingredients, this easy recipe is a healthy spin on traditional hot chocolate recipes.
Ingredient List
Almond Breeze Original AlmondMilk
Heavy Cream
Cocoa Powder
Sweetener
Photo Credit: alwaysusebutter.com
With just a few simple ingredients, this Christmas Hot Chocolate recipe is creamy and sweet! Made with a candy cane whipped cream, this decadent beverage is made with cocoa powder and ready in no time.
Ingredient List:
heavy cream
candy cane candies or candy canes broken into pieces
red food coloring
milk
cocoa powder
sugar
Photo Credit: eatbeautiful.net
Bulletproof Hot Chocolate is healthy and sweet and great for any time of the day! Creamy and sweet, this beverage will certainly not weigh you down plus it's just so easy to make.
Ingredient List:
milk of your choice
butter, ghee or cocoa butter
gelatin
cocoa powder
sweetener or your choice
Photo Credit: okonomikitchen.com
Intrigued by the latest Dalgona trend? If so, then learn how to make this Whipped Chocolate (Dalgona Chocolate) Hot Chocolate and enjoy this frothy caffeine-free hip beverage. Sweet and fun to make, this easy hot chocolate recipe is fun for both kids and adults.
Ingredient List:
aquafaba (this is the liquid in a can of chickpeas)
cream of tartar
cocoa powder
confectioners sugar
instant coffee + 2 tbsp hot water (or 1 shot of espresso)
sugar
ice
Photo Credit: www.rachaelhartleynutrition.com
This Best Hot Chocolate Float Recipe is made with cocoa powder, rich chocolate chunks, vanilla, and creamy whipped cream. Homemade and fun to sip on, you'll never want to make the store-bought stuff ever again.
Ingredient List:
milk
dark chocolate chips/chunks
cocoa powder
sugar
vanilla extract
salt
ice cream