Hemp Bombs is a Tampa-based company that specializes in CBD products. They offer a variety of options such as premium CBD oils, gummies and Lolly Bombs CBD lollipops.
This Hemp Bombs review provides an overview of the company and an in-depth look at a few of its CBD edibles.
Hemp Bombs is a popular brand in a very crowded CBD market. But how do their products stack up?
Read on to find out what we've discovered after trying Hemp Bombs products including CBD oils, gummies and lollipops.
You may also like:
– Best CBD Gummies To Order Online
– Must-Try CBD Chocolate
– Fun CBD Lollipops

This is not medical advice. CBD is not intended to diagnose, treat, cure or prevent any disease. Products are intended for 18+ years old.
About Hemp Bombs
Hemp Bombs is a Tampa-based company that specializes in innovative CBD products. This well-established company was founded in 2016.
From premium hemp-derived CBD gummies, fun-flavored CBD oil, and even CBD lollipops, the company offers high-quality, lab-tested products for every lifestyle.
Every day we are innovating new ways for you to use CBD in your daily life. We want you to live in comfort at all times, including while you sleep, work, exercise, travel and relax.

Hemp Bombs Mission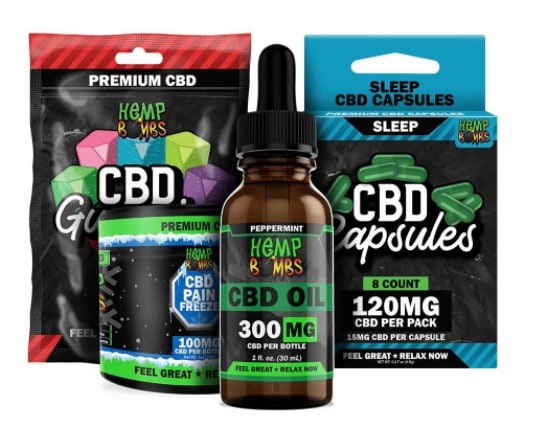 ---
Hemp Bombs Premium CBD Products Overview
The company offers a wide variety of high-quality CBD products including gummies, oils, lollipops, capsules, muscle rubs and pet products.
Below is a brief overview of their product line. A bit later in the article, you can read our in-depth review on several of the edible products.
Hemp Bombs CBD Gummies
CBD gummies are one of the most popular CBD edibles on the market. Hemp Bombs carries a broad portfolio of CBD gummies designed to fit your unique needs.
They currently offer 5 different types of gummies. Each is available in 8-, 20-, 50- and 100-count packs.
Original CBD Gummies: 15mg of CBD per gummy
High Potency CBD Gummies : 30mg of CBD per gummy; twice the amount of original gummies
CBD Gummies for Sleep: 15mg of CBD plus 5mg melatonin per gummy
Botanical CBD Gummies: 15mg of CBD plus 50mg Elderberry Extract per gummy
CBD Gummies for Immunity (Vegan): 15mg of CBD per gummy plus a proprietary botanical blend of Passiflora, Scutellaria and L-Theanine
Hemp Bombs CBD Oil
CBD oils are another popular and convenient product. The company offers a nice selection of oils in different sizes, concentrations and flavors.
Five different sizes ranging from 300mg to 5000mg bottles (15 -30 mg CBD per serving)
Six fun flavors including Acai Berry, Chocolate Mint, Orange Creamsicle, Peppermint, Watermelon and Natural Hemp
Lolly Bombs CBD Lollipops
Lollipops infused with CBD are a sweet way to get your daily wellness boost. The Lolly Bombs are one of the company's most well-known premium CBD products.
Four lollipops in each package
25mg CBD per sucker; total of 100mg of CBD per package
Four flavors (1 each per pack): cherry, green apple, pink lemonade and watermelon
Hemp Bombs CBD Capsules
Capsules offer a convenient way to get your daily dose with an easily digestible pill form. They are currently available in 3 varieties.
Original CBD Capsules: 15mg of CBD per capsule
High Potency Capsules: 30mg of CBD per capsule
CBD Sleep Capsules: 15mg of CBD plus 5mg melatonin per capsule
Hemp Bombs CBD Pain Freeze
CBD topicals are also very popular. This CBD Pain Freeze is a topical product to alleviate pain, cramps and joint and muscle problems. It is available in a CBD pain rub and roll-on.
Hemp Bombs CBD For Pets
Pets can also enjoy the potential benefits of CBD with oils (for cats and dogs) and chews (dogs only).
---
About Hemp Bombs Hemp
The company sources its industrial hemp from American farms. Purchasing from the US (instead of overseas) helps provide transparency and quality control for consumers.
The CBD extract comes with a Certificate of Analysis, confirming that the raw materials are free of pesticides, heavy metals and other residuals.
---
Testing and Online Third-Party Lab Results
One look at the company website and you can tell that they take testing very seriously.
Below are some of the steps they take to ensure the quality of their products and that their customers are confident in the products they buy.
In-house & third-party lab testing
Multi-stage lab testing process to ensure the contents and quality of our products before, during and after production
Help set industry-leading standards
Certificate of Analysis from an independent third-party testing lab is available for every batch
All packaging includes a scannable or QR code that links to test results
You May Also Like:
– Best CBD Honey To Try
– Delicious CBD Coffee To Buy Online
– Best Vegan CBD Gummies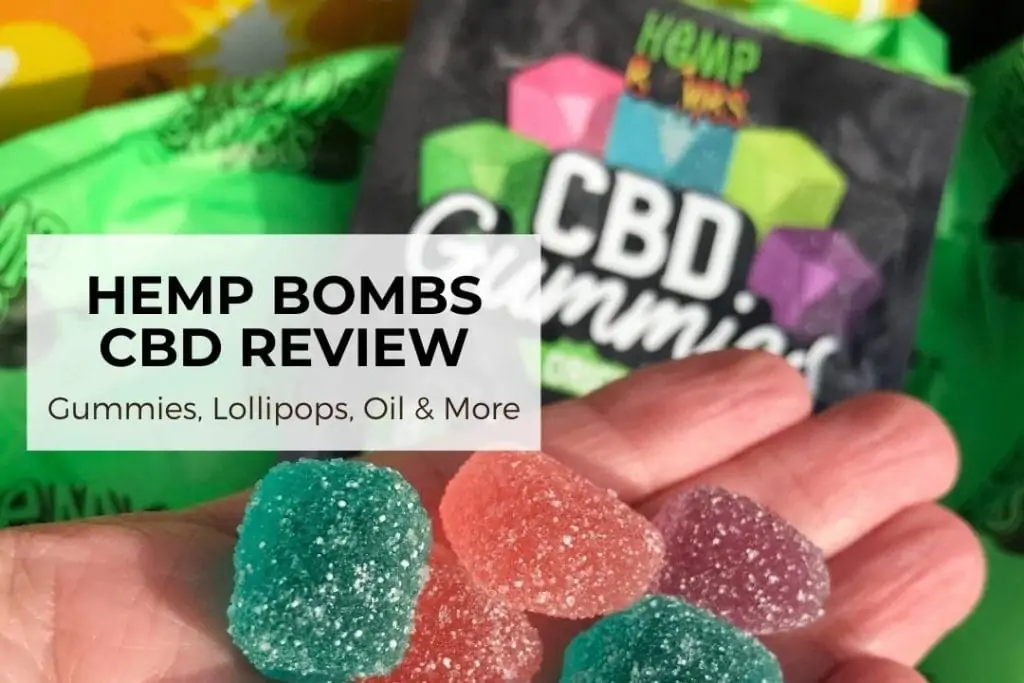 ---
Hemp Bombs Product Review
We had the opportunity to try several of the company's edible CBD products: gummies, lollipops and oil.
Below we provide some insights from our experience that will help you know what to expect if you order these CBD products.
Hemp Bombs CBD Gummies Review
We tried the original, high-potency and sleep gummies in the 8-count package.
The original gummies have 15 mg of CBD which is a good starter amount. More experience CBD users may opt for the high potency gummies that contain 30mg CBD per gummy.
The sleep gummies contain a nice mix of 15mg CBD plus 5mg of melatonin.
Melatonin is a hormone found in the body that helps regulate sleep-wake cycles. It can also be created in a lab and added to products such as gummies. You can learn more about sleep gummies here.
Packaging
As you can see in the photo below, the packaging is very eye-catching. The packages are clearly labeled with the type of gummy and the amount of CBD.
The different colored labels for each product type are also helpful. Green is original, red is high potency and blue is sleep. It definitely wouldn't be good to grab a sleep gummy before heading off to work!
Opening the package is easy. Just pull at the notch to tear across the top. This small 8-count pouch is not resealable. If this is a concern, the 50 and 100-count bottles with screw top lids are a better option.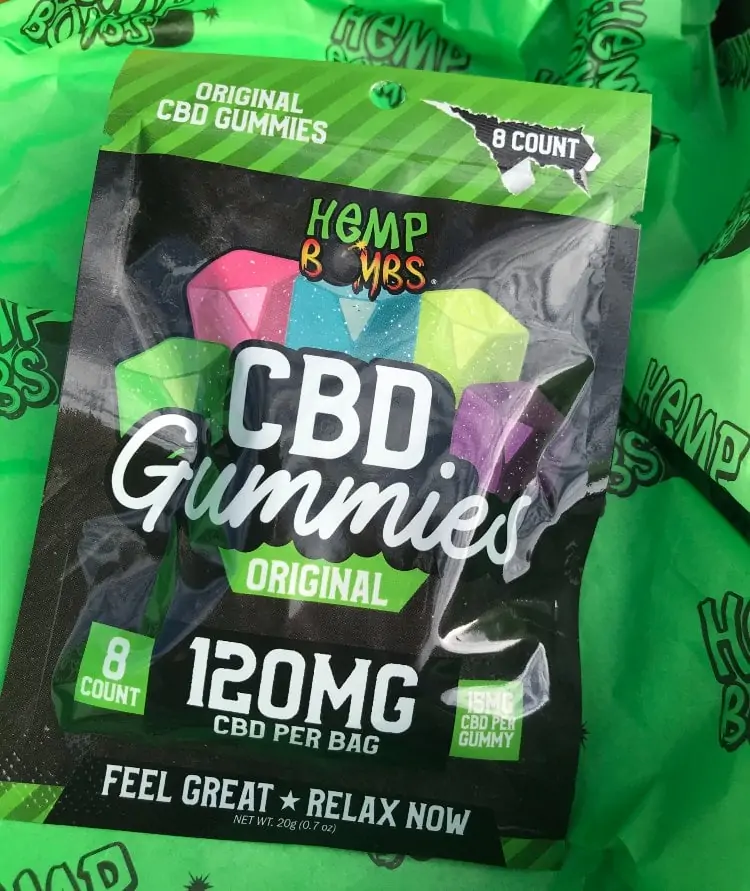 Taste and Texture
At first glance, you'll notice the attractive gummy colors. The gummies come in strawberry, green apple, berry, lime and blue raspberry. But as you can see here, I only got the blue, pink and purple in my small pack.
You'll also notice they have a sugar coating. Believe it or not, the sugar coating helps keep gummies from melting during warmer months. And of course, it tastes good too!
I thought the gummies had a pleasantly sweet and fruity flavor. They are not too sweet or overpowering.
The texture is also very nice. It's not as chewy as a gummy bear or as dense as a gumdrop. It's easy to chew and does not get stuck in your teeth. The sugar coating adds another element to the texture as well.
Final Thoughts: Gummies
We've tried quite a few different gummies over the years. We found the Hemp Bombs gummies to be near the top of the pack when it comes to taste and texture.
We also really like that they come in so many different sizes and types. The only gaps in the portfolio we noticed are just one vegan option and no sugar-free options.
But the vast majority of people should be able to find a gummy in the product line that suits their needs.
Overall, we give these gummies a thumbs up.
**Use discount code SNACK20 for 20% off your Hemp Bombs order**

Related Reading: More Vegan CBD Gummy Options
---
Lolly Bombs Lollipop Review
We've heard quite a bit about Lolly Bombs, so we were pretty excited to give these a try.
Each bag contains 4 CBD suckers. Each lollipop has a healthy dose of CBD – 25mg each.
In each pack, you receive one of each flavor sucker: cherry, green apple, pink lemonade and watermelon. The suckers taste just like a regular lollipop – sweet and delicious.
In the photo below you'll see the pink lemonade flavor. It's a decent size sucker. For reference, the size is not as big as a Tootsie Pop, but definitely bigger than a Dum Dum. 🙂
Final Thoughts: Lolly Bombs CBD Lollipops
If you're in the market for a CBD lollipop, Lolly Bombs are a good choice. They taste good, are a perfect size and contain a solid amount of CBD.
One nice thing about the lollipop is that you can take your time to enjoy it. And if you don't want a full 25mg CBD dose, you can always pop it back in the wrapper and finish it up later on.
**Use promo code SNACK20 for 20% off your Hemp Bombs order**

Related Reading: Learn more about the best CBD lollipops you can order online.
---
Hemp Bombs CBD Oil Review
Many people enjoy CBD oil because it's quick and easy to use. You just add a few drops under your tongue using an easy-measure dropper that comes with the bottle.
It's also faster-acting with more CBD absorption than an edible product like gummies. Most of the oil is absorbed in your mouth and doesn't have to pass through the digestive system. The result is that you'll feel any effects faster and your body will absorb more of the CBD.
We tried the peppermint flavor CBD oil in the 750mg CBD strength.
The recommended beginning dose is 1/2 a dropper (.50 ml). A 1/2 dropper contains 12.5 mg of pure CBD extract.
Additional ingredients include grapeseed oil and MCT oil.
Upon opening the bottle, you get a strong whiff of peppermint. The flavor itself though is pretty mild. It leaves a slight peppermint aftertaste. I also detected a very slight aftertaste from the grapeseed oil.
Final Thoughts: CBD Oil
The great thing about the CBD oils product line is that it comes in a bunch of different concentrations.
New users can feel confident in a low concentration product like the 300mg bottle which has just 5mg per serving. Experienced users can go all the way up to the 5000mg bottle which offers around 83mg of CBD per serving.
The website says the oil can be taken alone or added to your favorite food or beverage. Given the very mild taste of the peppermint oil, if you using this as a flavoring, we'd suggest also adding a secondary peppermint flavoring like a regular baking extract.
And finally, the selection of flavors is another strong selling point. Besides peppermint, you can also order some interesting flavors like acai berry, chocolate mint, orange creamsicle, watermelon and natural hemp.
**Use coupon code SNACK20 for 20% off your Hemp Bombs order**
---
Hemp Bombs Coupon Codes and Discounts
Hemp Bombs offers a variety of ways to save money on your order. From promotions and promo codes to a customer rewards program to free shipping, the discounts will add up.
Discounts and Promo Codes
For the best chance at getting a current coupon or promo code, the company recommends that customers follow their social media pages and subscribe to our newsletter.
Their website also contains information about 15% discounts for seniors (ages 55+), veterans and active-duty military members, and first responders.
Customer Rewards Program
With the Customer Rewards Program, you earn points that can be accumulated and redeemed for exclusive discounts. You earn 50 points just for signing up.
After that, points can be earned with every purchase. You can also get points for sharing on social media or writing a review. And you even get 100 points on your birthday!
With the refer a friend program, you can gift a friend $15 to use on their first $75+ order. You'll earn 50 rewards points for each successful referral.
More Way To Save
If you are unable to find a current promo code, you can always use coupon code SNACK20 for 20% off your order.
In addition, shipping is free with orders over $50.
---
Where To Buy Hemp Bombs CBD
Hemp Bomb products are available in retail locations across the country. They are also available on many online retailer websites.
However, ordering online through the official company website ensures the best product selection and access to coupon codes, promo codes and discounts.
In addition, to be eligible to return or exchange products, the items must be purchased directly from the Hemp Bombs website.
**Use coupon code SNACK20 for 20% off your Hemp Bombs order**
---
How To Contact Hemp Bombs
Phone: 1-800-589-9098
Email: Online Contact Form
---
Hemp Bombs Return Policy
To be eligible to return or exchange products, the items must be purchased directly from the Hemp Bombs website. Items purchased from other websites or retail locations must be returned at the original place of purchase.
30-Day Money Back Guarantee
If you are less than satisfied with your purchase, the company offers a generous 30-day money-back guarantee.
Product Exchanges
If you would prefer a different product, you can also your product for a product of equal or lesser value during the 30 day refund period.
If you choose to exchange your product for a product of lesser value, the price difference will not be refunded.
---
Hemp Bombs Shipping Policy
Products ship to all 50 states plus the District of Columbia, APO / FPO military addresses, Puerto Rico and U.S. Virgin Islands.
Shipping is free for orders over $50.
---
Final Thoughts
Hemp Bombs is a high-quality and reliable CBD company that offers an extensive selection of award-winning products at affordable prices.
Their commitment to innovation as well as their transparent third-party lab testing offer customers peace of mind and confidence.
And with free shipping for orders over $50 plus frequent discounts and promotions, it makes your CBD investment a little easier on the pocketbook.
If you're ready to shop, just click on the button below. Be sure to use coupon code SNACK20 for 20% off your order too!

If you enjoyed this article, save it for later on Pinterest, Instagram and Facebook. Also join our Facebook Group for more snack fun!
---
Frequently Asked Questions
Do Hemp Bombs products get you high?
No, Hemp Bombs products are manufactured from high-quality industrial hemp. Products contain less than 0.3 percent THC and are federally legal in the United States.
Cannabidiol (CBD) is one of many compounds found in hemp plants. It is a non-psychotropic which means it does not cause a "high".
Will Hemp Bombs show in drug tests?
Products are manufactured from industrial hemp and contain less than 0.3 percent THC.
The company states that "while Hemp Bombs products should not test positive for THC on any drug test, we cannot guarantee that you will pass."
How long does it take for Hemp Bombs gummies and other products to kick in?
It typically takes about an hour to feel the effects of a CBD gummy.
However, it's important to note that every person responds differently to CBD. Factors that influence the response to CBD include weight, age, metabolism and health.
The type of CBD product also makes a difference. Sublingual products like oil offer faster absorption. While products like CBD gummies take longer to kick in because they pass through the digestive system for absorption.
Some products contain more CBD, such as high potency CBD gummies, making them more potent. It is recommended to start with a low dose to see how it affects you, then increase dosing as needed.
It is also recommended to use CBD on a consistent basis for the best results.
Always consult with your doctor before taking CBD.
Is Hemp Bombs a good brand?
Hemp Bombs is a well-established premium CBD brand.
Several key factors help support their status as a reputable brand.
Their products undergo extensive testing and lab results are available online. Hemp is sourced from American farmers and they utilize in-house extraction and manufacturing.
**Use code SNACK20 for 20% off your Hemp Bombs order**
---
YOU MAY ALSO LIKE: