Looking for a fun new alcoholic drink that packs a punch like no other? Get ready to take your taste buds on a wild ride!
Discover the exciting buzz of Hard Mountain Dew, the latest and most intense addition to the beverage market. With its bold flavors, this new alcoholic version of the popular soft drink is taking the country by storm.
But what exactly is Hard Mountain Dew?
Unlike traditional spiked drinks, Hard Mountain Dew alcohol beverages combine the classic citrus taste of Mountain Dew with a 5% alcohol content and zero added sugars.
Join us as we unravel the excitement behind Hard Mountain Dew and discover why it's become an instant fan favorite.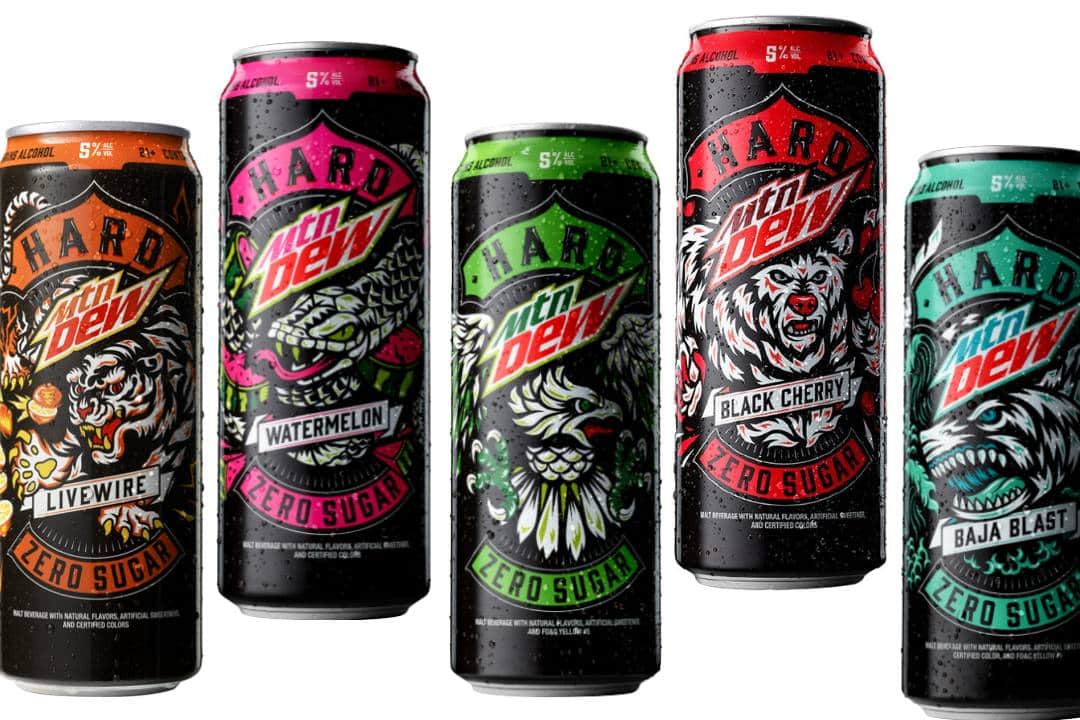 You may also like:
– Ultimate Guide To Loaded Tea: Recipes, Flavors, FAQs & More
– Ultimate Guide To Cirkul Water Bottles: Best Flavors, Reviews and FAQs
– The Best Peace Tea Flavors
Is hard Mountain Dew available Now?
You bet! In addition to the popular original flavors which were first introduced in 2022, Hard Mountain Dew just dropped its latest flavor Live Wire, which has an orange citrus flavor in March 2023.
What kind of alcohol is in the hard Mountain Dew?
Hard Mountain Dew is a non-caffeinated malt beverage, which gives it its unique taste and kick. It contains 5% alcohol by volume (ABV).
It also has zero caffeine, no added sugar, 2.2g of total carbs, and only 100 calories per 12 oz. serving.
What states is hard Mountain Dew sold in?
Currently, Hard Mountain Dew is available in many states across the United States. As the product roll-out continues, it will be more widely available.
You can use the handy location finder to find out where you can purchase Hard Mtn Dew near you.
What does hard Mountain Dew taste like?
Hard Mountain Dew has a slightly sweet and tart flavor reminiscent of its original non-alcoholic counterpart. The citrus notes from the classic soda are still present, but with the slightest undertone of alcohol. Each of the flavors has its own flavor profile that you'll want to sample.
What flavors of hard Mountain Dew are available?
Currently, Hard Mountain Dew is available in five different flavors: Original, Mountain Dew Baja Blast (the flavor originally created for Taco Bell), Mountain Dew Live Wire, Black Cherry and Watermelon.
Want to know what each tastes like? Here's a quick overview:
Hard Mtn Dew Original tastes similar to the OG fan-favorite soda.
Hard Mtn Dew Baha Blast is inspired by the regular Mountain Dew flavor of the same name and has a lime and citrus tart flavor.
Hard Mtn Dew Live Wire features a distinct orange citrus taste.
Hard Mtn Dew Watermelon has a sweet flavor and smell that reminds many people of watermelon Jolly Ranchers.
Hard Mtn Dew Black Cherry is the perfect blend of fruity, smooth and sweet.
In early 2023, Mountain Dew also released 3 limited-edition Baja Blast flavors: pineapple, mango and punch.
What kind of sweetener is in Hard Mountain Dew soda?
The Hard Mountain Dew soda uses acesulfame potassium (Ace-K) and sucralose, making it a lower-sugar alternative to traditional alcoholic drinks.
Can I make mixed drinks with Hard Mountain Dew?
Absolutely! Hard Mountain Dew can be enjoyed straight from the can, on ice, or can be used to create a variety of delicious cocktails.
Try mixing it with tequila, vodka or rum for an extra kick. You can also mix it with juices and flavored syrups to customize your drink.
How to Make a Mountain Dew Seltzer
Hard Mtn Dew tastes great on its own, is slightly carbonated, and is surprisingly low in calories. Only 100 calories per can!
But if you want to stretch those calories a bit further or would prefer to offset some of the alcohol, you can try adding some extra fizz to make your Mountain Dew seltzer even seltzer-ier (is that a word?!)
Just pour a can of Hard Mountain Dew and add a splash of club soda or chilled sparkling water for an easy, refreshing seltzer. For added flavor, you can also mix in your favorite fruit juice. Experiment with different combinations to find the perfect taste.
Final Thoughts: Is Hard Mtn Dew Worth Trying?
I personally love that Hard Mtn Dew only has 100 calories and isn't loaded with sugar. I think the flavors are great as well. Be careful though – these drinks taste so good that it can be easy to forget they contain alcohol!
If you're a fan of other hard selzter drinks on the market, but looking for a new alcoholic drink that has all the flavor without the sugar overload, Hard Mountain Dew is definitely worth trying. Cheers!