Whether you're hitting the gym or just trying to stay hydrated on a hot summer day, a cold bottle of Gatorade can be a great way to get the fluids and nutrients your body needs.
With its expertly created blend of electrolytes and carbohydrates, this sports drink has been helping people to rehydrate and refuel for decades.
In fact, the very first Gatorade flavor introduced in 1965 was lemon-lime. It was the only flavor available for over 15 years.
While the original lemon lime flavor is still available and undoubtedly beloved by millions, there are now so many different Gatorade flavors to choose from.
When it comes to sports drinks, Gatorade is probably the most well-known brand thanks to its long-standing reputation and iconic bright, bold colors.
So in this article, we thought we'd have some fun and explore all of the best Gatorade flavors by color!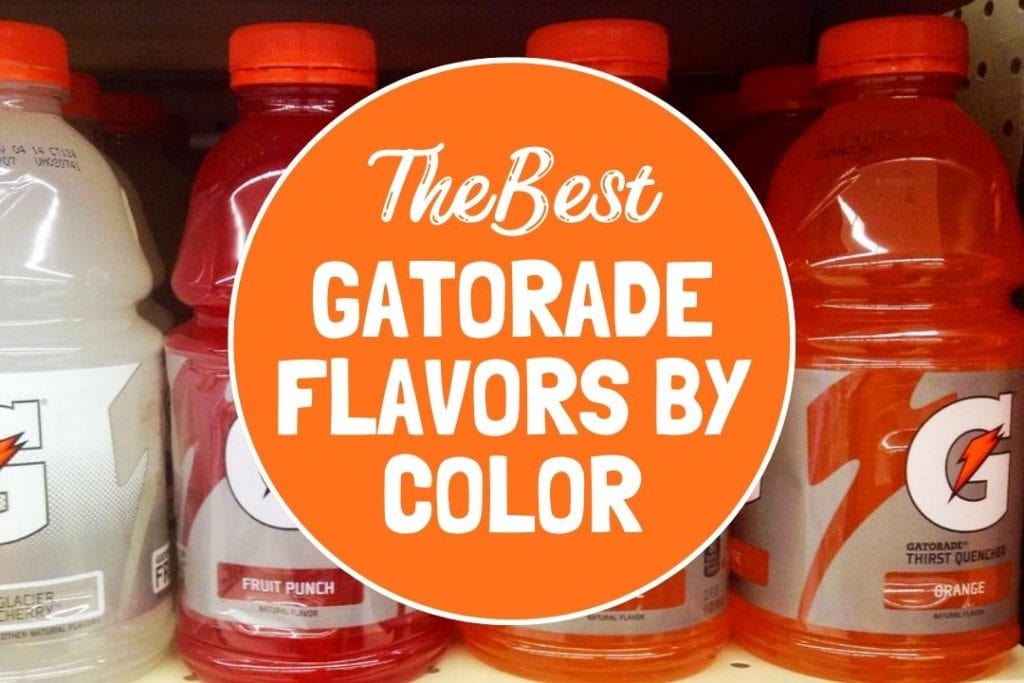 You may also like:
– The Best Peace Tea Flavors
– Ultimate Guide To Loaded Tea: Recipes, Flavors, FAQs
– What Are The 23 Flavors In Dr Pepper? (With Recipe)
Gatorade Products
In addition to sports drinks for hydration, Gatorade offers energy chews and gels, protein shakes and powders, as well as supplements. But for the purposes of this article, we're going to focus on the different flavor options available for the sports drinks.
Within the Gatorade hydration product line, you'll find quite a few different beverage options. Here's a quick run-down:
Gatorade Hydration Products
Gatorade Thirst Quencher (the classic sports drink)
Gatorade Organic Thirst Quencher (USDA organic with no added color)
Gatorade Zero (zero sugar)
Gatorade Fit (no added sugar, artificial sweeteners or flavors, no added colors, plus Vitamins A & C)
Gatorlyte (5 electrolytes for rapid hydration)
Endurance Formula (multi-carbohydrate powder blend)
Endurance Gatorlytes (for cramp-prone athletes)
G2 (lower sugar)
Gx Pods (flavor pods that work with Gatorade Gx bottles)
Propel (for water with electrolytes, antioxidants & vitamins with no calories or sugar)
In the next section, you'll find an overview of the flavors available (by color) for all of these above-listed hydration products.
Blue Gatorade Flavors
First, let's take a look at the "blue" flavors available from Gatorade. As you'll see, the names are fun, but a little obscure. I mean, what exactly does a frosty, icy charge taste like!?
Green Gatorade Flavors
Next up we will explore the "green" flavors of Gatorade.
Purple Gatorade Flavors
There are only a few purple Gatorade flavors and most of them are a variation of grape.
Yellow Gatorade Flavors
In addition to the original lemon lime flavor, the only other yellow flavor currently in the lineup is lemonade.
Red & Pink Gatorade Flavors
Orange Gatorade Flavors
Gatorade offers several orange-colored drinks with flavors including classic orange, passion fruit and melon.
Thirst Quencher Passion Fruit
Clear & White Gatorade Flavors
Gatorade offers quite a few flavors that are either white in color or are clear beverages with no added colors. Here's the rundown of these flavors.
Thirst Quencher Frost Glacier Cherry
Gatorade Zero Glacier Cherry (no sugar)
Gatorade Fit Watermelon Strawberry (no added colors)
Gatorade Fit Tropical Mango (no added colors)
Gatorade Fit Citrus Berry (no added colors)
Gatorade Fit Cherry Lime (no added colors)
Organic Thirst Quencher Mixed Berry (no added colors)
Organic Thirst Quencher Passion Fruit (no added colors)
Organic Thirst Quencher Strawberry (no added colors)
As you can see, there is no shortage of interesting flavors and options when it comes to Gatorade. The flavors in this article have been around for quite some time. But also keep in mind that the company is known to periodically offer new flavors and discontinue underperforming flavors. So if you see something you like, drink up!
Up Next: Best Liquid IV Flavors Ranked