Kids love helping in the kitchen. Moms love fun and easy recipes. And everyone loves Rice Krispie Treats! Here are 15 of the best Fun and Easy Rice Krispie Treat ideas for kids that will make everyone happy.
Fun and Easy Rice Krispie Treat Ideas for Kids
Learn how to make these homemade treats that look fancy, but are actually quick, easy and fun. You'll find some great ideas for a party, school treat or fun project to work on with the kids.
Back to school time will be even more exciting with these School Books Rice Krispie Treats. Kids will have a blast helping assemble these fun treats. Get the full recipe from In The Kid's Kitchen here.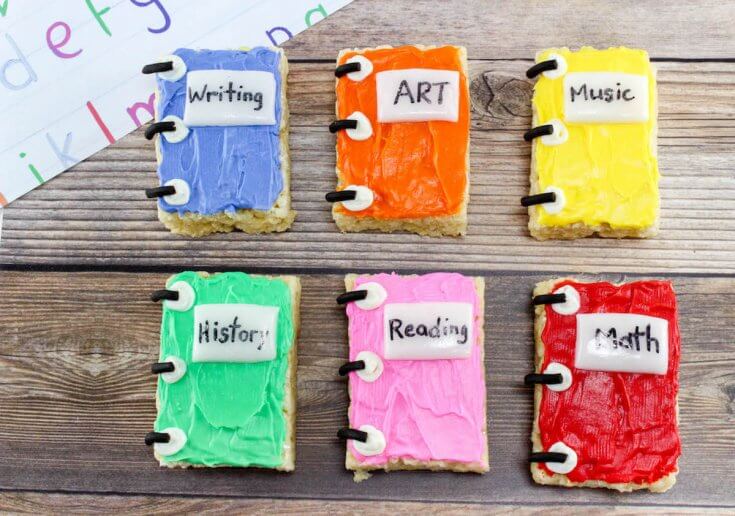 YOU MAY ALSO LIKE: Super Cute Back to School Pencil Cookie Recipe
If your kids love Lightning McQueen and Mater, then these Disney Cars Rice Krispie Treats are for you. Get the recipe and tutorial from In The Kid's Kitchen here.
No yard work is required with these fun little Lawn Mower Rice Krispie Treats. What a clever idea! Click through to get the recipe and step by step instructions from In The Kid's Kitchen.
These cute LEGO Rice Krispies Treats are creative, color and a breeze to assemble. Get the full recipe and instructions here from The Soccer Mom Blog.

These chocolate popsicle cereal treats are the sweetest summer dessert and perfect for a pool party! Get the recipe including homemade chocolate frosting here from Oh My Sugar High.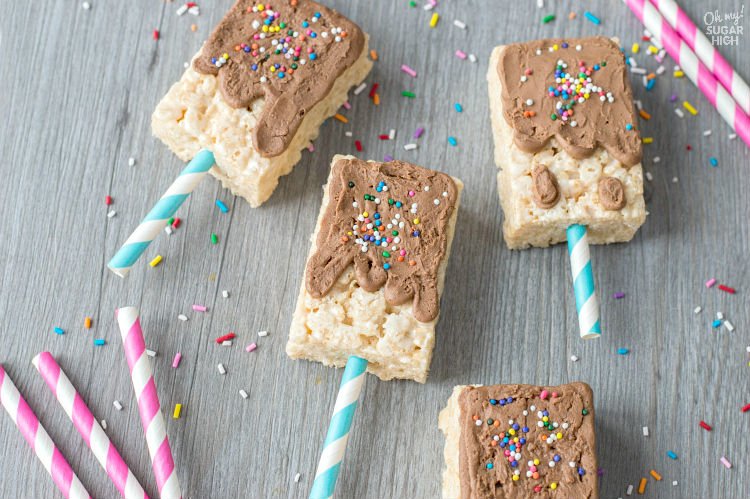 These Basketball Krispie Treats are flavored and colored with orange gelatin and use a simple trick to create the shape. Get the recipe and instructions here from Creative Southern Home.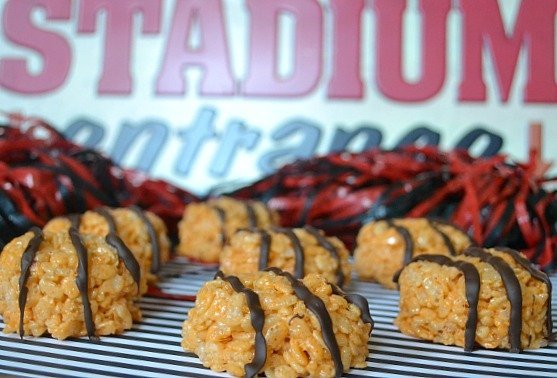 This cute School Bus Rice Krispie Treats recipe uses fondant. It only takes a half hour and is a fun one for the kids to help with. Get the step by step instructions here from Mom Does Reviews.
RELATED RECIPE: Quick and Easy Back to School Pencil Cookies made with wafer cookies.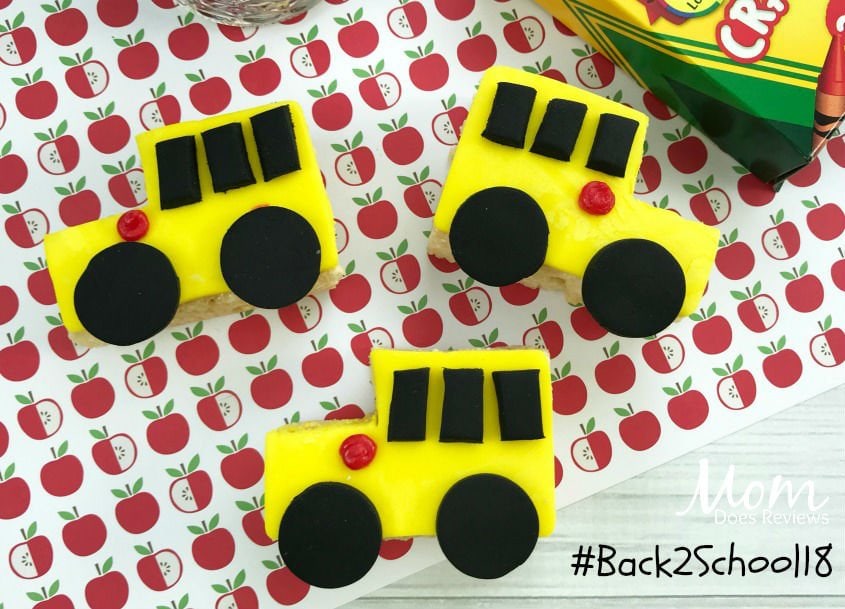 These Watermelon Rice Krispies Treats are ridiculously cute and easy to make. Perfect for summer BBQs and parties. Click through for the easy recipe and directions from Crayons and Cravings.

Check out these cute little Gnome Rice Krispies Treats complete with cotton candy beards. So creative and fun! Learn more about this recipe here from Two Kids and A Coupon.

It's okay to play with your food when you have Tic Tac Toe Rice Krispie Treats. The recipe uses jelly beans, so these would be perfect at Easter or use a different candy for another season. Get the quick and easy recipe here from Two Kids and A Coupon.
These Rice Krispie Treat Ice Cream Cones are a perfect treat for a hot summer day when you don't want to to worry about your treats melting. Get the scoop on these adorable treats here from Bitz & Giggles.
The kids will feel lucky to be able to help with these Lucky Charms Treats that are made in the microwave. Get the recipe for the fun and colorful treats here from Bitz & Giggles.
These Put Me In The Zoo Rice Krispie Treats are a tribute to the classic Dr. Suess book. If your kids love Dr. Suess, this recipe is for you. Click here for the creative recipe from Moms Who Save.
Maybe you're looking for something a little more classic, but the kids will still love. These sweet and colorful Rice Krispie Treat recipes will do the trick.
If you don't love cake batter and sprinkles, I'm not sure we can be friends! These 5-ingredient, 5-minute rice krispie treats take the classic we all love and launch them into a new realm of ooey, gooey deliciousness. Get the quick and easy recipe here.
If you're into sprinkles and childhood snack favorites, you've gotta check out these Hostess Twinkie Truffles and Circus Animal Truffles.
If you enjoy a nice bowl of Fruity Pebbles from time to time, you will love these Fruity Pebble Cereal Treats! When you are finished, you will have some ooey, gooey, fruity and colorful treats. Get the super simple recipe here.
We hope you enjoyed checking out these fun and easy Rice Krispie Treats for kids.
If you're feeling the love, would you please consider sharing on Pinterest or Facebook?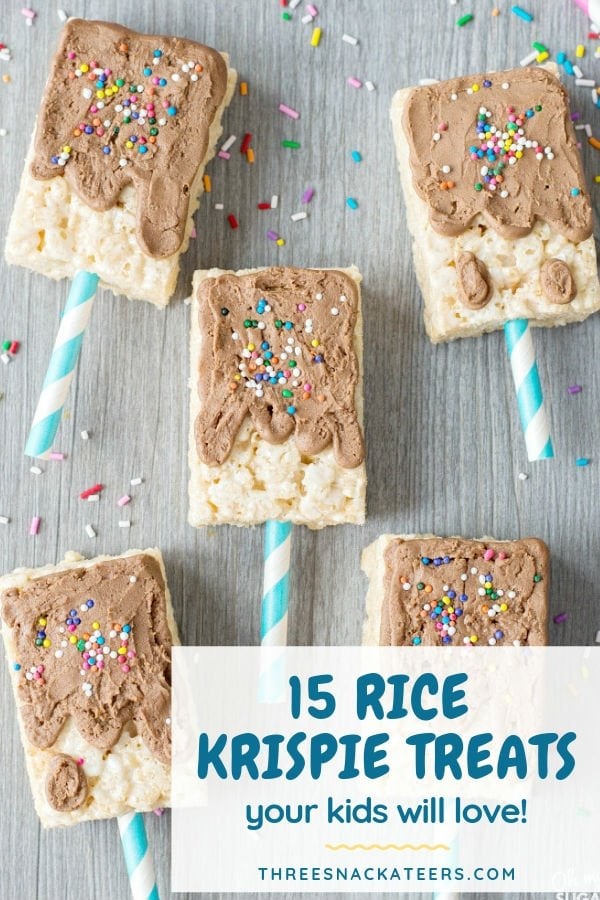 EVEN MORE FUN RECIPES THE KIDS WILL LOVE