There are many different types of CBD products on the market, and it can be confusing to figure out which one is right for you.
Two of the most common types are full spectrum CBD products and broad spectrum products. But what's the difference between them? And is one better?
If you have questions like these, you've come to the right place! In this article, you'll learn some of the similarities and differences between full-spectrum and broad-spectrum CBD and which type of CBD is the best choice for you. In the end, it really is a personal preference.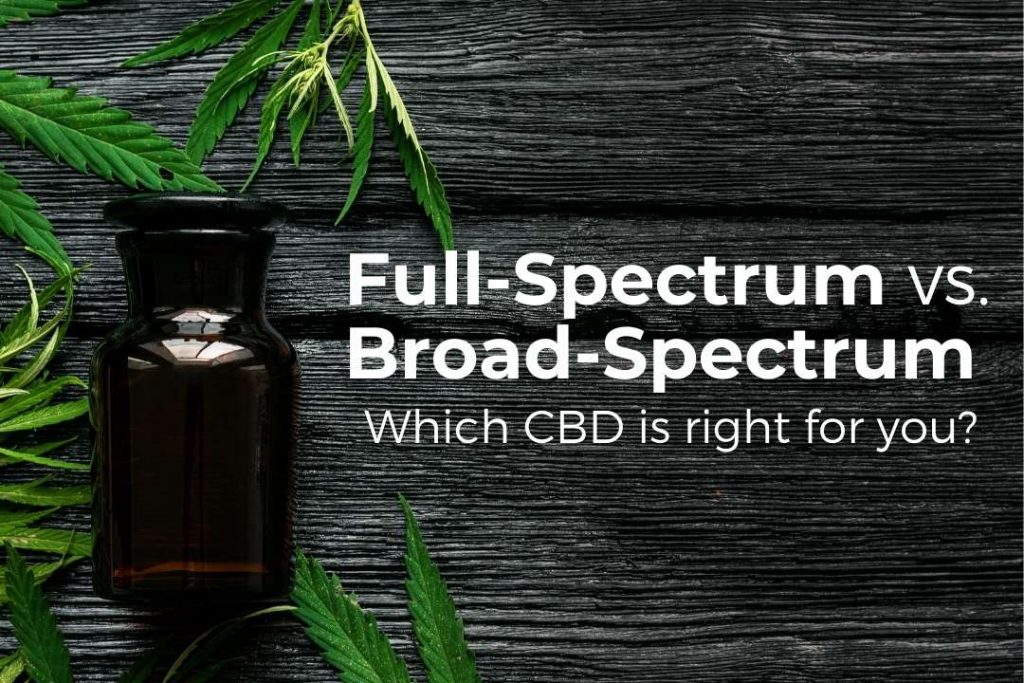 This is not medical advice. CBD is not intended to diagnose, treat, cure or prevent any disease. Products are intended for 18+ years old.
Full Spectrum Vs. Broad Spectrum CBD: What is the difference?
Both full spectrum and broad spectrum products contain a wide range of cannabinoids (lots more on this below!). However, the main difference between full-spectrum and broad-spectrum CBD is the presence of a particular cannabinoid called THC.
Full-spectrum extracts contain trace amounts of THC (0.3%). Broad-spectrum CBD products are THC-free.
When shopping for CBD products, you'll also run across another type of CBD called CBD isolate. Isolate contains only CBD and no cannabinoids. This is a good choice if you only wish to consume CBD and no other cannabinoids.
Full-Spectrum vs. Broad Spectrum Vs. Isolate CBD Summary
Full Spectrum contains CBD plus many other cannabinoids and plant compounds, including THC.
Broad Spectrum contains CBD plus many other cannabinoids and plant compounds, but no THC. Broad Spectrum products are a good idea if you want to explore the potential benefits of additional cannabinoids, but do not want to consume THC.
Isolate contains only CBD. Isolate products are a great choice if you only wish to explore the effects of CBD and no other cannabinoids.
What is CBD and how does it work?
Before going into more detail on broad spectrum vs full-spectrum CBD products, it's helpful to understand a bit more about the cannabidiol or CBD that is in both types of products.
CBD works by interacting with the body's endocannabinoid system, or ECS. The ECS is a complex physiological system that helps regulate virtually every human health function, from organ health to mood and sleep. CBD relays messages to two primary cannabinoid receptors, CB1 and CB2, found in the ECS.
CBD Benefits
CBD has risen in popularity due to a wide range of potential health benefits. CBD users frequently report they use CBD products to relieve pain and anxiety, reduce inflammation and get a better night's sleep.
Some studies have even suggested that CBD could be effective in treating epilepsy and other seizure disorders. While more research is needed to confirm these findings, CBD shows promise as a natural treatment for a variety of conditions.
Possible Benefits Of CBD
Pain relief
Arthritis relief
Stress and anxiety relief
Reduce PTSD symptoms
Treat some epilepsy conditions
Insomnia relief (for full and broad spectrum CBD products containing CBN)
Inflammatory Bowel Disease (for full and broad spectrum CBD products containing CBG)
and many more
What Is The Entourage Effect?
Cannabinoids are the active compounds in the cannabis Sativa plant. Two well-known cannabinoids are THC and CBD, but there are over 100 more like cannabinol (CBN), cannabigerol (CBG), and cannabichromene (CBC).
Terpenes are aromatic compounds found in cannabis as well as many plants, herbs and fruits.
The entourage effect is a phenomenon that occurs when different cannabinoids and terpenes work together to produce a more powerful effect than any one of them could on their own.
When these compounds are combined, they can produce synergy, which means that the combined effect is greater than the sum of the individual effects. The benefits of the entourage effect are the reason why whole-plant medicine is often more effective than isolated cannabinoids.
The entourage effect is also why some people prefer certain strains of cannabis over others. Different strains have different ratios of cannabinoids and terpenes, which can produce different effects.
Full Spectrum CBD
Now that we've covered the basics, let's talk more in-depth about why you might want to try full-spectrum CBD.
Full-spectrum contains vital terpenes, flavonoids, and cannabinoids to help make it the most potent CBD available on the market. Quality full-spectrum CBD oils are typically sourced through a CO2 extraction process, which helps the final product retain its vital ingredients and maintain terpene integrity.
As we mentioned above, full-spectrum CBD products contain all the active components present in cannabis including a small amount of THC.
Full-spectrum CBD oil and other full-spectrum products contain less than 0.3 percent THC per regulations and the legal limit set by the Hemp Farm Bill in 2018.
While not enough THC is present to make you high or feel any psychoactive effects, you may experience the therapeutic benefits from the entourage effect.
Will THC From Full Spectrum CBD Show On Drug Tests?
Technically yes, it is possible for the THC from full spectrum CBD extracts to cause a positive drug test. While it contains only trace amounts, you are still consuming THC, so therefore it could appear in drug test results. If this is a concern for you, it is a good idea to consider a broad spectrum cbd oil or other product.
Broad Spectrum CBD
Broad-spectrum oils don't contain THC but still retain most other components found in cannabis, such as CBN, CBG, and all other terpenes and flavonoids. So while you won't be getting any THC, the entourage effect is still thought to occur with broad-spectrum CBD given all the other vital ingredients of cannabis it contains.
For work or health reasons, or personal beliefs, some people are more comfortable with a product that is entirely free of THC. For example, if you're being tested for drugs, a broad spectrum might be a better option than a full spectrum. Although per federal law only 0.3 percent THC is in full-spectrum, a broad-spectrum CBD oil (or isolate product) is the best way to ensure you won't ingest any THC.
Types Of Full Spectrum and Broad Spectrum CBD Products
CBD products come in many different forms, each with its own set of benefits. Ultimately, there is a wide range of CBD products available on the market, making it easy to find an option that suits your individual needs.
CBD Oils and Tinctures
One of the most popular methods of CBD consumption is via oils and tinctures. They are easy to take and can be administered directly under the tongue for quick absorption. It's also very easy to modify your dosage.
CBD Edibles
CBD edibles are another popular option, as they offer a convenient and delicious way to consume CBD. CBD gummies and CBD chocolates are especially popular. Other edibles include lollipops, coffee, honey, and seltzers. CBD can even be incorporated into foods like brownies or milkshakes.
CBD Capsules
CBD capsules are another popular option, as they are easy to take and provide a precise dose of CBD.
Topical CBD
For those who prefer a topical solution, creams and lotions infused with CBD can be applied directly to the skin, providing targeted relief. Some companies offer health and beauty products like bath bombs, massage oils, bath salts and body oils.
CBD For Pets
A variety of CBD products are also available for pets, and they may provide many of the same benefits as they do for humans. CBD products may offer your pet natural relief from a variety of conditions.
If you're considering giving CBD to your pet, it's important to talk to your veterinarian first for medical advice. They will help you decide if CBD is the right option for your pet's individual needs and that it won't interfere with any prescription medications.

CBD oils for dogs and cats are a popular type of pet CBD product. They are easy to administer directly in the mouth or can be added to food. They come in great flavors that your furry friends will love including bacon, cheese and even corn dog!
CBD treats are another option, and they can be a great way to train or reward your pet. For dogs, there is even CBD-infused peanut butter that can help them relax and enjoy playtime.
How To Choose the Best CBD Product and Company
The CBD market is still relatively new, so new CBD companies are popping up all the time.
Unfortunately, not all companies are created equal. Make sure to do some research to ensure you are buying a high-quality product from a reputable company.
Here are some factors to consider:
Price: Price is an important factor for many people. But it's important to know that producing high-quality CBD can be expensive. Therefore, the lowest price usually isn't the best product.
Production methods: Look on the company website for information about production methods. Supercritical CO2 extraction is ideal.
Hemp source: Organic hemp grown in the United States is optimal.
Amount of THC: Full-spectrum CBD products should contain less than 0.3% THC.
Type of CBD: It should be easy to find the type of CBD (full, broad, isolate) on the label of the product.
Lab testing: Reputable companies will have recent lab testing results from a 3rd party available on their website.
CBD per serving: The product packaging should clearly state the amount of overall CBD in the container, as well as the amount per serving.
Beware of explicit health claims or health benefits. The Food and Drug Administration (FDA) prohibits companies from making any specific health claims or promises.
Retailers like Eden's Herbals sell a wide range of high-quality CBD products that are great for both beginners and more experienced users.
Final Thoughts: Full Spectrum vs. Broad Spectrum CBD
As you can see, in the world of CBD, you have many choices! First consider which of the main types of CBD products like oils, edibles and topicals are right for you. Then decide if a full-spectrum, broad-spectrum or even an isolate product is the best for your situation.
A few key points to remember:
If you want the full benefit of CBD, consider a full-spectrum variety. While the full spectrum contains THC, it's too little to have any psychoactive effect.
Broad-spectrum CBD is an excellent option for those who don't want to consume THC. You'll benefit from the entourage effect and not have to be concerned about drug testing.
Buy from a high-quality, reputable company that is transparent about 3rd-party test results and their manufacturing methods.
Always consult with your doctor before starting a CBD product. They will help ensure it is the right choice for you.
If you're just starting out with CBD, start with a small amount and work your way up to higher doses. A small dose of 5-10 mg of CBD is a good starting point.
Have fun! With so many wonderful choices, feel free to experiment with different brands and products.
You may also be interested in:
Save it for later on Pinterest, Instagram and Facebook. Also join our Facebook Group for more snack fun!