If you like classic Rice Krispie treats enjoy a nice bowl of Fruity Pebbles cereal from time to time, you will love this Fruity Pebble Rice Crispy Treats recipe.
This recipe with a fruity twist is super simple. And it's a quick treat to make because there is no baking involved.
Kids love these fun, colorful cereal bars which make them great for a school snack, lunch box surprise, or sweet treats for a party.
Fruity Pebbles cereal, butter and marshmallows prepared just right make these delicious treats super soft and gooey.
Another Fruity Pebbles Recipe To Try:
If you really love Fruity Pebbles, these cake mix cookies with a fun twist might be your new favorite.
Fruity Pebble Rice Crispy Treats
As a kid, Rice Krispie Treats were always one of my favorites. I loved when my mom made a batch (which wasn't very often).
When I went off to college, she would send me care packages. She would make cereal treats and individually wrap each one. How sweet, right?!
I remember hiding them from my roommate so I could hoard them all for myself. My mom's sweetness apparently did not rub off on me.
But her love of cereal treats did stick with me and I've made plenty of batches of regular old Rice Krispie Treats.
When my husband recently asked that I make them with his favorite cereal, Fruity Pebbles, I happily agreed.
Related Reading:
– Cake Batter Rice Krispie Treats
– Easy Chocolate Chip Rice Krispie Treats
– Easy Peanut Butter Rice Krispies Treats Recipe
Fruity Pebbles Rice Crispy Treats Ingredients
It can't get much easier than this. Just three simple ingredients in this easy Fruity Pebbles treats recipe. Fruity Pebbles cereal with gooey marshmallows and butter – what could be better than that!
Ingredient List For Fruity Pebbles Rice Krispies Treats
Butter (salted or unsalted butter will work)
Fresh Marshmallows (minis work best)
Fruity Pebbles Cereal
Optional Secret Ingredient: Vanilla Extract!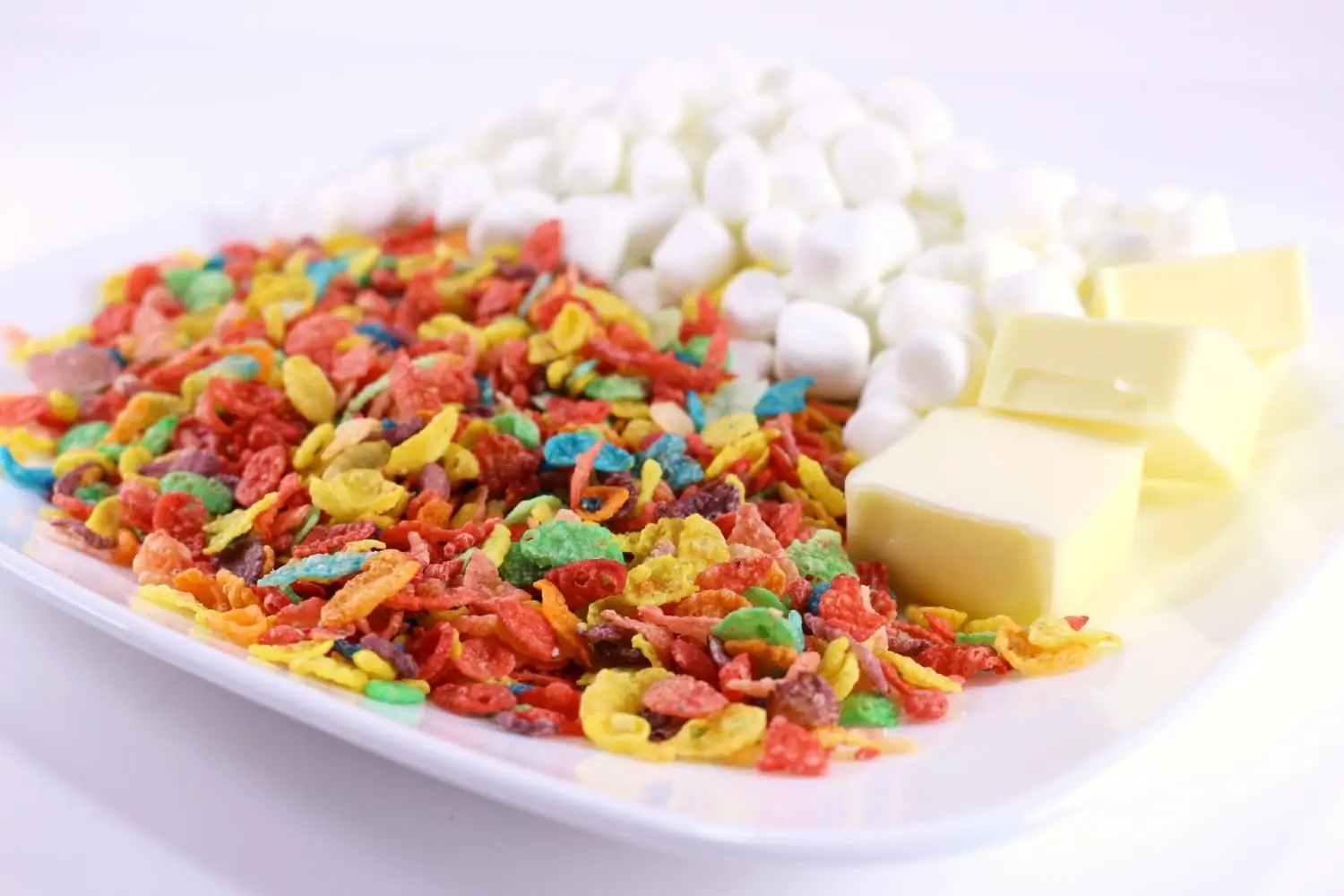 How To Make Fruity Pebbles Rice Krispie Treats
If you've ever made traditional Rice Krispie Treats, then you already know the drill!
In this recipe, you simply substitute the plain Rice Krispies cereal with Fruity Pebbles cereal. The result is a colorful cereal treat that's poppin' with fruity pebble flavor
Stovetop Instructions: How To Make Fruity Pebble Rice Crispy Treats
Step 1: Melt Butter
Melt butter in a large pot at low heat.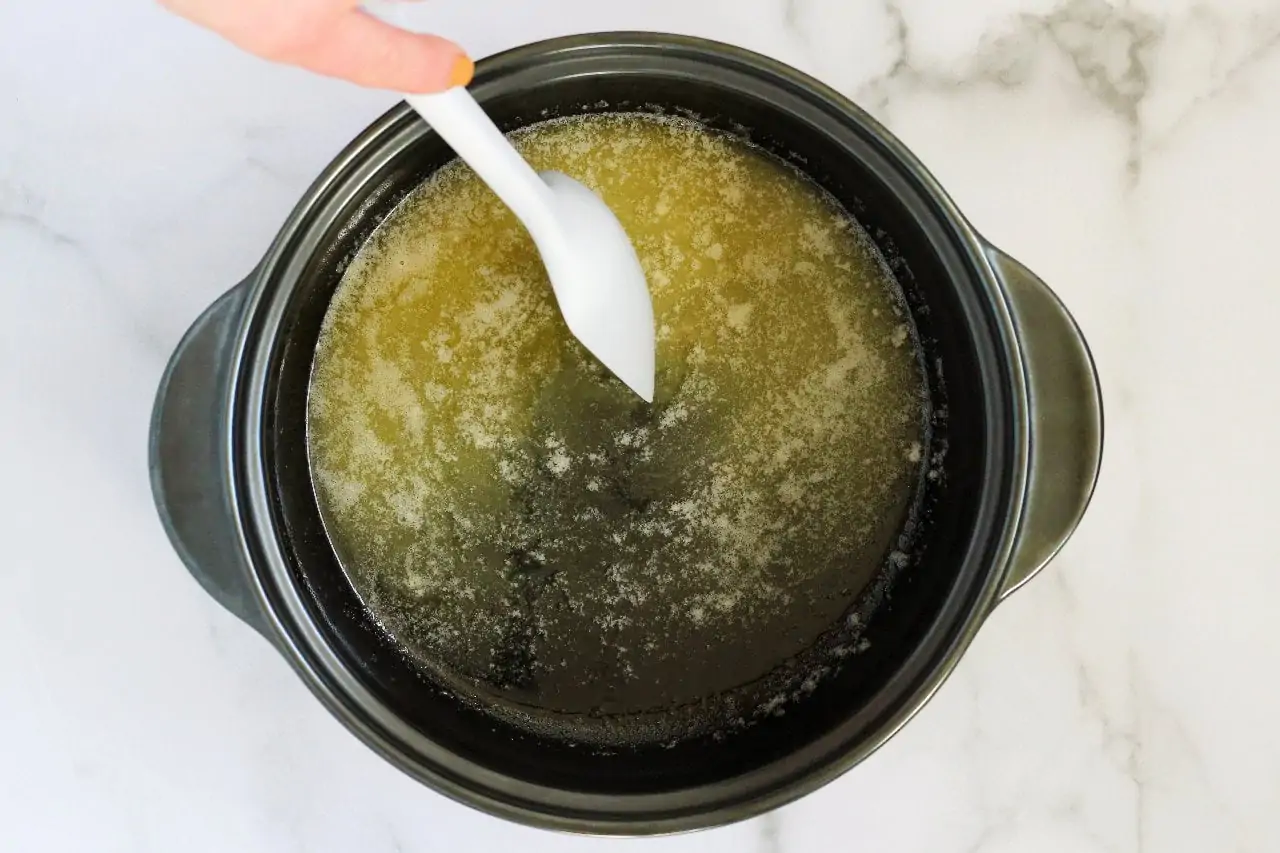 Step 2: Melt Marshmallows
Once butter is completely melted, add mini marshmallows to saucepan with the melted butter. Keep on low heat, stirring frequently, until the marshmallows are melted completely.
Add vanilla (optional). Remove from heat.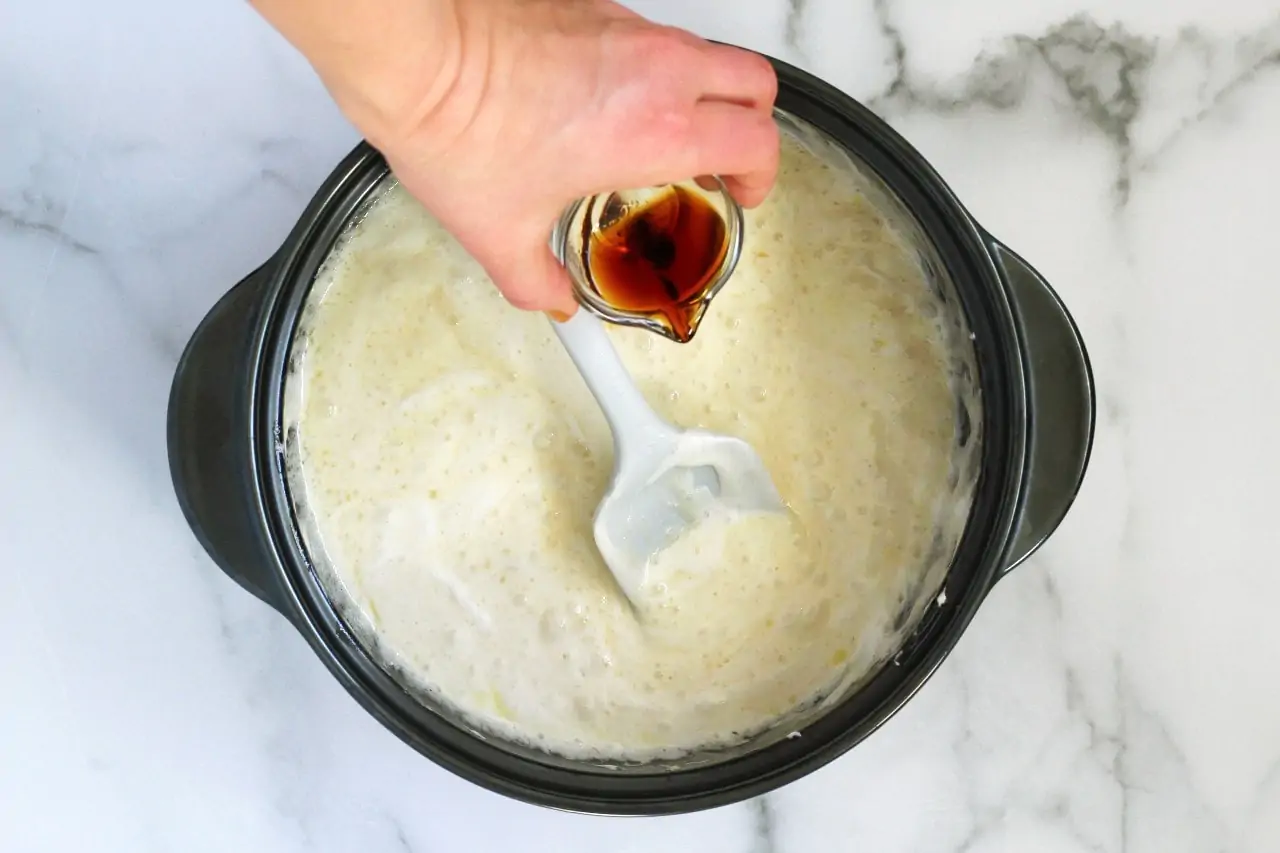 Step 3: Add Fruity Pebbles Cereal
Add Fruity Pebbles cereal to saucepan and combine gently with the melted marshmallows mixture.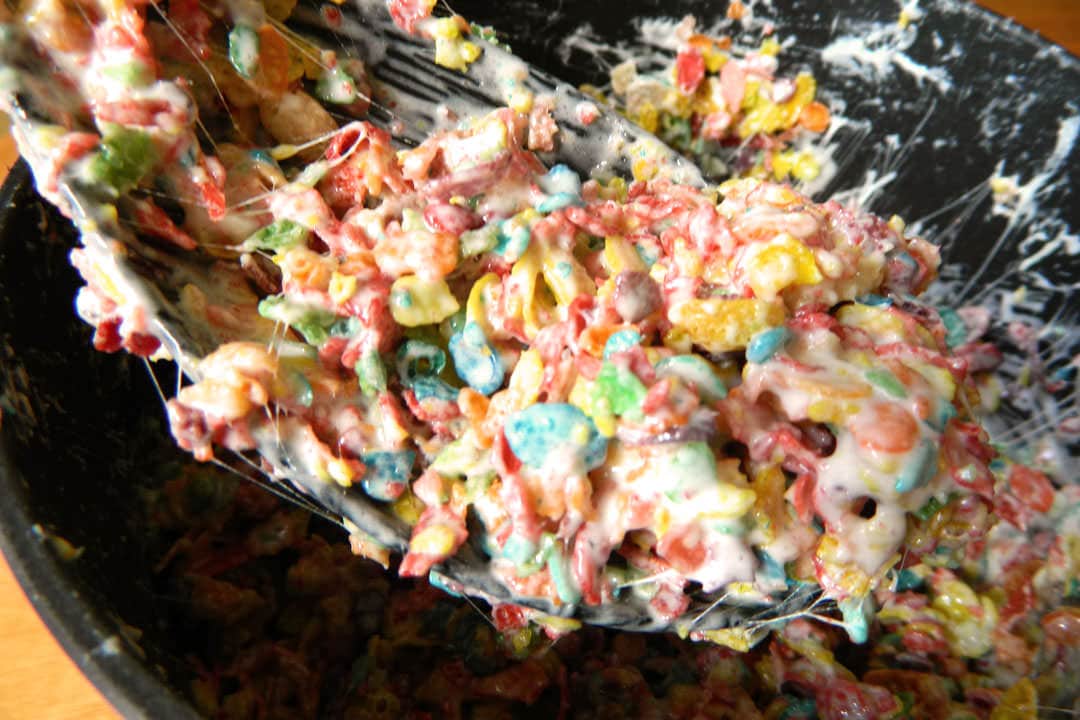 Step 4: Press Cereal Mixture Into Pan
Spray your baking pan with cooking spray. Pour the cereal, butter and marshmallow mixture into the prepared pan. Press the cereal mixture gently into the pan.

PRO TIP: This step can get a bit sticky. Using wax paper or a buttered spatula to press mixture down evenly throughout the pan is a good way to keep your hands clean!
Step 5: Cool Completely and Cut Into Squares
Once the pan of Fruity Pebble Krispie Treats is completely cooled, cut treats into 2-inch squares. Store in an airtight container at room temperature.

Microwave Directions: To Make Fruity Pebble Rice Crispy Treats
These treats can also be made using the microwave. The main differences are in steps 1 and 2 from the stovetop recipe shown above. Just follow the steps below for the microwave version of the recipe.
Place butter and marshmallows in a large, microwave-safe bowl.
Microwave on high for 1 minute, then stir until the marshmallows begin to melt and come together.
If the marshmallows are not fully melted, put them back in the microwave in 10-second intervals. Stir after each interval until the mixture is smooth.
If desired, stir in vanilla.
In a separate large bowl, add 5 cups fruity pebbles cereal. Pour mixture over the top. Stir gently until well-coated.
Gently press mixture into greased pan.
Cool completely before cutting.
Tips For Making Perfect Fruity Pebble Rice Krispie Treats
Fruity Pebbles Rice Krispy Treats are easy to make, but here are a few tips to help make this recipe even better.
Don't Over Cook The Marshmallows
Overcooking is the #1 reason for hard Fruity Pebble Treats (and regular Rice Krispies treats too).
Melt the marshmallows low and slow. Heating them too fast can lead to hard, crunchy and dry treats.
You should use low heat when adding the marshmallows to the melted butter. Or you can even remove from the heat totally until the marshmallows are melted.
Use Fresh Marshmallows and Fresh Cereal
Fresh ingredients are key. It really does make a big difference in making delicious Fruity Pebbles Rice Krispie treats.
The marshmallows should be very soft and fluffy. The fresher your marshmallows the better your treats will turn out. Name brand marshmallows tend to work better in this recipe than store brands.
Name brand (Fruity Pebbles cereal) or generic store brand fruity pebble cereal will both work equally well for this krispie treat recipe. Just make sure the cereal is fresh.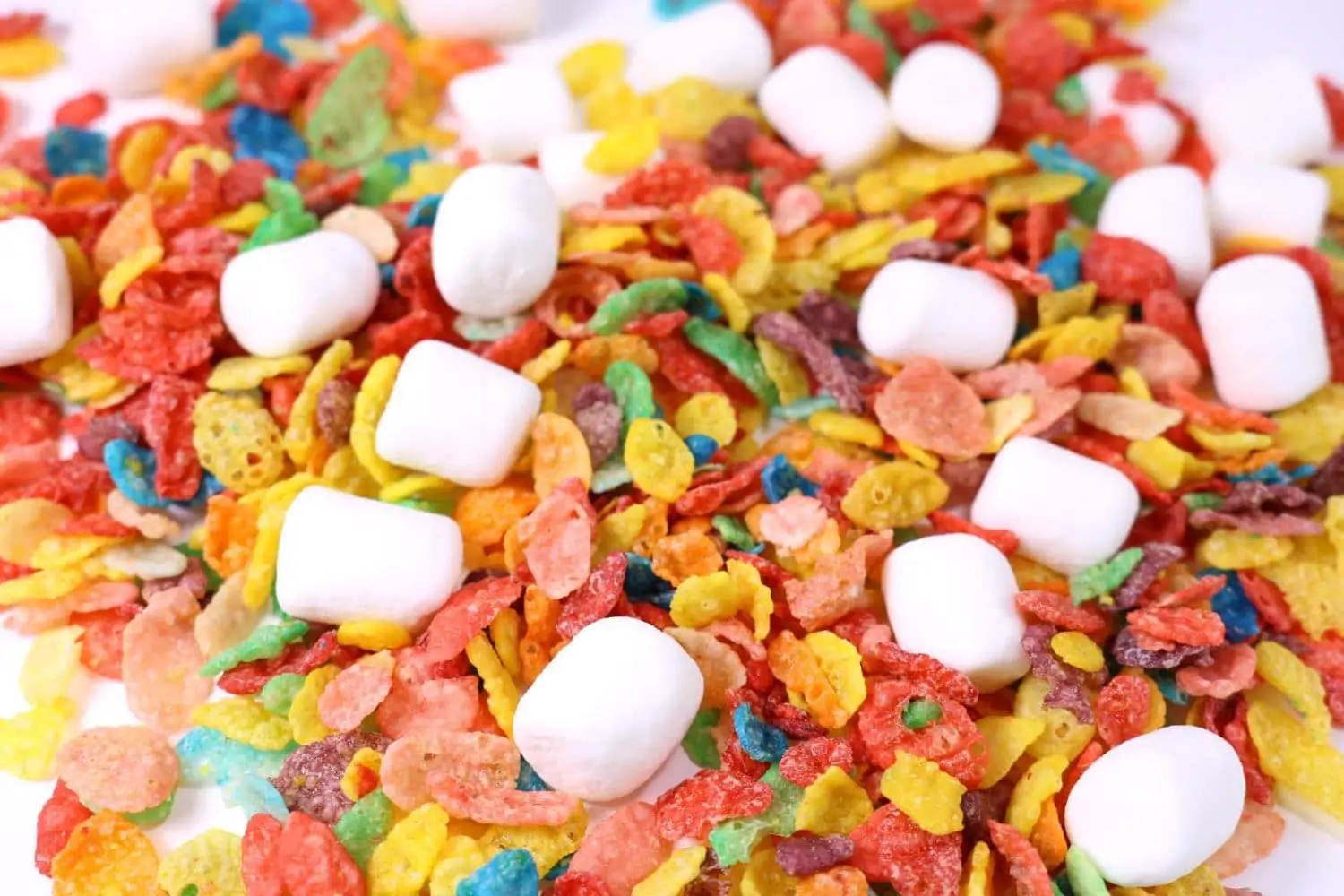 Use A Large Pan (or Bowl)
It's important to stir and combine your ingredient gently to avoid crushing the cereal. Make sure to use a large enough pan.
If it's easier, you can even transfer your prepared Fruity Pebbles mixture from the saucepan into a large mixing bowl to stir and combine the ingredients.
Marshmallow Substitutions
If you don't have mini marshmallows, feel free to swap with a jar of marshmallow fluff or regular size marshmallows in this recipe.
You can snip the large marshmallows in half or quarters with a buttered kitchen to help them melt more quickly.
Handy Marshmallow Substitutions
8 large marshmallows = 1 cup of mini marshmallows
One 7 oz. jar of marshmallow cream = 1 1/2 cups of mini marshmallows
Handle Fruity Pebbles Treats Gently
Take care to press the Fruity Pebble treats lightly into the pan. If you pack them too hard, these treats will be hard, crunchy, and dense.
Try Different Pan Sizes
Experiment with different size pans to find the perfect thickness for your cereal treats. A 9-inch pan will give you thicker treats. A 9×13″ pan will result in a thinner bar.
Make Clean Up Easier
With all the warm, gooey marshmallows and butter, making rice crispy treats can be a sticky mess. But it doesn't have to be. Cooking spray and parchment paper are your friends!
Spray your hands with cooking spray before you press them into the pan. Way less sticky!
Spray your spatula with nonstick spray for less sticking.
Line your baking dish with wax paper to make these treats super easy to remove.
Use the parchment paper to press the treats into the pan.
Store In An Airtight Container
These treats taste the best on the same day they are made. However, they will stay fresh for around 2-3 days if stored in an airtight container at room temperature.
---
We hope you enjoyed learning how to make rice crispy treats with fruity pebbles. We know you're going to love this quick, easy and delicious (and no bake) recipe.
If you love this recipe, please consider sharing to Pinterest, Instagram and Facebook!
Fruity Pebbles Krispie Treats Recipe
Looking for a twist on Krispie Treats? Try these ooey-gooey Fruity Pebble Krispie Treats for a colorful and fruity sweet treat.
Ingredients
4 TB Butter
4 cups Miniature Marshmallows
5 cups Fruity Pebbles Cereal
2 tsp vanilla extract (optional)
Instructions
Melt butter in a large saucepan at low heat.
Once butter is completely melted, add marshmallows to saucepan. Keep on low heat, stirring frequently. Melt marshmallows completely (no lumps).
Add Fruity Pebbles cereal to saucepan and mix well with melted marshmallows. Add vanilla (optional).
Pour mixture into a 13x9 inch pan coated with cooking spray. This step can get a bit sticky! Use wax paper or a spatula coated in butter to gently press mixture down evenly throughout the pan.
Once completely cooled, cut treats into squares and enjoy!
Store in an airtight container at room temperature.
Notes
Tips, Tricks and Tools
Be sure to melt marshmallows on low heat. Otherwise, your treats may end up hard, crunchy and dry.
Use any type of square and/or rectangular pan. The smaller the pan, the thicker the treats. The larger the pan, the thinner the treats.
EVEN MORE FUN AND EASY RECIPES
– Cake Batter Rice Krispie Treats
– 15 Fun and Easy Rice Krispie Treats for Kids
– Colorful Unicorn Party Dip
Micky Reed, a two-decade veteran in the food and baking industry, leverages her influential Three Snackateers food blog and Instagram presence to collaborate with industry giants like Ben & Jerry's and Crumbl Cookies. Her work has been featured on Delish, PopSugar and more. Her expertise as a product curator for one of the world's largest international snack subscription box companies solidifies her status as a key player in the field.