Move over, bacon. It's time for kielbasa to shine! This smoked sausage can be cooked in so many ways, making it the perfect addition to any meal and for any occasion.
Kielbasa is a type of smoked sausage that originated in Poland. In fact, the word kielbasa means sausage in Polish.
Kielbasa differs from other sausages and bratwurst in its seasonings. You'll often find kielbasa is flavored with cloves, pimentos, garlic, and marjoram.
Traditionally, kielbasa is served grilled, sauteed, or boiled. Many times it's served along with pierogies and sauerkraut. But as you'll see in the 35 easy kielbasa recipes below, there are tons of delicious ways to use it.
Check out the list below of the best kielbasa recipes we could find for some ideas on how to cook up this deliciousness.
35 Easy Kielbasa Recipes To Try This Year
One Pot Kielbasa Pasta is an easy and delicious weeknight meal that the whole family will love. This dish comes together in just one pot, which means fewer dishes to wash at the end of the night.
And, best of all, it only takes about 30 minutes from start to finish. Since kielbasa is a Polish sausage that is relatively lean and has a mild flavor, it pairs nicely with the pasta and garlic in this dish.
You can use any type of pasta you like, but bowtie pasta would be great. This One Pot Kielbasa Pasta is a great way to get dinner on the table quickly and with minimal effort.
Slow cooker sweet kielbasa is perfect for a busy weeknight or a party with friends. The recipe works equally well for a main course or appetizer.
The sweet flavors of BBQ suace, maple syrup and brown sugar mingle with the smoky, savory flavors of the kielbasa.
Because it's made in the slower cooker, you can get it started in advance and it'll be ready when you are. If you're looking for a super easy and delicious way to feed your family, try slow cooker sweet kielbasa. You won't be disappointed.
This Crock Pot Cheesy Pierogi and Kielbasa Casserole might just be the ultimate comfort food. All you need are some frozen pierogies, smoked kielbasa, cream cheese, chicken broth, cheddar cheese and a few seasonings.
Throw everything together in the crock pot and you'll have dinner on the table (and only one pot to wash!)
Kielbasa and potatoes are a classic pairing. Together they make a hearty and filling dinner.
In this recipe, you'll add sweet onion, paprika, garlic and some Italian seasoning for a tasty meal you'll make again and again.
There are plenty of kielbasa and cabbage recipes out there, but you're going to especially like this one.
The smoky kielbasa is sauteed with the cabbage, while onion, garlic, dijon mustard, rice wine vinegar and a pinch of sugar add a delicious zing of extra flavor.
This kielbasa recipe is a real showstopper! The fresh broccoli and orange sweet potato add pops of color to the beautifully caramelized kielbasa. It's all topped off with a delicious honey garlic sauce.
With just 15 minutes of prep time and 30 minutes in the oven, this is a healthy go-to recipe for any night of the week.
If you're looking for a recipe to make over the campfire or just a super easy meal to make at home, this recipe is a winner. Everyone loves mac 'n cheese and the addition of smoky sausage makes it even better.
Plus this recipe has a secret ingredient that makes this mac 'n cheese even easier to make when you're camping. It's both genius and delicious!
You had me at alfredo! This recipe gives classic alfredo a smoky and delicious twist with the addition of kielbasa sausage slices.
You'll need 30 minutes from start to finish for this easy recipe the whole family is sure to enjoy. It's a perfect dish for a family dinner or would be great for a party too. And make extra because it's great to warm up for leftovers.
This recipe is literally packed with flavor – smoky sausage, tangy sauerkraut, and zesty red and green peppers. All you need to do is add your ingredients to a hot skillet and in 15 minutes, dinner is served.
If you enjoy keto or low-carb meals, you'll be happy to know that this recipe fits the bill!
This one-pot Hungarian goulash has a delicious sauce that will keep you coming back for more. It's a hearty, comforting recipe that's perfect for a chilly day.
In this recipe, you'll brown the sausage slices until they are deep and golden brown. Then the onions are caramelized in the delicious drippings from the kielbasa. Yum!
You can make this recipe in advance and it's also great for throwing in the freezer for a quick meal on another day.
This hearty pasta dish is a great way to use up all your summer zucchini! It's also loaded with veggies including onion, bell pepper, corn and diced tomatoes. Throw in some penne and kielbasa for a quick and easy meal.
Creamy, cheesy, hearty, comforting, satisfying and downright delicious. There is all sorts of yum happening in this recipe that features kielbasa sausage and potatoes in a rich cheesy sauce.
Glazed kielbasa bites are perfect for an appetizer or a game day snack. Kielbasa sausage and pineapple chunks are baked in a deliciously sweet glaze made with teriyaki, cocktail sauce and honey!
You can serve this dish family-style or add the sausage and pineapple to skewers for a hand-held snack.
In under 30 minutes, you can have this classic dish on the dinner table. This easy skillet meal comes together quickly with smoked kielbasa, diced potatoes and slices of peppers and onions.
You can also get variations for this recipe with different cooking methods including air frying and sheet pan in the oven.
If you've got an instant pot and 15 minutes, this recipe is for you! Hearty sausage, flavorful potatoes and tender green beans come together in this recipe to make a fast dinner for your family.
A surprising dash of cajun seasoning takes this recipe from ordinary to extraordinary!
A hot skillet, turkey kielbasa, lots of veggies and about 20 minutes are all you need to put together this delicious and nutritious hash.
It's an incredibly easy dish to prepare and has all the elements for a meal the whole family will enjoy.
This recipe is a fun twist on a familiar Chinese favorite.
Smoky sliced sausage, red and yellow bell peppers, sweet pineapple and chunks of onion come together in a simple sweet and sour sauce. The sauce is made from just 2 easy ingredients: BBQ and light brown sugar. Yum!
These delicious bourbon kielbasa bites are absolutely perfect for a game-day snack, party appetizer or New Year's Eve bash!
Just from the 4 simple ingredients, you can tell these are tasty! Kielbasa, apricot preserves, maple syrup and bourbon are the only ingredients you'll need. If bourbon isn't your thing, you can also substitute apple juice.
For this easy smoked sausage and rice dish, you'll only need about 30 minutes. Colorful green broccoli and diced red pepper make this an impressive-looking dish.
At the end of the cooking process, you'll add in some yummy shredded cheddar cheese. The end result is super satisfying cheesy rice that pairs perfectly with the smoky meat and fresh veggies.
Forget the usual chicken or beef fried rice you're used to. Kick things up a notch by using Polska Kielbasa instead. This easy skillet meal is packed with flavor and is ready in about 15 minutes.
Want a pro tip for making the best fried rice? Use day-old rice!
Comfort food that tastes good AND is good for you? That's definitely what you get with this recipe! Believe it or not, it's low fat, gluten-free, grain-free and lower in carbs than usually kielbasa recipes that have rice, potatoes or pasta.
For this recipe, you'll need some amazing ingredients and flavorful including turkey kielbasa, sweet onion, fuji apples, rosemary, apple butter and apple cider vinegar.
Smoked sausage is the perfect complement to red beans and rice. You'll only need one pot and about 30 minutes for this tasty dish.
The recipe comes together with a variety of delicious spices and flavors from cajun seasoning, cayenne pepper, red pepper flakes and beef broth.
This recipe looks innocent enough with simple smoked sausage and yummy buttered noodles. But wait until you see the secret ingredients that really boost the intrigue factor: nutmeg, brown sugar, butter and parsley!
Bacon, cheese, sausage, garlic, pasta and cream sauce?! Sign me up!
This stick-to-your-ribs recipe will definitely leave you satisfied. The recipe makes a big batch, so bring your appetite or plan for leftovers.
This recipe is filled with fridge and pantry staples including kielbasa, onions, bell peppers, canned beans, Worcestershire sauce, flour, and sage.
It only takes 30 minutes to make, but will taste like it's simmered for hours!
Kielbasa Kapusta – say that one 3 times fast! Kapusta means cabbage in Polish. This is a classic sausage and sauerkraut dish, but has some bacon drippings and brown sugar added in for extra flavor.
If you love a good, hearty pasta dish, this one is for you. Chunks of smoky sausage pair deliciously with rotini pasta and vodka sauce. Add in some onion, peppers and cheddar cheese for a satisfying homemade meal.
If you have a nice big flattop for your grill, you're going to love this recipe. The entire recipe – sausage, tortellini, mushrooms and spinach – is cooked right on the grill. You can easily substitute other types of veggies or even protein if you'd like.
In addition to the bacon, this baked beans recipe also has delicious smoky sausage in the mix.
Molasses, ketchup, mustard, brown sugar, apple cider vinegar and Worcestershire sauce add amazing flavor. You can even add a dash of hot sauce if you're feeling adventurous.
This hearty bean recipe can be served as a summer side dish or you can serve it over rice for a quick meal.
This creative recipe only required 5 ingredients and 15 minutes. Grab your smoked sauce, pasta, cajun seasoning, heavy cream and parmesan cheese and get ready to cook. Really – there's no prep required in this super quick and easy dish!
Here's another great kielbasa recipe with a cajun twist. For this one, you'll need your instant pot.
This recipe is unique because it features 2 proteins – smoked kielbasa AND chicken breast. You'll also need some onion, celery, mushrooms and bell pepper.
For seasonings, grab your favorite cajun blend, smoked paprika and parsley. And also grab your heavy cream and parmesan to finish off your creamy pasta dinner!
All kinds of classic flavors come together in this easy-to-prepare skillet. Frozen pierogies and sliced kielbasa sausage are the stars of the show.
But don't forget the cream cheese, sour cream and cheddar cheese that transform this recipe into a cheesy masterpiece!
This recipe is literally "the bomb"! Delicious Polska kielbasa, sauerkraut and cheese are hidden away inside a flaky, tender biscuit. Enjoy with a side of mustard dip for the perfect snack or appetizer.
This easy sausage frittata recipe is perfect for a holiday brunch or everyday breakfast. This recipe is packed with flavor with ingredients like red onion, red and green pepper, jalapeno peppers, red pepper flakes and garlic!
This quick and easy breakfast burrito recipe is a great way to start the day. Sausage, potatoes, peppers, eggs and cheese are all rolled up into warm tortillas. It'll give you all the energy you need to start the day off right.
---
So as you can see, kielbasa is a delicious, versatile sausage that can be cooked in so many ways. We've provided the 35 best kielbasa recipes for you to try, from breakfast to main courses. So now the big question is, which easy kielbasa recipe will you try first?
You may also enjoy:
What To Serve With Perogies
How To Cooke Fresh and Frozen Pierogies
How To Cook Fresh and Smoked Kielbasa
Save it for later on Pinterest, Instagram and Facebook. Also join our Facebook Group for more snack fun!
Yield: 4
Easy Kielbasa With Onions, Peppers & Potatoes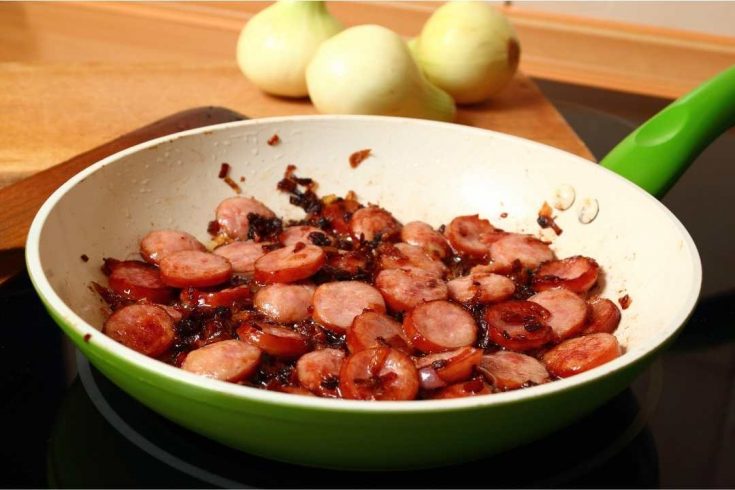 This simple 4-ingredient dish is super quick and easy to make. This easy recipe calls for kielbasa with onions, peppers and potatoes, plus a dash of salt and pepper.
Ingredients
1 (16 ounce) package kielbasa sausage, sliced
1 green pepper, diced
1 onion, diced
2 potatoes, diced
Olive oil
Salt and pepper
Instructions
Add olive oil to a large skillet and turn to medium heat.
Cook the diced potatoes until tender and browned.
Add in the sliced kielbasa, diced peppers and onions. Season with salt and pepper.
Cook the sausage and vegetables until cooked through and they take on a nice golden brown color.
Serve and enjoy!
Micky Reed, a two-decade veteran in the food and baking industry, leverages her influential Three Snackateers food blog and Instagram presence to collaborate with industry giants like Ben & Jerry's and Crumbl Cookies. Her work has been featured on Delish, PopSugar and more. Her expertise as a product curator for one of the world's largest international snack subscription box companies solidifies her status as a key player in the field.