The Easy Bake Oven is an iconic toy oven that has been a favorite for generations. It was first introduced by Hasbro in 1963 and has been a popular toy for children ever since.
Boys, girls and parents alike love the Easy Bake Oven for its simplicity.
Just mix, whisk and stir tiny packets of ingredients and pour them into miniature pans. Push your filled baking pan into one side of the preheated oven, set the timer, pull your delicious baked goodies out the other side and enjoy!
Because this tiny oven makes tiny treats, your kids will be ready to make batch after batch of their favorite baked goods. However, a single Easy Bake Oven refill pack will set you back $7 or more!
However, there are lots of ways to enjoy your Easy Bake Oven without spending that kind of money on refill mixes. In this article, you'll learn how to make DIY Easy Bake Oven mixes and recipes. We'll also share some great Easy Bake Oven recipe books and cute, mini accessories that kids will love.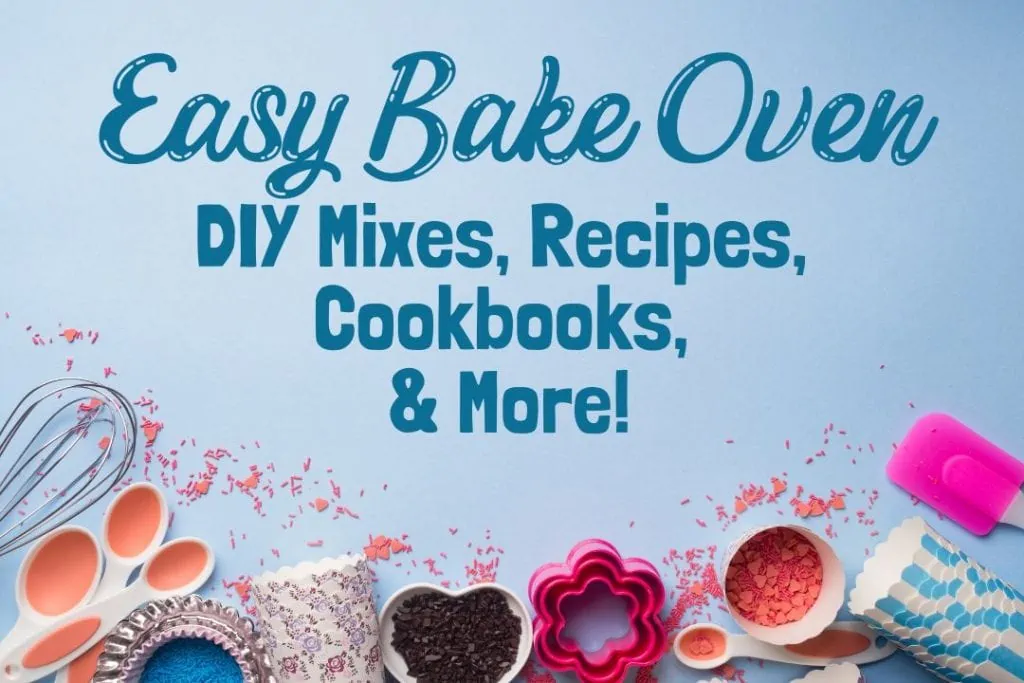 How To Make Homemade Easy Bake Cake Mixes
Making Easy Bake cake mixes at home is so simple! All you need is a cake mix and water. You can use any brand or flavor cake mix.
DIY Easy Bake Cake Mix Recipe
3 tablespoons cake mix (any brand or flavor)
1 tablespoon milk
Sprinkles, optional
Preheat Easy Bake Oven.
Grease and flour the Easy Bake pan.
Add cake mix and milk to a small bowl. Stir until combined.
Pour batter into pan and place in Easy Bake oven.
Bake for 12-15 minutes, remove from oven when cooked through.
Cool cake before serving or frosting. Enjoy!
Easy Bake Oven Frosting Recipe
1/4 cup powdered sugar
Milk
Vanilla or other flavorings, optional
Food coloring, optional
Add powdered sugar to a small bowl.
Add a small amount of milk and stir to combine. Continue adding small amounts of milk until you reach your desired consistency.
Add vanilla, other flavorings, extracts and/or food coloring. Mix well.
You may also like:
– 8 Ways To Make Frosting Without Butter (With Recipes)
– Ultimate Guide: 50+ Ideas To Make Store-Bought Frosting Taste Better
---
More Easy Bake Oven Recipes
Chocolate chip cookies are a classic sweet treat that is fun to make. Below are a few simple Easy Bake Oven recipes for you and your kids to try.
Easy Bake Chocolate Chip Cookies
Here are three options to make a batch of mini chocolate chip cookies in your Easy Bake.
Option 1: Easy Bake Chocolate Chip Cookies From Cookie Dough
The easiest way to make chocolate chip cookies in the Easy Bake Oven is to use pre-made cookie dough. You can also use any type of store-bought dough like sugar or peanut butter.
Preheat Easy Bake Oven.
Grease your Easy Bake cookie sheet.
Add six tiny portions of ready-made cookie dough.
Bake for 8-10 minutes.
Option 2: Easy Bake Chocolate Chip Cookies From Cookie Mix
Another way to make Easy Bake cookies is to use a dry cookie mix. You can find these at the grocery store in the same aisle as the cake mixes.
And don't stop at chocolate chip. You can use any flavor mix to create other treats like sugar cookies or snickerdoodle.
Preheat Easy Bake Oven.
In a small bowl, combine 1-2 teaspoons of water with about 3 tablespoons of cookie mix to make your dough.
Add six tiny portions of dough to the greased cookie sheet.
Bake in your Easy Bake oven for around 6 minutes.
Option 3: Homemade Easy Bake Chocolate Chip Cookies
To make Homemade Easy Bake Chocolate Chip Cookies, you'll need sugar, brown sugar, margarine, baking powder, vanilla extract, water, flour and semi-sweet chocolate chips. Get the recipe here.
PRO TIP: You can find some really cute homemade Easy Bake Oven mixes on Etsy! You'll find delicious options like DIY mixes for cake, cookies, frosting, brownies, pizza crusts and more!
You may also like:
– Copycat Crumbl Chocolate Chip Cookies Recipe
– 35 Best Gourmet Mail Order Cookies To Buy Online in 2022
---
Best Easy Bake Oven Recipe Books
For even more fun Easy Bake Oven recipes, check out these cookbooks filled with kid-favorite foods that are quick and easy to make!
This Easy Bake Oven cookbook has 89 simple recipes for kid favorites like Unicorn Rainbow Cake, Cookies & Cream Cake, Peach Cobbler, Pizza, Bread Sticks, and lots more. The book has almost 1500 reviews on Amazon and a 4.5-star rating.
This cookbook not only has 150 easy recipes for breakfast, lunch, dinner, dessert and snacks, it also provides easy-to-understand guidance on basics like kitchen safety, handling eggs, and lots more.
You may also like:
– 7 Best Macaron Recipe Books For Every Skill Level
---
Easy Bake Oven Accessories
While Easy Bake mixes are simple to make at home, you'll probably want to buy a few tiny baking pans and accessories. The standard Easy Bake Oven comes with one baking tray, so having a few more options will add to the baking fun.
This set will give you a few extra Easy Bake Oven pans to work with. Whip up some creative treats like a Valentine's cake or some tiny birthday cupcakes.
This super cute baking set includes a mini rolling pin, silicone whisk, silicone turner, silicone spatula and a silicone basting brush. All are dishwasher safe, except the rolling pin which should be washed by hand.
This baking kit has pretty much everything you need to bake up a storm with your little one. It's available in pink and blue colors, making it perfect for boy and girl chefs.
You get an adult and kid's apron, reusable storage case, spatulas, baking brush, tongs, measuring spoons and cups, whisk, cooking knives, bear shape sandwich mold, cookie and vegetable cutter, cutting board, rolling pin and more!
---
With the Easy Bake Oven mixes and recipes in this article, the kids will have a blast cooking up treats and learning about baking in the process. Plus, you'll save some money not having to buy those super expensive Easy Bake Oven mixes and refills. Have fun and enjoy!
Up Next:
– Colorful Unicorn Party Dip For Kids
Micky Reed, a two-decade veteran in the food and baking industry, leverages her influential Three Snackateers food blog and Instagram presence to collaborate with industry giants like Ben & Jerry's and Crumbl Cookies. Her work has been featured on Delish, PopSugar and more. Her expertise as a product curator for one of the world's largest international snack subscription box companies solidifies her status as a key player in the field.