For anyone who loves doughnuts, but is trying to eat healthier and stay away from fried foods, The Dough Bar has the perfect solution. They offer a variety of protein-packed donuts that are baked not fried.
In this Dough Bar Doughnuts review, we'll go over what this company has to offer, and why it is a great choice for anyone who loves doughnuts but wants a healthier alternative.
About The Dough Bar
Husband-wife duo Marquez and Ondrea Fernandez are the creators of The Dough Bar. They started the business in 2015 as a way to combine the best of both worlds, by crafting delectable doughnuts packed with protein, but without the fat, sugar and oil.
The company is best known for its raised and cake donuts that are baked and come in a variety of fun flavors with glaze and toppings you add yourself. They even give you the donut hole too!
They also have a few other sweet treats including soft-baked cookies (gluten-free and keto-friendly), pastry rolls and monkey bread.
Use code MICKY10 for 10% off your order.
The Dough Bar On Shark Tank
This company was featured on Shark Tank in 2018 (Season 9 Episode 20).
After trying the treats and hearing about the financial background of the business, the Sharks were impressed. They walked away with a deal with Barbara Corcoran for $300K for a 20% stake.
RELATED READING: 15 Coolest Foods Ever Featured On Shark Tank
Protein-Packed Dough Bar Doughnuts Overview
We've tried quite a few protein snacks in the past that promised to be healthy and taste great, but didn't really deliver.
This company, however, is one that really does live up to its promises. The Dough Bar offers baked donuts that taste pretty darn close to the real thing.
What You'll Love About The Dough Bar Doughnuts
There is a lot to like about these doughnuts. Here's a quick run-down.
They're baked, not fried making them a healthier choice that you don't have to feel guilty about.
They're unique and use a made-from-scratch recipe.
There are plenty of fun flavors. Each doughnut comes with a glaze and topping, which you add yourself.
If you're into Keto, you'll love that these are macro-friendly. Nutrition info comes with the doughnuts.
They've been tested in a laboratory setting to ensure the highest nutritional accuracy possible.
Each doughnut (including glaze and toppings) has about 200 calories.
They're packed with protein which keeps you feeling full longer. Raised and cake doughnuts have 12-13 grams of protein.
My Dough Bar Donuts Review
Baked, protein-packed donuts that taste great? We put this claim to the test!
I tried a variety pack of raised donuts. The box contained 4 individually wrapped donuts, 4 small packets of glaze and 4 small packets of toppings.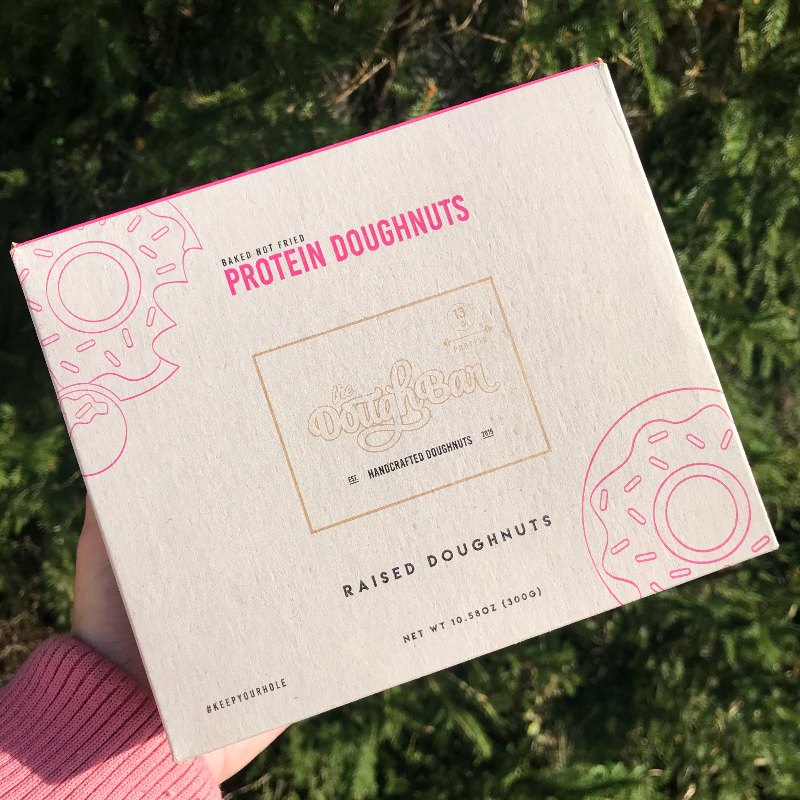 My box came with 4 different flavors. Three of the four varieties are limited-edition seasonal offerings.
They are coming out with fun new flavor combinations all the time. I checked their website just a week after receiving my package and saw quite a few new choices already.
Here is a rundown of the 4 donuts I received.
The Homer: Vanilla raised donut with pink frosting and colorful sprinkles
Maple Brown Sugar Bacon: Maple donut and glaze with brown sugar and peppered bacon crumbles
Blueberry Cheesecake: Blueberry donut with cheesecake glaze and cinnamon streusel
Double Chocolate: Chocolate donut with chocolate glaze and chocolate chips
What I Liked Best About These Doughnuts
First of all, the presentation is great. I really enjoyed that you get to add the frosting and toppings yourself.
And they really do taste great! The texture is a bit denser than a regular donut.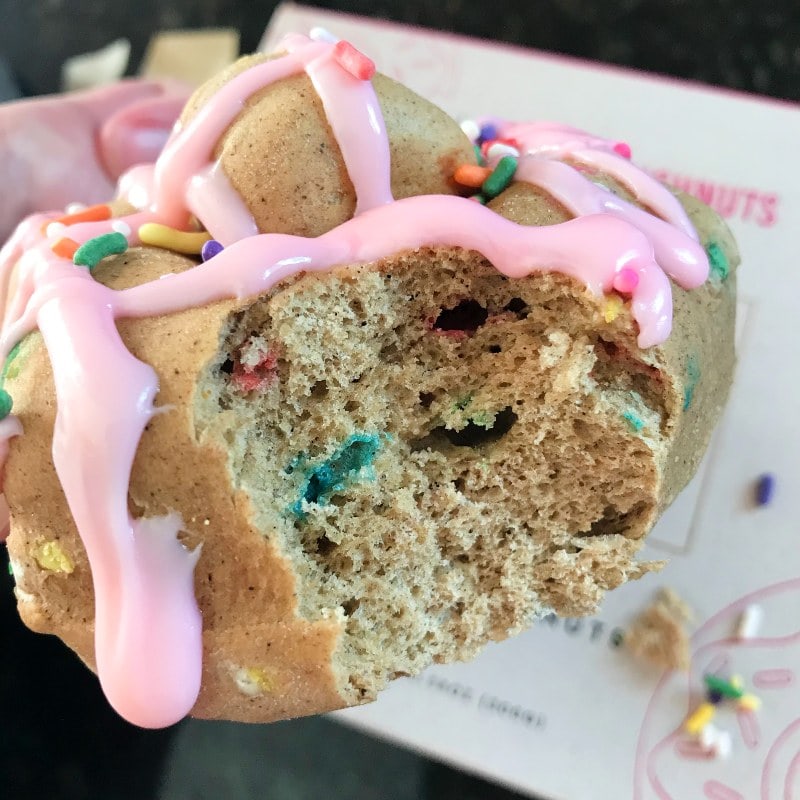 Also, because it's baked, not fried, you don't get any greasy feeling on your fingers (or your napkin). You can even warm them up in the microwave for a few seconds to make them softer.
It's also nice that they include a nutrition sheet in the package.
Things To Consider About These Doughnuts
One very minor issue was with the glaze packets. I would have liked a bit more frosting – the packets are pretty small. And I wish the frosting packets were more clearly labeled on the front. I had to search for a minute to figure out which frosting went with which donut. It was typed on the back in small writing.
They are a little on the pricey side. An 8-pack of these donuts starts at a little over $30.00. But they are a high-quality, made from scratch product. And for a protein snack, they really do taste great.
Use code MICKY10 for 10% off your order!
You may also enjoy these reviews:
– Wicked Good Cupcakes In A Jar
– Bake Me A Wish Mail Order Cakes
– Moonshine Mountain Cookies – With Real Moonshine!
---
Frequently Asked Questions
When Was The Dough Bar On Shark Tank?
They were featured on Shark Tank in 2018 (Season 9 Episode 20).
Is The Dough Bar Healthy?
Yes, The Dough Bar is a healthy choice compared to traditional sweets. They offer baked doughnuts and other baked goods that are not fried, making them a much healthier alternative to traditional donuts and other sugary snacks.
The business is very conscientious of the ingredients they use. Their ultimate goal is to keep the DOUGHnuts as macro-friendly as possible.
Where Can I Buy The Dough Bar Donuts?
If you want to find out more about this company or try some of their products, just click on the button below.
Use code MICKY10 for 10% off your order!
Save it for later on Pinterest, Instagram and Facebook. Also join our Facebook Group for more snack fun!