If you're a fan of over-the-top gourmet cookies, you may have heard some rumblings about Dirty Dough. This unique cookie company started in 2018 on a college campus and has been growing ever since.
Their claim to fame is selling "cookies with character" that focus on layers of flavors, mix-ins and fillings. They strive for unique flavors and believe it's what is on the inside that matters -when it comes to cookies and people.
While some competitors focus on perfect "cookie-cutter" cookies, that isn't the goal at Dirty Dough. They stand by their motto of "messy cookies for the masses".
And they stress this distinction because one of those competitors (Crumbl Cookies) is currently suing Dirty Dough for copyright infringement. More on the #UtahCookieWars later in the article…
As you can see, there are lots of fun things to learn about Dirty Dough – from their one-of-a-kind flavors to cookies so good, they're getting sued over them!
So let's dig in!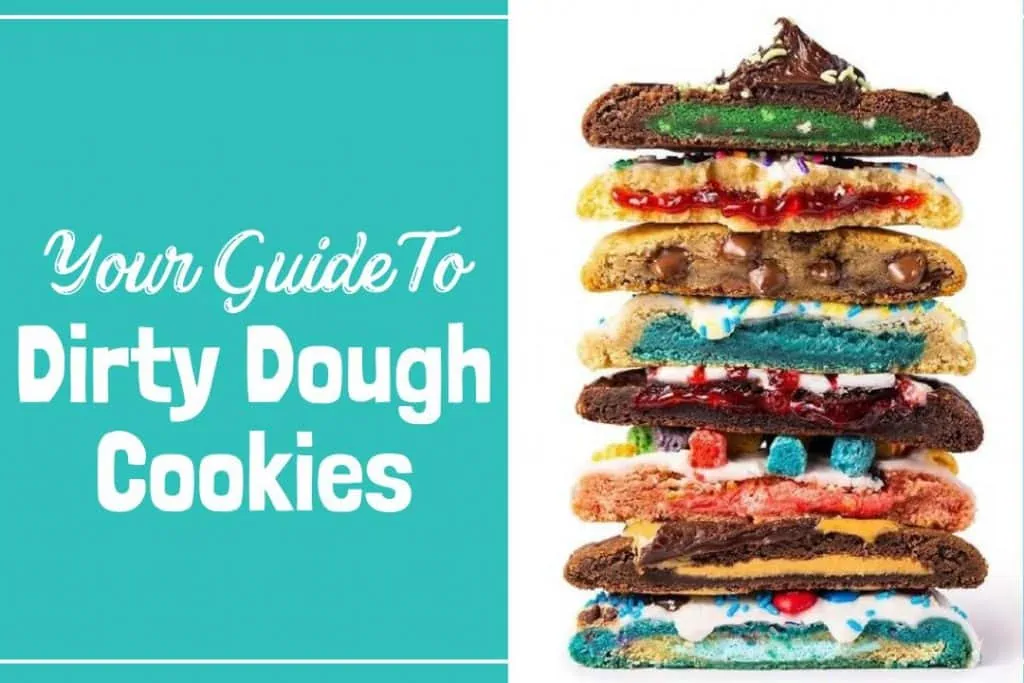 About Dirty Dough
Awesome cookie companies tend to have equally awesome beginnings, and Dirty Dough is no different. The company has an interesting history and if its success continues on the current trajectory, the future looks equally bright.
Why Is It Called Dirty Dough?
Dirty Dough cookies are imperfect and messy by design. They are engineered from the inside out to be packed with delicious fillings and mix-ins. Their cookies are "dirty" because they are packed with more goodies than most normal cookies.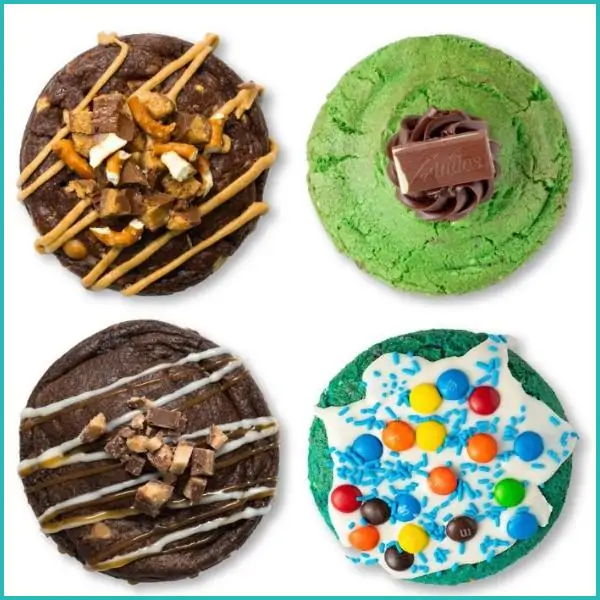 When Did Dirty Dough Start?
Dirty Dough started as a delivery service in 2018 and opened its first storefront in March 2020.
How Did Dirty Dough Start?
The company got its humble beginnings out of an apartment at Arizona State University. After selling out of cookies night after night, expansion was inevitable. A few years later, the first storefront opened in Tempe, AZ.
Who Owns Dirty Dough?
Bennett Maxwell is the founder of Dirty Dough.
Crumbl vs. Dirty Dough Lawsuit
Crumbl Cookies, a billion-dollar Utah-based cookie company, is suing two smaller competitors, Dirty Dough and Crave. Allegations against both companies include trademark infringement and copying packaging designs and logos.
In August 2022, Crumbl went a step further and also accused Dirty Dough of stealing recipes, training videos and other trade secrets.
To date, Dirty Dough has denied the claims. Their legal representative stated that the company "has not infringed on any of Crumbl's intellectual property and Crumbl's claims are without merit."
Founder Bennett Maxwell went on to say "Apparently, this billion-dollar company, Crumbl, is threatened by a start-up with only a couple of locations in order to make a federal case out of rainbow sprinkles and rectangular boxes."
Only time will tell how the #UtahCookieWars will play out. But for now, the media attention seems to be generating more brand awareness for the underdog, Dirty Dough.
Dirty Dough Menu
Dirty Dough offers four classic flavors with an additional four rotating weekly flavors.
Dirty Dough Classic Flavors
Stuffed Chocolate Chip: Specialty chocolate chip cookie loaded with milk chocolate and semi-sweet chocolate chips
Reverse With Reese's: Chocolate cookie with fudge filling, then wrapped with peanut butter cookie and topped with chocolate drizzle
Brookie: Chocolate chip cookie with fudge filling wrapped in a brownie cookie and topped with caramel
Raspberry Toaster Tart: Sugar cookie filled with raspberry jam and topped with vanilla icing and loads of colorful sprinkles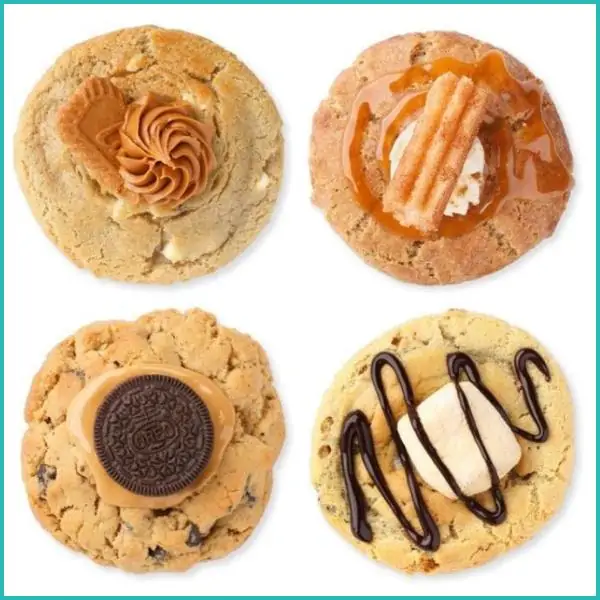 Dirty Dough Rotating Weekly Flavors
Each week Dirty Dough offers some new flavors to keep you coming back for more. Flavors are often seasonal and offer creative takes on traditional holiday classics.
Here are just a few examples of cookie flavors that have been offered on the Dirty Dough menu.
Paparazzi: Sugar cookie, sprinkles, creamy filling
Caramel Apple Pie: Sugar cookie, apple pie filling, caramel, cream cheese frosting, nilla wafer crumbs
Pumpkin Pie: Pumpkin pie filling, graham cracker cookie dough, caramel, whipped cream
Sweet-Tater-Role: Spiced sweet potato cookie, coconut, candied pecans, sweet cream, marshmallow
Buckeye Brownie: Fudge brownie dough, semi-sweet chocolate chips, peanut butter, Reese's peanut butter sauce, fudge buttercream, peanut butter cookie
Cinnamon Toast Cookie: Cookie dough, Cinnamon Toast Crunch cereal, white chocolate chips, marshmallow
Chocolate Peanut Butter Crunch: Fudgy brownie cookie dough mixed with butterfinger chunks and filled with peanut butter. Topped with a caramel drizzle, fudge button and crushed Butterfinger pieces.
Candy Bar: Classic cookie dough, Kit Kat, Butterfinger and Reese's peanut butter cups, fudge frosting
Junk in Da: Vanilla brown sugar cookie dough, potato chips, pretzels, coconut, semi-sweet chocolate chips, peanut butter chips, caramel bits, salted caramel potato chip cream filling
Biscoff Oatmeal Cream Pie: Biscoff oatmeal cookie dough, cinnamon sweet cream, cookie butter, Biscoff cookie crumbs
Sin-a-roll: Cinnamon and sugar cookie dough, pecans, caramel bits, white chocolate, cinnamon chips, cheesecake center, salted caramel drizzle
Captain Cookie: Strawberry sugar cookie dough, Captain Crunch cereal, red marshmallow cream cheese filling, white icing
Triple Chocolate: Chocolate cookie dough, milk, semi-sweet, white chocolate chips, gooey fudgy center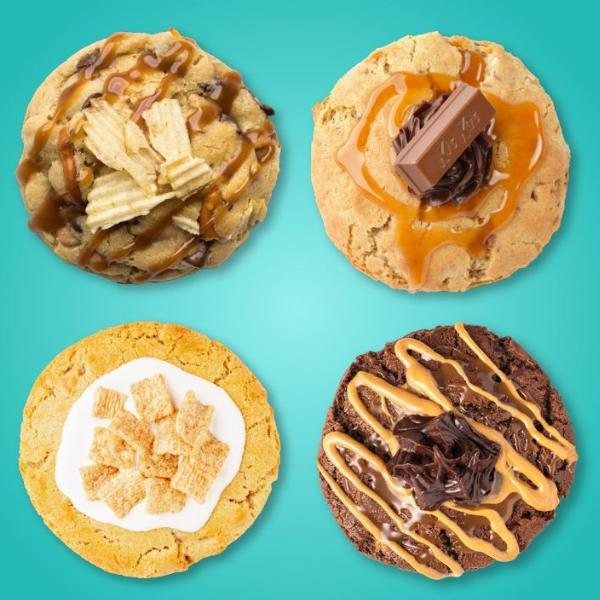 How To Order Dirty Dough Cookies
There are several ways you can get your hands on Dirty Dough cookies if you are near one of their locations. You can find more information on their locations in the next sections.
If you are lucky enough to be near a store, you always stop by and hand-pick your favorite cookies. You can also order cookies in advance online or via their app for delivery (DoorDash) or to pick up at the store.
At this time, they do not offer nationwide shipping. If you want to order cookies online for nationwide delivery, check out this article: Best Gourmet Mail Order Cookies To Buy Online
Dirty Dough Locations
Dirty Dough currently has brick-and-mortar stores in the following locations. Check their website often as lots of new stores are in the pipeline.
Dirty Dough Locations
Spanish Fork, UT
Pleasant Grove, UT
St. George, UT
Vineyard, UT
Tempe, AZ
Saratoga Springs, UT
Dirty Dough "Coming Soon" Locations
Payson, UT
Brigham City, UT
Roy, UT
South Jorda, UT
Taylorsville, UT
Riverton, UT
Provo, UT
Sandy, UT
Scottsdale, AZ
Layton, UT
Indianapolis, IN
Louisville, KY
Fishers, IN
Phoenix, AZ
West Point, UT
Still craving cookies? Check out these articles!