Looking for cute and easy sweet treats and desserts to make for Easter this year? Here are 20 easy recipes that even the kids can help with. Whether you're looking for ideas with bunnies, chicks, eggs or PEEPS candy, you'll find treats that will make everyone at your party happy!

RELATED READING: Fun Recipes That Are Great For Kids!
These PEEPS Easter Bunny Sugar Cookies are definitely cuter than the marshmallows!
Get the recipe here from Foodal.
These Stained Glass Cross Cookies look complicated, but they are easy enough for kids to help with. The secret to making the the stained glass is Jolly Ranchers!
Click here to see the full recipe from Down Red Bud Drive.
These adorable cheesecake cups are a perfect Easter treat. The crust is a gorgeous pink color thanks to a secret ingredient – circus animal cookies! The light, fluffy filling offsets the sweetness of the crust perfectly.
Get the full recipe here.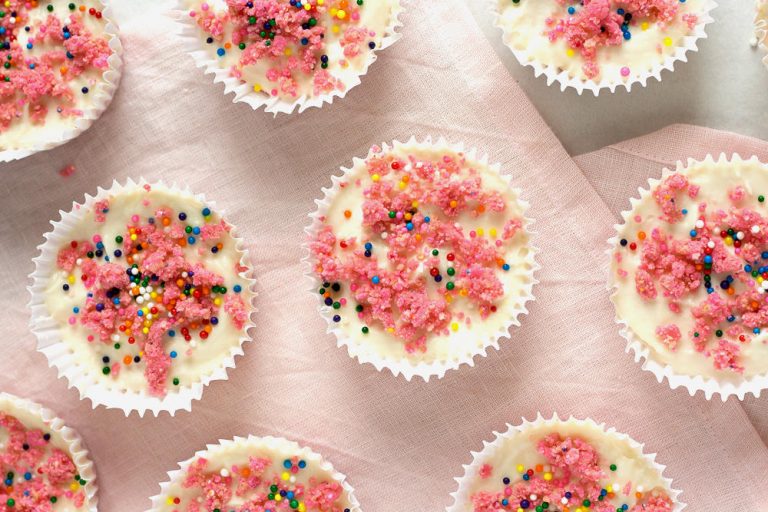 This Easter Candy Macadamia Bark is sweet, easy to make and full of pretty spring colors. What more could you ask for?
Get the full recipe here from Thrify Jinxy.
This might be the prettiest popcorn I've seen! Chocolate Covered Easter Popcorn is a kid-friendly, no-bake recipe and a perfect sweet and salty treat.
Get the full recipe here from Mom Foodie.
The cute little Baby Chick Cookies are made with Nutterbutter cookies. Best of all, they are easy to make!
Get the recipe and step-by-step instructions here Whisky & Sunshine.
These Rice Krispies Nests are a fun and colorful twist on the usual Easter nests made with chocolate.
Get the quick and easy recipe here Dancing Through The Rain.
Trying to cut back on the sugar this Easter? These Healthy Easter Nest Cookies are free of refined sugar, gluten and dairy, plus they are vegan.
Get the good for you recipe here Joy Food Sunshine.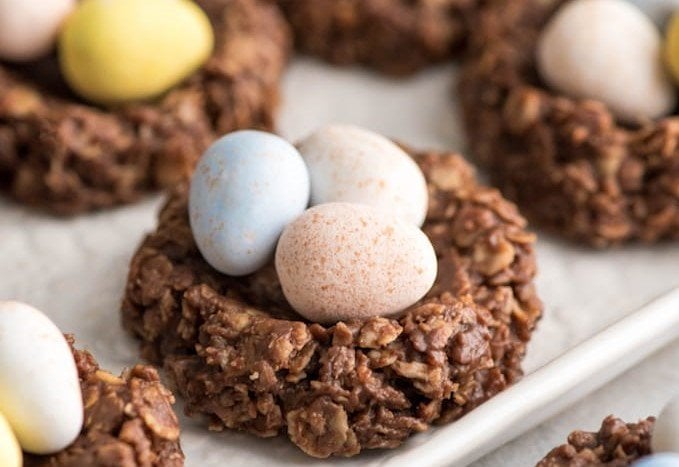 Chocolate Dipped Rice Krispies Treats are sure to be a hit this Easter. The kids will love to help cut out the treats, dip the chocolate and add the sprinkles.
Get the simple instructions here The Afropolitan Mom.
All you need to make these adorable Bunny Butt Cookies is any type of sugar cookie, frosting and a few strategically placed marshmallows.
Get the easy recipe and step-by-step instructions here from Princess Pinky Girl.
These Spring Garden Pudding Parfaits are so cute and have so many delicious ingredients – chocolate pudding, Oreos, whipped topping and white chocolate carrots.
Get the recipe and tutorial here from Tikkido.
The Easter Bunny Cut Out Cookies are cute, fun and so easy to make.
Get the full recipe here from The Flying Couponer.
These adorable Baby Chick Cupcakes are perfect for Easter or even a baby shower!
Get the instructions and recipe for homemade buttercream here from BubbaPie.
What a cute and clever idea! These Krispie Treat Easter Carrots are a perfect sweet treat for dessert or for an Easter basket surprise.
Get the quick and easy recipe here from Cincy Shopper.
These PEEPS Easter S'Mores Treats will have you saying 'Why didn't I think of that!?"
Get the quick and easy instructions here Cincy Shopper.
Ooey, gooey and a surprise on the inside. Krispy Confetti Eggs will be a hit with kids and adults this Easter.
Get the fun recipe and instructions here Bitz & Giggles.
Learn the secret to making graham crackers into fun shapes like these Chocolate Covered Graham Cracker Easter Eggs.
Get the step by step directions here The Monday Box.
Can't you just picture a whole plateful of these cute little Bunny Cake Bites on the Easter table?
Get the quick and easy recipe here Moms Who Save.
These cute little Easter Chick Doughnuts are homemade, but a breeze to make. They'd be perfect for Easter brunch or a spring morning breakfast.
Get the complete recipe and instructions here The Simple Sweet Life.
These PEEPS Easter Bunny Dirt Cups are made with all the good stuff – Oreos, pudding, jelly beans, edible grass and of course, PEEPS!
Click through to get this fun and easy Easter recipe Mommy's Fabulous Finds.
These Homemade Brownie Easter Bunnies are a perfect Easter treat to make with the kids.
Get the homemade brownie recipe plus decorating instructions here Home Cooking Memories.
MORE FUN RECIPES THE KIDS WILL LOVE
We hope you enjoyed checking out these Easy Sweet and Treats for Easter and found the perfect recipe to make for your celebration.
If you're feeling the love, would you please consider sharing on Pinterest or Facebook? We sincerely appreciate your support!
Micky Reed, a two-decade veteran in the food and baking industry, leverages her influential Three Snackateers food blog and Instagram presence to collaborate with industry giants like Ben & Jerry's and Crumbl Cookies. Her work has been featured on Delish, PopSugar and more. Her expertise as a product curator for one of the world's largest international snack subscription box companies solidifies her status as a key player in the field.