Do you have a sweet tooth? Do you love cookies? Well, then you need to head to Crumbl Cookies! Thankfully, there are Crumbl Cookies locations all across the US, so no matter where you are, you can satisfy your cravings.
If you're planning your next (or first!) visit to Crumbl, you're in the right place.
In this article, you'll find answers to some frequently asked questions about this famous cookie company as well as a current list of Crumbl Cookies locations across the United States.
In 2023, Crumbl also expanded across the border to Canada. They opened their first international cookie shop in Edmonton Canada.
You may also want to check out our huge list of all Crumbl Cookie flavors ever offered, plus a list of the flavors being offered this week.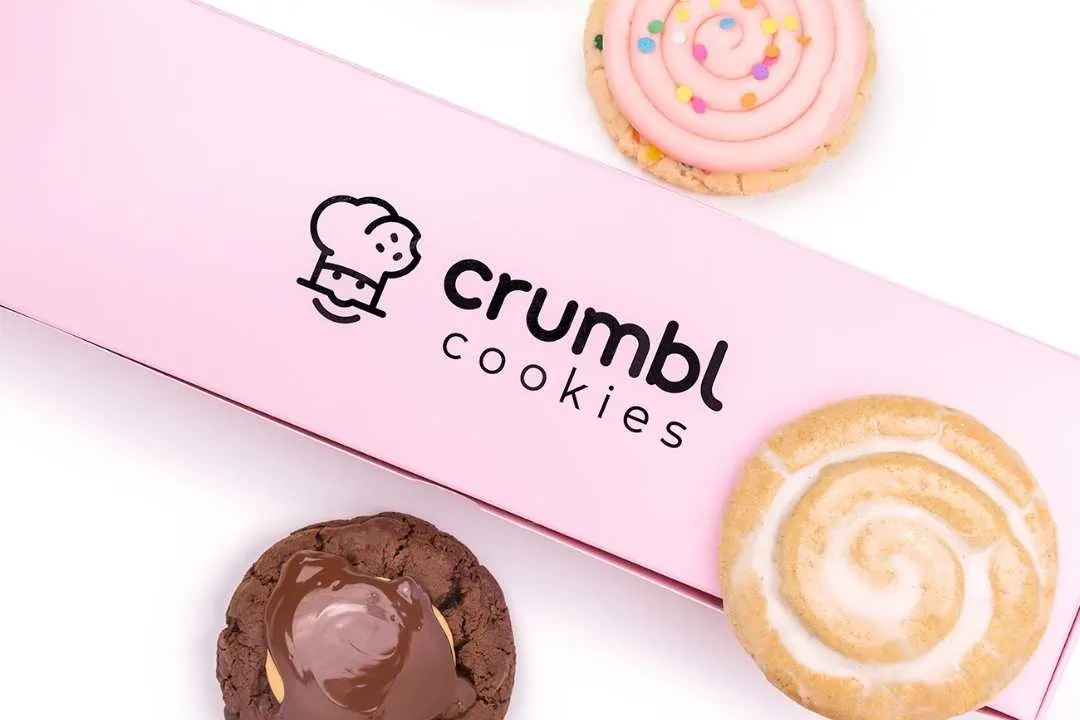 You may also like:
– 37 Best Gourmet Mail Order Cookies To Buy Online
– 27 Best Cookies Of The Month Clubs & Subscription Boxes
– 9 Must-Try Custom Cookies You Can Order Online
Crumbl Cookies FAQs
Why is Crumbl Cookie famous?
Crumbl Cookies is famous for its huge, delicious specialty cookies and a weekly rotating menu of specialty cookie flavors. Their cookies are packaged in their iconic pink box that is long enough to fit 4 of their giant cookies.
The company is focused on developing unique cookie flavors that are inspired by popular desserts, flavor trends and even other foods.
Another reason people love to visit Crumbl stores is the open-concept layout of the bakeries. Customers can watch the hustle and bustle of the kitchen as staff mix up cookie dough, take freshly baked cookies from the oven and decorate cookies with frosting and sprinkles.
Crumbl humbly claims to offer the "world's best cookies". Take a look at their massive social media following and you'll quickly see that millions of people agree!
If you're near a Crumbl location, you can order cookies for pick-up or local delivery. You can also order cookies to be shipped nationwide. Learn more in our Ultimate Guide To Crumbl Cookies Delivery And Shipping.
When did Crumbl Cookies get popular?
After opening its doors in 2017, Crumbl sky-rocketed to fame as the word spread about their delicious cookies. Customers loved that they could visit the bakery and see their cookies being made from scratch.
The company quickly began offering other services including curbside pickup, catering and nationwide shipping which helped to boost business even more. There are currently more than 500 Crumbl Cookies locations.
Where did Crumbl Cookies originate?
The first Crumbl Cookies store opened in Logan, Utah in 2017. The company is co-founded by cousins, Jason McGowan (CEO) and Sawyer Hemsley (COO).
They set out on a mission to make the perfect chocolate chip cookie. The company quickly grew as more cookie flavors and offerings were added.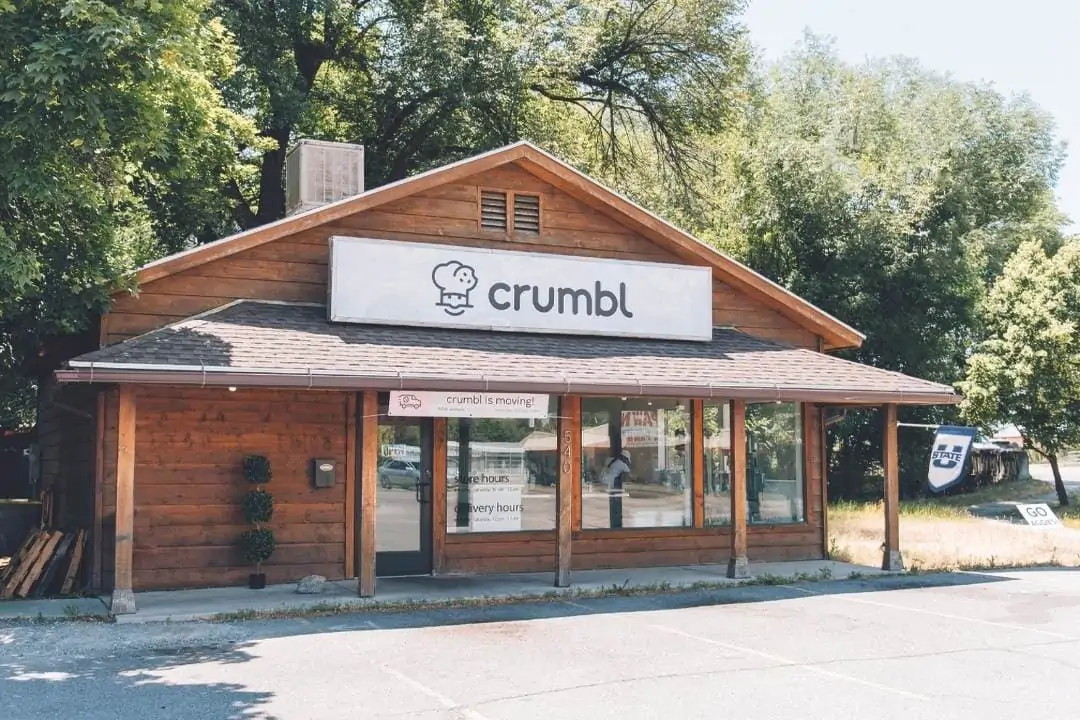 What was Crumbl Cookies first specialty flavor?
The very first Crumbl cookie was chocolate chip. Their chilled pink sugar cookie became a semi-permanent flavor shortly after.
Until July 2023, the milk chocolate chip cookie was offered every week on the rotating Crumbl Cookie menu. The milk chocolate chip cookie now rotates weekly with the semi-sweet chocolate chunk cookie.
In April 2022, the pink sugar cookie was removed from the weekly menu to make room for other new flavors.
In a surprise move in August 2022, Crumbl announced a new and improved pink sugar cookie was being added back to the weekly menu. The new recipe uses real almond extract in the frosting, instead of almond emulsion. This move aligns with the company's goal to use cleaner-label flavorings.
And in yet another surprise move in July 2023, the pink sugar cookie was removed AGAIN from the weekly menu. The cookie will still make an appearance from time to time on the regular rotating menu.
How many Crumbl Cookies flavors are there?
There are over 275 Crumbl Cookies flavors and new flavors are popping up every month. In fact, Crumbl features a rotating menu which means each week a new lineup of cookie flavors is revealed.
If you're in the mood to bake, you'll definitely want to check out these 50+ Best Copycat Crumbl Cookie Recipes or this Copycat Crumbl Chocolate Chip Cookies Recipe that started it all!
How much is each cookie from Crumbl?
In 2023, a single cookie from Crumbl is around $4. A 4-pack of cookies is around $13. A party pack of 12 cookies is around $33.
If you're looking to ship Crumbl cookies, the price listed online for a 6-pack of cookies is $29.99 and a 12-pack box is $49.44. You'll also need to factor in at least $12 for shipping and more for tax (if applicable in your area).
Are Crumbl Cookies big?
Yes, they are pretty big. Each cookie is around 5.5 ounces and is about 4.5 inches wide. Perfect for sharing! In fact, they even sell a special Crumbl cookie cutter to cut their massive cookies into 4 equal pieces.
How many calories are in a Crumbl Cookie?
The average Crumbl cookie has between 450-800 calories. The wide range of total calories per cookie is due to the number of cookie flavors (over 200) and the different ingredients each variety contains. Some cookies have frosting, fillings, toppings and other goodies that affect the calorie count.
Can you freeze Crumbl cookies?
Be sure to snag a few extra cookies on your next visit, because you can definitely freeze them to enjoy later. To freeze a Crumbl cookie, wrap each cookie tightly in plastic wrap, then pop it directly into the freezer.
If you're freezing multiple cookies, you should wrap each one separately, then place it in a freezer bag or storage container. If possible, enjoy your cookies within a month of freezing.
To thaw the unfrosted cookies, place them on the counter at room temperature. For frosted or "chilled" Crumbl cookies, it's a good idea to thaw them more slowly in the refrigerator.
Are Crumbl Cookies vegan, gluten-free, nut-free or allergy-friendly?
At this time, Crumbl does not offer any vegan cookies or gluten-free cookies. All cookies are made in an open kitchen that uses eggs, milk, peanuts, soy, tree nuts and wheat. Learn more here.
Also, check out these lists of other places to order delicious gluten-free cookies and cakes.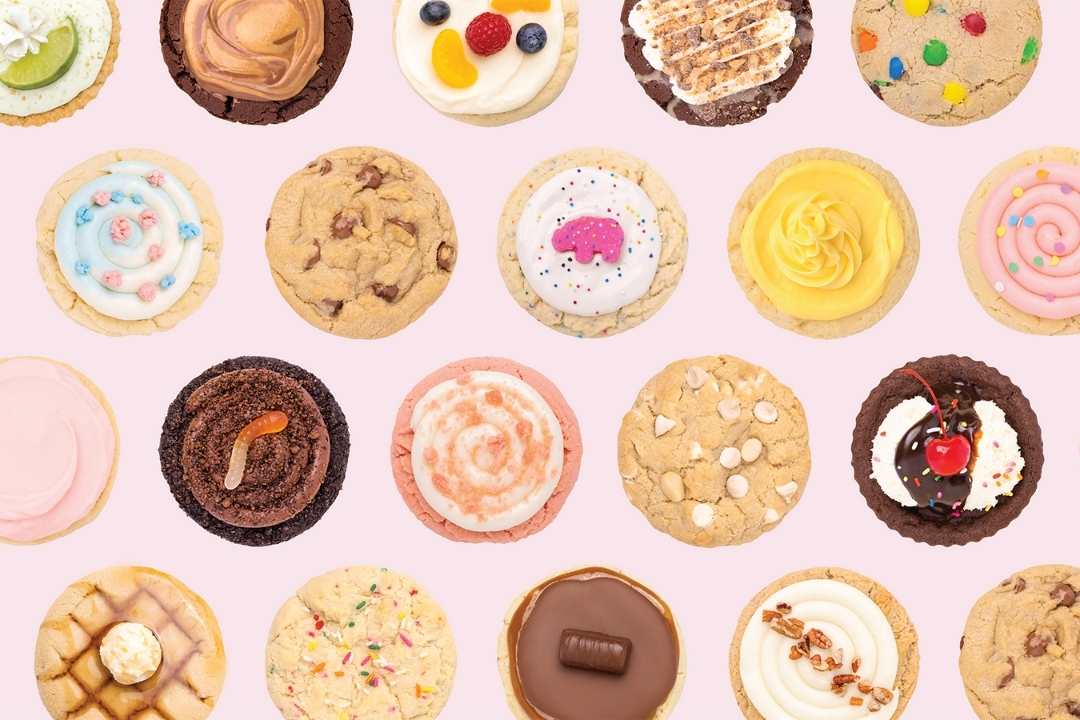 Crumbl Cookies Locations Information
Is there a Crumbl Cookies near me?
As this cookie company continues to gain popularity, more and more people are asking "Is there a Crumbl Cookies near me?!"
With over 850 stores in all 50 states and one in Edmonton Canada, there is a good chance you'll find a Crumbl Cookies near you.
You can browse all of the Crumbl Cookies store locations, including addresses and phone numbers, a little further down in this article. Or you can also visit the Crumbl Cookies website for more location details.
How many Crumbl locations are there?
As of July 2023, there are more than 850 Crumbl Cookies locations.
What are the new Crumbl Cookies locations?
New Crumbl Cookies locations are continuously popping up across the country. New and coming soon locations are added to this article as updated information is released from the company.
What time does Crumbl Cookies close?
While store hours may vary by location, most Crumbl Cookies bakeries are open during the following times:
Monday through Thursday: 8:00 am to 10:00 pm
Friday & Saturday: 8:00 am to 12:00 am
Sunday: Closed
What state has Crumbl Cookies?
As of May 2023, there are Crumbl Cookies stores in all US states.
Is Crumbl a franchise?
Yes, Crumbl Cookies is a franchise. They have hundreds of stores and are the fastest-growing cookie company in the US.
Is Crumbl worldwide?
The majority of Crumbl Cookie shops are located in the US. In early 2023, the company opened its first international location in Edmonton Canada.
Crumbl Cookie Locations By State
Crumbl Cookies Stores In Alabama
Alabaster
100 Colonial Promenade Parkway, Alabaster, Alabama 35007
(205) 285-3203
Auburn
2638 Enterprise Drive, Opelika, Alabama 36801
(334) 203-4783
Daphne
1802 US Highway 98 Unit D, Daphne, Alabama 36526
(251) 210-7737
Decatur
2804 Spring Avenue SW, Suite A, Decatur, Alabama 35603
(938) 829-0955
Dothan
4650 W. Main Street Unit 603, Dothan, Alabama 36305
(334) 325-0220
Jones Valley / Huntsville
2750 Carl T Jones Dr SE, Huntsville, Alabama 35802
(256) 469-1291
Madison
8141 Hwy 72 W, Suite D, Madison, Alabama 35758
(256) 258-8153
McCalla / Bessemer
4863 Promenade Pkwy Suite 910, Bessemer, Alabama 35022
(205) 800-4107
Oxford
262 Oxford Exchange Blvd., Oxford, Alabama 36203
(205) 379-8245
Spring Hill / Mobile
4356-A Old Shell Road, Unit 14, Mobile, Alabama 36608
(251) 298-8599
Vestavia Hills
708 Montgomery Highway, Suite 116, Vestavia Hills, Alabama 35216
(205) 379-0293
Zelda / Montgomery
3012 Zelda Road, Montgomery, Alabama 36106
(334) 523-0499
Crumbl Cookies Stores In Alaska
Dimond / Anchorage
8840 Old Seward Hwy Unit A, Anchorage, Alaska 99515
(907) 931-7677
Tikahtnu Commons / Anchorage
1118 North Muldoon Road, Unit 145, Anchorage, Alaska 99504
(907) 600-8611
Crumbl Cookies Stores In Arizona
Ahwatukee / Phoenix
4910 E Ray Rd, Suite 7, Phoenix, Arizona 85044
(480) 877-9677
Arcadia / Phoenix
3736 E Indian School Rd, Phoenix, Arizona 85018
(602) 661-3777
Arrowhead / Peoria
8085 W Bell Rd, Ste 106, Peoria, Arizona 85382
(623) 471-5732
Avondale
10120 W McDowell Rd, Suite 150, Avondale, Arizona 85392
(480) 937-0396
Chandler
2780 W Chandler Blvd #5, Chandler, Arizona 85224
(480) 561-0229
Flagstaff
319 S Regent St, Suite 203, Flagstaff, Arizona 86001
(928) 235-2500
Gilbert
2743 S Market St, Gilbert, Arizona 85295
(480) 645-9555
Glendale
9390 W Hanna Ln, Unit B-103, Glendale, Arizona 85305
(602)-675-9555
Goodyear
790 N Estrella Pkwy STE F, Goodyear, Arizona 85338
(623) 259-4311
Houghton Town Center / Tucson
9210 S Houghton Rd #120, Tucson, Arizona 85747
(520) 355-1289
Laveen
5130 W Baseline Rd STE 113, Laveen, Arizona 85339
(602) 675-9553
Maricopa
20320 N John Wayne Parkway Suite 105, Maricopa, Arizona 85139
(602) 675-9660
Mesa Grand / Mesa
1240 E Baseline Rd, Suite 105, Mesa, Arizona 85204
(602) 661-2500
Mesa Groves / Mesa
1911 E. Brown Road STE 3, Mesa, Arizona 85203
(480) 530-0185
Metro / Phoenix
2827 West Peoria Ave, Phoenix, Arizona 85029
(480) 937-0381
Norterra / Phoenix
2450 W Happy Valley Rd, Suite 1151, Phoenix, Arizona 85085
(602) 726-5008
Oro Valley
7805 N. Oracle Road, Suite 151 , Oro Valley, Arizona 85704
(520) 355-3848
Paseo Lindo / Chandler
3731 S Arizona Ave., Chandler, Arizona 85248
(480) 535-3229
Prescott / Presott Valley
5684 East Highway 69 Suite 120, Prescott Valley, Arizona 86314
928) 227-0027
Queen Creek
21172 S Ellsworth Loop Rd, #102, Queen Creek, Arizona 85142
(480) 565-7737
Red Mountain / Mesa
5942 E Longbow Pkwy, Suite 103, Mesa, Arizona 85215
(480) 645-9966
Scottsdale
7300 N Vía Paseo Del Sur, Suite 106, Scottsdale, Arizona 85258
(602) 675-9550
Signal Butte / Mesa
1804 S. Signal Butte Rd, Suite 103, Mesa, Arizona 85209
(602) 661 2799
South Mountain / Phoenix
2160 E Baseline Rd #124, Phoenix, Arizona 85042
(623) 289-2660
Surprise
13983 W. Waddell Rd. Suite 100, Surprise, Arizona 85379
(623) 246-1774
Tatum / Phoenix
4747 E Bell Rd, Suite 9, Phoenix, Arizona 85032
(602) 607-0937
Tempe
430 N Scottsdale Rd, Suite 112, Tempe, Arizona 85281
(602) 726-4553
The Landings / Tucson
4850 S Landing Way, Suite 170, Tucson, Arizona 85714
(520) 485-7254
Crumbl Cookies Stores In Arkansas
Benton
20770 Interstate 30 N, Suite 135, Benton, Arkansas 72019
(501) 557-3008
Bentonville
500 SE Walton Blvd, Suite 10, Bentonville, Arkansas 72712
(479) 326-8304
Cantrell / Little Rock
11525 Cantrell Rd. Suite 304, Little Rock, Arkansas 72212
(501) 333-9080
Conway
1100 S Amity Rd Ste. F, Conway, Arkansas 72032
(501) 803-2401
Fort Smith
3106 South 74th Street Suite 104, Fort Smith, Arkansas 72903
(479) 274-8588
North Little Rock
2805 Lakewood Village Drive, North Little Rock, Arkansas 72116
(501) 436-5252
Jonesboro
3410 East Johnson Ste. E, Jonesboro, Arkansas 72401
(870) 433-0685
Rogers
4307 S Pleasant Crossing Blvd, Rogers, Arkansas 72758
(479) 335-1927
Crumbl Cookies Stores In California
Aliso Viejo / Laguna Niguel
24032 Aliso Creek Rd, Laguna Niguel, California 92677
(949) 339-1548
Anaheim Hills / Anaheim
8126 East Santa Ana Canyon Road, Anaheim, California 92808
(657) 395-1999
Apple Valley
19179 Bear Valley Rd. Suite 10, Apple Valley, California 92308
(760) 503-4804
Auburn
11855 Willow Creek Dr, Auburn, California 95603
(530) 328-0026
Bakersfield
10530 Stockdale Hwy, Unit Q100, Bakersfield, California 93311
(661) 241-0903
Bella Terra / Huntington Beach
7631 Edinger Avenue, Ste 1504, Huntington Beach, California 92647
(657) 400-2012
Brea
955 E Birch St, Brea, California 92821
(562) 371-8973
Brentwood
5421 Lone Tree Way, Suite 130, Brentwood, California 94513
(925) 308-5057
Bristol Place / Santa Ana
3388 South Bristol Street Suite A, Santa Ana, California 92704
657) 212-6090
Calabasas
4732 Commons Way Suite G, Calabasas, California 91302
(818) 431-5290
Cal Oaks / Murrieta
40984 California Oaks Rd, Murrieta, California 92562
(951) 290-0073
Camden Union / San Jose
2007 Camden Ave, San Jose, California 95124
(669) 279-2141
Capitola / Soquel
2750 41st Avenue #E, Soquel, California 95073
(831) 226-1319
Carlsbad
961 Palomar Airport Rd Suite 108, Carlsbad, California 92011
(760) 607-6144
Cerritos
11417 South Street Suite C-2, Cerritos, California 90703
(562) 249-5003
Chico
855 East Ave Ste 220, Chico, California 95926
(530) 230-9361
Chino
4005 Grand Avenue, Suite C. Chino, California 91710
(909) 898-7348
Citrus Heights
6920 Auburn Boulevard, Suite 120, Citrus Heights, California 95621
(279) 201-9383
City Of Industry
17501 Colima Road, City of Industry, California 91748
(626) 559-0160
Clairemont
5665 Balboa Ave, Suite 105, San Diego, California 92111
(858) 522-9732
Clovis
1850 Herndon Ave, #109, Clovis, California 93611
(559) 345-5304
Concord
2015 Diamond Boulevard, Suite E-150, Concord, California 94520
925) 476-4996
Costa Mesa
369 17th St., Suite 3, Costa Mesa, California 92627
(657) 339-2002
Cosumnes River / Sacramento
8240 Delta Shores Circle South, Suite 120, Sacramento, California 95832
(279) 895-7022
Culver City
3810 Midway Ave. Suite 290 Culver City, California
(424) 258-9428
Delano
550 Woollomes, Suite 105, Delano, California 93215
(661) 545-7878
Del Mar
2646 Del Mar Heights Rd, Del Mar, California 92104
(858) 284-4728
Diamond Bar
22438 Golden Springs Drive, Diamond Bar, California 91765
(909) 345-0550
Douglas Boulevard / Roseville
1921 Douglas Boulevard Suite 105, Roseville, California 95661
(279) 206-3902
Downey
8994 Apollo Way Unit B, Downey, California 90242
(562) 287-8010
Duarte
1014 Huntington Dr, Duarte, California 91010
(626) 239-8093
Dublin
3862 Fallon Rd, Dublin, California 94568
(925) 226-8148
Eagle Glen / Corona
3971 Bedford Canyon Rd Suite 2102, Corona, California 92883
(209) 671-3885
Eastlake / Chula Vista
2240 Otay Lakes Rd STE 302, Chula Vista, California 91915
(619) 746-8998
Eastvale
4916 Hamner Ave Suite 130, Eastvale, California 91752
(951) 416-0146
Elk Grove
7560 Elk Grove Blvd, Elk Grove, California 95757
(916) 318-0224
El Paseo / Fresno
6733 N Riverside Dr. #104, Fresno, California 93722
(559) 666-2333
Encino
17401 Ventura Blvd, Suite A-35, Encino, California 91316
(747) 254-0127
Fairfield
5089 Business Center Drive, Suite 100, Fairfield, California 94534
707) 344-9691
Folsom
195 Placerville Road, #120, Folsom, California 95630
(916) 238-6302
Foothill Ranch
26552 Towne Centre Drive, Lake Forest, California 92610
(949) 264-8539
Foster City
1000 Metro Center Blvd Suite D, Foster City, California 94404
(650) 597-0761
Fresno
7969 N Blackstone Ave, Fresno, California 93711
(559) 321-7024
Glendale
157 Caruso Ave., Glendale, California 91210
(747) 297-0361
Glendora
1365 E. Gladstone St. #500, Glendora, California 91740
(626) 385-6756
Goleta
5660 Calle Real, Goleta, California 93117
(209) 791-0047
Gosford Village / Bakersfield
5649 Gosford Rd. Suite 200, Bakersfield, California 93313
(661) 241-0977
Hanford
208 N. 12th Ave, #103, Hanford, California 93230
(559) 794-2629
Hastings Ranch / Pasadena
3827 E. Foothill Blvd, Pasadena, California 91107
(626) 604-1399
Hawthorne
5362 W Rosecrans Ave, Hawthorne, California 90250
(424) 255-1088
Hesperia
12717 S Main Street Unit 510, Hesperia, California 92345
(442) 600-4754
Inglewood
3111 W Century Blvd Suite 104, Inglewood, California 90303
(424) 261-1913
La Canada / Montrose
2031-A Verdugo Blvd, Montrose, California 91020
(747) 268-0657
Ladera Ranch / Mission Viejo
25642 Crown Valley Pkwy, Suite D-4, Mission Viejo, California 92694
(949) 545-5009
Laguna Niguel / Dana Point
32545 Golden Lantern, Suite C, Dana Point, California 92629
(949) 352-4793
La Habra
1901 W Imperial Hwy Suite C, La Habra, California 90631
(657) 577-9702
La Jolla
8657 Villa La Jolla Dr. #107, La Jolla, California 92037
(858) 401-6914
Lake Forest
23702 El Toro Rd Suite B, Lake Forest, California 92630
(949) 519-0791
La Quinta
46480 Washington Street, Suite 2, La Quinta, California 92253
(760) 600-9990
Livermore
4304 Las Positas Rd., Livermore, California 94551
(925) 243-7432
Lodi
2624 W Kettleman Ln Ste 150, Lodi, California 95242
(209) 280-0957
Los Banos
1363 W Pacheco Blvd. Unit B, Los Banos, California 93635
(209) 710-5045
Madera
2180 W. Cleveland suite 112, Madera, California 93637
(559) 330-1472
Marconi
2607 Marconi Avenue, Sacramento, California 95821
(916) 407-1155
Menifee
30076 Haun Rd STE 210, Menifee, California 92584
(951) 430-2232
Merced
3630 G Street, Suite E, Merced, California 95340
(209) 233-3075
Milpitas
537 E Calaveras Blvd., Milpitas, California 95035
(669) 244-5242
Mira Mesa / San Diego
8110 Mira Mesa Blvd, Suite 103, San Diego, California 92126
(858) 239-4238
Modesto
3801 Pelandale Ave. Suite A5, Modesto, California 95356
(209) 214-9955
Morgan Hill
1041 Cochrane Road Suite 140, Morgan Hill, California 95037
(408) 659-4951
Mountain View
660B San Antonio Rd., Mountain View, California 94040
(650) 567-6822
Natomas / Sacramento
3661 N Freeway Blvd #110, Sacramento, California 95834
(279) 666-4040
Newbury Park
935 Broadbeck Drive, Suite B, Newbury Park, California 91320-1274
(805) 244-5552
North Hollywood
6160 Laurel Canyon Blvd, Suite 145, North Hollywood, California 91606
(474) 248-0422
Northridge
8752 Corbin Ave., Northridge, California 91324
(747) 216-0332
Novato
132 Vintage Way Unit F-11, Novato, California 94945
(707) 390-8797
Oceanside
459 College Blvd Suite 3, Oceanside, California 92057
(760) 330-5969
Orange
1500 East Village Way, Suite F19A, Orange, California 92865
(657) 549-4575
Oxnard
365 W Esplanade Dr, Suite B, Oxnard, California 93036
(805) 307-0060
Pacific Commons / Fremont
43839 Pacific Commons Blvd, Fremont, California 94538
(510) 403-1033
Palm Desert
44-491 Town Center Way; Suite F, Palm Desert, California 92260
(442) 227-0556
Paso Robles
2307 Theater Drive, Space H6, Paso Robles, California 93446
(805) 257-2599
Petaluma
179 North McDowell, Petaluma, California 94954
707) 238-2351
Pismo Beach
503B Five Cities Drive, Suite E9, Pismo Beach , California 93449-3007
(805) 295-4404
Point Loma / San Diego
990 Midway Dr, Suite B, San Diego, California 92110
(619) 633-3770
Poway
13521 Poway Road, Suite 504, Poway, California 92064
(858) 859-8292
Promenade / Garden Grove
9877 Chapman Ave Ste C, Garden Grove, CA 92841
(657) 233-4050
Rancho Cordova
10909-B, Olson Drive, Rancho Cordova, California 95670
(916) 633-1673
Rancho Cucamonga
12335 Base Line Rd Unit 100, Rancho Cucamonga, California 91739
(909) 317-0282
Rancho San Diego / El Cajon
2883 Jamacha Road, Suite 13H, El Cajon, California 92019
(619) 631-3712
Rancho Santa Margarita
22342 El Paseo, Rancho Santa Margarita, California 92688
(949) 298-5540
Redding
4641 Churn Creek Road Suite 4, Redding, California 96002
(530) 638-7461
Redlands
27510 W Lugonia Ave. Suite C, Redlands, California 92374
(909) 312-0793
Riverbank
2207 Claribel Rd Suite D., Riverbank, California 95367
(209) 719-1011
Riverside
3540 Riverside Plaza Dr. Ste 312, Riverside, California 92506
(951) 335-0635
Rocklin
5194 Commons Drive Suite # 107, Rocklin, California 95677
(279) 999-1003
Rolling Hills Estates
67 Peninsula Center, Rolling Hills Estates, California 90274
(424) 305-6556
Rosemead
3624 Rosemead BLVD, Rosemead, California 91770
(209) 319-2377
Roseville
6726 Stanford Ranch Rd #5, Roseville, California 95678
(916) 846-9682
Salinas
1528 N. Main St., Salinas, CA 93906
San Clemente
410 Camino De Estrella, San Clemente, California 92672
(949) 234-7797
San Luis Obispo
481 Madonna Rd, Suite D, San Luis Obispo, California 93405
(805) 250-0979
San Marcos
751 Center Drive, Suite 103, San Marcos, California 92069
(442) 286-0700
San Ramon
152 Sunset Dr, San Ramon, California 94583
(925) 361-2104
Santa Clarita
19137 Golden Valley Rd., Santa Clarita, California 91387
(661) 299-7174
Santa Maria
449 E. Betteravia Road, Santa Maria, California 93454
(805) 293-7272
Santa Rosa
2154 Santa Rosa Ave, Santa Rosa, California 95407
(707) 324-1781
Santee
9862 Mission Gorge Rd. Ste. B, Santee, California 92071
(619) 728-4625
Saratoga
1350 El Paseo de Saratoga, San Jose, California 95229
(669) 200-0456
Sierra Lakes / Fontana
16918 S Highland Ave Suite 200, Fontana, California 92336
(909) 317-0283
Stockton
864 W. Benjamin Holt, Stockton, California 95207
(209) 337-3337
Sunnyside / Fresno
570 S. Clovis Ave. Ste. 102, Fresno, California 93727
(559) 475-8800
Temeku Hills / Temecula
31867 Rancho California Rd, Suite E-300, Temecula, California 92591
951) 297-7322
Terra Nova
374 E H Street suite 1702, Chula Vista, CA, Chula Vista, California 91910
(619) 737-2981
Torrance Crossroads / Torrance
24667 Crenshaw Blvd, Unit E & F, Torrance, California 90505
(424) 250-2991
Tracy
2467 Naglee Rd., Tracy, California 95304
(209) 229-2083
Tulare
2035 E Prosperity Ave, Tulare, California 93274
(559) 607-0005
Turlock
2745 Countryside Dr, Suite A, Turlock, California 95380
(209) 336-6449
Union City
31047 Courthouse Drive, Union City, California 94587
(510) 470-7677
Upland
1071 E 19th St. Suite B, Upland, California 91784
(909) 493-5109
Vacaville
2000 Harbison Dr, Suite C, Vacaville, California 95687
(707) 359-7027
Valencia
27021 McBean Parkway, Valencia, California 91355
(661) 383-0454
Vallejo
764 Admiral Callahan Lane, Vallejo, California 94951
(707) 563-9909
Ventura
1708 South Victoria Avenue, Ventura, California 93003
(805) 666-2233
Victorville
12274 Palmdale Rd. Suite 102, Victorville, California 92392
(442) 267-6246
Visalia
3839 S Mooney Blvd., Visalia, California 93277
(559) 429-5958
Walnut Creek
1970-C Tice Valley Boulevard, Walnut Creek, California 94595
(925) 476-4443
West Hills
22815 Victory Blvd, Suite#B, West Hills, California 91307
(747) 263-0321
West Sacramento
2155 Town Center Plaza, Suite E170, West Sacramento, California 95691
(279) 895-7142
Westlake Village
30768 Russell Ranch Rd, Westlake Village, CA, Westlake Village, California 91362
(805) 601-6653
Whittier
11836 Whittier Blvd Unit B, Whittier, California 90601
(626) 412-0451
Woodland
2115 Bronze Star Drive #160, Woodland, California 95776
(530) 207-0144
Yorba Linda
18349 Imperial Hwy, Yorba Linda, California 92886
(657) 234-2462
Yuba City
1054 Harter Pkwy Ste #6, Yuba City, California 95993
(530) 645-3364
Crumbl Cookies Stores In Colorado
Aurora
14222 E Cedar Ave Suite C., Aurora, Colorado 80012
(720) 496-0309
Boulder
1805 29th St, Suite 1136, Boulder, Colorado 80301
(720) 727-0353
Brighton
2325 Prairie Center Pkwy, Unit E, Brighton, Colorado 80601
(720) 727-0953
Castle Rock
323 Metzler Dr., Ste. 102, Castle Rock, Colorado 80108
(720) 466-3009
Central Park / Denver
7505 E 35th Ave #385, Denver, Colorado 80238
(720) 316-0002
Cherry Creek
400 S Colorado Blvd, Suite A, Denver, Colorado 80246
(720) 603-1651
Colorado Springs
5102 N Nevada Ave, Suite 120, Colorado Springs, Colorado 80918
(719) 900-1863
Creekwalk / Colorado Springs
120 E Cheyenne Road, Colorado Springs, Colorado 80906
(719) 285-0199
Edgewater
1931 Sheridan Blvd, Edgewater, Colorado 80214
(720) 798-5642
Fort Collins
3300 S College Ave, Suite 120, Fort Collins, Colorado 80525
(720) 727-1058
Grand Junction
2546 Rimrock Ave, Suite 400, Grand Junction, Colorado 81505
(970) 368-5033
Greeley
4421 Centerplace Dr. Suite B, Greeley, Colorado 80634
(720) 727-1296
Greenwood Village
8547 E Arapahoe Rd, Unit C, Greenwood Village, Colorado 80112
(720) 442-8083
Highlands Ranch
9557 S University Blvd, Ste 102, Highlands Ranch, Colorado 80126
(720) 358-0860
Interquest / Colorado Springs
1358 Interquest Parkway Suite #150, Colorado Springs, Colorado 80921
(719) 378-4333
Johnstown
4948 Thompson Pkwy, Johnstown, Colorado 80534
(970) 399-5558
Lakewood
14650 W Colfax Ave, Unit 130, Lakewood, Colorado 80401
(720) 647-7297
Littleton
8555 W Belleview Ave #H200, Littleton, Colorado 80123
(720) 805-0420
Longmont
1248 S Hover ST #100, Longmont, Colorado 80501
(720) 743-2026
Montrose
3480 Wolverine Drive Suite G, Montrose, Colorado 81401
(970) 787-2670
Parker
11153 S. Parker Rd, Unit B, Parker, Colorado 80134
(720) 386-1263
Pueblo
1617 Highway 50 Suite 160, Pueblo, Colorado 81008
(719) 501-2987
Superior
302 Center Dr, Superior, Colorado 80027
(720) 727-0199
Thornton
14332 Lincoln St, Thornton, Colorado 80023
(720) 791-6977
Washington Plaza / Thornton
9770 Washington St., Thornton, Colorado 80229
(720) 853-4288
Crumbl Cookies Stores In Connecticut

Buckland Hills / Manchester
1540 Pleasant Valley Rd. Ste E, Manchester, Connecticut 06042
(860) 281-2131
Danbury
71 Newtown Road, Ste 5, Danbury, Connecticut 06810
(203) 297-8107
Fairfield
2261 Black Rock Turnpike, Fairfield, Connecticut 06825
(203) 674-9755
Milford
1642b Boston Post Road, Milford, Connecticut 06460
(203) 693-1258
North Haven
411 Universal Dr. N, Unit 209, North Haven, Connecticut 06473
(203) 909-6481
Norwalk
360 Connecticut Avenue, Norwalk, Connecticut 06854
(203) 663-3581
West Farms / West Hartford
1445 New Britain Ave, West Hartford, Connecticut 06110
(860) 470-6699
Crumbl Cookies Stores In Delaware
Christiana/ Newark
3138 Fashion Center Blvd, Newark, Delaware 19702
(302) 214-4776
Crumbl Cookies Stores In Florida
Altamonte Springs
150 S. State Road #434, Altamonte Springs, Florida 32714
(689) 206-9103
Aventura
20533 Biscayne Blvd, Suite E-6, Aventura, Florida 33180
(754) 202-0249
Bannerman / Tallahassee
6668 Thomasville Rd, Tallahassee, Florida 32312
(850) 296-9801
Beach Haven / Jacksonville
3267 Hodges Boulevard, #2, Jacksonville, Florida 32224
(904) 373-4947
Brandon
10963 Causeway Blvd Suite B, Brandon, Florida 33511
(813) 540-0776
Carrollwood / Tampa
15718 N Dale Mabry Hwy., Tampa, Florida 33618
(813) 521-7200
Casselberry
3405 S US Highway 1792, Casselberry, Florida 32707
(407) 618-0775
Clearwater
2719 Gulf to Bay Blvd. Suite 1120, Clearwater, Florida 33759
(727) 371-8779
Clermont
2427 S Highway 27, Clermont, Florida 34711
(352) 604-0989
Cobblestone Commons / Boynton Beach
8855 West Boynton Beach Blvd., Suite 330, Boynton Beach, FL 33472
(561) 303-0463
Coral Springs
6071 Coral Ridge Drive, Coral Springs, Florida 33076
(754) 241-0237
Dania Beach
4021 Oakwood Blvd., Hollywood, Florida 33020
(754) 280-4810
Davenport
2100 Posner Blvd., Davenport, Florida 33837
(863) 306-5696
Davie
2272 S. University Drive, Davie, Florida 33324
(754) 241-9835
DeLand
2385 South Woodland Blvd, DeLand, Florida 32724
(386) 456-3093
Delray Beach
1911 S. Federal Highway, Suite 214, Delray Beach, Florida 33483
(561) 948-5570
Destin
4447 Commons Drive East, Suite KOM1, Destin, Florida 32541
(850) 389-4689
Doral / Miami
9971 W Flagler St. #200, Miami, Florida 33174
(786) 373-4671
FSU / Tallahassee
1670 W Tennessee St. Unit 1, Tallahassee, Florida 32304
(850) 759-4831
Gulf Breeze
844 Gulf Breeze Parkway, Gulf Breeze, Florida 32561
(850) 565-3313
Hamlin / Winter Garden
16027 New Independence Pkwy, Winter Garden, Florida 34747
(407) 287-1024
Hammock Landing / West Melbourne
225 Palm Bay Road NE #183, West Melbourne, Florida 32904
(321) 477-1022
Jupiter
1695 W Indiantown Rd, Suites 22-23, Jupiter, Florida 33458
(561) 316-6366
Kendall / Miami
13520 SW 120th Street, Suite 106, Miami, Florida 33186
(786) 633-0337
Kissimmee
1180 W Osceola Pkwy, Kissimmee, Florida 33418
(407) 794-0631
Lake Mary
245 Wheelhouse Lane, Suite 1441, Lake Mary, Florida 32746
(321) 233-4552
Lake Washington
3000 N Lake Washington Road, Space 3088, Melbourne, Florida 32934
(321) 599-2900
Lutz
25922 Sierra Center Blvd, Lutz, Florida 33559
(813) 445-6552
Mahan Village / Tallahassee
3122 Mahan Drive, Suite 302, Tallahassee, Florida 32308
(850) 270-7803
Mandarin / Jacksonville
11406 San Jose Blvd #3, Jacksonville, Florida 32223
(904) 592-9059
Millenia / Orlando
4693 Gardens Park Blvd., Orlando, Florida 32819
(407) 789-2524
Naples
6270 Naples Blvd, Unit 3, Naples, Florida 34110
(239) 799-5289
Niceville
1552 E. John Sims Pkwy, Niceville, Florida 32578
(850) 389-2234
North Cape / Cape Coral
1519 NE Pine Island Rd Suite 150, Cape Coral, Florida 33909
(239) 539-9269
Northlake Blvd / Palm Beach Gardens
3333 Northlake Blvd Ste 4, Palm Beach Gardens, Florida 33403
(561) 377-2118
North Port
17437 Tamiami Trail, North Port, Florida 34287
(941) 280-1500
Oakleaf / Jacksonville
9526 Argyle Forest Blvd STE B-6, Jacksonville, Florida 32222
(904) 449 7459
Oceanside
459 College Blvd Suite 3, Oceanside, California 92057
(760) 330-5969
Palm Beach Gardens
5240 Donald Ross Rd, Suite 105, Palm Beach Gardens, Florida 33418
(561) 484-5063
Palm Coast
250 Palm Coast Pkwy #207, Palm Coast, Florida 32137
(239) 291-3002
Panama City Beach
15600 Panama City Beach Parkway Unit 140, Panama City Beach, Florida 32413
(850) 919-1005
Palm Harbor
798 East Lake Rd. #54, Palm Harbor, Florida 34685
(727) 279-0005
Pembroke Pines
15999 Pines Blvd #103, Pembroke Pines, Florida 33027
(754) 220-3030
Pensacola
1670 E Nine Mile Road, Pensacola, Florida 32514
(850) 905-6414
Pinecrest / Miami
8743 SW 136th Street B, Miami, Florida 33176
(786) 904-0255
Port St. Lucie
1707 NW Saint Lucie West Blvd. #152, Port St. Lucie, Florida 34986
(772) 242-9724
Riverview
12926 US HWY 301 S Bldg. 100 Ste. B, Riverview, Florida 33578
(813) 331-5003
Sand Lake / Orlando
7800 Dr. Phillips Blvd. Ste. 200, Orlando, Florida 32819
(407) 487-8824
San Marco / Jacksonville
2039 Hendricks Avenue, Suite 214, Jacksonville, Florida 32207
(904) 663-4333
Sarasota UTC
215 N. Cattleman Rd. Unit #56, Sarasota, Florida 34243
(941) 210-0533
Sawgrass / Sunrise
12584 W Sunrise Blvd, Sunrise, Florida 33323
(954) 800-8508
Seminole
11167 Unit E Park Boulevard North, Seminole, Florida 33772
(727) 371-8758
South Sarasota / Sarasota
4942 S. Tamiami Trail, Sarasota, Florida 34231
(941) 259-6673
South Tampa / Tampa
1902-A South Dale Mabry Highway, Tampa, Florida 33629
(813) 586-2211
Spring Hill / Brooksville
7069 Coastal Blvd, Brooksville, Florida 34613
(352) 600-4044
Stuart
2535 NW Federal Hwy., Stuart, Florida 34994
(772) 261-0222
Sunshine Square / Boynton Beach
546 E Woolbright Rd., Boynton Beach, Florida 33435
(561) 536-7310
Trinity / New Port Richey
3140 Little Road, New Port Richey, Florida 34655
(727) 810-3850
USF / Temple Terrace
8795 N. 56th Street, Temple Terrace, Florida 33617
(813) 283-4513
Vero Beach
500 21st St, Suite 2, Vero Beach, Florida 32960
(772) 253-2442
Viera / Melbourne
2270 Town Center Ave, Suite 111, Melbourne, Florida 32940
(321) 328-0296
Vineland / Orlando
11561 Regency Village Dr, Orlando, Florida 32821
(321) 401-6160`
Waterford Lakes / Orlando
455 N. Alafaya Trail, Orlando, Florida 32828
(321) 244-4048
Westchase / Tampa
10601 Sheldon Rd., Tampa, Florida 33626
(727) 626-2653
Weston / Davie
4448 Weston Rd., Davie, Florida 33331
(954) 639-9119
West Palm Beach
721 Village Blvd Suite 107B, West Palm Beach, Florida 33409
(561) 559-2244
Winter Park
501 N Orlando Ave Suite 309, Winter Park, Florida 32789
(689) 206-9099
Winter Springs
1425 Tuskawilla Rd, Unit #263, Winter Springs, Florida 32708
(407) 674-9997
Crumbl Cookies Stores In Georgia
Acworth
3330 Cobb Parkway NW Suite 14C, Acworth, Georgia 30101
(470) 632-8080
Alpharetta
4190 Old Milton Pwky, Suite 2L, Alpharetta, Georgia 30005
(470) 281-9209
Ashley Park / Newnan
549 Bullsboro Dr. B, Newnan, Georgia 30265
(470) 724-9802
Athens
196 Alps Road Suite 5, Athens, Georgia 30606
(706) 389-5894
Bradley Park / Columbus
1635 Whittlesey Rd Ste 450A, Columbus, Georgia 31904
(706) 309-4111
Brookhaven / Atlanta
804 Town Blvd Suite A1035, Atlanta, Georgia 30319
(470) 668-5045
Buford
3320 Buford Dr. Suite 60, Buford, Georgia 30519
(470) 238-8041
Canton
2018 Cumming Highway Suite 102, Canton, Georgia 30115
(678) 890-0718
Cumming
405 Peachtree Pkwy, Suite 120, Cumming, Georgia 30041
(470) 239-1986
Dalton
1304 W Walnut Ave, Suite 108, Dalton, Georgia 30720
(706) 397-7900
Dawsonville
12 Dawson Market Way #200, Dawsonville, Georgia 30534
(706) 350-5553
Douglasville
2856 Chapel Hill Rd., Douglasville, Georgia 30135
(470) 243-4744
Evans
625 Mullins Colony Drive, Evans, Georgia 30809
(706) 828-1382
Flowery Branch
5887 Spout Springs Rd Ste D401, Flowery Branch, Georgia 30542
(470) 458-1877
Gainesville
952 Dawsonville Highway, Gainesville, Georgia 30501
(470) 208-2821
Johns Creek / Suwanee
2615 Peachtree Parkway, Ste 210, Suwanee, Georgia 30024
(470) 695-0220
Kennesaw
1300 Ernest Barrett Parkway Unit 11, Kennesaw, Georgia 30144
(470) 523-9384
Lawrenceville
875 Lawrenceville – Suwanee Rd., Lawrenceville, Georgia 30043
(470) 326-0369
Marietta
3460 Sandy Plains Road, Suite 510, Marietta, Georgia 30066
(678) 203-8885
Mosaic / Pooler
2201 Pooler Parkway, Unit # 400, Pooler, Georgia 31322
(912) 581-2727
Newnan
110 Glenda trace, Suite A, Newnan, Georgia 30265
(470) 215-1783
Peachtree City
130 Peachtree East Shopping Center #108, Peachtree City, Georgia 30269
(470) 288-4077
Riverwatch / Augusta
826 Cabela Drive, Suite 2, Augusta, Georgia 30909
(803) 599-8283
Sandfly / Savannah
1932 East Montgomery Cross Rd, Suite 100, Savannah, Georgia 31406
(912) 581-2669
Sandy Springs
5948 Roswell Rd, Sandy Springs, Georgia 30328
(470) 531-4077
Snellville
1905 Scenic Hwy S Suite 330, Snellville, Georgia 30078
(470) 563-9995
Southern / Statesboro
113 Tormenta Way Suite 205, Statesboro, Georgia 30458
(912) 225-4445
Toco Hills / Atlanta
2943 North Druid Hills Road Suite 260, Atlanta, Georgia 30329
(404) 369-3069
Warner Robins
2907 Watson Boulevard, Suite C-2, Warner Robins, Georgia 31093
(478) 217-2922
Winder / Bethlehem
916 Loganville Highway Suite 360, Bethlehem, Georgia 30620
(470) 739-7838
Crumbl Cookies Stores In Hawaii
Kapolei
4480 Kapolei Parkway Suite 277, Kapolei, Hawaii 96707
(808) 204 9665
Crumbl Cookies Stores In Idaho
Ammon
2656 E Sunnyside Rd, Ammon, Idaho 83406
(208) 268-8222
Boise
8665 West Franklin Road, Boise, Idaho 83709
208) 922-7297
Coeur D'Alene
3524 N Government Way, Coeur d'Alene, Idaho 83815
(208) 408-0685
Eagle
3116 East State Street, Eagle, Idaho 83616
(208) 370-2638
Meridian
3340 N Eagle Rd, Meridian, Idaho 83646
(208) 268-8533
Moscow
954 W Pullman Rd, Moscow, Idaho 83843
(208) 301-5353
Nampa
16391 N Marketplace Blvd, Nampa, Idaho 83687
(208) 505-6256
Pocatello
231 W Quinn Rd, Suite E, Pocatello, Idaho 83202
(208) 242-2303
Rexburg
160 W 2nd S, Suite 102, Rexburg, Idaho 83440
(208) 254-5556
Twin Falls
799 Cheney Dr, Unit 30C, Twin Falls, Idaho 83301
(208) 329-5800
Crumbl Cookies Stores In Illinois
Algonquin
2535 County Line Rd., Algonquin, Illinois 60102
(224) 699-0660
Arlington Heights
115 West Rand Road, Arlington Heights, IL 60004
(224) 286-1038
Boughton Road / Bolingbrook
763 East Boughton Road, Bolingbrook, Illinois 60440
(630) 755-5797
Brickyard / Chicago
2650 N. Narragansett C3, Suite 019, Chicago, Illinois 60639
(773) 466-2244
Buffalo Grove / Wheeling
1530 E Lake Cook Rd, Wheeling, Illinois 60090
(224) 279-0548
Crystal Lake
5500 Northwest Highway Unit B, Crystal Lake, Illinois 60014
(779) 800-6608
East Peoria
406 W. Washington St., East Peoria, Illinois 61611
(309) 322-2767
Glendale Heights
179 W Army Trail Rd, Glendale Heights, Illinois 60137
(630) 635-0563
Glen Ellyn
709 W Roosevelt Rd., Glen Ellyn, Illinois 60137
(630) 474-3747
Gurnee
7105 Grand Ave, Gurnee, Illinois 60031
(224) 252-0422
Hoffman Estates
2726 Sutton Rd., Hoffman Estates, Illinois 60192
(224) 484-0074
Homewood
17751 South Halsted Street, Homewood, Illinois 60915
(815) 200-6363
La Grange
1 North La Grange Road, Suite D, La Grange, Illinois 60525
(708) 328-6399
Lake Zurich
727 W Main Street Suite B, Lake Zurich, Illinois 60047
(217) 293-7905
Lincoln Park / Chicago
2321 N Lincoln Ave., Chicago, Illinois 60614
(773) 394-2525
Lockport
16433 West 159th Street, Lockport, Illinois 60441
(779) 243-1116
Michigan Ave / Chicago
333 N Michigan Ave, Chicago, Illinois 60601
(312) 462-3558
Mokena
11249 W. Lincoln Hwy., Mokena, Illinois 60448
(708) 390-7945
Naperville
2936 Showplace Dr #112, Naperville, Illinois 60564
(331) 213-2840
Niles
5704 W. Touhy Ave., Niles, Illinois 60714
(224) 592-5422
Normal
309 S Veterans Parkway Suite 405, Normal, Illinois 61761
(309) 204-0040
North Naperville
1504 N. Naper Blvd, Naperville, Illinois 60563
(331) 330-7617
Northbrook
984 Willow Road, Ste C, Northbrook, Illinois 60062
(224) 203-2453
Oak Brook
17W410 22nd St, Oak Brook Terrace, Illinois 60181
(331) 551-6923
Old Town / Chicago
1441 N Wells St, Chicago, Illinois 60610
(872) 233-3051
Orland Park
9505 W. 142nd St. Unit 302, Orland Park, Illinois 60462
(708) 778-3358
Peoria
4509 N. Sterling, Peoria, Illinois 61615
(309) 340-1669
Roscoe Village / Chicago
3340 North Western Ave., Chicago, Illinois 60618
(773) 938-4448
Schaumburg
106 E Golf Rd, Schaumburg, Illinois 60173
(224) 377-0925
Shiloh
3760 Green Mount Crossing Drive, Shiloh, Illinois 62269
(217) 385-3221
South Elgin
315 Randall Rd, South Elgin, Illinois 60108
(224) 276-6668
Tinley Park
15943A S Harlem Ave., Tinley Park, Illinois 60477
(708) 407-9446
Vernon Hills
875 North Milwaukee Avenue Suite 500, Vernon Hills, Illinois 60061
(217) 296-2652
Wicker Park / Chicago
1513 N Milwaukee Ave, Chicago, Illinois 60622
(773) 598-6908
Crumbl Cookies Stores In Indiana
Avon
8788 E US Hwy 36, Avon, Indiana 46123
(317) 742-9615
Bloomington
1155 S College Mall Rd, Suite B., Bloomington, Indiana 47401
(812) 668-7779
Brownsburg
943 N. Green Street, Brownsburg, Indiana 46112
(317) 520-2522
Carmel
2446 E 146th St, Carmel, Indiana 46033
(317) 324-8041
Coliseum / Fort Wayne
433 W Coliseum Blvd., Fort Wayne, Indiana 46805
(260) 205-8111
Dyer
819 Joliet Street, Dyer, Indiana 46311
(219) 440-2063
Evansville
939 N. Burkhardt Road, STE B, Evansville, Indiana 47715
(812) 965-4133
Evansville Westside / Evansville
5435 Pearl Drive, Evansville, Indiana 47712
(930) 212-0677
Fishers
8395 E 116th St, Fishers, Indiana 46038
(317) 284-9311
Greenwood
1675 W. Smith Valley Road, Suite D4B, Greenwood, Indiana 46142
(463) 200-5249
Jeffersonville
3548 E 10th Street, Jeffersonville, Indiana 47130
(502) 795-0922
Keystone Shoppes / Indianapolis
3329 E. 86th Street, Indianapolis, Indiana 46240
(317) 343-0446
Lafayette
3575 Promenade Pkwy #800, Lafayette, Indiana 47909
(765) 237-9964
Mishawaka
5230 N Main Street, Ste A, Mishawaka, Indiana 46545
(574) 213-0987
Orchard Crossing / Fort Wayne
1034 Thomas Road Suite 116, Fort Wayne, Indiana 46804
(260) 203-0015
South Bend
1290 E IRELAND RD Suite Z200, South Bend, Indiana 46614
(574) 318-7300
Valparaiso
2310 Laporte Ave. Suite #800, Valparaiso, Indiana 46383
(219) 386-2555
West Carmel / Carmel
9873 N. Michigan Road, Suite 130-B, Carmel, Indiana 46032
(463) 345-3863
Crumbl Cookies Stores In Iowa
Ames
414 South Duff Avenue, Ste. #104, Ames, Iowa 50010
(515) 598-7171
Ankeny
802 SE Oralabor Rd. Suite 108, Ankeny, Iowa 50021
(515) 650-8361
Cedar Rapids
1005 Blairs Ferry Road NE Suite 50, Cedar Rapids, Iowa 52402
(319) 259-6347
Davenport
4036 E 53rd St. Davenport, Davenport, Iowa 52807
(563) 275-2246
Dubuque
3500 Dodge St Suite 130, Dubuque, Iowa 52003
(563) 231-2198
Sioux City
5822 Sunnybrook Dr., Sioux City, Iowa 51106
(712) 220-2666
Waterloo
1503 Flammang Dr. Waterloo, Iowa 50701
(319) 493-7766
West Des Moines
5585 Mills Civic Parkway #140, West Des Moines, Iowa 50266
(515) 585-0611
Crumbl Cookies Stores In Kansas
Derby
1918 N Rock Rd #700, Derby, Kansas 67037
(316) 252-3848
Little Apple / Manhattan
501 N 3rd Place Suite C, Manhattan, Kansas 66502
(785) 706-9199
New Market Square / Wichita
2755 N. Maize Rd Suite 101, Wichita, Kansas 67205
(316) 202-1552
Misson Commons
6021 Metcalf Ave., Mission, Kansas 66202
(913) 308-6649
Oak Park / Lenexa
12154 W. 95th St., Lenexa, Kansas 66215
(913) 210-1331
Olathe
15159 W 119th, Olathe, Kansas 66062
(913) 361-7073
Overland Park
780 W 135th St, Overland Park, Kansas 66223
(913) 361-7072
Topeka
2130 SW Wanamaker Road #160, Topeka, Kansas 66614
(785) 274-9944
Wichita
2564 N Greenwich Rd, Suite 500, Wichita, Kansas 67226
(316) 778 8862
Crumbl Cookies Stores In Kentucky
Bowling Green
130 Walton Avenue Unit E, Bowling Green, Kentucky 42104
(270)715-2159
Fern Creek / Louisville
7714 Bardstown Road, Louisville, Kentucky 40291
(502) 251-1666
Lexington
2160 Sir Barton Way, Suite 141, Lexington, Kentucky 40509
(859) 977-9525
Middletown
12949 Shelbyville Road, Suite 102, Louisville, Kentucky 40243
(502) 405-8156
Nicholasville
255 E Brannon, Nicholasville, Kentucky 40356
(859) 305-3999
Owensboro
3250 Calumet Trace, Owensboro, Kentucky 42303
(859) 305-3999
Paddock / Louisville
4110 Summit Plaza Drive Louisville KY 40241, Louisville, Kentucky 40241
(502) 509-2828
Richmond
2043 Lantern Ridge Dr., Richmond, Kentucky 40475
(859) 353-4191
Crumbl Cookies Stores In Louisiana
Baton Rouge
6555 Siegen Ln, Suite 10, Baton Rouge, Louisiana 70809
(225) 228-0120
Bossier City
2650 Airline Drive, Suite 300, Bossier City, LA 71111, Bossier City, Louisiana 71111
(318) 404-1326
Covington
70360 Highway 21, Suite 5, Covington, Louisiana 70433
(985) 200-5906
Houma
1826 Martin Luther King Blvd, Suite J, Houma, Louisiana 70360
(985) 851-9200
Juban Crossing / Denham Springs
10129 Crossing Way Suite 470, Denham Springs, Louisiana 70726
(225) 778-8322
Lake Charles
1704 W Prien Lake Rd, Lake Charles, Louisiana 70601
(337) 419-0077
Metairie
2701 Airline Dr. Unit I, Metairie, Louisiana 70001
(504) 332-2058
River Marketplace / Lafayette
4409 Ambassador Caffery Pkwy, Ste 700, Lafayette, Louisiana 70508
(337) 362-1699
Slidell
106 Gause Blvd, Suite E, Slidell, Louisiana 70460
(985) 248-8558
Youree / Shreveport
7020 Youree Dr., Suite F, Shreveport, Louisiana 71105
(318) 230-7776
Crumbl Cookies Stores In Maine
Rock Row
95 Rock Row, Suite 160, Westbrook, Maine 04092
(207) 887-0907
Crumbl Cookies Stores In Maryland
Annapolis
2576 Solomons Island Rd, Annapolis, Maryland 21401
(443) 214-0137
California
45000 St.Andrews Church Rd Ste C, California, Maryland 20619
(443) 342-4048
Frederick
200 Shorebird St B, Frederick, Maryland 21701
(240) 397-9194
Germantown
20650 Seneca Meadows Pkwy, Unit C1, Germantown, Maryland 20876
(240) 224-0855
Kentlands / Gaithersburg
277 Kentlands Blvd., Gaithersburg, Maryland 20878
(240) 812-1656
Owings Mills
10200 Mill Run Circle, Suite 102, Owings Mills, Maryland 21117
(443) 272-1758
Rockville
12266 Rockville Pike Suite K, Rockville, Maryland 20852
(240) 406-7655
Waldorf
3728 Crain Hwy, Unity 102, Waldorf, Maryland 20603
(240) 785-0566
Waugh Chapel
1410 S Main Chapel Way Suite 116, Gambrills, Maryland 21054
(240) 449-4748
White Marsh / Nottingham
5350 Campbell Blvd, Suite D-2, Nottingham, Maryland 21236
(443) 648-3443
Crumbl Cookies Stores In Massachusetts
Attelboro
228 Washington Street Suite A-155, Attleboro, Massachusetts 02703
(508) 399-1171
Boston Landing / Boston
127 Guest Street, Boston, Massachusetts 02135
(617) 798-4556
Dartmouth
452 A State Rd, Dartmouth, Massachusetts 02747
(339) 255-5020
Dedham
747 Providence Highway, Dedham, Massachusetts 02026
(781) 613-8228
Foxborough
22 Patriot Place Suite 117B, Foxborough, Massachusetts 02035
(774) 214-0812
Hanover
2053 Washington Street, Hanover, Massachusetts 02339
(781) 561-0552
Methuen
90 Pleasant Valley St, Unit 170, Methuen, Massachusetts 01844
(978) 291-6956
Millbury
70 Worcester-Providence Turnpike #619, Millbury, Massachusetts 01527
(774) 462-0204
Plymouth
67 Long Pond Road, Plymouth, Massachusetts 02360
(508) 591-0906
Saugus
358 Broadway #N, Saugus, Massachusetts 01906
(339) 210-5052
Station Landing
23 Revere Beach Parkway, Medford, Massachusetts 02155
(617) 394-8523
Waltham
1077 Lexington St., Waltham, Massachusetts 02452
(781) 226-1699
Woburn
300 Mishawum Road Unit 410, Woburn, Massachusetts 01801
(339) 298-7054
Crumbl Cookies Stores In Michigan
Ann Arbor
215 N Maple Rd. Suite A-2, Ann Arbor, Michigan 48103
(734) 274-6623
Bloomfield Hills
4036 Telegraph Road, Bloomfield Hills, Michigan 48302
(248) 462-6676
Canton
42049 Ford Rd., Canton, Michigan 48187
(734) 228-4807
Chesterfield
27795 23 Mile Road, Chesterfield, Michigan 48051
(586) 315-1141
Delta Crossing / Lansing
501 N. Marketplace Blvd, Ste E, Lansing, Michigan 48917
(517) 329-1035
Fenton
17085 Silver Parkway, Fenton, Michigan 48430
(810) 885-3277
Grand Rapids
3577 28th Street SE, Suite G4, Grand Rapids, Michigan 49512
(616) 803-8734
Holland
12377 James Street, Suite D30, Holland, Michigan 49424
(616) 344-1488
Kalamazoo
5097 Century Ave, Kalamazoo, Michigan 49006
(269) 888-5427
Livonia
11019 Middlebelt Rd., Livonia, Michigan 48150
(734) 655-0966
Mt. Pleasant
4445 E Blue Grass Rd Suite B, Mt. Pleasant, Michigan 48858
(989) 572-0809
Muskegon
1720 East Sternberg Road, Suite 40, Muskegon, Michigan 49444
(231) 875-6566
Northville
20075 Haggerty Rd., Northville, Michigan 48167
(734) 228-4838
Novi
26060 Ingersol Drive, Novi, Michigan 48375
(248) 916-9450
Rochester Hills
2575 S. Rochester Rd, Rochester Hills, Michigan 48307
(947) 218-0413
Royal Oak
30955 Woodward Ave, Suite 715, Royal Oak, Michigan 48073
(248) 952-8988
Sterling Heights
14844 Hall Road, Sterling Heights, Michigan 48313
(586) 580-1270
Waterford
4998 Highland Rd., Waterford , Michigan 48328
(231) 280-5506
Woodhaven
23398 Allen Rd., Woodhaven, Michigan 48183
(734) 304-0752
Crumbl Cookies Stores In Minnesota
Apple Valley
15052 Gleason Path Suite #105, Apple Valley, Minnesota 55124
(612) 474-4217
Arden Hills
3833 Lexington Ave. N., Suite 104, Arden Hills, Minnesota 55126
(612) 564-5940
Coon Rapids
12629 Riverdale Blvd, Coon Rapids, Minnesota 55433
(651) 395-7723
Duluth
917 West Central Entrance, Duluth, Minnesota 55811
(218) 461-1339
Eagan
1270 Promenade Place, Suite 130, Eagan, Minnesota 55121
(612) 699-2424
Eden Prairie
12575 Castlemoor Dr, Eden Prairie, Minnesota 55344
(651) 728-5747
Maple Grove
11623 Fountains Dr, Maple Grove, Minnesota 55369
763-777-7527
Minnetonka
4747 County Rd 101, Minnetonka, Minnesota 55345
(651) 728-9191
Ridgehaven / Minnetonka
13181 Ridgedale Drive, Minnetonka, Minnesota 55305
(218) 212-8169
Robert Street / St. Paul
2037 South Roberts St #300, West St Paul, Minnesota 55118
(612) 268-0152
Rochester
2665 Commerce Dr. NW, Suite 200, Rochester, Minnesota 55901
(507) 328-0636
St. Cloud
3959 2nd Street Suite 204, St. Cloud, Minnesota 56301
(320) 316-0577
St. Louis Park
5330 Cedar Lake Rd. Suite 500, St. Louis Park, Minnesota 55416
(612) 504-8687
Woodbury
345 Radio Drive, Suite B, Woodbury, Minnesota 55125
(651) 321-1177
Crumbl Cookies Stores In Mississippi
D'Iberville
3950 Promenade Pkwy C, D'Iberville, Mississippi 39540
(228) 256-0425
Flowood
380 Ridge Way, Flowood, Mississippi 39232
(601) 790-0906
Gulfport
15520 Daniel Blvd Suite D, Gulfport, Mississippi 39503
(228) 277-1004
Hattiesburg
3720 Hardy Street, Suite 6, Hattiesburg, Mississippi 39402
(601) 602-5253
Madison
111 Colony Crossing Way, Unit 120, Madison, Mississippi 39110
(601) 401-0316
Olive Branch
5400 Goodman Road, Suite 109, Olive Branch, Mississippi 38654
(662) 932-3330
Oxford
103 Merchants Drive, Oxford, Mississippi 38655
(662) 636-6265
Tupelo
837 Kings Crossing Dr. Suite 6, Tupelo, Mississippi 38804
(662) 205-5766
Crumbl Cookies Stores In Missouri
Chesterfield
1624 Clarkson Rd., Chesterfield, Missouri 63017
(636) 733-6630
Columbia
21 Conley Rd. Suite R, Columbia, Missouri 65201
(573) 355-5787
Cottleville
6079 Mid Rivers Mall Dr., Cottleville, Missouri 63304
(636) 706-5076
Gladstone / Kansas City
5247 NE Antioch Rd, Kansas City, Missouri 64119
(816) 601-0457
Independence
18931 E Valley View Pkwy., Independence, Missouri 64055
(816) 295-2372
Joplin
430 Geneva Ave Ste 500, Joplin, Missouri 64801
(417) 553-9878
Lee's Summit
1700 NW Chipman Rd, Lee's Summit, Missouri 64081
(816) 207-4760
Liberty / Kansas City
8420 N Church Rd, Kansas City, Missouri 64157
(816) 368-1789
Saint Joseph
5301 North Belt Hwy, Suite 111, Saint Joseph, Missouri 64506
(816) 646-2612
South County / St. Louis
12404 Tesson Ferry Suite 2, St. Louis, Missouri 63128
(314) 347-0402
Tiffany Springs / Kansas City
9008 NW Skyview Ave., Kansas City, Missouri 64154
(816) 873-5657
Ward Parkway / Kansas City
8600 Ward Parkway Ste 1018, Kansas City, Missouri 64114
(816) 301-4930
West County / Des Peres
13335 Manchester Rd, Des Peres, Missouri 63131
(314) 347-1436
Crumbl Cookies Stores In Montana
Billings
27 Shiloh Rd, Suite 6, Billings, Montana 59106
(406) 530-7327
Bozeman
1060 Fowler Ave, Bozeman, Montana 59718
(406) 351-4589
Great Falls
2114 10th Ave., Great Falls, Montana 59405
(406) 315-5002
Helena
2030 Cromwell Dixon Ln Suite J, Helena, Montana 59602
(406) 204-0568
Missoula
3075 N Reserve St, Suite J, Missoula, Montana 59808
(406) 351-0900
Crumbl Cookies Stores In Nebraska
Lakeside / Omaha
2883 S 168th St., Omaha, Nebraska 68130
(402) 807-1267
North Lincoln / Lincoln
6005 O Street Suite I, Lincoln, Nebraska 68510
(402) 413-0259
Omaha Northwest
3606 North 156th St., Omaha, Nebraska 68116
(402) 671-0566
Papillion
8650 South 71st Plaza, Papillion, Nebraska 68133
(308) 222-8796
Crumbl Cookies Stores In Nevada
Blue Diamond / Las Vegas
8085 Blue Diamond Rd, Las Vegas, Nevada 89178
(702) 660-0233
Cannery / North Las Vegas
2598 E Craig Rd, Suite 100, North Las Vegas, Nevada 89030
(702) 623-5110
Centennial / Las Vegas
5590 Painted Mirage Rd, Las Vegas, Nevada 89149
(702) 707-9822
Durango
6255 S Durango Dr, Las Vegas, Nevada 89113
(702) 613-4667
Green Valley / Henderson
55 N Stephanie Ste 100, Henderson, Nevada 89074
(725) 238-5799
Henderson
10575 S Eastern Ave Suite 190, Henderson, Nevada 89052
(702) 623-7348
Red Rock / Las Vegas
9901 West Charleston Blvd., Suite #2, Las Vegas, Nevada 89117
(702) 846-1089
Sparks
4731 Galleria Pkwy, Suite 109, Sparks, Nevada 89436
(775) 432-0721
UNLV / Las Vegas
4700 Maryland Pkwy #135, Las Vegas, Nevada 89119
(702) 323-8005
Crumbl Cookies Stores In New Hampshire
Concord
98 Fort Eddy Rd., Concord, New Hampshire 03301
(603) 602-8482
Nashua
256A Daniel Webster Hwy, Nashua, New Hampshire 03060
(603) 821-0889
North Nashua
2 Cellu Dr, Unit 101, Nashua, New Hampshire 03063
(603) 821-0058
Portsmouth / Newington
45 Gosling Rd STE 5c, Newington, New Hampshire 03801
(603) 617-3338
Rochester
150 Marketplace Blvd, Unit 11, Rochester, New Hampshire 03867
(603) 403-3991
Salem
55 Central Street Unit D, Salem, New Hampshire 03079
(603) 681-6522
Crumbl Cookies Stores In New Jersey
Brick
56 Brick Plaza, Brick Township, New Jersey 08723
(201) 212-4091
Cherry Hill
950 Garden Park Blvd, Cherry Hill, New Jersey 08002
(856) 254-2058
Clark
1255 Raritan Rd, Clark, New Jersey 07066
(732) 540-1845
Holmdel Commons / Holmdel
2136 NJ-35, Holmdel, New Jersey 07733
(848) 243-0855
Manalapan
55 US Hwy 9 #300, Manalapan, New Jersey 07726
(732) 333-8138
Morris Plains
1711 NJ-10, Morris Plains, New Jersey 07950
(862) 701-3544
North Brunswick
755 Shoppes Blvd, North Brunswick, New Jersey 08902
(732) 640-8555
Ocean
2303 State Route 66, Ocean Township, New Jersey 07712
(732) 455-1452
Princeton
650 Nassau Park Blvd, Princeton, New Jersey 08540
(609) 450-3166
Rockaway
395 Mt Hope Ave Ste 650, Rockaway, New Jersey 07866
(862) 397-0911
Turnersville
3501 NJ-42, Unit 190, Turnersville, New Jersey 08012
(856) 210-8584
Union
1235 W Chestnut St, Unit 5C, Union, New Jersey 07083
(908) 481-9966
Crumbl Cookies Stores In New Mexico
Cottonwood / Albuquerque
10420 Coors Bypass NW Suite 104-B, Albuquerque, New Mexico 87114
(505) 357-3640
Farmington
5150 E Main St Suite 104, Farmington, New Mexico 87402
(505) 278-0014
Crumbl Cookies Stores In New York
Amherst
1595 Niagara Falls Blvd. Suite 600, Amherst, New York 14228
(716) 899-4004
Chelsea / New York
238 7th Ave., New York, New York 10011
(212) 930-3826
Dewitt / Syracuse
3405 Erie Blvd E, Syracuse, New York 13214
(315) 400-2332
Henrietta
100 Marketplace Dr, Suite 120, Henrietta, New York 14623
(585) 358-0049
Latham
664 New Loudon Road, Latham, New York 12110
(518) 223-8585
Levittown
3511 Hempstead Turnpike, Levittown, New York 11756
(516) 421-7111
Massapequa
5500 Sunrise Hwy, Massapequa, New York 11758
(516) 905-2396
Port Washington
20 Soundview Market Place Unit 7, Port Washington, New York 11050
(516) 373-2770
Upper East Side / New York
1195 3rd Ave., New York, New York 10021
(332) 282-5959
Upper West Side / New York
301 Columbus Ave., New York, New York 10023
(332) 236-9577
West Village / New York
195 Bleecker St., New York, New York, 10012
(646) 248-6303
White Plains / Hartsdale
377 N. Central Ave., Hartsdale, New York 10530
(914) 215-7775
Williamsville
5205 Transit Rd #200, Buffalo, New York 14221
(716) 257-8555
Crumbl Cookies Stores In North Carolina
Apex
1105 Pine Plaza Drive Suite 1105, Apex, North Carolina 27523
(919) 249-6874
Asheville
1830 Hendersonville Road, Asheville, North Carolina 28803
(828) 417-0696
Battleground / Greensboro
3709 Battleground Ave, Unit K, Greensboro, North Carolina 27410
(336) 218-9084
Brier Creek / Raleigh
8531 Brier Creek Pkwy Ste 115, Raleigh, North Carolina 27617
(984) 201-1194
Burlington
139 Huffman Mill Road, Unit No. 103, Burlington, North Carolina 27215
(336) 278-1501
Chapel Hill
133 W. Franklin St., Suite 150, Chapel Hill, North Carolina 27516
(984) 261-2222
Charlotte
7918A Rea Road, Charlotte, North Carolina 28277
(704) 781-8111
Concord Mills / Concord
8915 Christenbury Parkway, Suite 20, Concord, North Carolina 28027
(980) 825-7022
Gastonia
3125 E Franklin Blvd, Suite 105, Gastonia, North Carolina 28056
(704) 228-1230
Greensboro
1218 Bridford Parkway Unit A, Greensboro, North Carolina 27407
(336) 316-6599
Hickory
2345 US Highway 70 SE, Hickory, North Carolina 28602
(828) 202-1990
High Point
1915 N Main St, Suite #107, High Point, North Carolina 27262
(336) 802-1374
Holly Springs
145 Grand Hill Pl., Holly Springs, North Carolina 27540
(919) 355-8909
Huntersville
10109 Northcross Center Ct Suite 130, Huntersville, North Carolina 28708
(704) 274-3480
Kernersville
1011 South Main Street, Unit A, Kernersville, North Carolina 27284
(336) 515-0062
Lawndale / Greensboro
2629 Lawndale Dr., Greensboro, North Carolina 27408
(336) 298-2728
Matthews
2217 Matthews Township Pkwy Ste E, Matthews, North Carolina 28105
(980) 245-4663
Midtown / Charlotte
337 S Kings Dr., Charlotte, North Carolina 28204
(980) 505-8558
Morrisville
1105 Market Center Dr, Morrisville, North Carolina 27560
(919) 364-1100
Northlake / Charlotte
9821 Northlake Centre Pkwy, Suite J, Charlotte, North Carolina 28216
(980) 477-6222
Outer Banks / Southern Shores
5385 N Virginia Dare Trail, #4, Southern Shores, North Carolina 27949
(252) 573-3366
Raleigh
2920 Sherman Oak Place, Suite 100, Raleigh, North Carolina 27609
(919) 249-1333
Six Forks Station / Raleigh
8815 Six Forks Rd., Raleigh, North Carolina 27615
(919) 561-5160
Southpoint / Durham
8128 Renaissance Pkwy, #113, Durham, North Carolina 27713
(984) 666-1671
Steele Creek / Charlotte
13551 Steelecroft Parkway, Suite 120, Charlotte, North Carolina 28278
(803) 619-0191
Tallywood
3114 Raeford Road, Suite 240, Fayetteville, North Carolina 28303
(910) 635-3999
Wake Forest
2815 Rogers Rd, Ste. 101 Wake Forest NC 27587
(919) 263-0584
Westgate / Asheville
5 Westgate Parkway #130, Asheville, North Carolina 28806
(828) 365-6543
Wilmington
311 S College Road, Wilmington, North Carolina 28403
(910) 679-6615
Winston-Salem
1039 Hanes Mall Boulevard, Winston-Salem, North Carolina 27103
(336) 448-4794
Crumbl Cookies Stores In North Dakota
Bismarck
820 43rd Avenue NE, Suite 120, Bismarck, North Dakota 58503
(701) 557-3103
Minot
1024 24th Ave. SW., Minot, North Dakota 58701
(701) 441-7978
West Fargo
833 24th Ave. East, Suite J. West Fargo, ND. 58078, West Fargo, North Dakota 58078
(701) 997-3879
Crumbl Cookies Stores In Ohio
Amherst / Lorain
7420 Oak Point Rd Ste B, Lorain, Ohio 44053
(440) 634-1950
Anderson / Cincinnati
7625 Beechmont Ave Suite B, Cincinnati, Ohio 45255
(513) 286-3444
Avon
1813 Nagel Rd., Suite 300, Avon, Ohio 44011
(440) 517-1609
Beachwood
24345 Chagrin Blvd, Beachwood, Ohio 44122
(216) 245-3691
Beavercreek
2260 North Fairfield Rd. Suite G Beavercreek, OH 45431, Beavercreek, Ohio 45431
(937) 343-4369
Boardman
449 Boardman Poland Rd., Boardman, Ohio 44512
(216) 359-3611
Canton
6791 Strip Avenue NW, North Canton, Ohio 44720
(234) 262-0782
Cuyahoga Falls
753 Howe Avenue, Cuyahoga Falls, Ohio 44221
(216) 354-2866
Delaware
820 Sunbury Road, Unit 622, Delaware, Ohio 43015
(740) 206-8375
Dublin
6780 Perimeter Loop Rd, Dublin, Ohio 43017
(614) 465-3888
Easton / Columbus
4034 Morse Crossing, Columbus, Ohio 43219
(380) 400-8085
Fairlawn
3750 W Market St. Unit G, Fairlawn, Ohio 44333
(330) 443-1618
Fairview Park
3038 Westgate Mall #20, Fairview Park, Ohio 44126
(440) 575-5666
Grove City
1719 Stringtown Road, Grove City, Ohio 43123
(380) 666-2727
Heath
963C Hebron Rd., Heath, Ohio 43056
(740) 334-4700
Hilliard / Columbus
5466 Westpointe Plaza Dr, Columbus, Ohio 43228
(380) 888-6055
Huber Heights
8288 Old Troy Pike, Huber Heights, Ohio 45424
(937) 280-3040
Lakewood
14210 Detroit Ave., Lakewood, OH 44107
(216) 200-5580
Mason
5873 Deerfield Blvd., Mason, Ohio 45040
(513) 445-4033
Mayfield / Mayfield Heights
1241 SOM Center Rd, Mayfield Heights, Ohio 44124
(440) 459-0209
Medina
1124 N. Court St., Medina, Ohio 44256
(330) 461-9922
Mentor
9662 Mentor Avenue, Mentor, Ohio 44060
(440) 754-0601
New Albany / Westerville
6326 E Dublin Granville Rd, Westerville, Ohio 43081
(614) 392-7020
North Olmsted
25102 Brookpark Rd #118, North Olmsted, Ohio 44070
(440) 427-4078
Oakley / Cincinnati
3321 Vandercar Way, Cincinnati, Ohio 45209
(513) 580-7711
OSU / Columbus
1759 Olentangy River Road, Unit 18-B, Columbus, Ohio 43212
(380) 900-8548
Parma
8647 W Ridgewood Dr, Parma, Ohio 44129
(440) 482-1950
Polaris / Columbus
1219 Polaris Pkwy, Columbus, Ohio 43240
(614) 392-7540
Reynoldsburg
2863 Taylor Rd Ext., Reynoldsburg, Ohio 43068
(380) 224-1400
Ridge Park / Brooklyn
4824 Ridge Rd, Brooklyn, Ohio 44144
(440) 253-0310
Sandusky
4917 Milan Rd, Suite 9, Sandusky, OH 44870
Solon
34330 Aurora Road, Solon, Ohio 44139
(440) 589-4284
Stow
4326 Kent Rd Unit C300, Stow, Ohio 44224
(330) 552-8550
Strongsville
16734 Royalton Rd., Strongsville, Ohio 44136
(440) 638-1350
Sylvania / Toledo
6710 W Central Ave Suite 15, Toledo, Ohio 43617
(567) 408-2899
Washington Township
1530 Miamisburg Centerville Rd, Washington Township, Ohio 45459
(937) 350-1365
West Chester
7614 Voice of America Center Drive, West Chester, Ohio 45069
(513) 644-5314
Crumbl Cookies Stores In Oklahoma
Broken Arrow
1340 East Hillside Drive, Broken Arrow, Oklahoma 74012
(539) 600-2093
Chisholm Creek / Oklahoma City
13004 N Pennsylvania Ave, Oklahoma City, Oklahoma 73114
(405) 463-1802
Edmond
925 West I-35 Frontage Rd, Suite 132, Edmond, Oklahoma 73034
(405) 726-1793
Moore
660 SW 19th St Suite E, Moore, Oklahoma 73160
(405) 300-0255
Norman
1607 24th Ave NW, Norman, Oklahoma 73069
(405) 701-6692
North May / Oklahoma City
6315 N May Ave, Suite B, Oklahoma City, Oklahoma 73112
(405) 500-7950
Owasso
9002 North 121st East Avenue Suite #400, Owasso, Oklahoma 74055
(539) 444-0833
South Memorial / Tulsa
7890 East 106th Place South Ste 106, Tulsa, Oklahoma 74133
(539) 842-0969
Tulsa Hills / Tulsa
7458 South Olympia Avenue, Tulsa, Oklahoma 74132
(918) 417-6906

Crumbl Cookies Stores In Oregon
Albany
2500 Santiam Highway SE, Albany, Oregon 97322
(541) 248-1218
Beaverton
2725 SW Cedar Hills Blvd, Beaverton, Oregon 97005
(503) 985-6934
Bend
63455 North Highway 97, Suite 56, Bend, Oregon 97703
(541) 316-5345
Cascade Station / Portland
10115 NE Cascade Pkwy, Portland, Oregon 97220
Clackamas
8946 SE Sunnyside Rd, Clackamas, Oregon 97015
(503) 583-8500
Corvallis
1705 NW 9th St, Corvallis, OR 97330, Corvallis, Oregon 97330
(541) 286-6611
Eugene
207 Coburg Rd, Suite 107, Eugene, Oregon 97401
(541) 246-6565
Hillsboro
2559 SE Tualatin Valley Hwy, Hillsboro, Oregon 97123
(971) 268-7058
Lake Oswego
4836 Meadows Rd, Suite 141, Lake Oswego, Oregon 97035
(503) 673-1667
Medford
1250 Biddle Rd, Suite H, Medford, Oregon 97504
(541) 292-5653
Progress Ridge / Beaverton
14900 SW Barrows Rd, Suite 104, Beaverton, Oregon 97007
(971) 317-9412
Roseburg
1500 NW Mulholland Drive, Ste 105, Roseburg, Oregon 97470
(541) 671-5512
Salem
717 Lancaster Dr. NE, Salem, Oregon 97301
(503) 877-1502
Sherwood
21260 SW Langer Farms Parkway, Suite 110, Sherwood, Oregon 97140
(971) 979-0001
Tanasbourne / Hillsboro
2251 NW 185th Ave, Hillsboro, Oregon 97124
(971) 220-8199
West Linn
21900 Willamette Drive, Suite 206, West Linn, Oregon 97068
(503) 406-8940
Wilsonville
8249 SW Wilsonville Road, Suite B, Wilsonville, Oregon 97070
(971) 364-0006
Crumbl Cookies Stores In Pennsylvania
Bensalem
200 Rock Hill Dr., Bensalem, Pennsylvania 19020
(267) 563-8017
Bethel Park
2409 South Park Road, Bethel Park, Pennsylvania 15102
(412) 947-1800
Broadcasting Square / Reading
2779 Papermill Road, Reading, Pennsylvania 19610
(484) 258-1102
Broomall
1991 Sproul Rd. Unit 42B, Broomall, Pennsylvania 19008
484) 451-8411
Cranberry Township
1691 Route 228 Suite E, Cranberry Township, Pennsylvania 16066
(878) 252-2200
Exton
126 Woodcutter St. Suite 100, Exton, Pennsylvania 19341
(484) 876-1166
Glen Mills
1751 Wilmington Pike Suite C2, Glen Mills, Pennsylvania 19342
(610) 750-9177
Jenkintown
1595 The Fairway, Jenkintown, Pennsylvania 19046
(267) 536-5131
Main Line / Wynnewood
50 E Wynnewood Road Unit 20, Wynnewood, Pennsylvania 19096
(484) 297-2214
Mechanicsburg
6416 Carlisle Pike #1400, Mechanicsburg, Pennsylvania 17050
(717) 516-0777
Monroeville
4158 William Penn HWY, Monroeville, Pennsylvania 15146
(412) 357-8845
Newtown
2934 South Eagle Rd, Newtown, Pennsylvania 18940
(267) 753-0129
Newtown Square
3741 West Chester Pike, Newtown Square, Pennsylvania 19073
(484) 420-7069
North Fayette / Pittsburgh
306 McHolme Dr, Pittsburgh, Pennsylvania 15275
(724) 213-2047
North Huntingdon
714 Mills Drive Suite #6, North Huntingdon, Pennsylvania 15642
(412) 763-0942
Northhampton Crossings / Easton
3712-3 Nazareth Rd, Easton, Pennsylvania 18045
(484) 292-4032
Oaks / Phoenixville
1570 Egypt Road, Suite 110, Phoenixville, Pennsylvania 19460
(484) 996-1333
Ross Park / Pittsburgh
6296 Northway Mall Dr., Pittsburgh, Pennsylvania 15237
(412) 939-7177
State College
19 Colonnade Way, State College, Pennsylvania 16803
(814) 826-3699
Trainer's Station / Quakertown
42 North West End Boulevard, Quakertown, Pennsylvania 18951
(267) 379-8211
Warrington
211 Easton Rd, Warrington, Pennsylvania 18976
(267) 328-4931
Washington
94 Trinity Point Drive, Washington, Pennsylvania 15301
(724) 350-8508
Wayne
125 E Swedesford Road, Unit 297, Wayne, Pennsylvania 19087
(484) 393-2525
West Manchester / York
814 Town Center Dr., York, Pennsylvania 17408
(223) 848-6868
Williamsport
1879 East Third Street, Williamsport, Pennsylvania 17701
(570) 666-1120
Crumbl Cookies Stores In Rhode Island
Greenwich
1000 Division Street, East Greenwich, Rhode Island 02818
(401) 317-2022
Smithfield
371 Putnam Pike, Smithfield, Rhode Island 02917
(401) 249-6002
Crumbl Cookies Stores In South Carolina
Anderson
3501 Clemson Blvd, Suite 10, Anderson, South Carolina 29621
(864) 375-4587
Easley
128 Rolling Hills Circle, Easley, South Carolina 29640
(864) 523-4488
Florence
250 N Beltline Dr Unit 50, Florence, South Carolina 29501
(803) 715-4340
Forest Acres
4605 Forest Dr Unit D Suite 3, Forest Acres, South Carolina 29206
(803) 832-1551
Greenville
1118 Woodruff Rd, Unit B, Greenville, South Carolina 29607
(864) 881-2250
Harbison / Columbia
150 C Harbison Blvd., Columbia, South Carolina 29212
(803) 756-3632
Indian Land
7756 Charlotte Hwy #102, Indian Land, South Carolina 29707
(803) 232-9839
Lexington
5135 Sunset Blvd, Suite J, Lexington, South Carolina 29072
(803) 756-3294
Mt. Pleasant
1485 N US Hwy 17 Suite B, Mt Pleasant, South Carolina 29464
(843) 284-7192
Myrtle Beach
106 Sayebrook Pkwy Suite 5, Myrtle Beach, South Carolina 29588
(843) 582-0333
Simpsonville
702 Fairview Rd. Suite 103, Simpsonville, South Carolina 29680
(864) 881-2684
Spartanburg
117 E. Blackstock Rd., Suite C, Spartanburg, South Carolina 29301
(864) 485-9339
Summerville
214 Azalea Square Blvd, Summerville, South Carolina 29483
(843) 900-0622
Tegacay / Fort Mill
2435 Hwy 160, Suite 108, Fort Mill, South Carolina 29708
(803) 402-4626
Crumbl Cookies Stores In South Dakota
Dawley Farm / Sioux Falls
5908 East 18th Street, Sioux Falls, South Dakota 57110
(605) 857-3993
41st Street / Sioux Falls
4027 W 41st St, Sioux Falls, South Dakota 57106
(605) 305-4018
Rapid City
1745 Eglin St, Suite 440, Rapid City, South Dakota 57701
(605) 291-4040
Crumbl Cookies Stores In Tennessee
Bellevue / Nashville
8068 Highway 100, Nashville, Tennessee 37221
(615) 236-6918
Brentwood
330 Franklin Rd., Ste 140A, Brentwood, Tennessee 37027
(615) 267-3161
Chattanooga
8021 E Brainerd Rd, Suite 103, Chattanooga, Tennessee 37421
(423) 225-6001
Clarksville
2864 Wilma Rudolph Boulevard #80, Clarksville, Tennessee 37040
(931) 378-8168
Cleveland
615 Paul Huff Parkway, Suite 106, Cleveland, Tennessee 37312
(423) 244-0430
Clinton Hwy / Knoxville
6672 Clinton Hwy Suite 104, Knoxville, Tennessee 37912
(865) 512-6162
Cookville
1255 Interstate Dr STE 105, Cookeville, Tennessee 38501
(423) 445-8880
East Memphis
711 South Mendenhall Road, Memphis, Tennessee 38117
(901) 410-1950
Franklin
539 Cool Springs Blvd, Suite 110-A, Franklin, Tennessee 37067
(615) 422-7722
Gallatin
1483 Nashville Pike Ste. 503, Gallatin, Tennessee 37066
(615) 989-0337
Germantown
7605 West Farmington Boulevard, Suite 3, Germantown, Tennessee, 38138
(901) 250-6959
Hendersonville
280 Indian Lake Blvd Ste 110, Hendersonville, Tennessee 37075
(615) 912-9009
Hermitage
5570 Old Hickory Blvd, Suite 104, Hermitage, Tennessee 37076
(615) 475-5005
Hillsboro Village / Nashville
1716 21st Avenue S, Nashville, Tennessee 37212
(615) 422-7774
Hixson
5513 Highway 153, Suite 105, Hixson, Tennessee 37343
(423) 243-0209
Jackson
1319 Union University Drive, Unit E, Jackson, Tennessee 38305
(731) 298-0910
Johnson City
1914 N Roan St, Ste 105, Johnson City, Tennessee 37601
(423) 302-0927
Maryville
1765 W Broadway Ave Suite C, Maryville, Tennessee 37801
(865) 288-9969
Mt. Juliet
401 S Mt Juliet Rd, Suite 247, Mount Juliet, Tennessee 37122
(615) 433-5669
Murfreesboro
2839 Medical Center Pkwy, Murfreesboro, Tennessee 37129
(615) 551-2160
Nashville West
6706 Charlotte Pike Ste C Nashville TN, 37209, Nashville, Tennessee 37209
(629) 401-0600
Smyrna
817 Industrial Blvd SPC #900, Smyrna, Tennessee 37167
(615) 625-2447
Spring Hill
2051 Wall Street, Spring Hill, Tennessee 37174
(931) 674-1199
Turkey Creek / Knoxville
11055 Parkside Dr., Knoxville, Tennessee 37934
(865) 896-3435
Crumbl Cookies Stores In Texas
7th Street / Fort Worth
2300 W 7th St, Fort Worth, Texas 76107
(682) 285-2798
114th / Lubbock
11417 Slide Rd Suite 100, Lubbock, Texas 79424
(806) 370-1442
Abilene
3550 S Clack St, Abilene, Texas 79606
(325) 244-7687
Addison / Dallas
14891 Preston Rd, Ste. 100, Dallas, Texas 75254
(469) 825-3974
Alamo Ranch / San Antonio
5531 W Loop 1604 N, San Antonio, Texas 78253
(830) 346-1314
Aliana / Richmond
10445 West Grand Parkway South, Suite 130, Richmond, Texas 77407
(346) 322-1096
Allen
845 W Stacy Road, Building A, Suite 145, Allen, Texas 75013
(469) 290-5993
Amarillo
3562 S Soncy Rd, Ste # 341, Amarillo, Texas 79119
(806) 223-0332
Bee Cave
3944 Ranch Road 620 S, Suite 120, Bee Cave, TX 78738
(737) 260-3030
Beaumont
4036 Dowlen Road, Ste. A, Beaumont, Texas 77706
(409) 240-0023
Bellaire
5103 Bellaire Blvd, Suite 140, Bellaire, Texas 77401
(281) 937-2100
Brownsville
4345 N Exp 77/83 Suite D-200, Brownsville, Texas 78520
(956) 374-4596
Bryant Irvin / Fort Worth
4851 Bryant Irvin Rd., Fort Worth, Texas 76132
(682) 348-4729
Burleson
140 Northwest John Jones Dr, #108, Burleson, Texas 76028
(682) 200-3423
Castle Hills / Lewisville
4770 State Highway 121 Suite 155, Lewisville, Texas 75056
(972) 662-8868
Cedar Hill
428 E FM 1382 Suite C, Cedar Hill, Texas 75104
(469) 780-2725
Cedar Park
1335 E Whitestone Blvd Suite H500, Cedar Park, Texas 78613
(512) 337-2914
Champions / Spring
8675 Spring Cypress Rd. Ste. D, Spring, Texas 77379
(281) 631-5819
Chisholm Trail / Fort Worth
9613 Ten Gallon Drive, Fort Worth, Texas 76123
(682) 207-3697
Cinco Ranch / Katy
23730 Westheimer Pkwy, Suite J, Katy, Texas 77494
(281) 937-4101
College Station
11659 FM 2154 Suite 150, College Station, Texas 77845
(979) 321-5612
Conroe
351 S Loop 336 W, Conroe, Texas 77304
(936) 249-2061
Cypress
28610 US-290 Suite F-15, Cypress, Texas 77433
(281) 694-4220
Denton Town Center
1719 S Loop 288, Suite 150, Denton, Texas 76205
(940) 220-8054
Eastlake / El Paso
13371 Eastlake Blvd Bldg. 40, Suite 505, El Paso, Texas 79928
(915) 229-4411
Euless
3001 TX-121 #278, Euless, Texas 76039
(682) 503-1284
Flower Mound
2550 Cross Timbers Road Suite 108, Flower Mound, Texas 75028
(469) 240-1038
Four Points / Austin
7900 North FM 620 Suite 110, Austin, Texas 78726
(737) 219-8427
Frisco
4880 Eldorado Parkway Suite 400, Frisco, Texas 75033
(469) 592-6335
Garland
5345 N Garland Avenue, Ste. 106 Garland, Texas 75040
(469) 750-0748
Georgetown
1013 W University Ave, Unit 130, Georgetown, Texas 78628
(512) 630-0363
Grand Prairie
5220 S State Hwy 360, Suite 160, Grand Prairie, Texas 75052
(682) 777-4658
Hudson Oaks
2950 Fort Worth Highway, Suite 800, Hudson Oaks, Texas 76087
(682) 294-1834
Humble
7072 FM 1960 East #3, Humble, Texas 77346
(281) 937-2255
Hurst
1306 W Pipeline Road, Hurst, Texas 76053
(210) 985-4946
Irving
7707 N MacArthur Blvd Suite 140, Irving, Texas 75063
(469) 482-9013
Killeen / Harker Heights
201 E Central Texas Expressway, Suite 1340, Harker Heights, Texas 76548
(254) 698-1560
Lake Highlands / Dallas
6186 Retail Rd, Suite 110, Dallas, Texas 75231
(469) 342-1499
Lakepointe / Lewisville
717 Hebron Parkway, Suite 110, Lewisville, Texas 75057
(682) 651-7111
League City
1620 FM-646 W, League City, Texas 77573
(281) 713-4714
Legacy Drive / Plano
7000 Independence Pkwy Suite 104C, Plano, Texas 75025
(469) 795-8008
Longview
3098 N Eastman Rd., Longview, Texas 75605
(430) 215-3144
Lubbock
6076 Marsha Sharp Freeway, #450, Lubbock, Texas 79407
(806) 318-2444
Lufkin
4505 S Medford Dr – Suite 313, Lufkin, Texas 75901
(936) 225-4992
Magnolia
33020 FM 2978 #521, Magnolia, Texas 77354
(281) 789-8372
Mansfield
1530 E Debbie Lane, Suite 128, Mansfield, Texas 76063
(817) 779-4775
McAllen
7600 N 10th St, McAllen, Texas 78504
(956) 316-6854
McKinney
3194 W University Dr. Suite #200, McKinney, Texas 75071
(469) 715-5983
Memorial / Houston
9774 Katy Freeway Ste. 400, Houston, Texas 77055
(281) 616-7174
Mesquite
1515 N Town East Blvd, Suite 106, Mesquite, Texas 75150
(469) 290-2965
Midland
4400 Midland Dr. Suite 501, Midland, Texas 79707
(432) 237-0380
Mission
2505 E Exp. 83 Ste 400, Mission, Texas 78572
(956) 997-5260
New Braunfels
2180 State Hwy 46 W, Suite 102, New Braunfels, Texas 78132
(210) 435-9227
New Caney
12073 N Grand Parkway, East New Caney, Texas 77357
(281) 721-4749
North Richland Hills
8183 Precinct Line Rd, North Richland Hills, Texas 76182
(682) 593-1041
Oak Forest / Houston
1214 W. 43rd St. Ste 400, Houston, Texas 77018
(281) 925-7264
Odessa
4925 E 42nd Street, Suite C, Odessa, Texas 79762
(432) 248-0116
Pasadena
5765 Fairmont Parkway Suite 100, Pasadena, Texas 77505
(832) 553-0015
Pearland
11041 Shadow Creek Parkway, Ste. 115, Pearland, Texas 11041
(281) 549-1960
Pearland Parkway / Pearland
2550 Pearland Parkway Suite 160, Pearland, Texas 77581
(281) 816-9550
Pebble Hills / El Paso
14011 Pebble Hills Suite 108, El Paso, Texas 79938
(915) 455-0583
Pflugerville
18817 Limestone Commercial Dr, Suite 200, Pflugerville, Texas 78660
(512) 649-4770
Plano
6100 W Park Blvd Suite 100B, Plano, TX 75093, Plano, Texas 75093
(469) 200-6537
Preston Hollow / Dallas
4347 W Northwest Hwy, Suite 160 Dallas Texas, 75220
(210) 791-0122
Quarry / San Antonio
255 E Basse Road, Suite 152, San Antonio, Texas 78209
(210) 699-4993‬
Rayzor Ranch / Denton
2710 West University Drive Unit 1030, Denton, Texas 76201
(940) 331-0577
River Oaks / Houston
2036 Westheimer Ste B, Houston, Texas 77098
(281) 886-8856
Rockwall
951 E I-30 Suite 105 Rockwall, Rockwall, Texas 75087
(469) 264-5180
Round Rock Crossing
3021 S IH 35 Frontage Road, Suite 140, Round Rock, Texas 78664
(512) 425-4103
Rowlett
3001 Lakeview Parkway STE 102, Rowlett, Texas 75088
(469) 314-2030
San Angelo
5651 Sherwood Way, San Angelo, Texas 76904
(325) 939-8261
San Antonio
11619 Bandera Rd, Suite 103, San Antonio, Texas 78250
(210) 741-6193
Sherman
4114 N. Hwy 75, Ste. 300, Sherman, Texas 75090
(903) 375-9990
South Lake
1516 E Southlake Blvd, Southlake, Texas 76092
(817) 601-8162
South Rim / San Antonio
5311 N. Loop 1604 W., San Antonio, Texas 78249
(726) 202-2147
Southpark Meadows / Austin
9600 S IH-35, Suite 31, Austin, Texas 78748
(512) 649-4555
Spring
20530 North Freeway Suite C, Spring, Texas 77373
(346) 298-0326
Stone Oak / San Antonio
20811 US HWY 281 North, Suite 420, San Antonio, Texas 78258
(210) 864-0757
Sugar Land
2735-E Town Center Blvd N., Sugar Land, Texas 77479
(346) 767-0369
Sunset Valley / Austin
5207 Brodie Ln, Suite 110, Austin, Texas 78745
(512) 649-4488
Tehama Ridge Parkway / Fort Worth
9017 Tehama Ridge, Fort Worth, Texas 76177
(682) 514-9970
Temple
6768 W. Adams Ave., Temple, Texas 76502
(254) 677-7474
Texas Live / Arlington
2100 North Collins Street, Arlington, Texas 76011
(210) 268-0436
The Forum / Selma
8380 Agora Pkwy Ste 140, Selma, Texas 78154
(830) 420-6099
Towne Lake / Cypress
9915 Barker Cypress Rd, Suite 155, Cypress, Texas 77433
(346) 278-2112
Tyler
8982 S Broadway Ave, Suite 110, Tyler, Texas 75703
(430) 201-6110
Waco
2444 W Loop 340 #A15, Waco, Texas 76711
(254) 265-7278
Waxahachie
1620 N Hwy 77 Suite #400, Waxahachie, Texas 75165
(469) 527-9235
Weslaco
915 E Expressway 83 Suite 600, Weslaco, Texas 78596
(956) 332-1053
Westover Village / Fort Worth
677 Sherry Lane Fort Worth, Texas 76114
(682) 348-5850
West Towne / El Paso
6450 Desert Blvd. North, Building E, Suite 103, El Paso, Texas 79912
(915) 642-7023
Wichita Falls
3201 Lawrence Rd, Suite 530, Wichita Falls, Texas 76308
(940) 249-5943
Woodlands / The Woodlands
9595 Six Pines Drive, Suite 1075, The Woodlands, Texas 77380
(936) 777-6912
Wylie
809 Woodbridge Parkway, Suite 400, Wylie, Texas 75098
(469) 440-9004
Yale / Houston
174 Yale St, Ste 700, Houston, Texas 77007
(832) 696-0105
Crumbl Cookies Stores In Utah
American Fork
586 N 900 W, Suite 6, American Fork, Utah 84003
(801) 609-1992
Bountiful
463 S Main St, Bountiful, Utah 84010
(385) 399-9899
Brigham City / Perry
725 W 1200 S, Suite B1, Perry, Utah 84302
(435) 339-0101
Cedar City
1233 Sage Dr, Cedar City, Utah 84720
(435) 383-2400
Centerville
356 Market Place Dr, Centerville, Utah 84014
(385) 200-2179
Cottonwood / Cottonwood Heights
1844 Fort Union Blvd, Cottonwood Heights, Utah 84121
(385) 246-1004
Draper
1223 E Draper Pkwy, Draper, Utah 84020
(385) 237-1430
Eagle Mountain
4211 Pony Express Parkway Ste 130, Eagle Mountain, Utah 84005
(385) 484-8111
Heber City
75 W 1000 S, #500, Heber City, Utah 84032
(435) 709-2623
Layton
448 W Antelope Dr, Layton, Utah 84041
(801) 252-5991
Lehi
1820 W Traverse Pkwy, Lehi, Utah 84043
(801) 823-1272
Lindon
677 N State St, Lindon, Utah 84042
(801) 609-1960
Logan
1309 N Main St, Logan, Utah 84341
(435) 363-9997
Logan South / Logan
981 South Main Suite 180, Logan, Utah 84341
(435) 932-0305
North Ogden
2568 N 400 E, North Ogden, Utah 84414
(385) 205-8046
Ogden / Riverdale
809 W Riverdale Rd, Riverdale, Utah 84405
(801) 695-4054
Orem
160 E University Pkwy, Suite G, Orem, Utah 84058
(801) 939-0433
Payson
855 Turf Farm Rd Suite G, Payson, Utah 84651
(385) 404-0158
Provo
154 W 1230 N, Provo, Utah 84604
(801) 823-1544
Riverton
2778 W 12600 S, Riverton, Utah 84065
(801) 747-9970
Saint George
2654 Red Cliffs Dr, St George, Utah 84790
(435) 359-2119
Saint George Bluff / Saint George
1333 Auto Mall Dr. Ste 307, Saint George, Utah 84790
(435) 272-4238
Salt Lake City
675 E 2100 S, Salt Lake City, Utah 84105
(385) 501-1777
Saratoga / Saratoga Springs
24 W Pioneer Crossing, Suite 110, Saratoga Springs, Utah 84045
(801) 823-1630
Spanish Fork
330 N Main St, Spanish Fork, Utah 84660
(385) 448-1137
Springville
1129 W 400 S, Springville, Utah 84663
(385) 327-0308
Tooele
1351 N Main St, Tooele, Utah 84074
(435) 728-2025
West Jordan
7626 S Campus View Dr, Suite 130, West Jordan, Utah 84084
(385) 434-3777
West Valley
3515 W 3500 S, West Valley City, Utah 84119
(385) 388-8325
Crumbl Cookies Stores In Vermont
Williston
69 Market St Suite 3, Williston, Vermont 05495
(802) 209-8747
Crumbl Cookies Stores In Virginia
Ashburn
44110 Ashburn Village Blvd #180, Ashburn, Virginia 20147
(571) 491-4084
Bon Air / Richmond
2003 Huguenot Rd, Suite 103, Richmond, Virginia 23235
(804) 302-0162
Bristol
10007 Dominion Place, Bristol, Virginia 24202
(276) 268-2729
Bristow / Manassas
9942 Sowder Village Square, Manassas, Virginia 20109
(571) 358-8925
Chantilly
14337 Newbrook Dr, Suite #503, Chantilly, Virginia 20151
(571) 353-3365
Charlottesville
129 Community St, Charlottesville, Virginia 22911
(434) 481-5088
Colonial Heights
707 South Park BLVD. Suit 4, Colonial Heights, Virginia 23834
(804) 302-0345
Fairfax
13075 Fair Lakes Shopping Center, Fairfax, Virginia 22033
(571) 307-6221
Falls Church
1106-A W Broad St, Falls Church, Virginia 22046
(571) 385-1177
Fredericksburg
1460 Central Park Blvd Suite 106, Fredericksburg, Virginia 22401
(540) 368-6747
Greenbrier / Chesapeake
1412 Greenbrier Parkway Suite 112, Chesapeake, Virginia 23320
(276) 231-5591
Hampton
3977 Kilgore Ave Ste 204, Hampton, Virginia 23666
(757) 504-0256
Harrisonburg
151 Burgess Road, Harrisonburg, Virginia 22801
(540) 208-3004
Henrico / Glen Allen
9621 West Broad Street, Suite 2, Glen Allen, Virginia 23060
(804) 476-0019
Hull Street / Midlothian
13624 Hull Street Rd., Midlothian, Virginia 23112
(804) 293-0027
Kingstowne / Alexandria
5810 Kingstowne Center, Ste 100, Alexandria, Virginia 22315
(276) 244-8597
Leesburg
1008 Edwards Ferry Rd NE, Suite 135, Leesburg, Virginia 20176
(571) 440-7006
Lynchburg
3911 Wards Road, Lynchburg, Virginia 24502
(434) 219-5251
Martinsburg
245 Retail Commons Parkway Suite C011, Martinsburg, West Virginia 25403
(304) 554-9698
Mechanicsville
7316 Bell Creek Road, Mechanicsville, Virginia 23111
(804) 522-5043
Pembroke / Virginia Beach
300 Constitution Drive Suite 104, Virginia Beach, Virginia 23462
(757) 671-5855
Red Mill / Virginia Beach
1157 Nimmo Parkway Ste. 112, Virginia Beach, Virginia 23456
Reston
11686 Plaza America Dr, Reston, Virginia 20190
(571) 346-2322
Stafford
1495 Stafford Marketplace #121, Stafford, Virginia 22556
(540) 242-1969
Vienna
203 Maple Ave E, Vienna, Virginia 22180
(571) 295-4264
Virginia Beach
737 First Colonial Road Suite 214, Virginia Beach, Virginia 23451
(757) 916-5700
Williamsburg
4680 Monticello Avenue, Unit 16B, Williamsburg, Virginia 23188
(757) 378-6222
Woodbridge
14900 Potomac Town Place, Suite 115, Woodbridge, Virginia 22191
(571) 513-4243
Crumbl Cookies Stores In Washington
Bellevue
14855 Main Street, Bellevue, Washington 98007
(425) 532-3518
Bonney Lake
20411 98th St E, Bonney Lake, Washington 98391
(253) 321-5796
Burlington
1815 Marketplace Drive, Burlington, Washington 98233
(360)707-4953
Clarkston
440 Bridge St, Clarkston, Washington 99403
(509) 596-0211
Covington
16915 SE 272nd St, Ste 102, Covington, Washington 98042
(253) 235-9542
Federal Way
1812 S 320th St, Suite B, Federal Way, Washington 98003
(253) 218-1019
Gig Harbor
4784 Borgen Blvd, Suite E, Gig Harbor, Washington 98335
(253) 303-6300
Issaquah
1520 Highlands Dr. NE, Suite 110, Issaquah, Washington 98029
Kennewick
1102 N Columbia Center Blvd. Suite B, Kennewick, Washington 99336
(509) 873-3309
Lacey
8160 Freedom LN NE, Lacey, Washington 98516
(360) 464-2053
Laguna Niguel / Dana Point
32545 Golden Lantern, Suite C, Dana Point, California 92629
(949) 352-4793
Lakewood
5605 Lakewood Towne Center Blvd SW, Suite G, Lakewood, Washington 98499
(253) 319-5603
Lynnwood
18411 Alderwood Mall Parkway, Lynnwood, Washington 98037
(425) 510-0526
Marysville
2701 171st Pl NE. #203, Marysville, Washington 98271
(360) 386-1767
Moses Lake
601 S. Pioneer Way Suite G, Moses Lake, Washington 98837
(509)350-4336
North Division / Spokane
7808 N Division St Suite 4, Spokane, Washington 99208
(509) 356-1124
Orchards / Vancouver
8101 NE Parkway Dr Ste A-1, Vancouver, Washington 98662
(360) 553-7059
Pasco
5025 RD 68, Pasco, Washington 99301
(509) 380-9413
Puyallup
10301 156th St. E. Suite B5 106, Puyallup, Washington 98374
(253) 242-5232
Richland
2665 Queensgate Drive, Richland, Washington 99352
(509) 289-4267
Sammamish
604 228th Ave NE, Sammamish, Washington 98074
(360) 854-3222
Silverdale
11199 Pacific Crest Place Suite E110, Silverdale, Washington 98383
(360) 340-9336
Tacoma Central / Tacoma
3304 S. 23rd Street Suite 1, Tacoma, Washington 98405
(253) 366-6424
Vancouver
616 NE 81st St E, Vancouver, Washington 98665
(360) 859-0811
Wenatchee
1304 N Miller Suite A, Wenatchee, Washington 98801
(509) 300-4171
Woodinville
13930 NE 178th Pl, Suite 110 WA, Woodinville, Washington 98072
(425) 287-5759
Yakima
2412 W Nob Hill BLVD #104, Yakima, Washington 98902
(509) 571-9520
Crumbl Cookies Stores in West Virginia
Bridgeport / Clarksburg
268 Emily Drive, Clarksburg, West Virginia 26301
(304) 209-5654
Charleston
2824 Mountaineer Blvd, Charleston, West Virginia 25309
(304) 306-2252
Martinsburg
245 Retail Commons Parkway Suite C011, Martinsburg, West Virginia 25403
(304) 554-9698
Morgantown
1156 Giant St. Morgantown, West Virginia 26501
(304) 554-9698
Wheeling / Triadelphia
410 Cabela Drive, Triadelphia, West Virginia 26059
(681) 210-0520

Crumbl Cookies Stores In Wisconsin
Appleton
4353 W Wisconsin Ave, Appleton, Wisconsin 54913
(920) 221-1980
Brookfield
17550 b-1 West Bluemound Road, Brookfield, Wisconsin 53045
(262) 226-2868
Delafield
2926 Golf Road, Delafield, Wisconsin 53018
(262) 256-0250
Eau Claire
4008 Commonwealth Avenue, Eau Claire, Wisconsin 54701
(715) 900-2777
Fond Du Loc
N6667 Rolling Meadows Dr., Fond Du Lac, Wisconsin 54937
(920) 238-3737
Grafton
1258 N. Port Washington Rd., Grafton, Wisconsin 53024
(262) 228-6800
Green Bay / Ashwaubenon
2308 S Oneida Street Suite 120, Ashwaubenon, Wisconsin 54304
(920) 393-9499
Greendale
5255 South 76th St. Suite 110, Greendale, Wisconsin 53129
(414) 279-0899
Hudson
1020 Pearson Drive, #E, Hudson, Wisconsin 54016
(715) 280-9800
Madison
4010 University Ave, Madison, Wisconsin 53705
(608) 440-8578
Menomonee Falls / Germantown
W182N9606 Appleton Ave, Germantown, Wisconsin 53022
(262) 293-6580
North Shore / Glendale
5600 N Bayshore Dr., Glendale, Wisconsin 53217
(414) 600-9289
Oak Creek
160 W Town Square Way, Suite 400, Oak Creek, Wisconsin 53154
(262) 320-7002
Pewaukee
1466 Capitol Drive, Pewaukee, Wisconsin 53072
(262) 737-4291
Pleasant Prairie
9901 77th Street, #820, Pleasant Prairie, Wisconsin 53158
(262) 425-0008
Sheboygan / Kohler
4065 WI State Hwy 28, Kohler, Wisconsin 53044
(920) 234-5042
Sun Prairie
2808 Prairie Lakes Dr., Bldg E, Ste. 102, Sun Prairie, Wisconsin 53590
(608) 912-0015
Wausau
225696 Rib Mountain Drive, Wausau, Wisconsin 54401
(715) 680-9898
Crumbl Cookies Stores In Wyoming
Casper
5030 E 2nd St, Suite 5, Casper, Wyoming 82609
(307) 215-3319
Cheyenne
1400 Dell Range Blvd Unit 85 Cheyenne, Wyoming 82009
(307) 316-3797