Birthdays are a time for celebration, and what better way to commemorate your special day than with free cookies!?
Crumbl Cookies is a rapidly growing cookie franchise known for its delectable cookies that come in hundreds of flavors that are featured on the rotating weekly menu.
One of the ways they make birthdays even more special is by giving you a free cookie on your big day!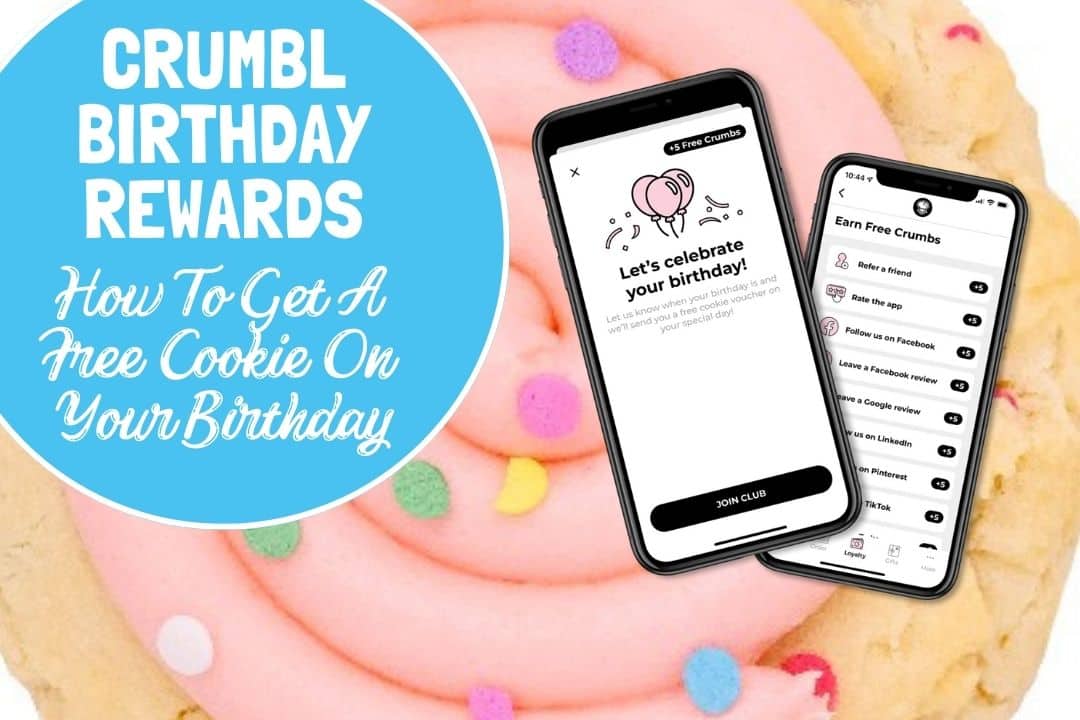 You may also like:
– 12 Best Birthday Cakes To Order Online For Delivery
– 35 Best Gourmet Mail Order Cookies To Buy Online
Crumbl Birthday Rewards
The concept is simple. As a member of Crumbl's rewards program, you earn a free cookie during your birthday month.
To sign up for birthday rewards on the Crumbl App:
Navigate to "Loyalty"
Click on "Earn Free Crumbs"
Click on "Join Birthday Club"
Add your birthday
Wait for your birthday to come around and get your free cookie!
To sign up for birthday rewards on the Crumbl website:
Go to https://crumblcookies.com/
Create an account or sign into your existing account
Click on "Earn Free Crumbs"
Add your birthday
Get a free cookie voucher on your big day!
How to Join Crumbl Rewards and Claim Birthday Rewards
Joining the Crumbl Rewards program is easy and free. To get started, you need to sign up for the program on Crumbl's website, on mobile app or by entering your phone number in a Crumbl store location.
Once you've joined, you can earn points (called Crumbs) for every purchase you make at Crumbl, moving you closer to unlocking sweet rewards.
When your birthday month arrives, you'll receive an email or notification informing you of your birthday reward.
Other Benefits of Being a Crumbl Rewards Member
Beyond the joy of getting your free birthday cookie, being a part of the Crumbl Rewards program comes with additional perks.
You'll earn a Crumb for every dollar you spend. The only exception is catering orders where you'll earn 1 Crumb for every $2 spent.
When you earn 100 Crumbs, it turns into $10 of Crumbl Cash. From there it's up to you to spend your hard-earned cookie cash on the Crumbl website, on their app or in a Crumbl store.
Also, to earn free treats faster, be on the lookout for ways to earn bonus points and exciting Double Crumb Days!
Crumbl Birthday Cake Cookie Flavors
When you think of birthdays, you typically think of cake. When you think of Crumbl, you typically think of cookies.
But Crumbl is actually a great place to get your cake fix too!
They have a menu of hundreds of different cookie flavors on their rotating weekly menu. And quite a few of those flavors are inspired by, you guessed it, cake!
From classic birthday cake to cake batter to blueberry crumb cake, Crumbl has figured out how to combine the best of both worlds into its cookie menu.
Check out the complete list of Crumbl's cake-inspired cookie flavors here!
Final Thoughts: Free Crumbl Birthday Cookies
If you're a cookie fan, Crumbl's Birthday Rewards program is a a pretty sweet way to celebrate your special day. Whether you're already a loyal customer or new to the Crumbl fan club, joining the Crumbl Rewards program is a no-brainer.
Up Next:
– Ultimate Guide To Crumbl Cookies Delivery And Shipping
– All Crumbl Cookie Flavors List (With Descriptions & Pictures)
– Does Crumbl Have Gluten-Free Cookies?