Did you know that Crumbl Cookies is the fastest-growing cookie company in the US?! They have over 850 bakeries in 50 states and hundreds of amazing cookie flavors.
If you've ever had a Crumbl cookie, you already know they are known for their high-quality ingredients, gigantic cookies with a moist center and slightly crunch edges and creative flavor combinations.
Their rotating weekly menu is what keeps people coming back for more.
Although the cookies are amazingly delicious, there are a couple of drawbacks. Not everyone has a Crumbl bakery nearby and a single treat will set you at least 4 to 5 dollars!
But what if you could enjoy Crumbl cookies any time you want, without having to wait in line or pay a premium price? These 50 copycat Crumbl cookie recipes will let you do just that. Whether you're looking for your favorite flavor, a simple cookie or a festive Christmas cookie, you'll find it here.
It's no secret that the company hasn't been generous with its cookie options for people with special diets. So we've also included some gluten-free and vegan copycat Crumbl recipes here for our friends with special dietary needs!
So go ahead, start browsing the list below and indulge your inner cookie monster. These fun, easy and delicious copycat recipes are sure to satisfy your Crumbl fix!
Be sure to also check out the complete list of all Crumbl Cookie flavors that have been offered to date.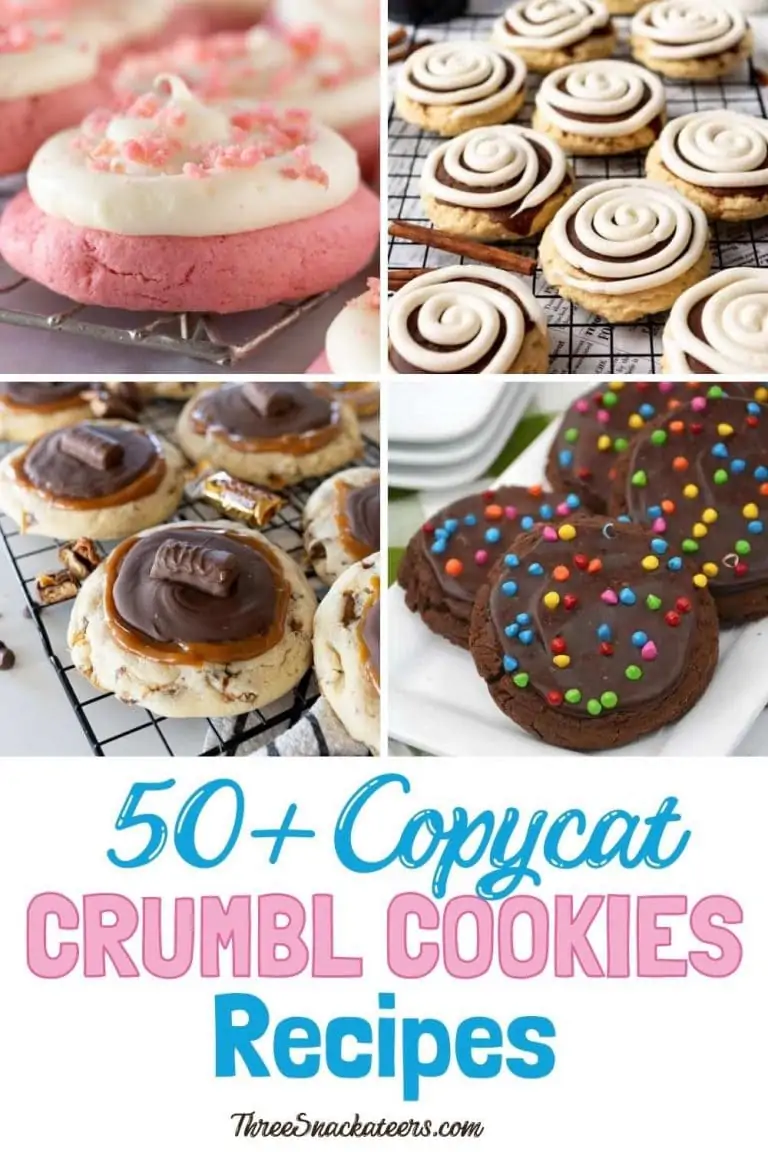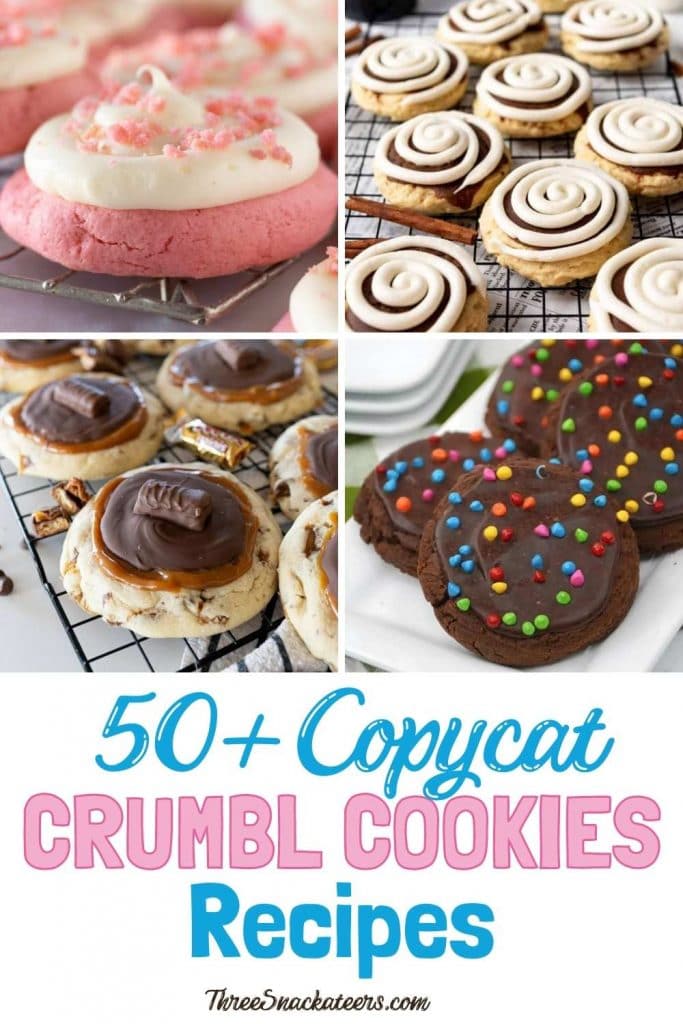 Crumbl Chocolate Chip Cookie – Crumbl's first cookie and quite possibly the world's best chocolate chip cookie
Crumbl Red Velvet White Chip Cookie – Big, gooey red velvet cookies packed with white chocolate chips
Crumbl Ultimate Peanut Butter Cookie – A peanut butter cookie filled with more PB, rolled in sugar, with another drizzle of peanut butter on top
Crumbl Chocolate Peanut Butter Chip Cookie – A classic combo of rich chocolate cookies with peanut butter chips
Crumbl Hazelnut Sea Salt Cookies – Chewy cookies stuffed with Nutella and topped with Nutella drizzle and sea salt
Crumbl Sea Salt Toffee – The original chocolate chip Crumbl cookie with milk chocolate chips, buttery toffee and a sprinkling of sea salt
Crumbl's Pumpkin Chocolate Chip Cookies – Moist pumpkin cookies packed with chocolate chips will get you in the mood for fall
Crumbl Copycat Triple Chocolate Chip Cookies – There are 3 types of chocolate in these thick, fudgy, chewy copycat cookies
Crumbl Chocolate Crunch Star Cookie – These no-bake cookies are inspired by Crumbl chocolate crunch cookies and Little Debbie Star Crunch treats
Crumbl Marshmallow Peanut Butter Cornflake Cookies – Another no-bake recipe, these sweets treats are so are easy to make
Mom's Recipe Crumbl Cookies – A thick, chewy cookie with a hint of cinnamon and packed full of chocolate chips, peanut butter chips, oats and toffee.
Christmas Crumbl Sugar Cookies – Thick and soft, with a perfectly crinkly edge, these vanilla cookies are a holiday twist on the original Crumbl Chilled Sugar Cookies. They are topped with vanilla buttercream and festive red and green sprinkles.
Copycat Crumbl Christmas Sugar Cookies – This recipe tops the original Crumbl Sugar Cookie with a swirl of pastel green buttercream and colorful holiday sprinkles.
Christmas Crumbl Chocolate Chip Cookies – Celebrate the season with gigantic, chewy chocolate chip cookies accented with green and red Cadbury chocolates.
Christmas Funfetti Crumbl Cookies – This colorful variation of Crumbl sugar cookies has green and red sprinkles right in the dough and more sprinkles on top of the fluffy buttercream.
Easy Copycat Candy Cane Crumbl Cookies – These cute sugar cookies are topped with peppermint buttercream and lots of crushed candy canes.
Crumbl Gingerbread Cookies – Perfectly spiced gingerbread cookies are topped with homemade cream cheese frosting and adorable gold stars.
Crumbl Copycat Frozen Hot Chocolate Cookies – These hot chocolate cookies are served chilled. Hot cocoa cookies are topped with hot cocoa mousse and mini marshmallows.
You may also like: 15 Unique Chocolate Gifts For Christmas (2022)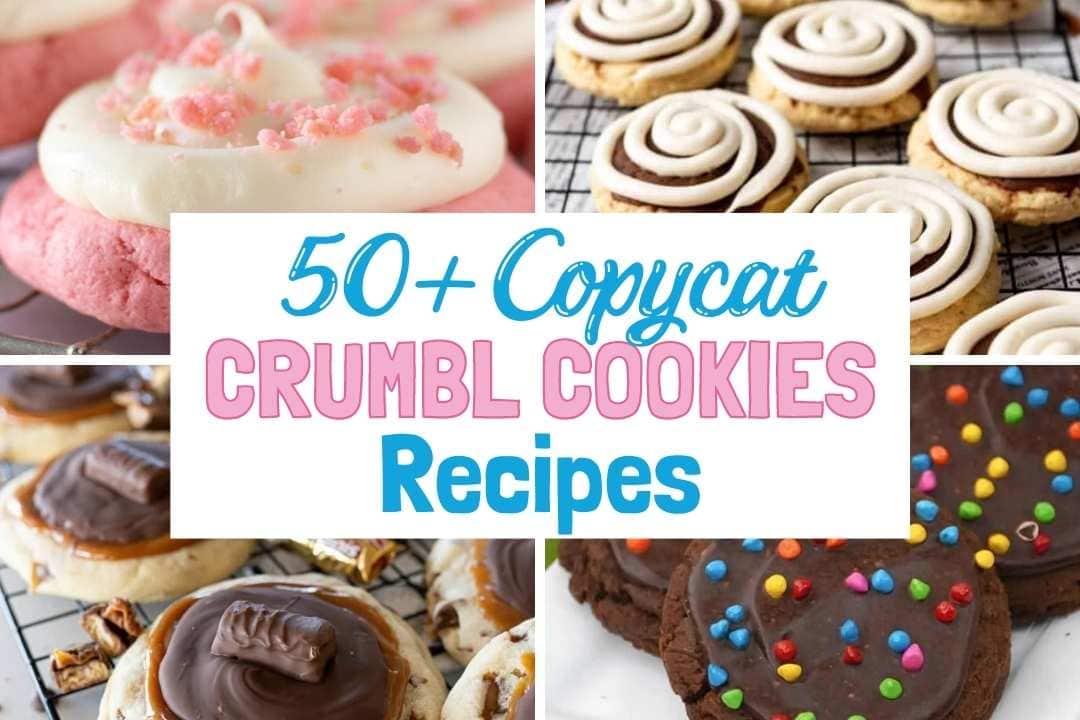 And there you have it: 50+ copycat Crumbl cookie recipes! If you're in the mood for some delicious gourmet cookies but aren't near a Crumbl bakery, then give one of these recipes a try. And who knows, maybe you'll even come up with your own unique twist on a classic Crumbl cookie!