Health drinks and alternatives to sugary drinks like sodas are on the rise, but recently, a new product has been making waves in the market. The Cirkul water bottle advertises a way to up your water intake and enjoy multiple flavored beverages…all in one bottle.
The Cirkul water bottle is an innovative system using small flavor cartridges and a unique bottle design to offer consumers a wide variety of flavored waters, all in one bottle.
If you're considering buying a Cirkul water bottle, this article will provide everything you need to know including the best Cirkul flavors!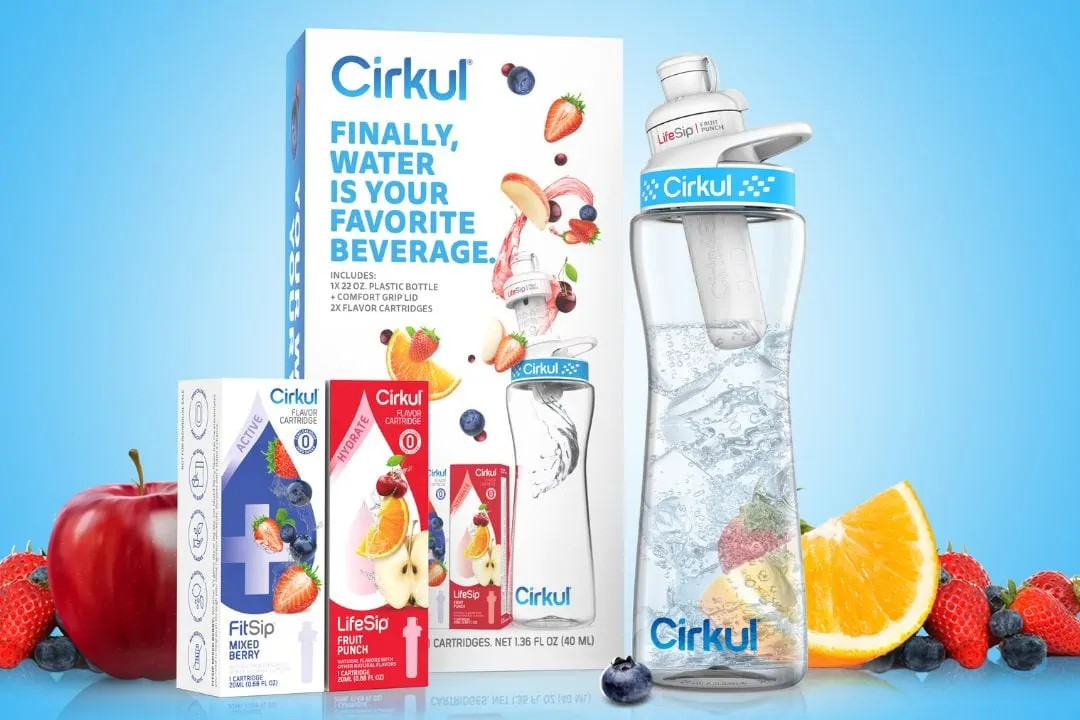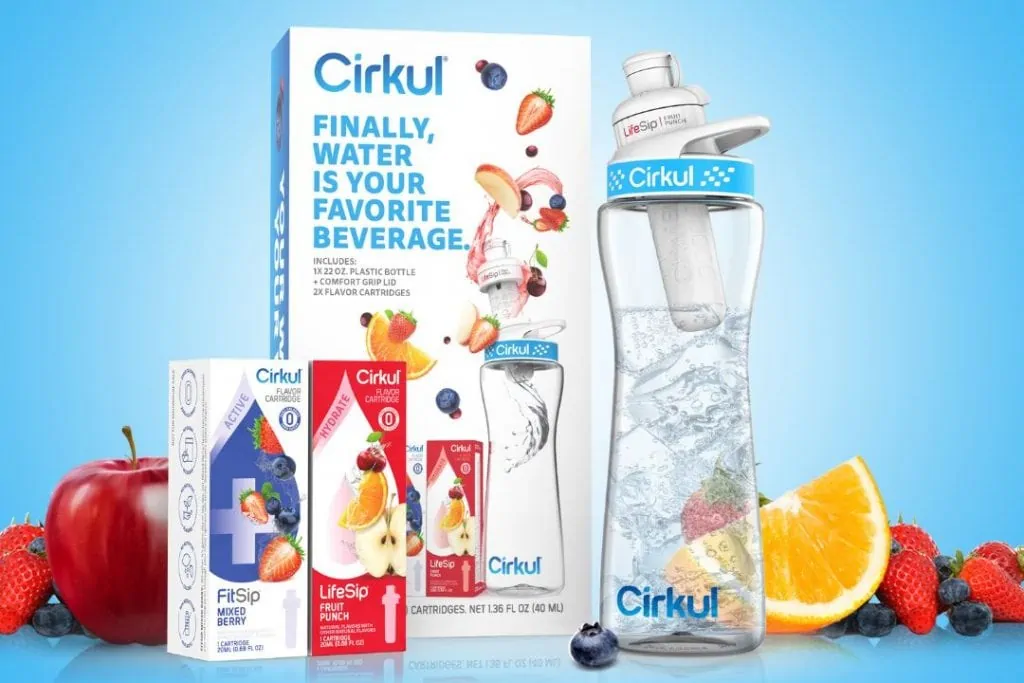 You may also like:
– All Of The Best Gatorade Flavors By Color
– Ultimate Guide To Loaded Tea: Recipes, Flavors, FAQs & More
– The Best Peace Tea Flavors Of 2022
What Is The Cirkul Water Bottle?
The Cirkul water bottle is a uniquely designed bottle that allows for the insertion of a flavor cartridge into the lid. This flavor cartridge then adds the flavor of choice to the water inside.
The intensity of the flavor can be controlled by a special setting dial in the lid, and includes the option to switch to plain water. And if you want to change the flavor, just change the cartridge.
The goal of the Cirkul bottle is to encourage consumers to drink more water, by providing a large variety of healthy flavors, all in one easy-to-change container.
What Are The Best Cirkul Flavors?
When it comes to flavor, Cirkul has a huge variety to choose from. There are currently over 50 different flavors offered. Additional flavors are in constant development and each month a new flavor is launched from the "Flvr Lab".
To decide which one is best, the first step is to decide what you need from your Cirkul. Once you have the Cirkul that's right for you, you can pick the flavor that suits you best.
LifeSip
LifeSip cartridges come fortified with B vitamins to help give you energy throughout the day.
LifeSip cartridges come in the following flavors:
Fruit Punch
Strawberry Kiwi
Watermelon
Peach Mango
Coconut Pineapple
Strawberry Lemonade
Raspberry Lemonade
Lemonade
Sweet Tea and Lemon
Blueberry Cranberry
Grapefruit Mango
Berry Pomegranate
GoSip
GoSip cartridges provide flavor with an added dose of caffeine for a little bit of a kick when you need extra energy to get you through the day.
The GoSip cartridges come in the following flavors:
Strawberry Watermelon
Black Cherry
Cherry Limeade
Grape
Green Apple
Blackberry
Orange
Citrus Twist
FitSip
FitSip cartridges offer an extra boost via electrolytes, so you can play harder and longer.
Flavors for FitSip include:
White Cherry
Tropical Blast
Mixed Berry
Orange Tangerine
Lemon Lime
Gateway Tea
Gateway Tea cartridges have all the flavors of tea, offered in an easy delivery system rather than the longer process of brewing and chilling.
Gateway Tea flavors include:
Pennsylvania Tea & Lemonade
Georgia Peach Tea
Washington Raspberry Tea
South Carolina Sweet Tea
Frosted
Frosted Sips offer sweet iced coffee flavors and a delicious dose of caffeine.
Current Frosted flavors include:
Crème Brulée Iced Coffee
Caramel Iced Coffee
Classic Iced Coffee
Mocha Iced Coffee
Vanilla Iced Coffee
Pumpkin Spice Iced Coffee
Fission Premium Body Fuel
Fission drink cartridges are the Cirkul answer to energy drinks, with all of the boost and none of the added sugars or unnecessary additives.
Fission flavors include:
Florida Man (Orange Citrus)
Nocturnal (Mixed Berry)
Send It (Fruit Punch)
Blue Magic (Blue Raspberry)
Jackpot (Green Apple)
ET (Lemon Lime)
FLYTE Electrolyte Fuel
FLYTE takes the electrolytes of the FitSip and kicks it up a notch. With 4x more electrolytes than your typical sports drink, sports drinks, the flavor line helps keep you hydrated so you can stay active for longer.
Current FLYTE flavors include:
Goal Line (Lemon Lime)
Lights-Out (Blackberry)
Rapid Fire (Strawberry Watermelon)
Shutout (Grape)
Red Zone (Fruit Punch)
Last Drive (Blue Raspberry)
Squeeze
Squeeze offers several varieties of lemonade flavors for your enjoyment, without all the mixing or added sugars.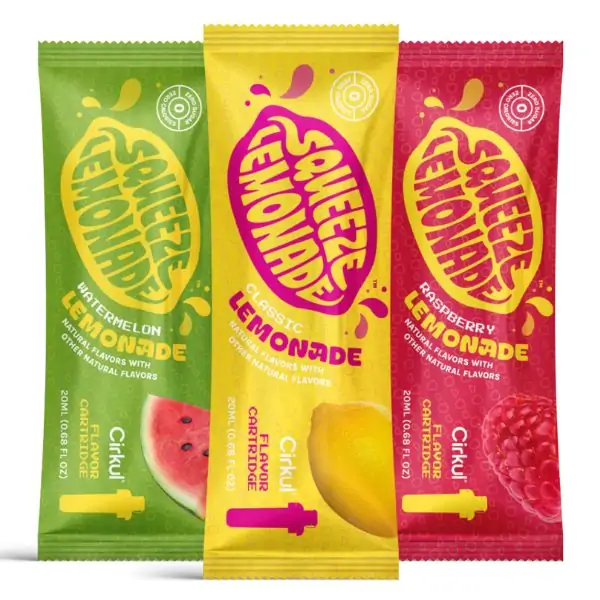 Squeeze flavors include:
Strawberry Lemonade
Blackberry Lemonade
Raspberry Lemonade
Classic Lemonade
Watermelon Lemonade
Blueberry Lemonade
Stage Hydration
Stage hydration cartridges add electrolytes AND sweeteners – mostly stevia – to help you stay hydrated and work toward your peak performance.
Stage flavors include:
Strawberry Watermelon
Blackberry Twist
Lemon Lime
Orange
Verda
Verda Sip cartridges offer you a chance to go green, with stevia-enhanced simple flavors that you can enjoy. Flavors include:
Cucumber Lime
Strawberry
Watermelon
Clementine
Lemon
Puressence
Puressence gives you real fruit flavor with no additions, just water and a little bit of fruit juice.
Current Puressence flavors include:
Apple
Cucumber
Lemon
Peach
Pear
Raspberry
Tangerine
Pineapple
Are Cirkul Drinks Healthy?
Cirkul cartridges have fewer added sugars than most energy drinks, and drinking them is a good way to get extra hydration. There are some questions about the additives used to flavor them, but they're touted as all-natural, and a better alternative than many options out there.
Cirkul Ingredients
Cirkul sips have no sugar, no calories, and no artificial colors, and are made with all-natural flavorings. You can view the full ingredient list and nutrition panel for every flavor on the Cirkul website.
How Many Calories And Sugars Do Cirkul Sips Have?
All of Cirkul flavors are billed as having 0 calories and 0 added sugars. Some flavors are unsweetened and use pure flavor essences. Other flavors are sweetened with stevia or sucralose. Cirkul does not use aspartame or acesulfame potassium
Are There Any Cirkul Flavor Lines With No Added Sweeteners?
The Puressence line is unsweetened and flavored with pure flavor essences.
What Are Cirkul Sips Sweetened With?
Some Cirkul Sips are unsweetened. The flavors that do have additional sweeteners are flavored with stevia or sucralose. They do not contain aspartame, acesulfame potassium or other harmful additives.
Which Cirkul Flavor Lines Have Caffeine?
Cirkul adds a dose of caffeine to their GoSip, Frosted Iced Coffee, Fission and Gateway Tea flavor lines.
Which Cirkul Flavor Lines Have Electrolytes?
Cirkul Sips add electrolytes to boost your energy levels to their FitSip, FLYTE and Stage Hydration flavor lines.
Cirkul Reviews
Is Cirkul worth the money? As with any product, there are arguments both ways.
ProductHunt.com gives Cirkul 2.6 out of 5 on their rating, with 548 reviews. The most positive 5-star reviewer claims that "Cirkul has changed my life…I used to drink only soda…" On the flip side, one customer said it's the "nastiest thing I've tasted" with "terrible customer service."
TrustPilot.com gives Cirkul a 1.9 out of 5, with 183 reviews. Comments range from "honestly helps me not get dehydrated every day" to "poor customer service."
In summary, it does seem that most people find the Cirkul water bottle itself is worth the money and it helps them drink more water every day. However, there may be some issues with the company itself as most of the negative reviews have to do with issues in shipping and customer service.
Cirkul Pros And Cons
Let's take a quick look at some of the positives and negatives about the Cirkul products and company.
PROS
Encourages hydration
Wide variety of flavors
New flavors are introduced regularly
Numerous product line options to choose from
A number of options in terms of electrolytes and energy boosters
Low sugar, little-to-no artificial sweeteners
The Cirkul lid works with other popular wide-mouth water bottles
Available in 3 sizes: 12oz, 22oz and 32oz.
CONS
Some unfavorable feedback about customer service and shipping
Flavors can run out faster than advertised
Cleaning the parts may be difficult for some
Flavors from the Flvr lab are exclusive and run out quickly
Sip flavors cartridges can only be used with Cirkul lids
Does not fit in all car cup holders
Is not meant to be used with hot water
Where Can I Buy Cirkul Water Bottles?
The easiest place to find them is on the official Cirkul website. You'll find the complete selection of products including bottles, starter bundles and accessories like water filters. You'll also get the full range of flavors including new releases.
Cirkul products can also be found at select Walmart and Bed Bath & Beyond stores.
FAQs About Cirkul Water Bottles
Cirkul water bottles are a relatively novel concept, so it's only natural that you have a few questions. Here are answers to some common questions about Cirkul.
What Is A Sip?
A Sip is how the company describes its flavor cartridges, based on the idea of controlling the 'sips' of water.
How Long Does a Cirkul Cartridge Last?
The cartridge is advertised to last for up to 6 full bottles. However, the actual length varies, depending on the strength of flavor the consumer chooses to drink.
Can I Reuse Cirkul Cartridges?
Cirkul cartridges cannot be reused. Once they're emptied, they should be disposed of.
What Should I Do With Used Cirkul Cartridges?
Used cartridges should be disposed of, as they cannot be reused. The outside of the cartridges can be disassembled and sorted for #5 recycling.
Can I Put Ice In Cirkul Bottles?
You can put ice in a Cirkul bottle. Just be sure it doesn't interfere with the cartridge or lid.
Can I Put a Cirkul Bottle In The Freezer?
It's not recommended to put the bottle, the lid or Sips into the freezer. Sips can be stored at room temperature or in the fridge if you prefer.
Can You Try Cirkul For Free?
At the time of writing this article, the only free offer we found was to get a free cartridge with your first order.
Is Cirkul Good For Weight Loss?
The Cirkul bottle encourages hydration and minimizes sugar intake, which are both helpful for weight loss goals. However, it is not specifically geared toward weight loss.
How Many Cirkul Bottles Should I Drink A Day?
There is no set number of Cirkul bottles you should consume. You should drink as much as it requires to stay hydrated and healthy.
Is Cirkul A Monthly Subscription?
You don't have to purchase a monthly subscription to Cirkul. However, they do offer the option of a monthly subscription service, if that's something you decide you want after trying the product. You just pick your plan, select your flavors and Cirkul will auto-ship your order each month.
Final Thoughts
With over 50 flavors, the Cirkul water bottle might just be the perfect way to drink more water and add some variety to your day.
It's reasonably priced, made with health-conscious ingredients and there are tons of flavors. Despite some potential concerns about the company's customer service, we think the Cirkul water bottle is worth a try.
Up next: What Are The 23 Flavors In Dr Pepper? (With Recipe)
Micky Reed, a two-decade veteran in the food and baking industry, leverages her influential Three Snackateers food blog and Instagram presence to collaborate with industry giants like Ben & Jerry's and Crumbl Cookies. Her work has been featured on Delish, PopSugar and more. Her expertise as a product curator for one of the world's largest international snack subscription box companies solidifies her status as a key player in the field.