Homemade Cinnamon Sugar Pretzels are a little sweet, a little salty, and a whole lot of delicious.
Buttery, golden brown pretzel bites are covered with crunchy caramelized sugar – what's not to love!
This super easy cinnamon sugar-coated pretzels recipe is made with basic ingredients you probably already have in your kitchen. 
They're perfect for a party snack or a sweet treat for dessert. Plus you can make them in advance and store them for up to a week.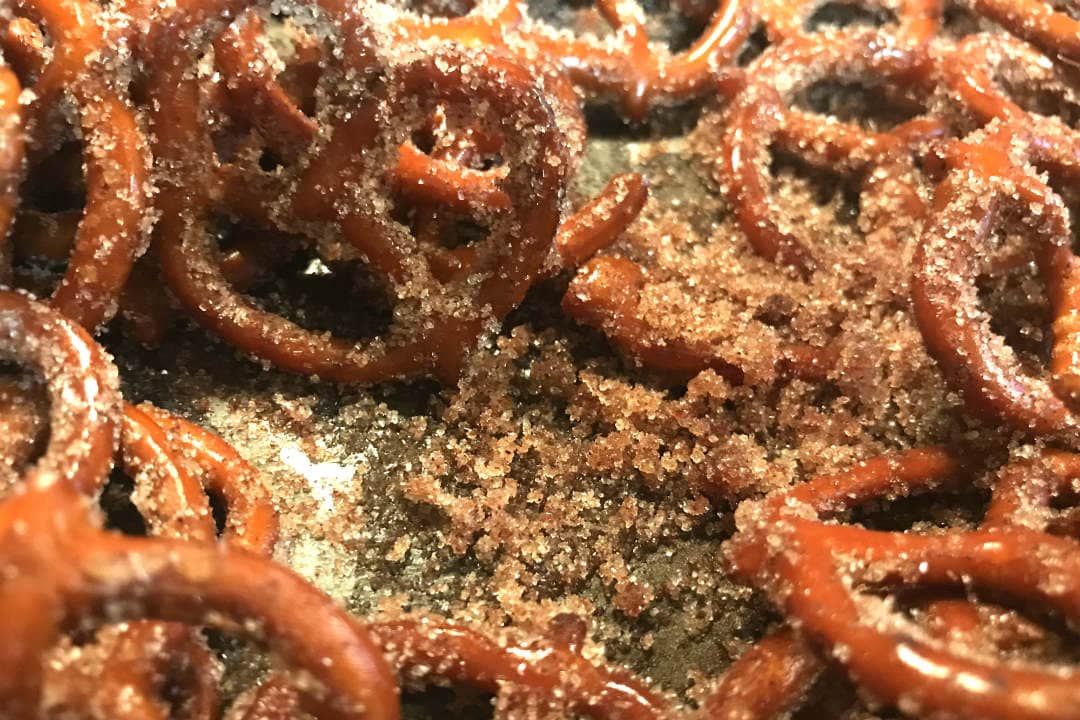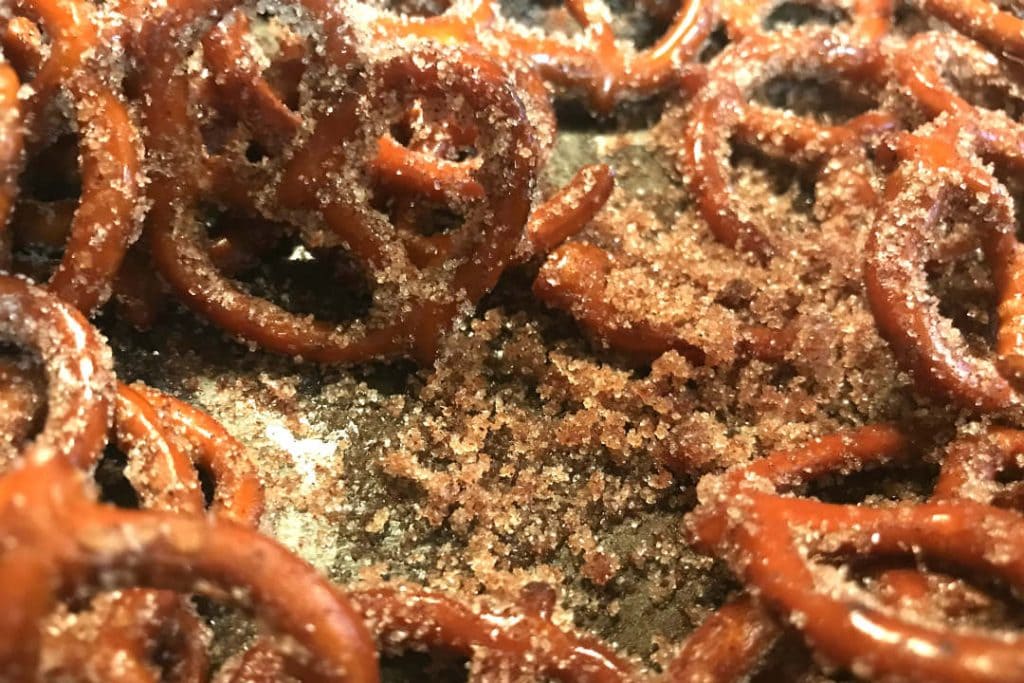 It's kind of a funny story how I decided to make this recipe. I had just bought a bag of pretzels for a different recipe.
These cute little Reindeer Rice Krispie Treats needed some antlers! I only used about 20 pretzels for that recipe, so I had a huge bag left.
But let's face it, plain old pretzels are kind of boring. And the clock was ticking … only 30 minutes until my free time (aka daughter's nap time) was over.
So I needed something quick, easy, and using ingredients I already had. The result? This fantastic cinnamon sugar pretzel recipe!

Ingredients To Make Cinnamon Sugar Pretzels
To make this simple cinnamon-sugar coated pretzel recipe, you'll only need a few ingredients.
Store-bought pretzel twists

Other types of hard pretzels can be substituted

Vegetable oil

Coconut oil or melted butter can also be used

Granulated sugar
Ground cinnamon
How To Make Easy Cinnamon Sugar Pretzels (Step By Step Instructions)
This perfectly sweet and salty snack recipe is very easy and straightforward. There are just a few simple steps to follow when making cinnamon sugar pretzels.
Step 1: Heat The Oven
First, preheat your oven to 325 degrees.
Step 2: Prep Baking Sheet
Line a large baking sheet with parchment paper or a nonstick baking mat. Don't skip this step – it makes cleaning up a breeze.
Step 3: Combine Cinnamon Sugar Coating Ingredients
In a large bowl, combine the vegetable oil, sugar and ground cinnamon. The consistency will be very runny. That's just the way you want it.
Step 4: Cover Pretzels In Cinnamon Sugar Mixture
It works best to coat the pretzels in two batches. Add about half of the pretzels right into the large mixing bowl, gently stirring with a rubber spatula to make sure all the pretzels are thoroughly coated.
Carefully remove the coated pretzels from the bowl and place them on the prepared baking sheet. Repeat this step with the remaining pretzels.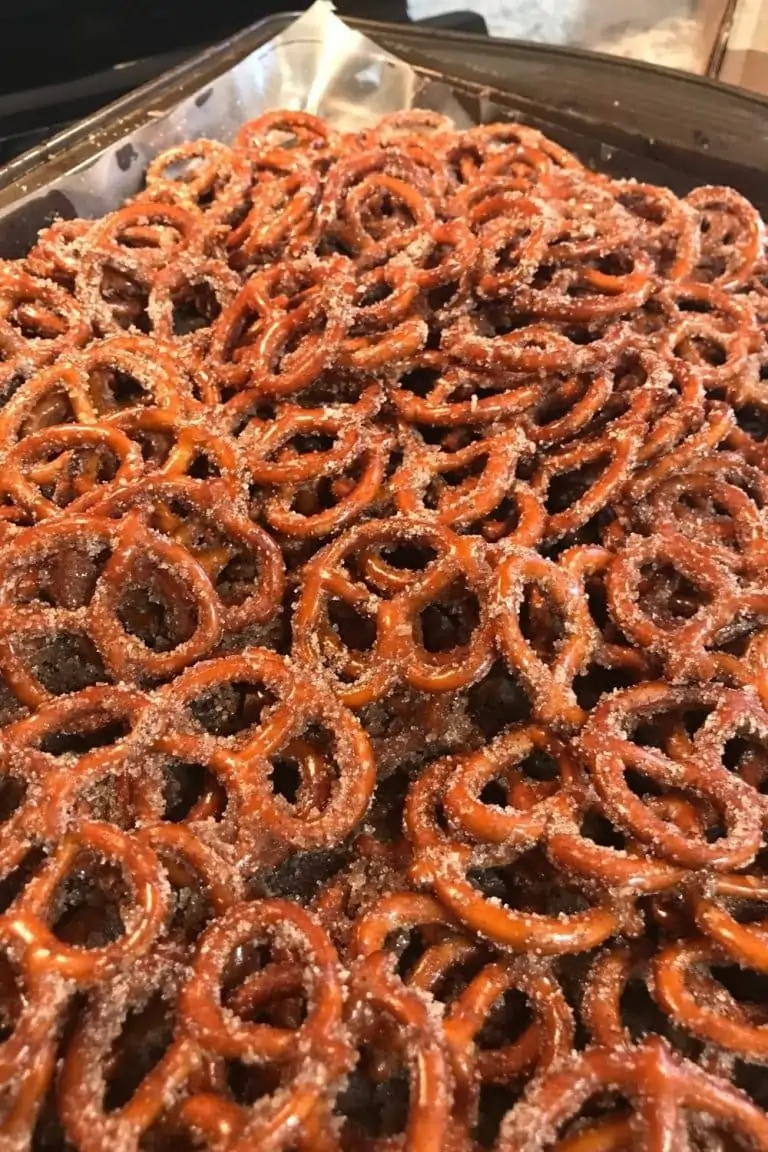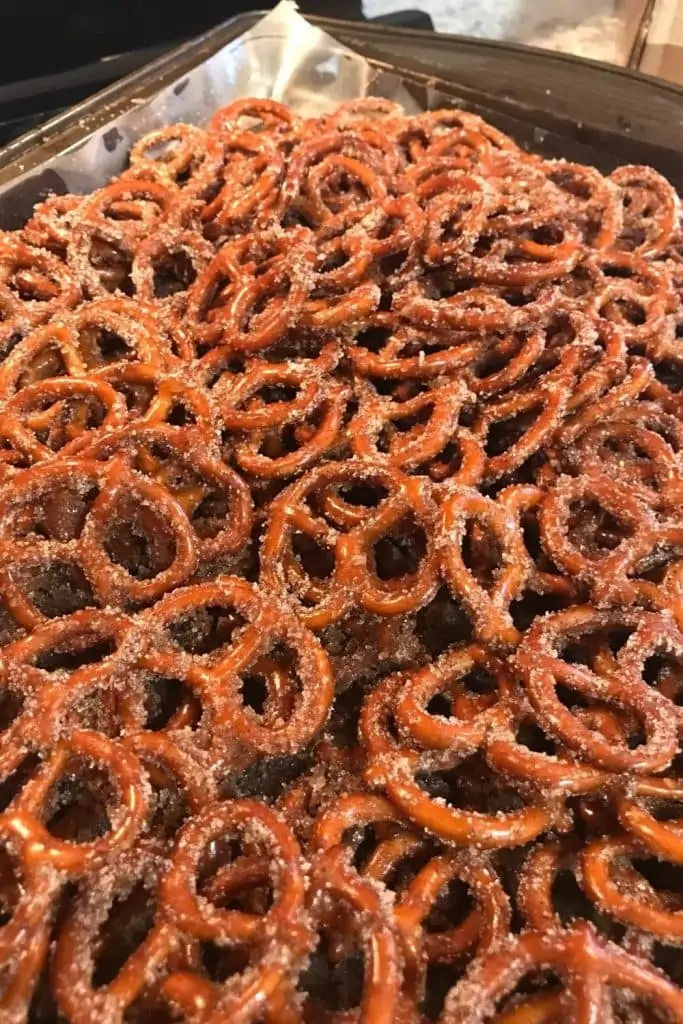 Step 5: Spread Cinnamon Sugar Pretzels Into Even Layer
To ensure they bake evenly, spread the cinnamon pretzels into an even layer on the baking sheet. It is okay if they overlap a little bit. Pour any remaining mixture over the pretzels on the tray.
As you see the delicious sauce drip off the pretzels and onto the baking sheet, you'll start realizing how glad you are to be making this easy snack!
Step 6: Bake Cinnamon Sugar Pretzels
Now put the cinnamon sugar-coated pretzels in the preheated oven.
As the pretzels bake, they will take on a nice golden brown color. The sugar in the coating will also start to crystallize and you'll begin to see a nice crumbly coating form. Oh, and your kitchen will also smell amazing.
The total baking time is 30 minutes. Every 10 minutes, gently stir all the pretzels with the same rubber spatula to make sure all the pieces have a nice generous coating of the sugar mixture. Be sure to spread pretzels back into an even layer.
PRO TIP: Stay close to the oven and be sure to stir the cinnamon pretzels every 10 minutes!
Cool completely before serving.
More Cinnamon Recipes
– Cinnamon Roll Ice Cream Cones
– Cinnamon Roll Waffle Tacos
---
Variations For This Cinnamon Sugar Pretzel Recipe Snack
Another great thing about this recipe is that it's easy to customize. Here are a few ideas.
Try Different Types Of Pretzels
I used small store-bought pretzel twists because that is what I had on hand. However, you could definitely use another size or shape pretzel such as pretzel sticks, large pretzel twists or seasonal shapes.
Butter twist pretzels would be really good. These would also be fantastic with big chunks of sourdough pretzels.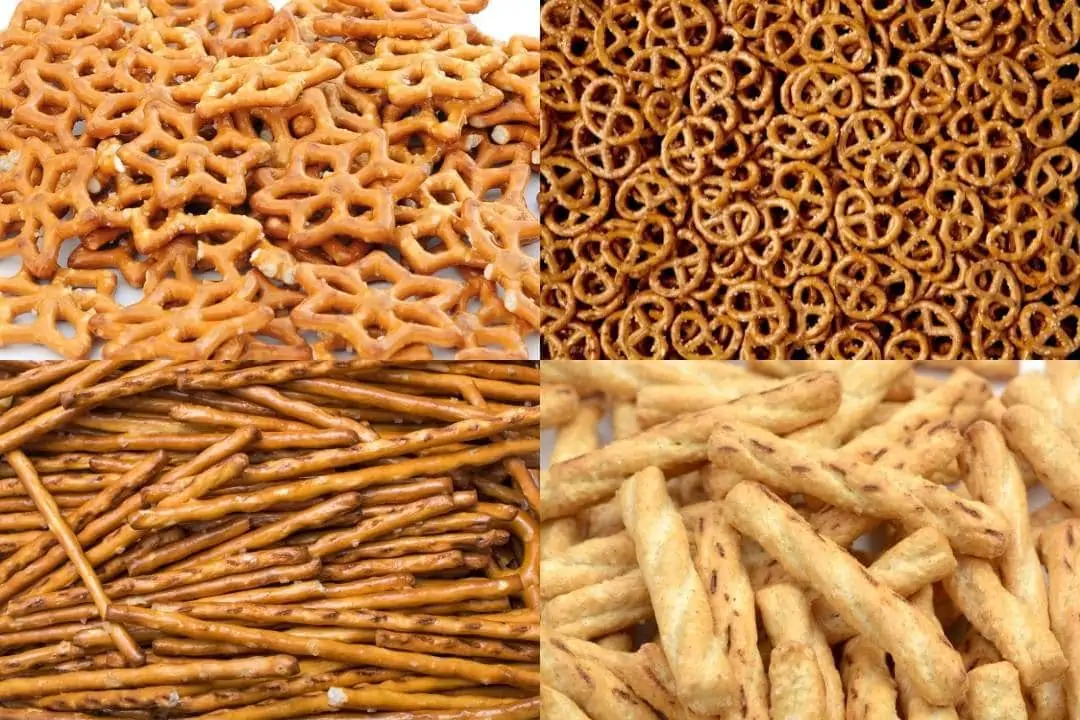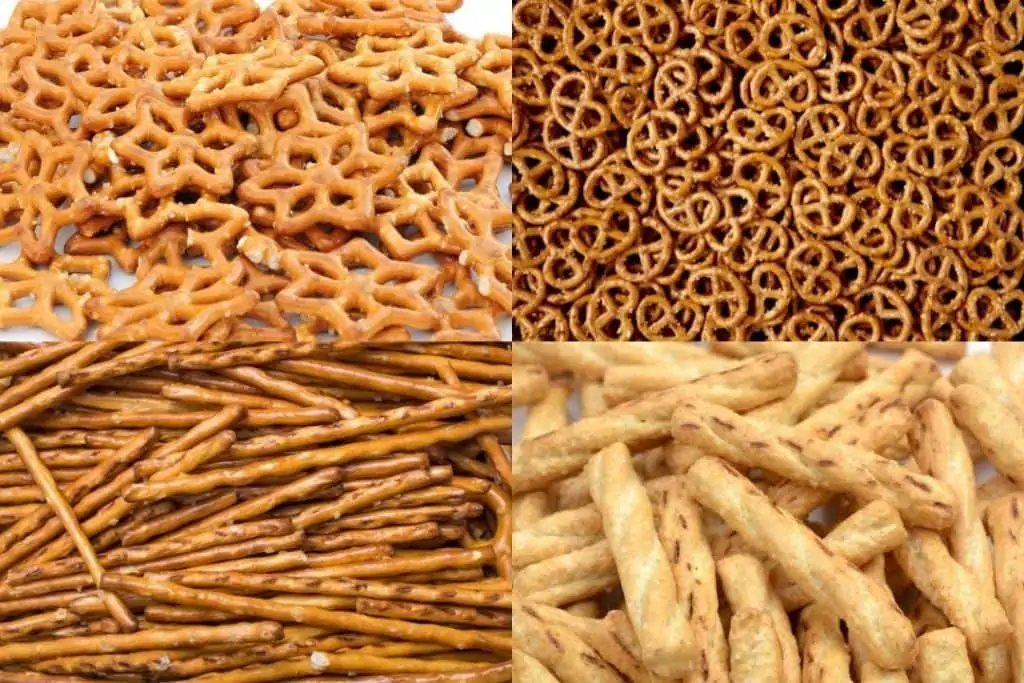 Use Coconut Oil or Melted Butter
This recipe calls for vegetable oil, but you can substitute coconut oil or salted butter.
Make It Gluten-Free
If you need a gluten-free recipe, you could substitute a gluten-free pretzel. 
Try Oyster Crackers
We have a really excellent salted caramel oyster cracker recipe. It's one of our most popular recipes. You might even try to substitute the pretzels in this cinnamon sugar recipe for oyster crackers.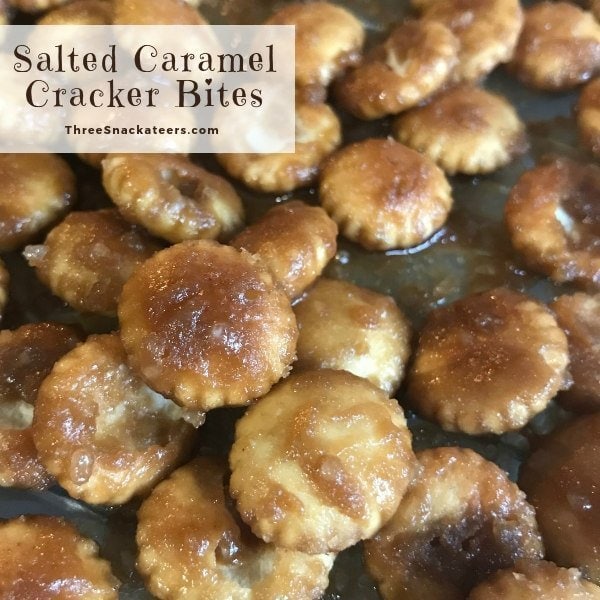 ---
Tips and Tricks To Make Cinnamon And Sugar Pretzels
Follow these tips to ensure your sweet pretzel recipe comes out perfect every time.
How To Store Homemade Cinnamon Sugar Pretzels
After the pretzels have cooled completely, transfer them to an airtight container. A food storage container or even a ziplock bag will work.
You can make cinnamon sugar pretzels ahead of time. If kept in an airtight container, the pretzels will still taste delicious for up to a week.
Use Parchment Paper
To make clean-up time a little easier, I recommend using parchment paper on your cookie sheet when baking the pretzels.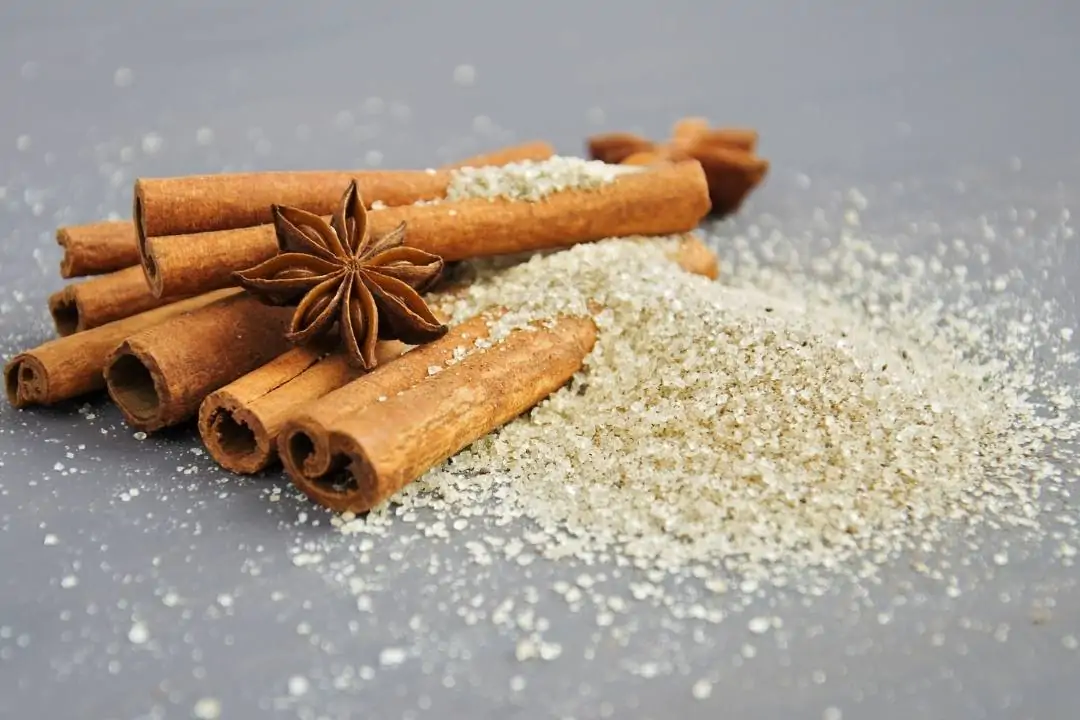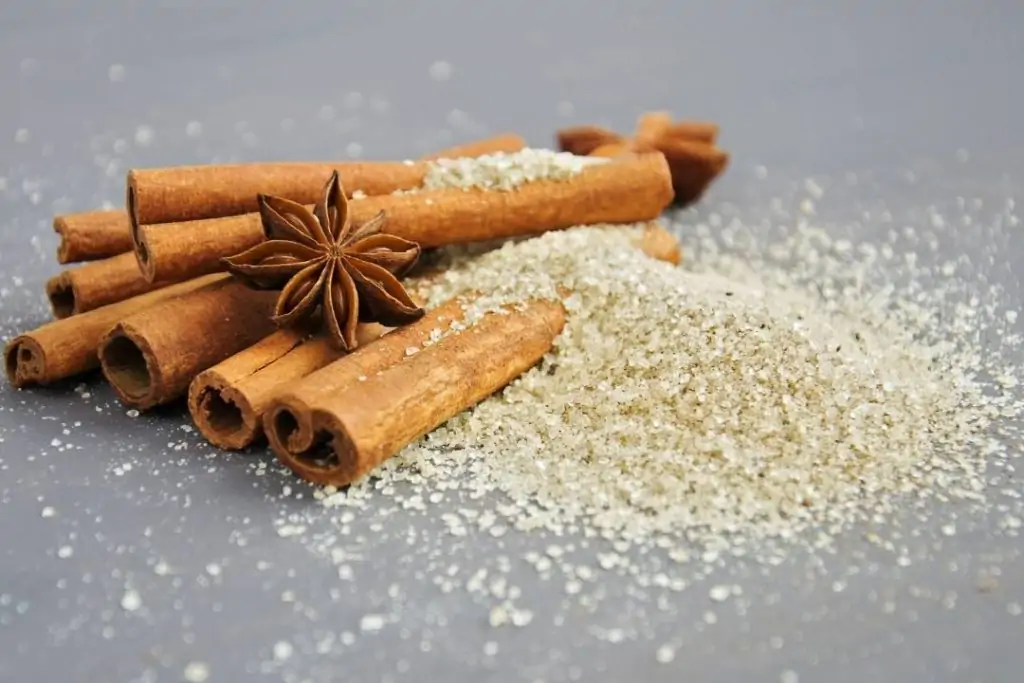 How To Make Homemade Cinnamon Sugar
Cinnamon sugar is so easy to make at home. It's simply a sugar-cinnamon mixture. To make it, follow these simple instructions.
Steps To Make Cinnamon Sugar
In a small bowl, add white sugar (also called granulated sugar) and a little cinnamon.
Give the sugar mixture a gentle stir until it is well-combined.
PRO TIP: Make sure to use white sugar. Brown sugar can not be substituted.
The Perfect Cinnamon Sugar Ratio
Since there are only 2 ingredients, the ratio of sugar to ground cinnamon is the most important consideration.
The perfect sugar to cinnamon ratio is 4:1. For example, for a 1/4 cup of sugar, you'd want to add 1 tablespoon of cinnamon.
In this recipe, we use 1/2 cup of sugar and suggest 2-3 tablespoons of cinnamon. If you really enjoy cinnamon, you can add in the extra tablespoon. If it's too strong, simply add more sugar.
PRO TIP:
The perfect sugar to cinnamon ratio is 4:1.
Ex: 1/4 cup sugar = 1 TB cinnamon
Plus it can be used for lots of things besides just this delicious cinnamon sugar pretzels recipe. Here are just a few ideas.
What Can Cinnamon Sugar Be Used For?
Buttered Toast
Waffles
Snickerdoodle cookies
Fruit
Cereal
French Toast
Oatmeal
Ice Cream
Pies
Coffee Cake
---
I hope you enjoy this delicious Cinnamon Sugar Pretzels recipe. It really is the perfect sweet and salty snack!
Save it for later on Pinterest, Instagram and Facebook. Also join our Facebook Group for more snack fun!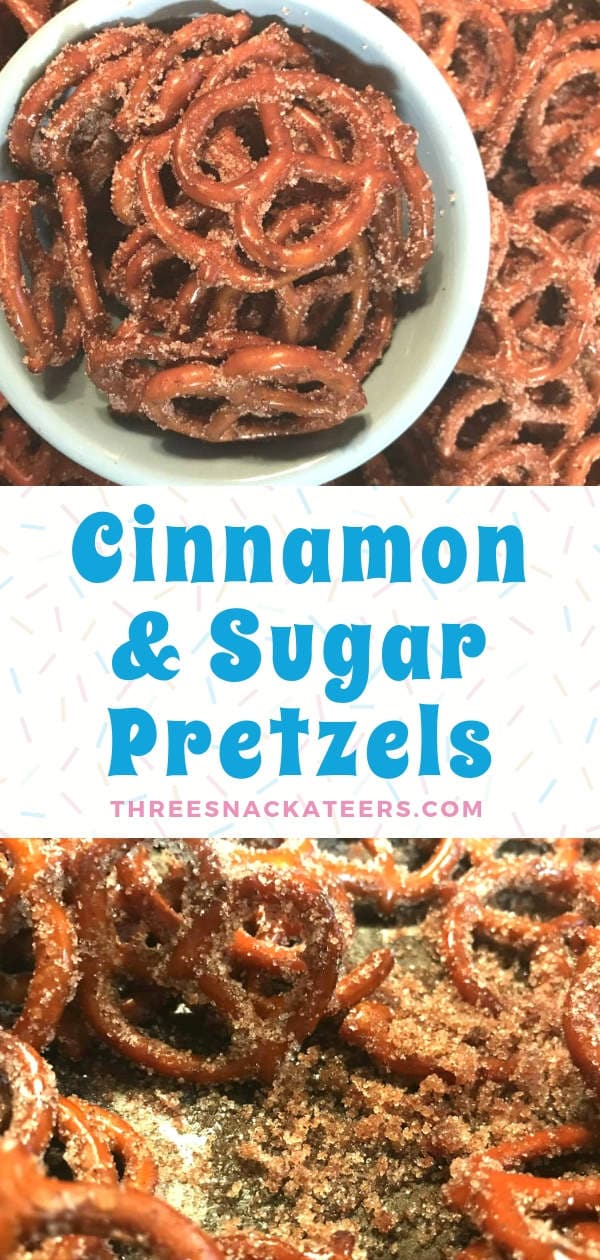 Sweet and Easy Cinnamon Sugar Pretzels Recipe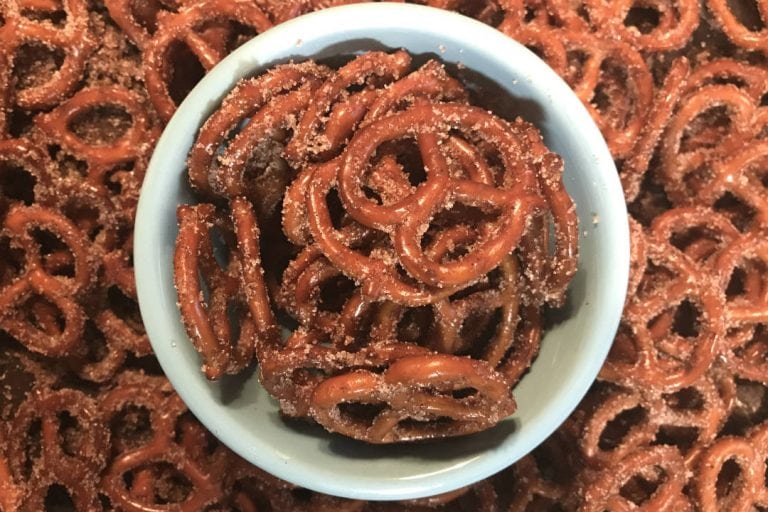 Whip up a batch of these easy and delicious Cinnamon Sugar Pretzels with basic ingredients you probably already have in your kitchen!
Ingredients
1 bag pretzels
2/3 cup vegetable oil
1/2 cup sugar
2-3 tbsp cinnamon
Instructions
Preheat your oven to 325 degrees.

Line a cookie sheet with parchment paper.

In a large bowl, combine vegetable oil, sugar and cinnamon.

Add about half the pretzels to the bowl. Stir well to make sure all pretzels are coated.

Carefully transfer the first batch of pretzels to the cookie sheet, gently letting any excess coating drip back into the bowl.

Add the rest of the pretzels to the bowl and coat well. Then transfer to the cookie sheet.

Spread pretzels into an even layer. It's okay if some overlap.

Pour any remaining mixture from the bowl over the top of the pretzels, making sure they are evenly coated.

Bake the pretzels for a total of 30 minutes. Gently stir the pretzels around every 10 minutes.