Rice Krispie Treats are a classic. They're delicious and easy to make, but let's face it. Sometimes they can be a little boring.
We've found the perfect solution to this problem with our Chocolate Covered Rice Krispie Treats. They are still delicious and easy to make … now they just have an extra special twist.
This delicious dessert is made by first making homemade rice krispie treats, then dipping them in melted chocolate and topping them with sprinkles or other fun toppings.
Chocolate Dipped Rice Krispie Treats: Perfect For Every Occasion
These chocolate-dipped rice krispie treats will quickly become your favorite sweet treat to make for every occasion because they are so easy to customize.
Especially holidays like Christmas, Halloween, Thanksgiving or Valentine's Day when you want an easy recipe. Something cute and custom, but you don't have time to make anything complicated.
These delicious chocolate cereal treats are also perfect party snacks for birthday parties, school events, baby showers or bridal showers.
Just get creative with the type of chocolate, sprinkles, colors and toppings and you'll have a chocolate-dipped rice krispie treat that is customized just for your occasion.
More Rice Krispie Treats Recipes
---
Ingredients To Make Chocolate Dipped Rice Krispie Treats
These chocolate-dipped treats start with a traditional Rice Krispie treat recipe, which includes just a handful of familiar ingredients.
To make a batch of chewy Rice Krispie treats that are perfect for dipping you need the following ingredients.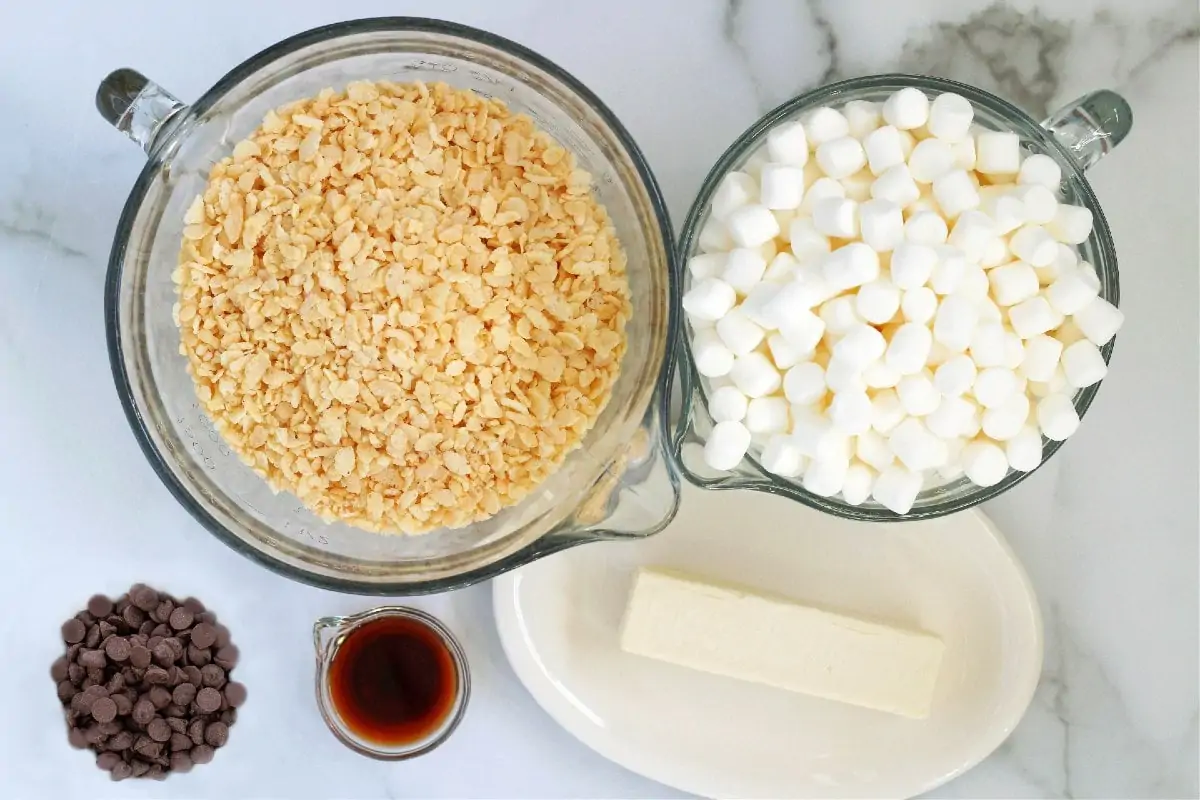 Chocolate Covered Rice Krispies Treats Ingredient List
Butter
Mini marshmallows
Vanilla extract or paste
Kellogg's Rice Krispies cereal (or similar crispy rice cereal)
Chocolate chips or chocolate candy melts

I used milk chocolate, but you could also use a different kind of chocolate like dark chocolate, semi-sweet chocolate or white chocolate.
Also grab the following:
non-stick cooking spray
microwave-safe bowl
large saucepan
parchment paper or wax paper
airtight container to store the prepared treats
---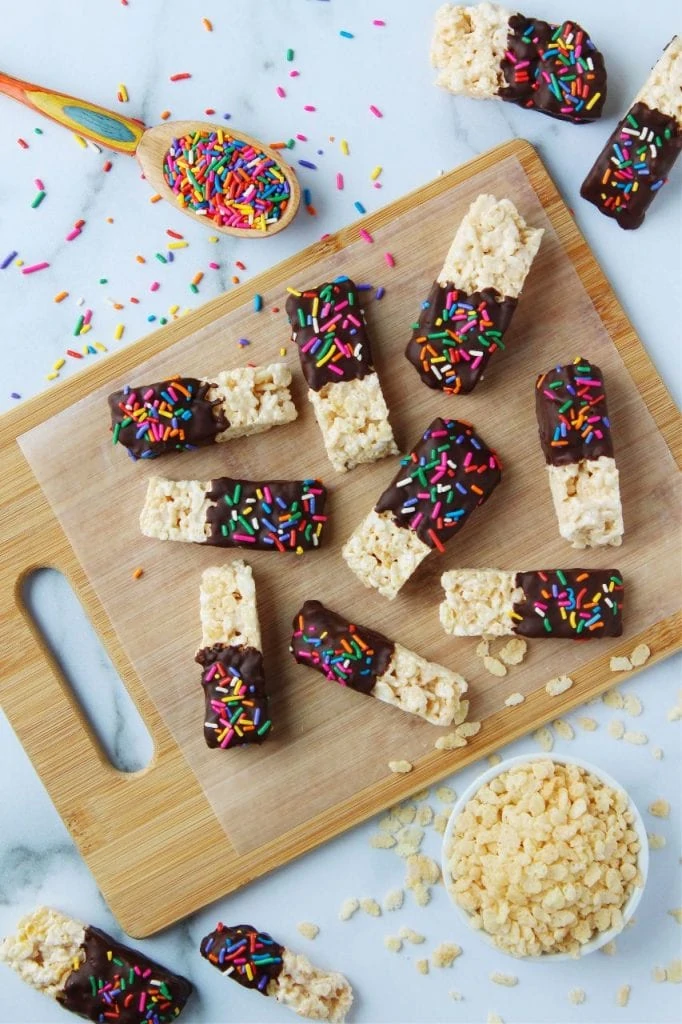 How to Make Chocolate Covered Rice Krispie Treats
This easy no-bake recipe is great for making with kids. Just a few simple steps and you're on your way to making some next-level homemade treats!
For the best flavor, I recommend that you prepare these treats the same day or at most a day or so before enjoying them.
Steps To Make Chocolate Dipped Rice Krispie Treats
Step 1: Make Rice Krispies Treats
First, make classic Rice Krispie treats by combining melted butter, mini marshmallows – plus vanilla! – in a large saucepan over low heat.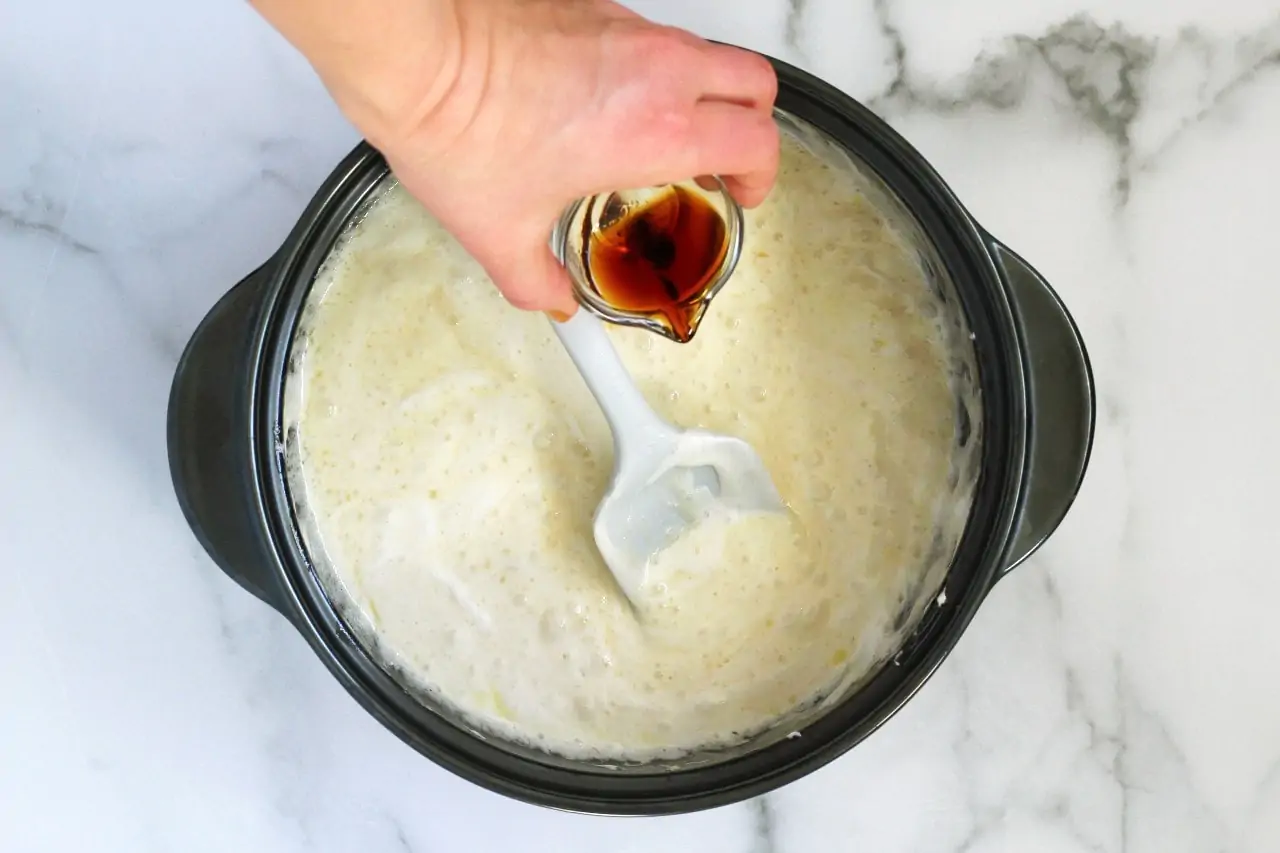 Add the rice krispies cereal to a large bowl. Pour the marshmallow mixture over the cereal.
Stir gently to ensure the rice krispies cereal is completely coated.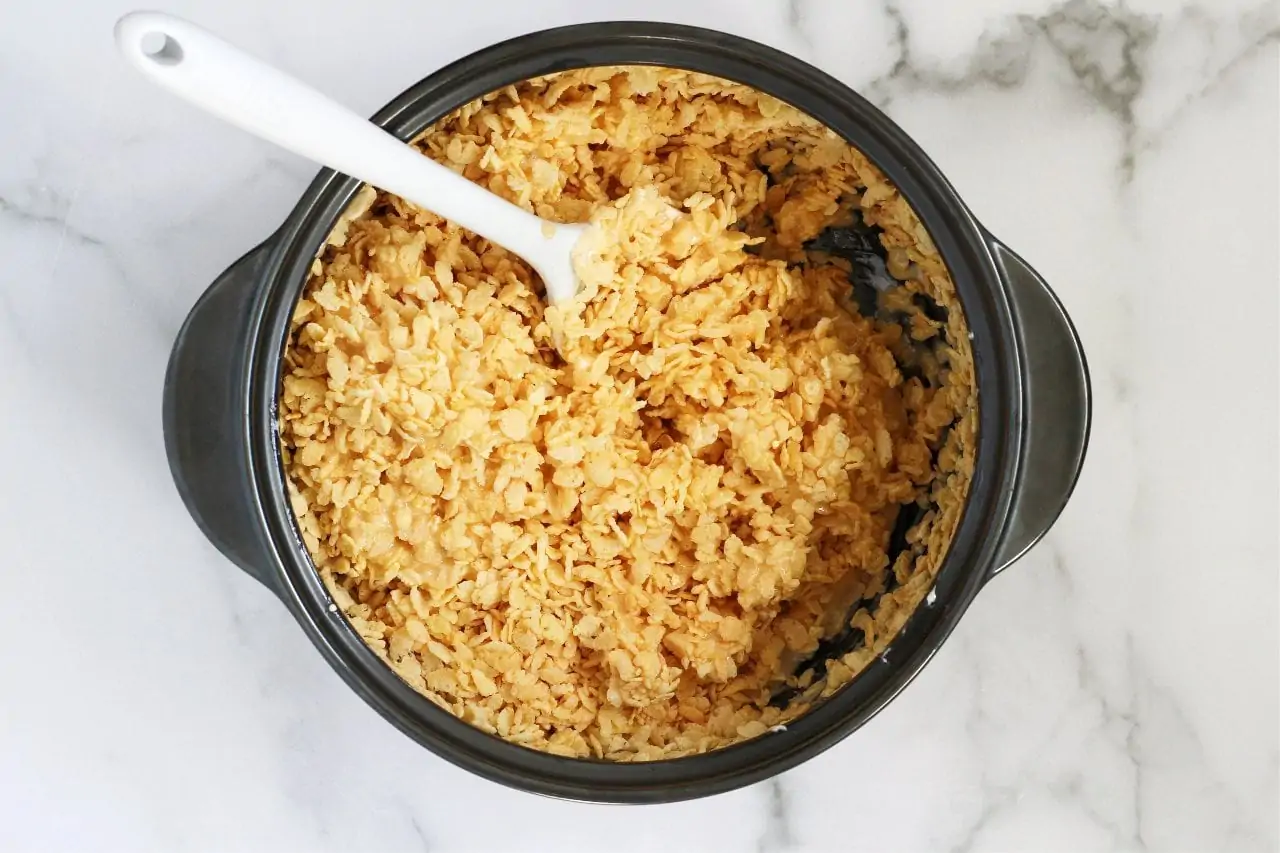 Step 2: Press Rice Krispie Treats Into Prepared Pan
Gently press the rice krispies cereal mixture into a greased 9×13″ pan.
For extra thick treats, you can also use an 8×8″ or 9×9″ pan.
Step 3: Cut Rice Krispie Treats Into Shapes
Allow the rice krispies treats to cool completely.
Then cut into squares or any shape you like. You can even use cookie cutters and get creative with your shapes.
Step 4: Melt Chocolate Chips (or Candy Melts)
Microwave the chocolate chips (or chocolate candy melts) in a microwave-safe dish for 10-15 second increments. Stir the chocolate between intervals until it is smooth, creamy and completely melted.
If the chocolate seems a bit too thick for dipping, add 1 teaspoon of coconut oil or vegetable oil, microwave again, and stir.
PRO TIP: Melt the chocolate in a tall glass or deep small bowl that is wide enough to fit the treats in. This will allow you to dip the treats way down into the melted chocolate. The result will be a smooth chocolate coating!
Step 5: Dip Rice Krispie Treats Into Melted Chocolate
Next, dip each of the cooled and cut rice krispie treats into the melted chocolate.
Give the rice krispies treats a little shake to get rid of excess chocolate. Make sure the treats are evenly coated with the chocolate.
Gently place each dipped rice krispie treat on a prepared baking sheet lined with parchment paper or wax paper.
Step 6: Add Sprinkles, Candy or Other Toppings
Before the chocolate hardens, if desired, add sprinkles, candy or other toppings. You can also leave the treats plain – totally up to you!
Allow the chocolate-dipped rice krispies treats to cool completely.
Additional Toppings for Chocolate Covered Rice Krispie Treats
After dipping in melted chocolate, it's fun to cover the rice crispy treats with even more sweet toppings.
We've added bright colorful sprinkles to our dipped rice krispies treats to make it an extra fun dessert. But you can use whatever type of sprinkles you like for coordinating with your birthday party theme, event or holiday.
Here are other toppings you can add to your chocolate-dipped treats.
Chocolate Dipped Rice Krispie Treat Toppings
Full-sized, mini or crushed M&M candies
Crushed cookies – like Oreo, Nutter Butter or chocolate chip
Shredded coconut
Chopped nuts – like peanuts, walnuts, or almonds
Chopped candy bars – like Butterfinger, Twix, Heath Bars, Kit Kats, etc.
---
Chocolate Covered Rice Krispie Treats Recipe Variations
This fun-tastic snack recipe is great for customizing with different goodies and colors. You can add any of the toppings mentioned above and more.
1. Try Different Cereals
Experiment with different rice cereals like Cocoa Krispies. Or how about a white chocolate covered rice krispie treats made with Fruity Pebbles!
2. Try Chocolate Covered Rice Krispie Treats With Peanut Butter
Try Peanut Butter Rice Krispie Treats as the base for your chocolate-covered treat.
For true peanut butter fans, you can finish by adding chopped peanut butter chips, Reese's Pieces or Peanut Butter Cups.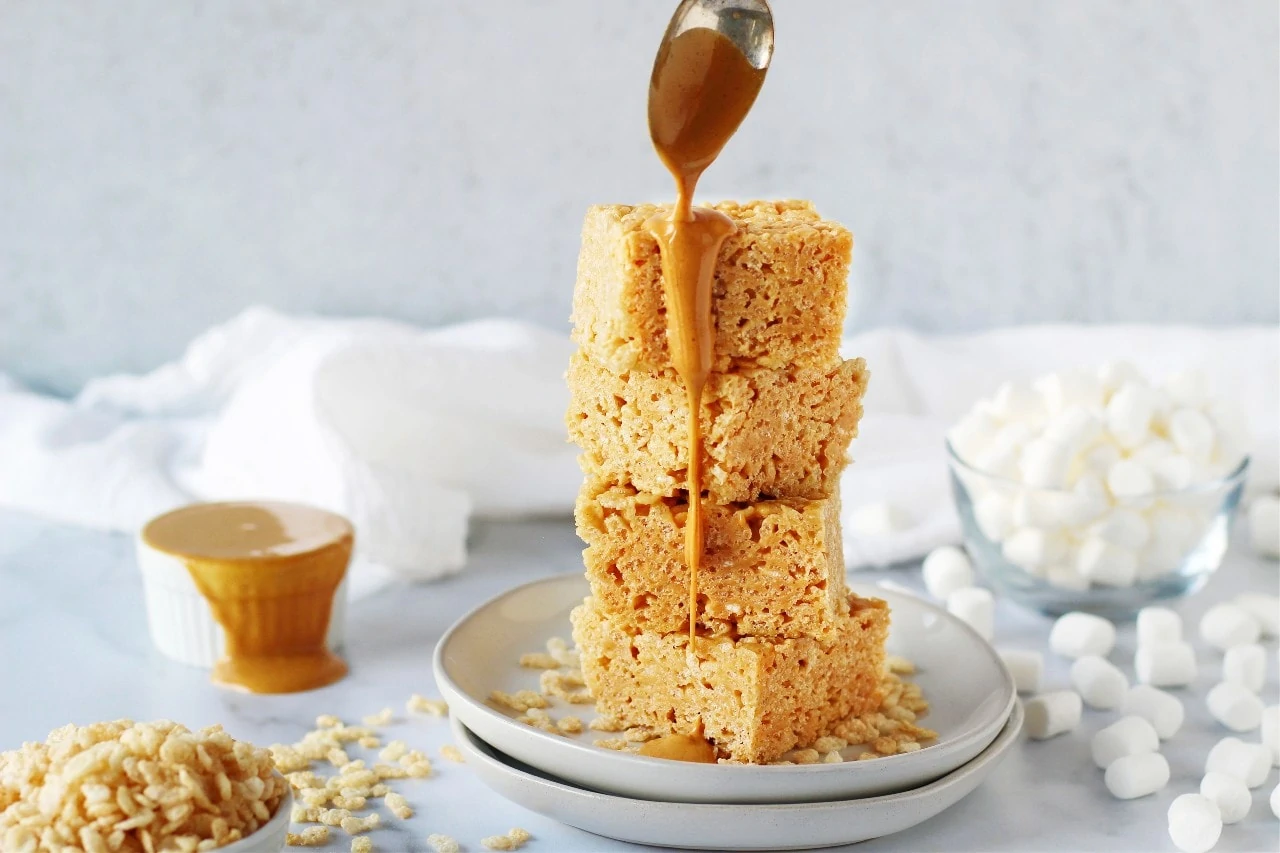 3. Try Using Different Chocolates
Use your favorite chocolate(s)- like milk, semi-sweet or dark chocolate.
While technically not "real" chocolate, white chocolate would also work great.
Colored candy melts are also a fun choice that would allow you to easily customize the treats for a party or holiday.
A 50/50 mix of chocolate and butterscotch chips also tastes amazing.
You could even try a CBD chocolate!
4. Add Some Color
Change up the color of your chocolate-covered Rice Krispie treats by using different colored chocolate melts candies.
You can dip the treat in just one color or drizzle with one or more colored candy melts for a fun pop of color.
Wouldn't pink chocolate-covered rice krispie treats be cute for a baby shower!?
4. Add Some Flavor
This recipe uses vanilla for an extra pop of flavor. But you could use other extracts such as peppermint, lemon, orange, maple or hazelnut. You can typically find extracts like these at your local grocery store.
You can also add flavor to your chocolate using an oil-based flavoring. They will sometimes be called candy flavor or chocolate flavoring.
If you use a water-based or alcohol-based flavoring, your chocolate will seize up and turn into a lumpy mess. To be sure you have the right kind, check to see that oil is the first ingredient and it does not contain water.
5. Make Chocolate Dipped Rice Krispie Treats On A Stick!
For a super cute party favor, try chocolate-dipped Rice Krispie treats on a stick!
Just insert sturdy popsicle sticks (or a lollipop stick) through the center of each rice krispie treat after cutting and before dipping treats in chocolate.
Serve the treats on a platter with the stick facing up to make it easy for your guests to grab.
Or package them in cellophane wrappers and tie them with color-coordinated bows for a sweet lollipop look.
Related Reading:
– Cute Christmas Reindeer Rice Krispie Treats On A Stick
– Easy Chocolate Chip Rice Krispie Treats
---
Tips for Making the Best Chocolate Dipped Rice Krispie Treats
Use fresh marshmallows and don't overcook them or your treats will be hard. Low and slow is the key with marshmallows.
Press the treats very lightly into the pan – pack too hard and you'll get dense and hard treats.
Grease AND line the pan with parchment paper to easily remove from the pan.
Spray your fingers with cooking spray or dip in water to help prevent the treats from sticking to your fingers.
Texture and taste are always best the same day you make them. However, you can transfer the Rice Krispie treats to an airtight container and keep at room temperature for up to 3-4 days.
---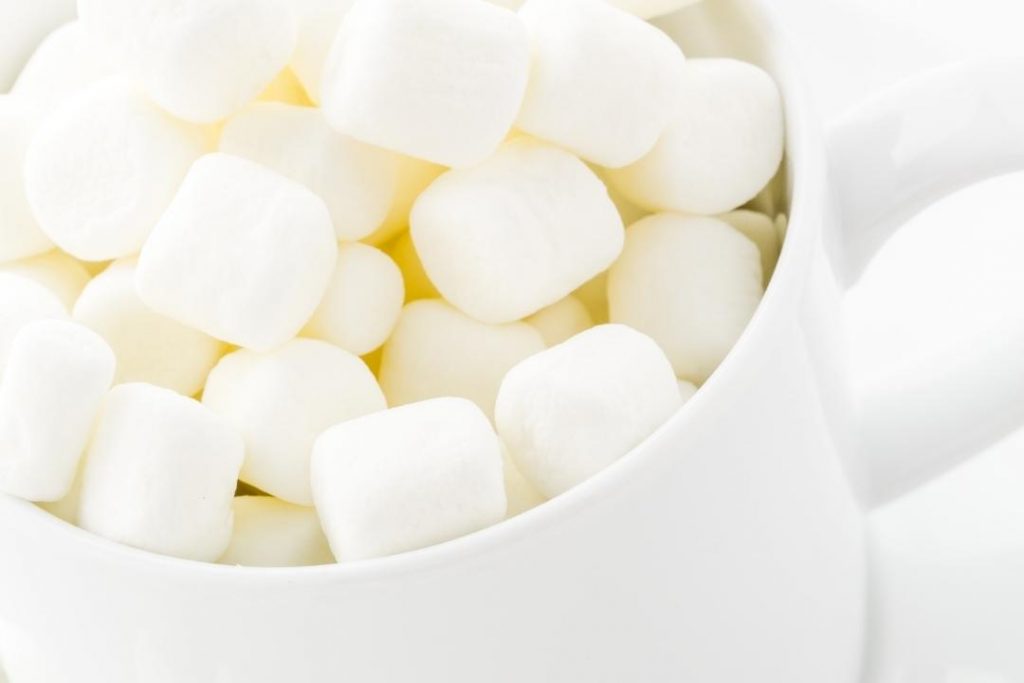 Marshmallows Tips For Rice Krispies Treats
Marshmallows are a key ingredient for gooey rice krispie treats. Here are a few tips to help ensure this recipe turns out perfect every time.
Use Mini Marshmallows
Mini marshmallows tend to work the best because they melt quicker.
Substitutions For Mini Marshmallows
If you don't have mini marshmallows, you can still use regular size marshmallows. Just use a kitchen shears or a knife to cut full-size marshmallows in half or quarters.
You can even use marshmallow cream in a jar for an even easier recipe.
If you're planning to substitute, it's handy to know:
1 cup of mini marshmallows is equal to 8 regular marshmallows.
A 7 oz. jar of marshmallow cream equals 1 1/2 cups of mini marshmallows.
Use Fresh Marshmallows
Make sure your marshmallows are soft, fluffy and fresh. It really makes a difference in how your recipe turns out.
Related Reading
Stuffed Puffs Chocolate Filled Marshmallow Recipes
---
This chocolate-dipped rice krispie treat recipe is so easy to make, you'll have no excuse for not getting creative with your next batch of rice krispie treats!
Have some fun and find your favorite way to transform classic rice krispie treats into something new and exciting.
If you're looking for other chocolate-dipped sweet treats, check out the yummy dipped sprinkle ice cream cones and Reese's Chocolate Covered Pretzel Rods.
Save it for later on Pinterest, Instagram and Facebook. Also join our Facebook Group for more snack fun!
Yield: 12 servings
Chocolate Covered Rice Krispie Treats
Chocolate Dipped Rice Krispie Treats are an extra special twist on classic Rice Krispie squares. They're fun party snacks that are easy to make and perfect for customizing with your favorite colors and sweet goodies, like sprinkles or chopped nuts and more!
Additional Time
20 minutes
Ingredients
½ stick of butter (1/4 cup)
10-ounce bag of mini marshmallows (about 5 cups)
2 tsp vanilla extract or paste
5 cups Rice Krispies cereal
12 ounces chocolate chips (1 bag)
Sprinkles (optional)
Instructions
Grease the bottom of a 9x13 pan. Set aside.
In a large pot, melt the butter over medium-low heat.
Reduce heat to low and add the marshmallows. Stir often until the marshmallows are melted and totally incorporated with the butter. Do not overcook or you'll have hard treats!
Add the vanilla and stir to combine.
Turn off the heat and pour in the cereal. Gently fold in the marshmallow mixture until all of the cereal is fully coated.
Transfer the cereal mixture into the greased pan. Lightly press the mixture so you have a nice even layer throughout the pan.
Allow the treats to cool, cut them into any size squares you like.
Next, add the chocolate chips into a small bowl. Microwave in 15-20 second intervals stirring each time until chocolate is completely melted and smooth. If the chocolate seems too thick, add about 1 teaspoon of vegetable or coconut oil until the chocolate is shiny and stirs easily.
Dip each Rice Krispies treat in chocolate and lightly shake off any excess chocolate. You can dip just the top or dunk half of the bar into the melted chocolate. If desired, add sprinkles to the top while the chocolate is still wet.
Place the dipped treats on a sheet of wax paper to set up. Allow the chocolate to harden before serving.
Notes
Use fresh marshmallows and don't overcook.
Press very lightly into the pan – pack too hard and you'll get hard treats. 
Line pan with parchment paper to easily remove from the pan.
Spray fingers with cooking spray or dip in water to help prevent sticking.
Texture and taste are always best the same day you make them.
Make them extra thick, use a 9x9" pan.
Micky Reed, a two-decade veteran in the food and baking industry, leverages her influential Three Snackateers food blog and Instagram presence to collaborate with industry giants like Ben & Jerry's and Crumbl Cookies. Her work has been featured on Delish, PopSugar and more. Her expertise as a product curator for one of the world's largest international snack subscription box companies solidifies her status as a key player in the field.