Take your classic favorite Rice Krispie treats from childhood to the next level by adding mini chocolate chips!
This easy Chocolate Chip Rice Krispie Treats recipe is a fun snack the whole family will love. These delicious treats are also great for school snacks, a bake sale or a party.
It's a simple recipe, but there is a trick to keep the chocolate chips from melting all over the place. Keep reading to learn how to make this easy recipe for chocolate lovers!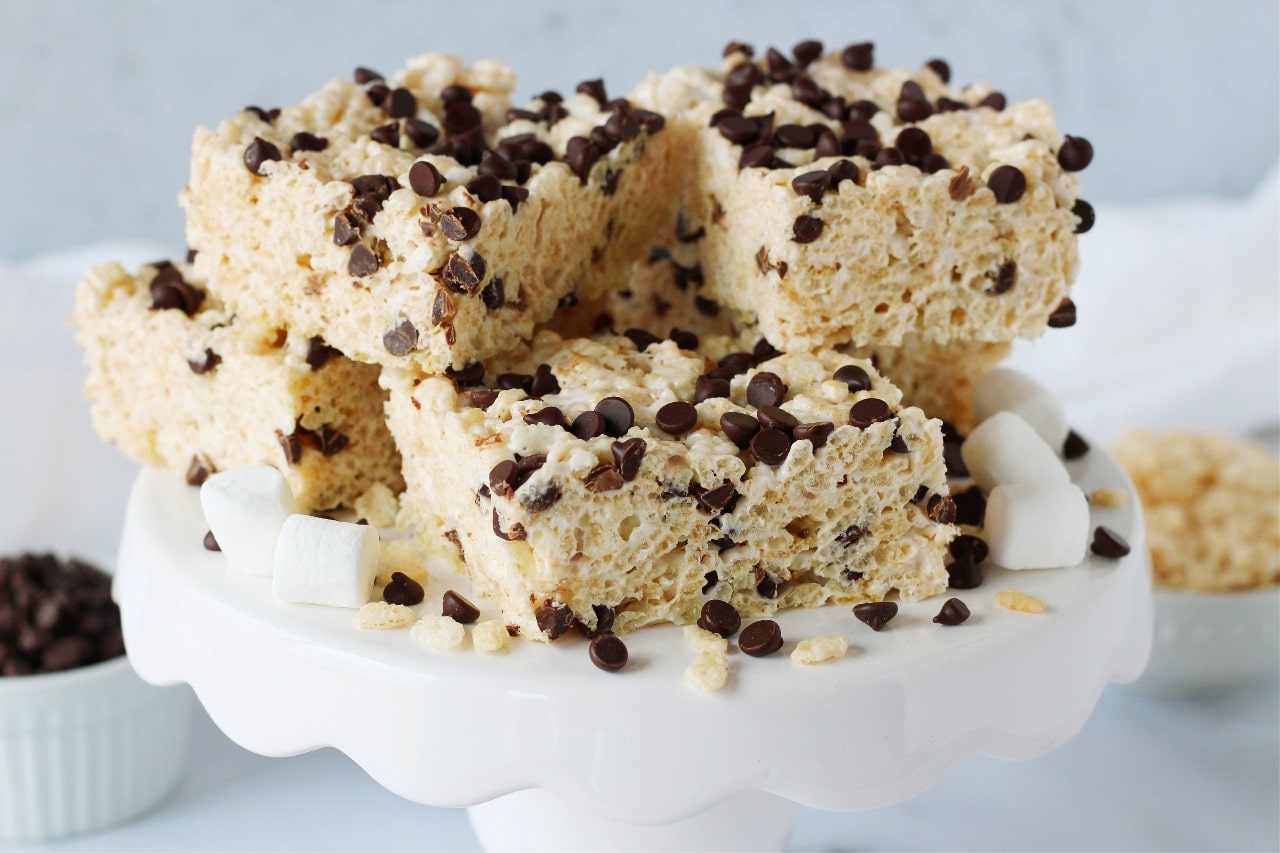 Chocolate Chip Rice Krispie Treats
What's better than a chewy, crispy, gooey classic Rice Krispie treat? All that goodness PLUS chocolate chips!
These delicious Rice Krispie treats are made with chocolate chips on top and mixed inside, and have an oomf of sweetness that really makes them extra special.
But they are just as easy to make as the original Rice Krispies cereal squares recipe, no matter what goodies you choose to include.
More Chocolate Chip Recipes
– Edible Chocolate Chip Cookie Dough
– Chocolate Chip Cookie Dough Ice Cream
Rice Krispies Treats With Chocolate Chips Ingredients
Nothing fancy is needed here. This chocolate chip Rice Krispie treats recipe uses the same ingredients as our original recipe for Rice Krispie treats, plus – well, obviously – mini chocolate chips.
Here is the full list of what you need to make next-level ooey-gooey crispy treats:
Butter (use real butter, no substitutes!)
Mini marshmallows
Vanilla extract or paste
Rice Krispies cereal
Mini chocolate chips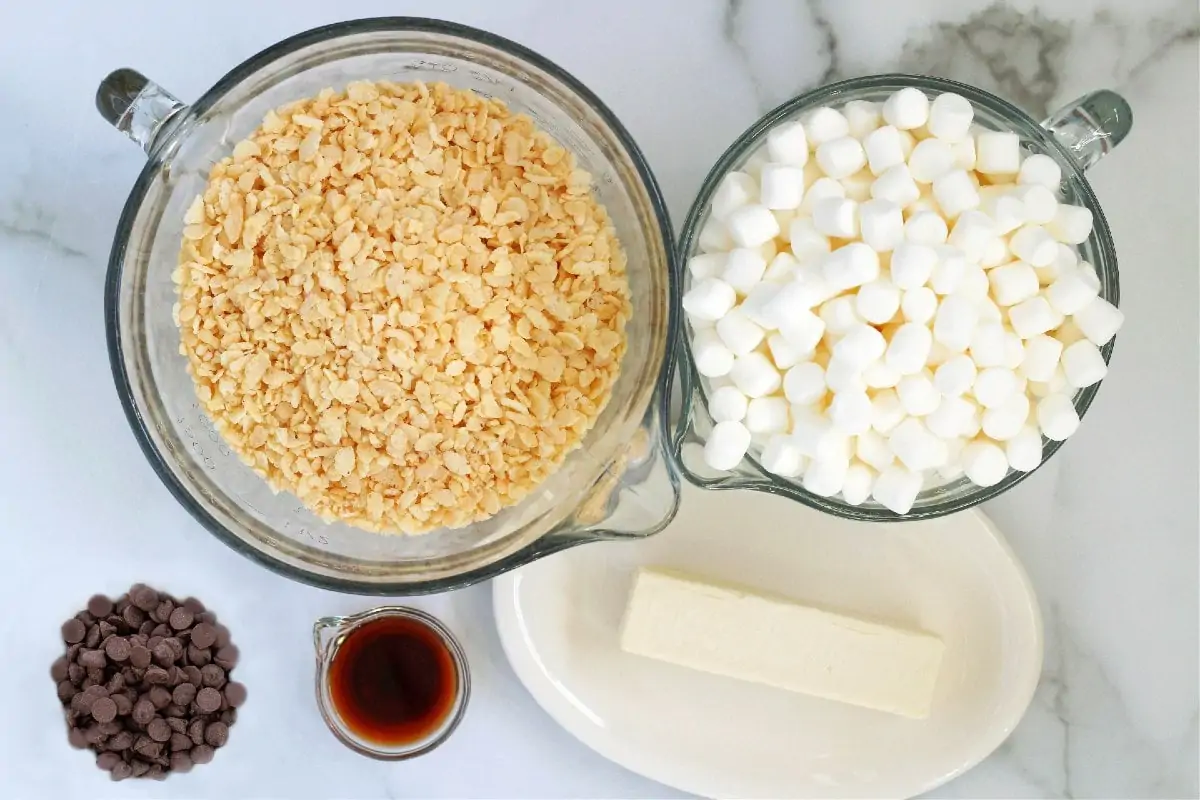 You'll also need a few supplies:
Large saucepan
9″x13″ baking pan
Nonstick cooking spray
Rubber spatula or wooden spoon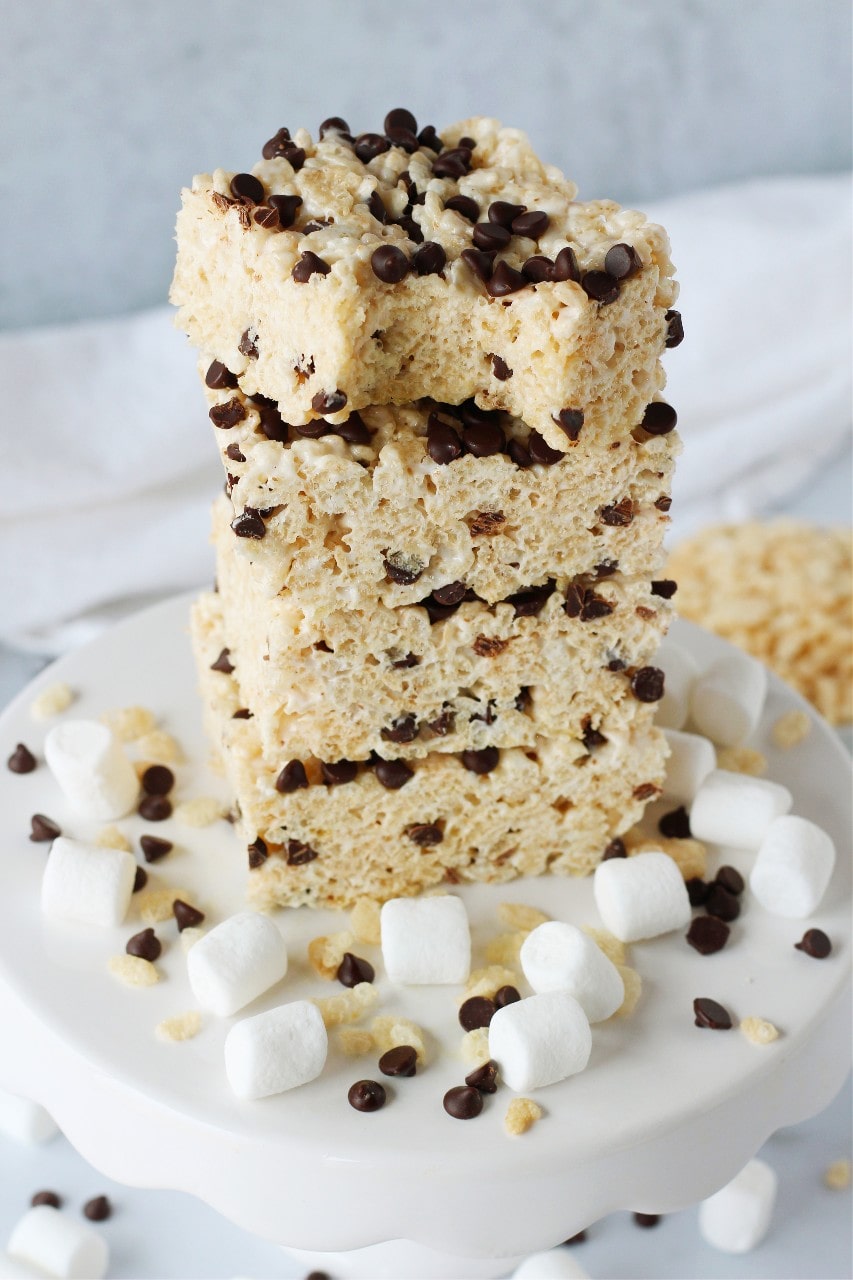 How to Make Chocolate Chip Rice Krispie Treats
This chocolate chip Rice Krispie treats recipe has chocolate chips on top AND mixed in with the crisp rice cereal.
It's easy to prepare in just a few basic steps, and treats are ready to enjoy in only about 20 minutes.
And while this recipe is for roughly 12 good size Rice Krispie treats, you can easily cut it in half or double for your needs.
Here are the simple steps to make the best Rice Krispie treat recipe from scratch:
Step 1: Prepare The Baking Pan
Grease a large 9×13″ inch pan with nonstick spray. This will ensure your treats don't get stuck to the bottom of the pan.
As an alternative to cooking spray, you could line the bottom of the pan with parchment paper or wax paper.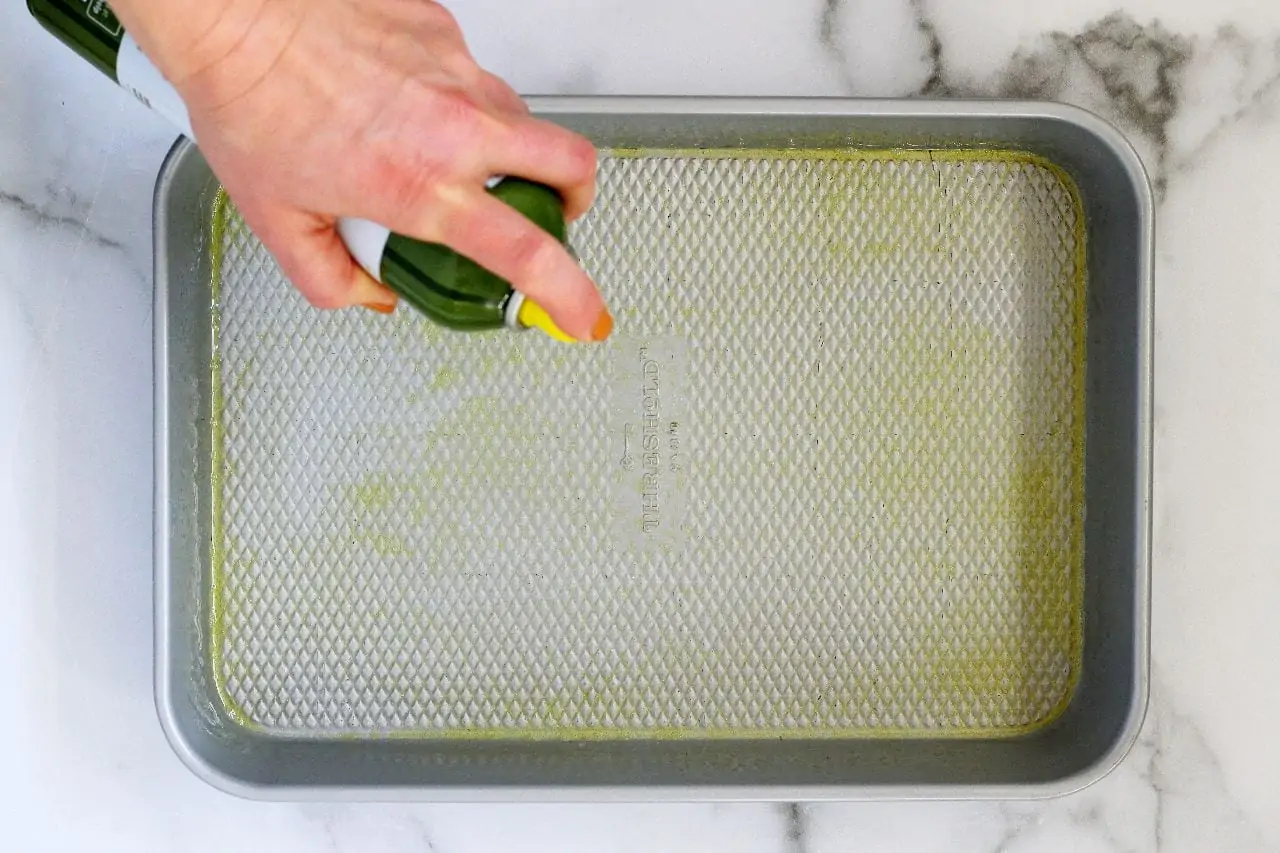 Step 2: Melt Butter
Next, melt the butter in a large pot over medium heat on the stove.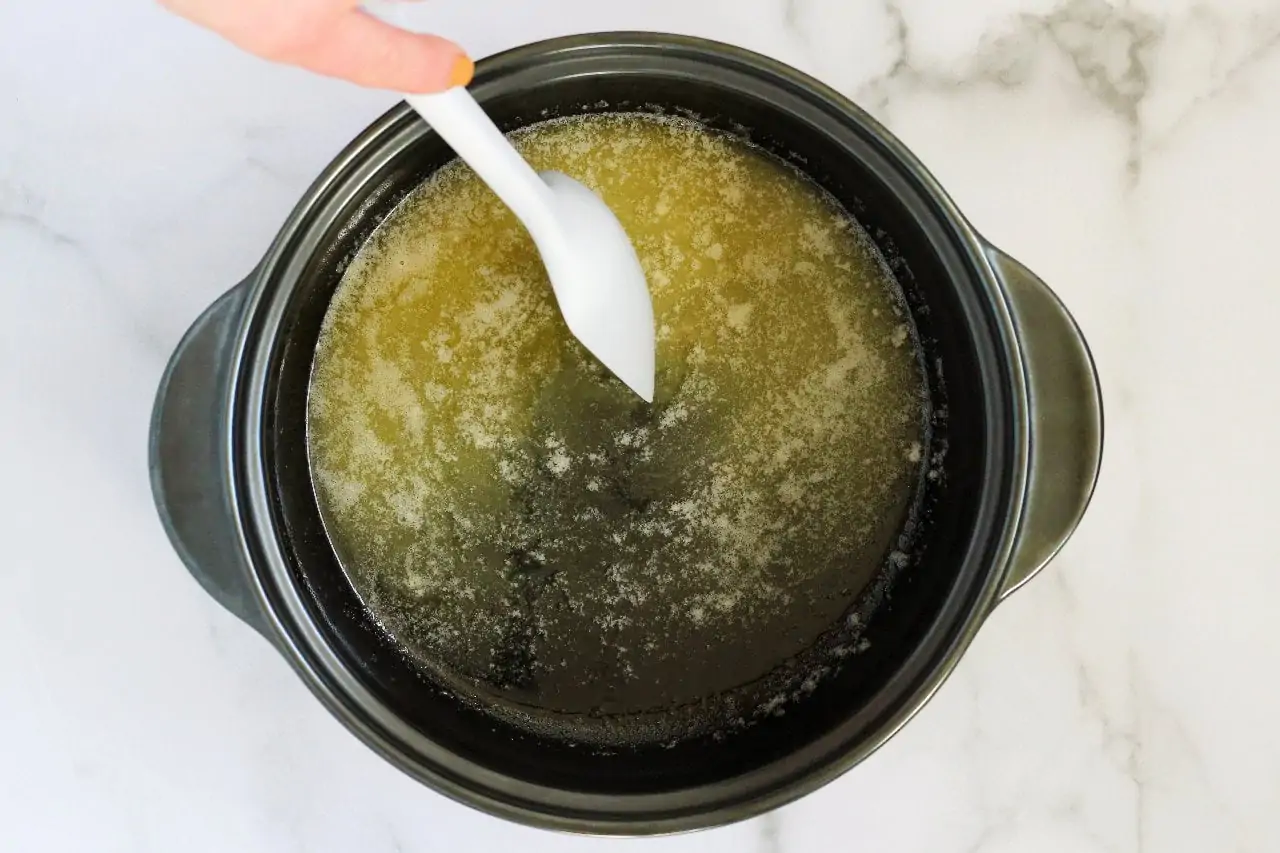 Step 3: Add Marshmallows
Once the butter is melted, reduce to low heat and stir in the miniature marshmallows. Gently stir as the marshmallows melt.
Make sure not to overcook or burn the mixture or you'll wind up with hard treats. When the marshmallows are fully melted, remove them from the heat.
Step 4: Add Vanilla
Next, stir the vanilla extract into the melted marshmallows. The addition of vanilla gives the rice krispie treats an extra flavor boost.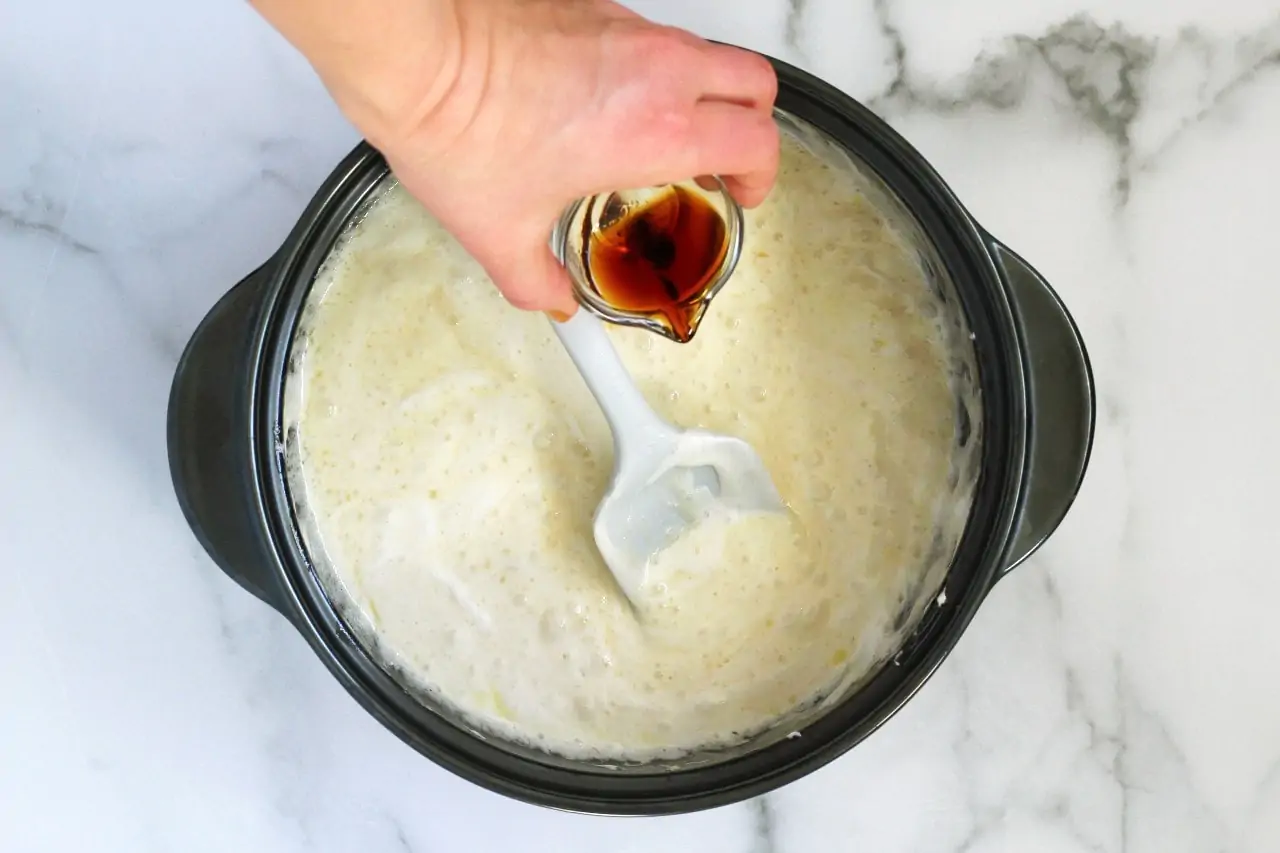 Step 5: Add Rice Krispies
Pour in the crispy cereal. Fold the rice krispies cereal in with the marshmallow mixture until it is completely coated.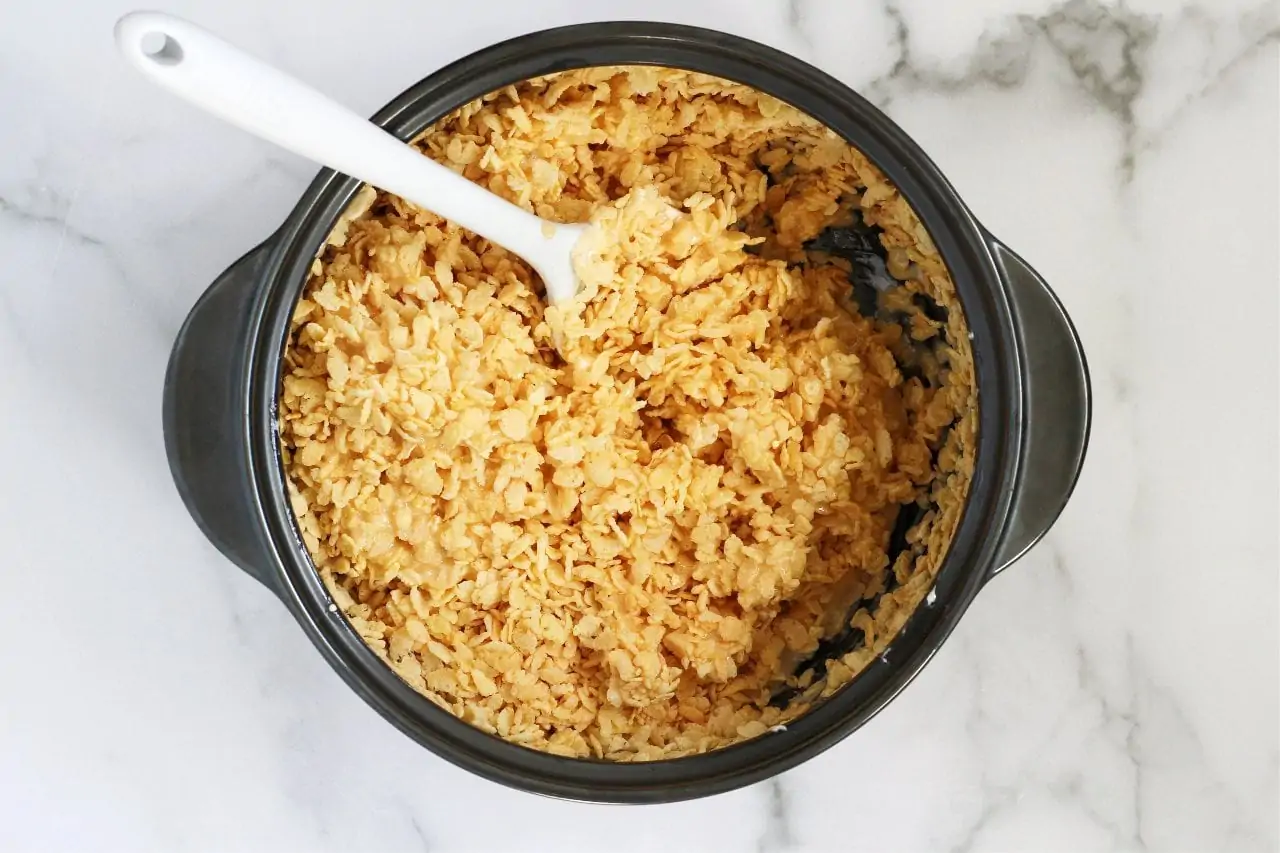 Step 6: After Cooling, Add Chocolate Chips
Wait a few minutes until the gooey marshmallow and cereal mixture cools. It must be cool enough to touch before stirring in 1 cup of mini chocolate chips.
IMPORTANT: Don't add the mini chips too soon or you'll have melted chocolate! Your treats will still be delicious, but they won't look so pretty!
Step 7: Prepare In Baking Pan
Use a greased spatula to transfer the rice krispie mixture to the prepared pan. Gently press the rice krispie treats into place so they are even.
Sprinkle on the remaining 1/2 cup of mini chocolate chips, and lightly press them into the tops of the Rice Krispie treats.
Allow the Rice Krispie treats with chocolate chips on top to cool completely before cutting into squares with a sharp knife.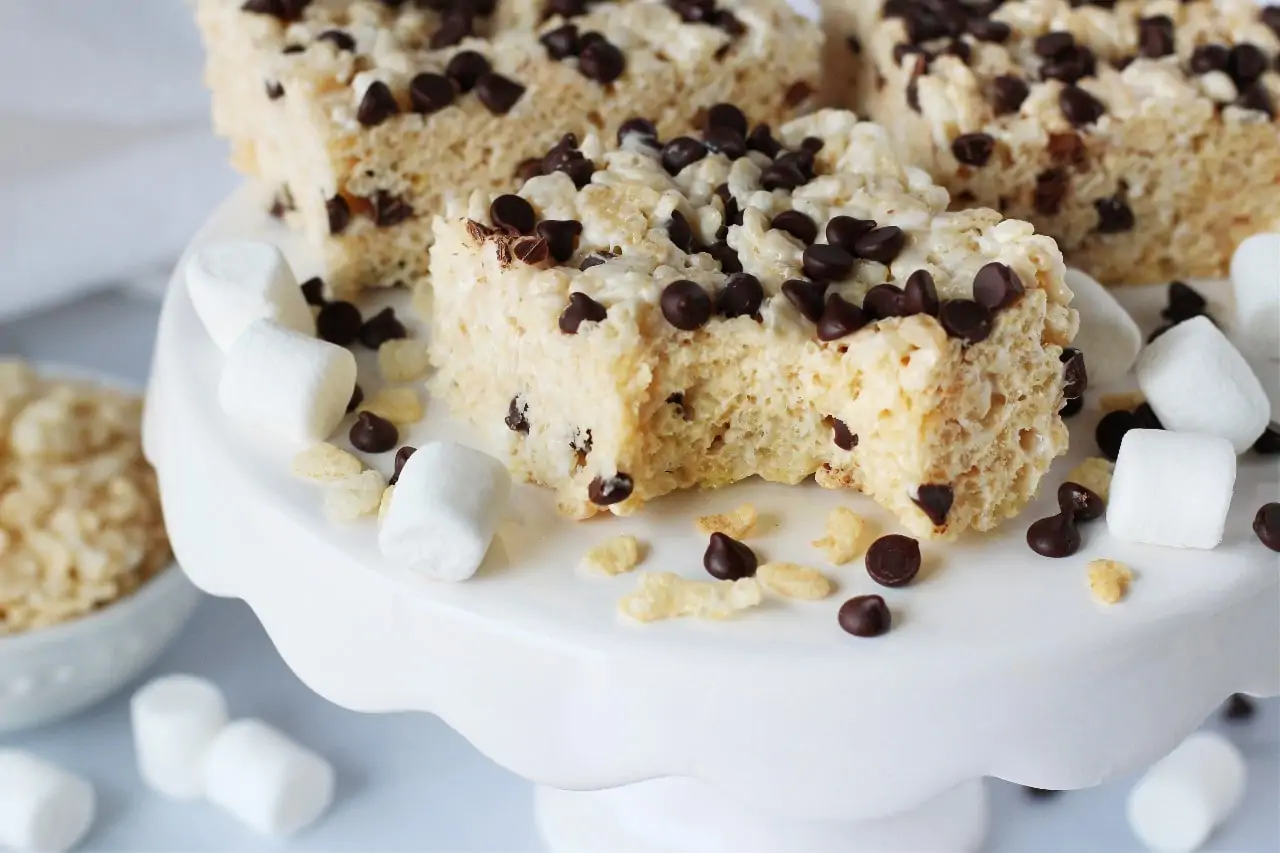 Chocolate Chip Rice Krispie Treats Substitutions
Feel free to get creative with your batch of chocolate chip Rice Krispie treats. Here are just a few fun ideas for changing up this recipe:
Want bigger chunks?
Swap mini chocolate chips for regular semi-sweet chocolate chips or chocolate chunks.

Want a different type of chocolate?
Use milk chocolate, dark chocolate, white chocolate chips, butterscotch chips, or peanut butter chips. Or if you're feeling adventurous you could even include chopped CBD Chocolate!

Craving candy?
Try other candies like M&Ms, mini peanut butter cups, Reese's Pieces, or any of your favorite treats.
Love chocolate?
Change up classic Rice Krispie cereal and make chocolate rice krispie treats instead. Just use Cocoa Krispies or Cocoa Pebbles cereal.
Want something more colorful?
Fruity Pebbles will add lots of bright color to your krispy treats. Use these Fruity Pebbles Rice Krispie Treats instead of the regular rice krispie cereal treats and add white chocolate chips instead of the chocolate chips.
Peanut butter lover?
Use Peanut Butter Rice Krispie Treats instead of the regular rice krispie treats. You can use creamy peanut butter, chunky peanut butter or even natural peanut butter.
Too sweet?
Balance the sweetness of chocolate chip Rice Krispie treats on top by adding a sprinkle of sea salt as you mix the ingredients together.

Want S'more?
When you add the chocolate chips, also add some mini marshmallows and chunks of graham crackers for creative campfire rice krispie treats.
Be Sure to Try These Rice Krispie Treats Variations, Too!
Tips for Making the Best Rice Krispie Treats Recipe
Rice Krispies treats are one of those dessert recipes that are so easy to make, but also easy to mess up if you're not careful. Follow these tips and tricks for a perfect gooey treat.
Don't Over Cook The Marshmallows
Overcooking is the #1 reason for hard rice krispie treats. Keep your heat very low when adding the marshmallows or even remove from the heat totally until the marshmallows are melted.
Use Fresh Marshmallows
Make sure your marshmallows are fresh, soft and fluffy. It really does make a big difference in making delicious rice krispie treats.
Use A Large Pan or Bowl
Make sure you're using a large pot or saucepan. You want plenty of room so you can gently combine your ingredients together at each step.
Mini Marshmallow Substitutions
If you don't have mini marshmallows, feel free to swap with a jar of marshmallow fluff or regular size marshmallows. I just suggest snipping them in half with kitchen shears before melting.
Here are some handy conversions for you:
8 large marshmallows = 1 cup of mini marshmallows
One 7 oz. jar of marshmallow cream = 1 1/2 cups of mini marshmallows
Handle The Treats Gently
Be careful to only lightly press the Rice Krispie treats into the pan. The harder you pack them the harder and denser they'll be.
Use Non Stick Spray
Making rice krispie treats can get sticky! Lightly spray your hands with nonstick spray or dip your fingers in water to keep the marshmallow mixture from sticking to you.
Also spray your pan or place wax paper in the bottom to easily remove the tasty treats.
Store Rice Krispie Treats In An Airtight Container
Rice Krispie treats with chocolate chips taste the best when enjoyed the same day they are made. However, they'll stay yummy for up to 2-3 days if stored in an airtight container at room temperature.
So there you have it! If you're looking for a quick and easy recipe that will satisfy your sweet tooth, this one is perfect. A few simple ingredients are all you need to make the most delicious no-bake rice krispie treats recipe.
The best part about this recipe is that you can use your favorite cereal, so get creative. They're super versatile, so the possibilities of what you could add to change up the flavor combinations are endless!
If you love this recipe,
please consider sharing to Pinterest, Instagram and Facebook!
Yield: 12
Chocolate Chip Rice Krispie Treats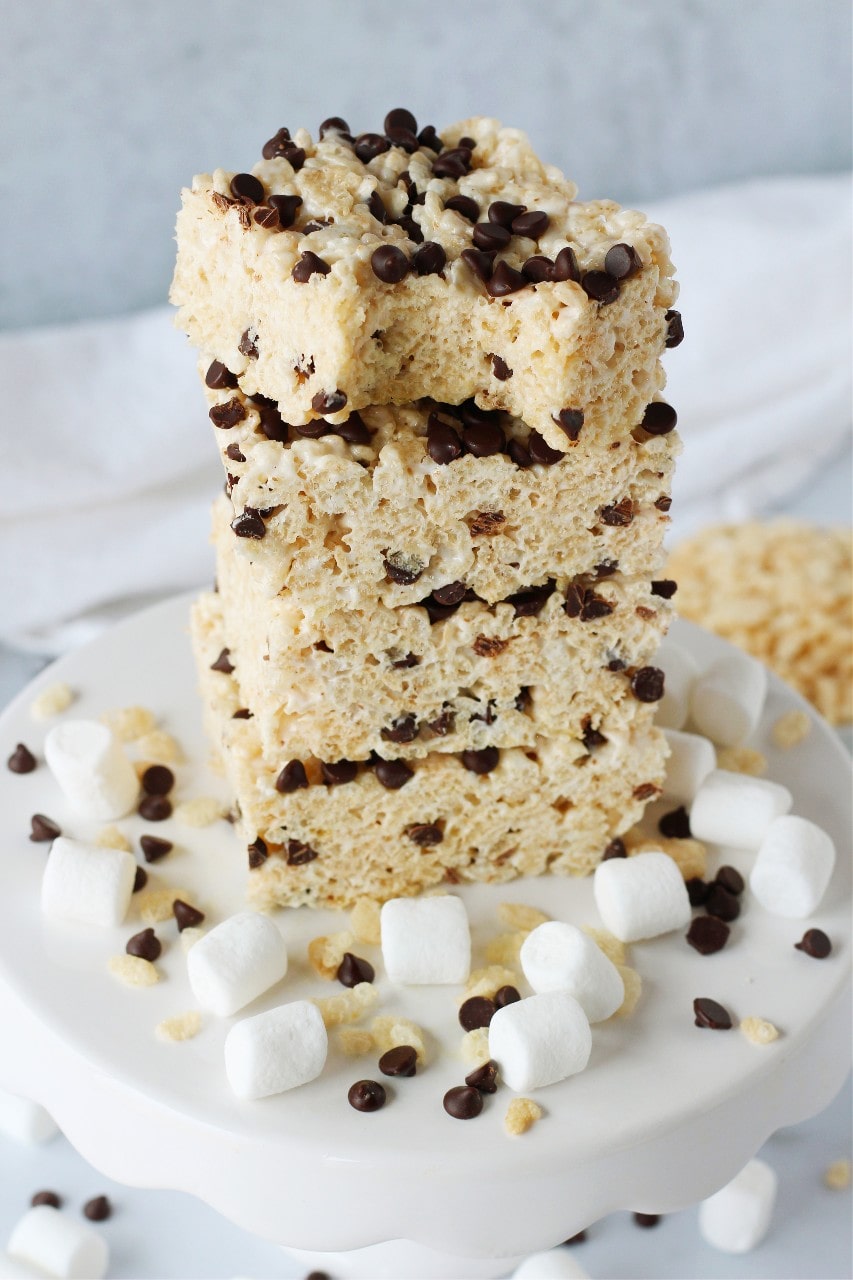 This easy Chocolate Chip Rice Krispie Treats recipe is a fun snack for all ages - and is great to customize with lots of delicious, decadent goodies
Ingredients
½ stick of butter (1/4 cup)
10-ounce bag of mini marshmallows (about 5 cups)
2 tsp vanilla extract or paste
5 cups Rice Krispies cereal
1.5 cup mini chocolate chips
Instructions
Grease the bottom of a 9x13 pan. Set aside.
In a large pot, melt the butter over medium-low heat.
Reduce heat to low and add the marshmallows. Stir often until the marshmallows are melted and totally incorporated with the butter. Do not overcook or you'll have hard treats!
Add the vanilla and stir to combine.
Turn off the heat and pour in the cereal. Gently fold in the marshmallow mixture until all of the cereal is fully coated.
Allow the mixture to cool until cool to the touch. Add 1 cup mini chocolate chips and stir again gently to incorporate. IMPORTANT: If you add chips too soon, they will melt instead of holding their shape.
Transfer the cereal mixture into the greased pan. Lightly press the mixture so you have a nice even layer throughout the pan.
Sprinkle the remaining ½ cup of mini chips on top of the treats and press them gently into the bars.
Allow the treats to cool before cutting.
Notes
Homemade Rice Krispie treats with chocolate chips have the best taste and texture when eaten the same day, but can be stored in airtight container for 2-3 days.
Recommended Products
As an Amazon Associate and member of other affiliate programs, I earn from qualifying purchases.
Nutrition Information:
Yield:
12
Serving Size:
1
Amount Per Serving:
Calories:

259
Total Fat:

11g
Saturated Fat:

6g
Trans Fat:

0g
Unsaturated Fat:

4g
Cholesterol:

10mg
Sodium:

112mg
Carbohydrates:

43g
Fiber:

1g
Sugar:

27g
Protein:

2g