If you're in the market for CBD honey, look no further.
There are tons of CBD companies out there. We'll help you cut through the noise with our list of some top CBD honey options that are available to purchase online.
CBD-infused honey is a great way to enjoy the potential benefits of both CBD and a healthy, natural sweetener.
Honey + CBD: A Perfect Pairing
The CBD edibles industry has been booming, and it is easy to see why. CBD is used by many for help with sleep, pain and anxiety. Research is ongoing to better understand the potential health benefits of CBD and CBD products (like CBD honey sticks).
Edibles like honey, gummies, chocolate, coffee, lollipops, brownies and even cocktails are a tasty way to get a daily dose of CBD.
Honey is often considered a superfood and has been used for hundreds of years for its health benefits. It's delicious, natural and packed with antioxidants, minerals and enzymes. Some people even use it to soothe coughs and improve digestion.
So as you can see, it was only a matter of time before these two powerhouses were combined into one simple solution: CBD Honey
This is not medical advice. CBD is not intended to diagnose, treat, cure or prevent any disease. Products are intended for 18+ years old. The effects of CBD vary for everyone. Always check with your doctor before taking CBD.
What is CBD honey?
CBD honey is as simple as it sounds. It's just honey that has been infused with CBD.
It can be mixed in with your favorite foods or used as an everyday supplement, all while being tasty and nutritious.
Ways To Buy CBD Honey: Jar, Sticks, Tincures and More
You may not find CBD honey in a cute little bear container, but you certainly can buy it by the jar. You'll see some options for CBD honey in a jar below.
We even found a CBD honey tincture. Tinctures come in a little bottle with a dropper. To consume, you simply put a few drops under your tongue.
We also found CBD honey in a convenient little single-serve packet.
However, it seems the most popular option is CBD honey sticks.
How do you use CBD honey sticks?
Because CBD sticks are so popular, we've featured several in our list below. They are quick, easy to use and convenient. They are also sometimes called honey straws.
To eat a CBD honey stick, you bite or cut off one end. You can either eat the honey straight or mix it with food or drinks.
To eat it straight, you can suck the CBD-infused honey directly from the stick – just like you are drinking from a straw. Or you can always squeeze the tube into your mouth.
If you'd prefer to mix it, you might want to try adding it to your tea or coffee. Or drizzle the CBD honey stick on a salad, yogurt or cereal for a delicious, nutritious boost.
You may also like:
Best Vegan CBD Gummies To Try
CBD HONEY JARS
1. Seven Points CBD Infused Honey Jar
12 ounce and 3-ounce jars available
7 mg CBD per serving
Natural raw honey from Rio Grande Valley in NW New Mexico
Full spectrum organic CBD hemp oil
Terpenes combine with the cannabinoids in extra virgin CBD extract
Also available in honey sticks
---
2. Grassroots Harvest Hemp Oil Extract CBD Honey Jars
17mg of CBD per teaspoon
2oz jars of CBD honey
100% organic hemp-derived CBD
Raw South Texas Wildflower honey
Available in 3 varieties:

Soothe (Granddaddy Purple terpenes known for sweet flavor & feelings of relaxation & euphoria)
Inspire (with terpenes known for anti-fungal, anti-bacterial, and anti-inflammatory properties)
Harmony (with Sour Diesel terpenes known for energizing & uplifting effects)
---
3. Steve's Goods Honey Jars
2oz CBD honey jar
2000mg of Full Spectrum CBD oil
Colorado raw honey, harvested humanely
Contains MCT oil from coconuts
Honey sticks are also available
CBD HONEY STICKS
1. Royal CBD Honey Sticks
10mg CBD per honey stick
Available in strawberry, lemon, mango and apple flavors
10 CBD honey sticks per package
Delta 8 CBD honey sticks are also available
---
2. CBD Fusion Hemp Honey Stix
10mg CBD per honey stick
Full-spectrum CBD extract
99% Colorado hemp
10 CBD honey sticks per package
---
3. Tranquility Tea Company Honey Sticks
30mg CBD per honey stick
10 CBD honey sticks per package
Made with Oregon wildflower honey
Contains Oregon hemp oil
---
4. TropiCBD Natural Honey Sticks
20 mg CBD per stick
Full spectrum CBD
US Grade A Honey
EVEN MORE CBD HONEY PRODUCTS
1. Humble CBD Honey Dropper CBD Tincture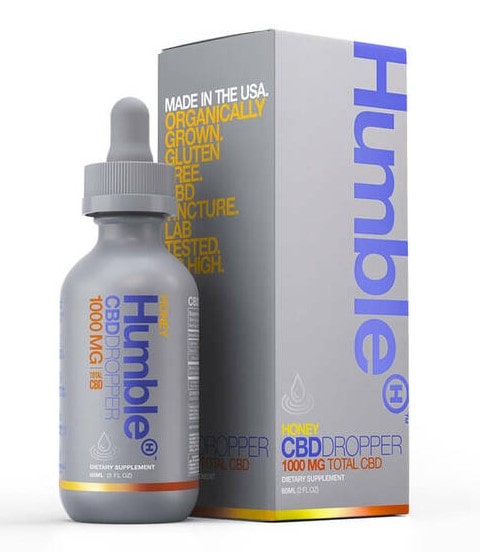 Available in 1000, 1500 or 2000 mg CBD per 60ml bottle
Broad spectrum including CBD, CBG and CBN
Tincture contains pure, raw blend of honey
Made in the US
---
2. Florida Honey Pot Farms CBD Chill Honey Packets
20mg CBD per packet
Uses broad spectrum CBD plus terpenes for unique flavors
Orange blossum honey
Women owned and run
Also available in 5.7oz jars in 3 varieties: Chill, Immune and Relieved
---
YOU MAY ALSO LIKE:
If you enjoyed this article, save it for later on Pinterest, Instagram and Facebook. Also join our Facebook Group for more snack fun!
Micky Reed, a two-decade veteran in the food and baking industry, leverages her influential Three Snackateers food blog and Instagram presence to collaborate with industry giants like Ben & Jerry's and Crumbl Cookies. Her work has been featured on Delish, PopSugar and more. Her expertise as a product curator for one of the world's largest international snack subscription box companies solidifies her status as a key player in the field.