Are you looking for some inspiration for your next cake? Then join us on a mouthwatering journey through 50+ popular cake flavors!
From classic favorites to unique and creative combinations (like #42 PBJ Swirl!), this is your ultimate guide to discovering new and exciting cakes.
Whether you're a baking enthusiast, need an awesome cake flavor idea for an upcoming event or simply love indulging in sweet treats, this collection of cake flavors is sure to get your creative juices flowing.
Let's get started!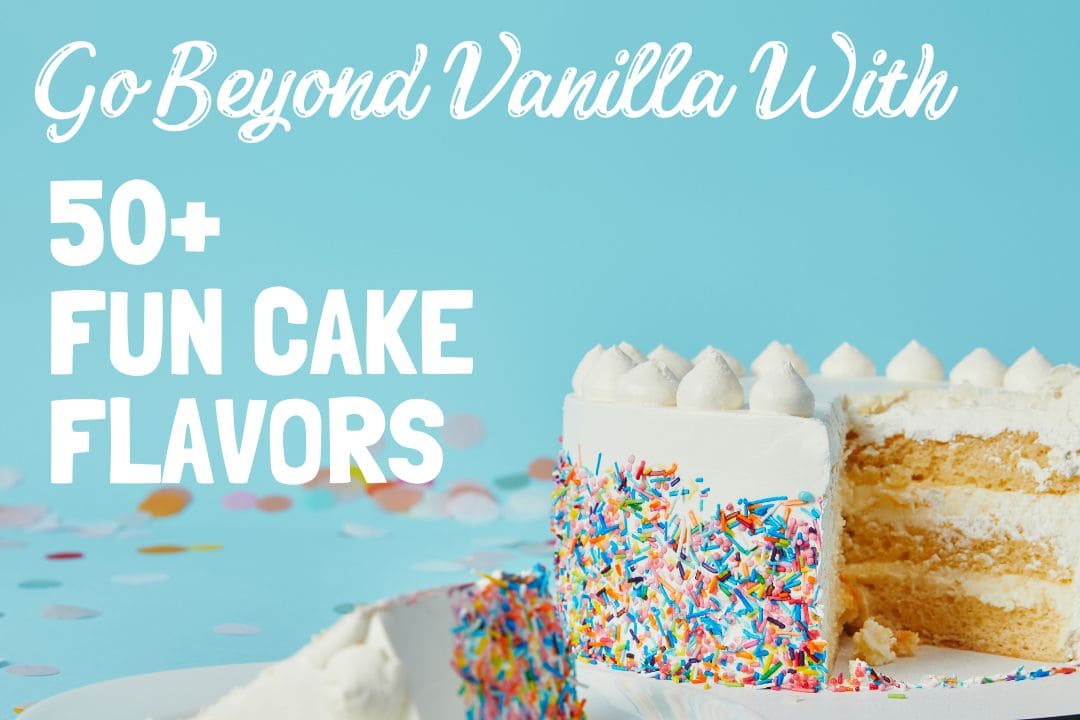 You may also like:
– The Big List of Winter & Christmas Cupcake Flavors & Recipes
– 35+ Easy Cake Filling Recipes
50+ Best Cake Flavors To Inspire Your Next Sweet Creation
1. Classic Vanilla
A timeless favorite, you can't go wrong with a vanilla cake complete with layers of fluffy vanilla sponge, velvety vanilla buttercream, and adorned with delicate vanilla bean specks. Add a pastel color icing or a vibrant hue to match your mood and event.
2. Decadent Chocolate
For chocolate enthusiasts, try a rich chocolate cake, smothered in smooth chocolate ganache or buttercream for pure cocoa bliss. Top with chocolate chips, chocolate shavings or even mini chocolate candy bars. Also, play around with milk, semi-sweet, dark and white chocolate until you find the perfect combination.
3. Zesty Lemon
A burst of tangy freshness, a citrus-infused cake with a delicate lemon sponge, tangy lemon curd filling, and a lemon cream cheese frosting is the perfect balance of sweet and tangy. Top with edible flowers, candied lemon peel or fresh lemon zest. Or keep it simple with a dusting of yellow or white sprinkles.
4. Lovely Lavender
Transport yourself to a fragrant garden with a lavender-flavored cake. Infuse your cake with lavender essence and complement it with light lavender buttercream frosting. A vanilla or citrus frosting would be great as well.
5. Caramel Swirl
Caramel Cake is a decadent dessert that boasts rich, buttery caramel flavor. Pair layers of fluffy vanilla cake with luscious caramel frosting for an indulgent treat. Top with a drizzle of caramel sauce for extra flavor and texture.
6. Red Velvet
Red velvet is an iconic cake flavor, characterized by its vibrant red hue, velvety texture, and cream cheese frosting that's simply irresistible. A true classic.
7. Blue Velvet
Blue Velvet Cake is a whimsical twist on the classic red velvet, featuring a rich blue-colored sponge infused with subtle cocoa and vanilla flavors. Topped with creamy cream cheese frosting, it offers a visually captivating treat for cake lovers.
Check out this Blue Velvet cake for inspiration!
8. Coconut Paradise
Escape to a tropical paradise with coconut-infused cake. A coconut sponge cake, creamy coconut buttercream, and a sprinkle of toasted coconut flakes will create a vacation for your taste buds. Citrus-flavored frosting would also be great!
9. Almond Joy
Channeling the flavors of the popular candy bar, an almond joy-flavored cake features a moist almond sponge, coconut filling, and a luscious chocolate ganache. Top with a sprinkling of coconut and even pieces of real Almond Joy candy bars.
10. Fresh Berry Bliss
Savor the lusciousness of summer with a berry-filled delight. Try making a vanilla cake with chopped seasonal berries such as strawberries, raspberries or blueberries mixed in the batter. Top with light whipped cream frosting and more fresh berries on top.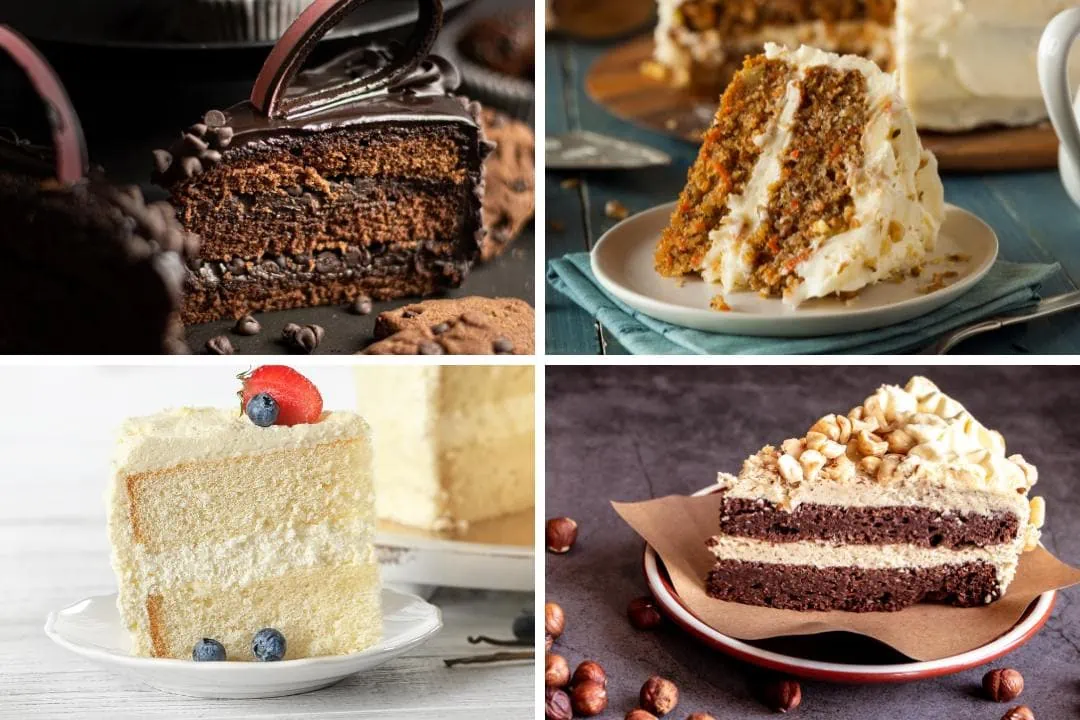 11. Spiced Pumpkin
Embrace the cozy flavors of fall with a spiced pumpkin cake. Try a pumpkin cake filled with warm spices like cinnamon, nutmeg, and cloves. Top it off with a creamy cream cheese frosting to balance out the sweetness.
12. Heavenly Hazelnut
Indulge in the nutty goodness of a hazelnut-infused cake. Pair layers of hazelnut sponge, with decadent chocolate-hazelnut ganache filling, and a velvety Nutella buttercream.
13. Cookies and Cream
A cookies and cream cake is a delicious dessert that tastes like your favorite cookie. Start with a vanilla cake and add crushed chocolate cookies to the batter. Cover in a creamy vanilla frosting and top with more cookie crumbs or even whole cookies.
14. Chocolate Cookies and Cream
In this version of cookies and cream cake, you start with layers of rich chocolate cake. Add a creamy vanilla frosting that's studded with crushed cookies for added texture and flavor. Top it off with generous amounts of cookies for some texture and visual appeal.
15. Pistachio Perfection
If you enjoy the delicate flavors of pistachio, this flavor is for you. Try pistachio sponge cake layered with pistachio buttercream, and a sprinkle of crushed pistachios for a nutty masterpiece. Pistachio also pairs nicely with chocolate.
16. Tropical Mango Tango
Take your taste buds on an exotic adventure with a mango-infused cake. Try a fruity mango sponge cake, mango curd filling, and mango buttercream to create a tropical delight. If you want to change up the flavors a bit, try pairing with lime or coconut.
17. Mocha Madness
Combining the flavors of coffee and chocolate, a mocha cake is simply layers of chocolate cake with espresso buttercream frosting. Can't get much easier or delicious than that!
18. Black Forest
Inspired by the classic German dessert, black forest makes a delicious cake flavor. Try layers of chocolate sponge filled with cherry compote, and topped with light whipped cream. Finish it off with chocolate shavings and cherries on top.
19. Salted Caramel
One of my personal favorites! Layer vanilla sponge cake with a salted caramel buttercream frosting. Top with more caramel frosting, drizzle with salted caramel sauce and sprinkle with sea salt. It's the perfect balance of sweet and salty.
20. Raspberry Lemonade
A delightful summer treat, this flavor combo pairs the tartness of raspberries with the zing of lemon. Try a raspberry-infused vanilla sponge, tangy lemon frosting, and a raspberry filling.
21. Matcha Green Tea
For tea enthusiasts, this cake offers a unique twist. Pair the earthy flavors of matcha green tea in a delicate sponge with a creamy vanilla, cocoa or citrus frosting.
22. Orange Blossom
Embark on a citrusy journey with this orange-infused cake. Start with a vanilla or orange sponge cake, add frosting with a hint of orange, and top with fresh orange zest.
23. Dark Chocolate Raspberry
Pair rich chocolate cake layers, luscious raspberry filling, and a velvety dark chocolate ganache to create an indulgent masterpiece.
24. Caramel Apple
Start with a spice cake, add layers of apple filling and top with a caramel cream cheese frosting and an extra drizzle of caramel sauce. It's a taste of the harvest season in every bite.
25. Strawberries and Cream
To create a heavenly dessert reminiscent of summer days, pair layers of vanilla cake with strawberry filling and creamy vanilla frosting. And of course, fresh strawberries on top!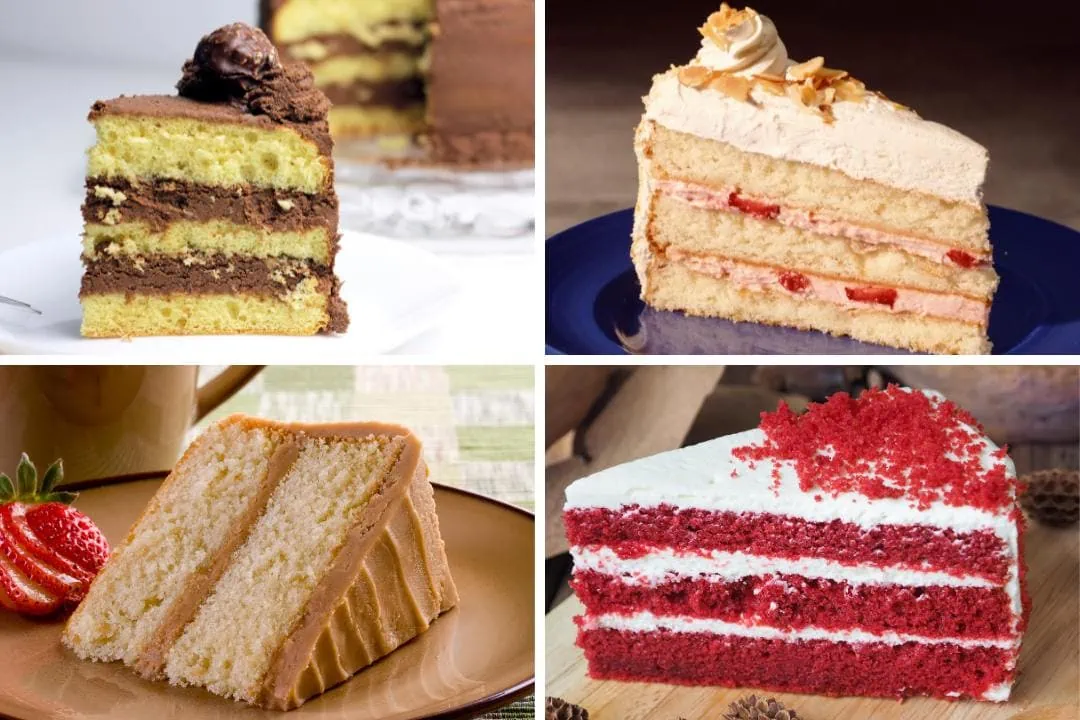 26. Cookies 'n' Dulce de Leche
Indulge in this heavenly combination of cookies and caramel. Vanilla cake layers, creamy dulce de leche filling, and a cookie-infused buttercream frosting make this cake a true treat for your taste buds.
27. Lemon Blueberry Bliss
A match made in heaven, this cake brings together the bright flavors of lemon and the sweetness of blueberries. Lemon-infused sponge, blueberry filling, and a tangy lemon cream cheese frosting create a delightful balance of flavors.
28. Chai Latte
Capture the cozy essence of spiced tea with a chai latte-inspired cake. Try a cake infused with warm chai spices like cinnamon, ginger, cardamom, and cloves. Paired it with a creamy vanilla buttercream frosting to evoke the comforts of a hot cup of tea.
29. Neapolitan Delight
Embrace nostalgia with a cake inspired by the classic ice cream flavor. Try layers of chocolate, vanilla, and strawberry cake, each with its corresponding frosting to create a whimsical and delicious combination.
30. Cinnamon Roll
Experience the aroma of freshly baked cinnamon rolls in cake form. Combine a cinnamon-infused sponge complete with swirls of cinnamon sugar, and a luscious cream cheese frosting to make a cinnamon lover's dream come true.
31. Coconut Lime
Transport yourself to a tropical oasis with this refreshing cake flavor. Coconut sponge, zesty lime curd filling, and a creamy coconut lime frosting create a taste of paradise in every bite.
32. Pistachio Rose
A Pistachio Rose flavored cake combines the delicate floral notes of rose with the nutty richness of pistachios. Start with a cake flavored with pistachio and hints of aromatic rosewater. Top with a luscious rose-scented frosting and garnish with crushed pistachios, for an elegant blend of flavors.
33. Ding Dong
A Ding Dong flavored cake is a decadent dessert reminiscent of the popular chocolate treat. It features a moist and rich chocolate cake layered with a creamy filling and covered in a luscious chocolate ganache.
34. Lemon Basil
A unique combination of zesty lemon and aromatic basil creates a refreshing and tangy cake. Try cake layers infused with lemon zest and fresh basil, add layers of tangy lemon curd, and cover with a smooth basil-infused cream cheese frosting. Garnish with fresh basil leaves and lemon zest.
35. Salted Caramel Popcorn
This is a fun one! Try a vanilla cake, then layer it with creamy salted caramel filling and frost with caramel buttercream. Top it off with caramel popcorn for a delightful crunch and a touch of whimsy.
You'll also love this recipe: Salted Caramel Cracker Bites
36. Honey Fig Goat Cheese
This sophisticated flavor features a honey-infused cake layered with a creamy goat cheese frosting and a sweet fig compote. Elegantly decorate it with fresh fig slices and a drizzle of honey.
37. Almond Apricot Cardamom
This flavor combines the nuttiness of almonds with the sweet and tangy flavors of apricot. The cake layers are infused with aromatic cardamom, filled with a luscious apricot compote, and frosted with a silky almond buttercream. Finish with toasted almonds and dried apricot slices for an elegant touch.
38. Zesty Lemon Poppy Seed
This citrusy delight offers a burst of refreshing lemon flavor and a delightful crunch from poppy seeds. Try lemon-infused cake layers, fill with a tangy lemon curd and cover with a light and fluffy lemon frosting. It can be garnished with lemon zest or a sprinkle of poppy seeds for a pop of color.
39. Classic Carrot Cake
A classic favorite, carrot cake is generously spiced and filled with shredded carrots and crushed walnuts. It is traditionally paired with a creamy and tangy cream cheese frosting that perfectly complements the sweetness of the cake. Chopped walnuts or a sprinkle of cinnamon can be added as a garnish.
40. Carrot Coconut Delight
This flavor takes the classic flavors of carrot cake and adds a tropical twist. Start with moist carrot-infused layers and add sweetened shredded coconut and crushed pineapple for added texture and a burst of fruity sweetness. Fill with coconut cream cheese frosting and top with toasted coconut flakes and delicate edible flowers.
41. Coffee Toffee Crunch
Coffee lovers will love this cake, which features coffee-infused layers paired with a luscious toffee filling. The chocolate cake is frosted with rich coffee buttercream and topped with crunchy toffee bits. A dusting of cocoa powder or a drizzle of caramel add even more zing!
42. PB&J Swirl
This flavor combines the nostalgic flavors of a classic peanut butter and jelly sandwich. Try vanilla and peanut butter-swirled cake layers filled with a sweet strawberry jam and frosted with a fluffy peanut butter buttercream. It's a playful and delicious twist on a beloved combo.
43. Birthday Cake Explosion
This cake is a celebration in itself! Start with colorful confetti cake layers, frosted with vibrant and creamy buttercream, and top it all off with a rainbow of sprinkles and even edible glitter.
You may also like: 12 Best Birthday Cakes To Order Online For Delivery
44. Cotton Candy Carnival
Step right up and indulge in the sweet and fluffy goodness of a cotton candy carnival cake. Infuse your cake layers with cotton candy flavoring, filled with a light and fluffy cotton candy mousse, and covered in a pastel-colored buttercream. Decorate with cotton candy tufts and colorful sugar sprinkles for a touch of whimsy.
45. S'mores Sensation
Experience the campfire treat in cake form with a s'mores-flavored cake. Fill chocolate cake layers with gooey marshmallow cream and a rich chocolate ganache. Frost with a graham cracker buttercream and finish with toasted marshmallows, graham cracker crumbs, and chocolate shavings.
Be sure to check out this yummy Oreo S'mores Dip too!
46. Bubblegum Blast
This cake is a burst of fun and whimsy. Infuse vanilla cake layers with a bubblegum flavor and fill with bubblegum-flavored cream. Frost with a colorful buttercream, garnish with gum balls and rainbow sprinkles.
47. Mint Chocolate Chip
Indulge in the cool and refreshing flavors of mint chocolate chip ice cream with this cake. Start with chocolate cake layers, fill with a chocolate ganache and frost with a mint green buttercream and decorated with chocolate chips and mint leaves.
48. Caramel Macchiato
In this cake flavor, espresso-infused cake layers are filled with a creamy caramel filling and frosted with a velvety caramel buttercream. Drizzled with caramel sauce and adorned with a sprinkle of coffee beans or chocolate-covered espresso beans, this cake is a coffee lover's dream come true.
49. Lemon Meringue Pie
Enjoy the zesty flavors and fun textures of lemon meringue pie in cake form. Try lemon-infused cake layers, filled with a tart lemon curd and top with a fluffy toasted meringue frosting. Decorated with lemon zest and meringue kisses, this cake brings the sunny flavors of a classic pie to a delightful dessert.
50. Salted Caramel Pretzel Crunch
Start with caramel-flavored cake layers and fill with salted caramel and crunchy pretzel bits. Frost with a caramel buttercream and decorate with caramel drizzle and pretzel pieces, for a fun combination of flavors and textures.
---
We hope these 50+ cake flavors have inspired you to try some new tastes, textures and combinations. With so many delicious options to choose from, there's never been a better time to experiment with flavors and ingredients.
So go ahead, get creative, and treat yourself and your loved ones to some irresistible cakes!
Up Next:
– 101 Best Shaved Ice and Snow Cone Flavors and Syrups
– Crumbl Cookies Inspired By Cake Flavors
Micky Reed, a two-decade veteran in the food and baking industry, leverages her influential Three Snackateers food blog and Instagram presence to collaborate with industry giants like Ben & Jerry's and Crumbl Cookies. Her work has been featured on Delish, PopSugar and more. Her expertise as a product curator for one of the world's largest international snack subscription box companies solidifies her status as a key player in the field.