If you're a coffee lover, you've probably tried a lot of different brands and roasts. But have you ever tried Bones Coffee?
Bones Coffee is a small-batch coffee roaster best known for its wide variety of unique and interesting flavors like What The Fluff?! (berry cotton candy flavor) and Electric Unicorn (fruity cereal flavor).
In this Bones Coffee review, we'll take a closer look at the company and what they have to offer. We'll also provide an overview of some of the most popular flavors, so you can decide which ones you want to try.
So whether you're looking for something new to try or just want to learn more about this brand, read on!
Related Reading:
– 8 Best CBD Coffees To Try in 2022
– Pumpkin Cream Cold Foam Cold Brew (Starbucks Copycat Recipe)
What Is Bones Coffee?
Bones Coffee is a family-owned coffee company based in Florida. Their artisan coffee beans are roasted to perfection and then shipped fresh to their customers around the world.
Let's take a quick look at exactly how fresh their coffee actually is.
Only after you place your order do they actually begin roasting and flavoring the beans for your order. That takes about 2 days. On day 3, they grind and bag up the coffee. Then on days 4 and 5, your order is packed and sent off with the courier to start the journey to your house. I'd say that's pretty fresh!
Fresh coffee is awesome, but what really makes Bones Coffee unique is its flavor profiles.
They are kind of like the mad scientists of the coffee world. At any given time, they offer around 30+ flavors including regular, limited edition and seasonal flavors. We'll talk a lot more about their crazy flavors in the next section.
Bones Coffee Review
As mentioned, Bones Coffee is known for its wide variety of fun flavors that suit literally any coffee drinker's taste.
Every bag of Bones is instantly recognizable with its stark black bag. On the front of the package, each flavor features a graphic of a darkly whimsical "Bones" character living his best life!
For traditionalists, you'll want to check out their single-origin coffees from the best coffee regions in the world including Colombia, Ethiopia, Guatemala, Costa Rica and Sumatra.
For those who like flavored coffee with a bit of sweetness and fun names, take a look at their fun flavors like Sinn-O-Bun (cinnamon roll) and Jamaican Me Crazy (vanilla caramel).
If you want to try something totally unique, how about Holy Cannoli (cannoli), Mini Invaders (mint chocolate chip ice cream), Peaches and Scream (peaches and cream), From Dusk Till Donuts (jelly donut).
Are seasonal flavors your thing? If so, you'll love that Bones is always adding fan-favorite flavors of the seasons like pumpkin spice, caramel apple, egg nog, peppermint and even carrot cake!
If you're a pop culture fan, check out the Bones website often for the latest featured collection. For example, in fall 2022, Bones unveiled their Disney Tim Burton's The Nightmare Before Christmas collection.
Flavors in this collection included:
Ruff Weather (oatmeal cream pie)
The Pumpkin King (pumpkin pecan praline)
Mudslide Boogie (mudslide)
Frog's Breath (chocolate mole)
Santa Jack (cranberry creme brulee)
And finally, if you're a decaf drinker, you know it can be a challenge to find cool flavored coffees, but Bones has you covered! One really awesome thing about Bones is that they also offer a ton of fun flavors in decaf options.
Bones Coffee Flavors
For some reason, Bones doesn't have a "flavors" page on their website that gives you a nice overview of all of your options. So to help you out, we've gone ahead and gathered up a complete list of their regular flavors below.
We didn't include seasonal and limited edition flavors because they change too frequently. To stay up to date on the newest releases, definitely be sure to follow Bones on social media.
Bones Coffee Flavor List
Highland Grog: Spiced rum flavor with hints of butterscotch & caramel
Holy Cannoli: Sweet and creamy flavors of a fresh-baked cannoli
Salty Siren: Chocolate mocha with sea salt caramel
S'morey Time: All the flavors of S'mores – chocolate, toasted marshmallow and sweet graham cracker
Mint Invaders: Mint chocolate chip ice cream flavored coffee
Sinn-O-Bunn: Tastes just like an iced cinnamon roll. No sugar added.
From Dusk Till Donuts: Sweet jelly donut
Strawberry Cheesecake: Sweet blend of fresh strawberry and savory cheesecake flavor
Maple Bacon: Sweet maple paired with smoky, savory bacon
Jamaican Me Crazy: A perfect blend of vanilla, caramel and coffee liqueur
Cookies N' Dreams: A sweet blend of chocolate sandwich cookies and vanilla ice cream flavor
Peaches and Scream: The zing of juicy peaches with a smooth creamy finish
Electric Unicorn: Fruity cereal and milk flavor
French Toast: Smooth and savory blend of sweet buttery toast and hints of maple syrup, vanilla and cinnamon
White Russian: The cream and coffee liqueur flavors of the classic cocktail in coffee form
Bananas Foster: All the flavors of the infamous dessert – flambeed bananas, butter, brown sugar, cinnamon, dark rum sauce and vanilla ice cream
Salted Caramel: Smooth, medium roast with salted caramel flavor
Chocolate Raspberry: Decadent chocolate with sweet and tangy raspberry
Irish Cream: Creamy, nutty flavor of Irish Cream liqueur without the actual whisky
Peanut Butter & Jelly: Smooth medium roast with flavors of grape jelly and creamy peanut butter
What The Fluff?!: Sweet cotton candy flavor with a twist of berry. Tastes great hot, iced or affogato.
Coconut Rum: A balance of rum and fresh coconut
French Vanilla: Rich and creamy vanilla flavor inspired by the famous French method of ice cream making
Chocolate Orange: Sweet, tangy orange paired with decadent and creamy milk chocolate
Bluesberry: A sweet and savory experience of fresh blueberry and a hint of cream
Army Of Dark Chocolate: Dark roast coffee with dark chocolate flavor
Mustachio: Medium roast pistachio-flavored coffee with a subtly nutty flavor
Macamania: Buttery macadamia nut with sweet coconut flavor
High Voltage: Signature blend of hand-roasted beans with twice the amount of caffeine in a regular cup of coffee. Full, rich and smooth flavor
Bourbon Barrel Aged: 100% Arabica beans are aged in charred oak bourbon barrels resulting in a sweet and smokey bourbon flavor
Medium Roast: Rich and smooth
Dark Roast: Full-bodied, yet smooth
Espresso: Full-bodied, robust espresso with low acidity and hints of citrus and cocoa
Rainforest Alliance Coffees
Sumatra Single Origin: From Mandheling, Sumatra. Dark roast with dark chocolate, earthy and smoky notes.
Costa Rica Single Origin: From Tarrazu, Costa Rica. Medium roast with almond, brown sugar and raisin notes.
Guatenala Single Origin: From Chimaltenango, Guatemala (Finca El Pacayal). Medium roast with milk chocolate, caramel and citrus notes.
Colombia Single Origin: From Huila, Colombia. Medium roast with cocoa, green apple and nutty notes.
Ethiopia Single Origin: From Sidamo, Masha Village. Light roast with berry, citrus and floral notes.
What Does Bones Coffee Use To Flavor Its Coffee?
Bones Coffee is made with 100% Arabica coffee with natural and artificial flavors. The specific flavorings used are kept top secret to protect their intellectual property and to keep you coming back for more fun flavors!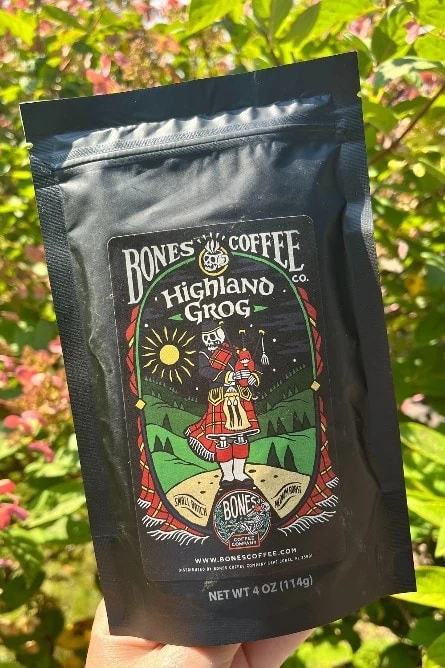 Where To Buy Bones Coffee
Your best bet is to buy Bones Coffee directly from the official company website. You'll have the best selection of flavors and products like mugs, shirts and tote bags, plus your coffee will be as fresh as possible.
Another perk to buying direct is access to their sales, free shipping deals, discount codes and rewards program. In fact, you can use our promo code SNACK15 for 15% off your order right now of you order on the Bones website.
A limited selection of Bones Coffee can also be found at Walmart and on Amazon.
How Much Is Bones Coffee?
A 12 oz bag of ground or whole bean Bones Coffee costs around $15.99. Their 5-bag samplers packs start around $32.
You can also find their coffee in single-serve cups (similar to K-cups) that are compatible with Keurig 1.0 and 2.0 machines.
You can also join their Bones Coffee Club which is basically a recurring coffee subscription with a 10% discount. Simply, select your favorite flavors, how many bags per month you want and how often you want them delivered. Then sit back and wait for your coffee to arrive on your doorstep.
Frequently Asked Questions
Where Is Bones Coffee Based Out Of?
Bones Coffee's headquarters are in Cape Coral, Florida.
Is Bones Coffee Veteran Owned?
No, Bones Coffee is not veteran owned.
Does Bones Coffee Contain Alcohol?
No, Bones Coffee does not contain alcohol. While some of the flavors are inspired by alcoholic drinks like the White Russian, the coffee itself only uses natural and artificial flavors, not real alcohol.
Other alcohol-inspired flavors are Highland Grog, Bananas Foster, Irish Cream, Jamaican Me Crazy and Bourbon Barrel Aged
Does Bones Coffee Have More Caffeine?
Most Bones Coffee flavors contain an average amount of caffeine per cup. However, their High Voltage flavor contains double the amount of caffeine per cup for an extra kick. It has nearly 250 5-star customer ratings.
Is Bones Coffee Instant Coffee?
Bones Coffee sells a wide range of coffee products in innovative flavors. You can select from 12-ounce bags of ground or whole bean coffee. A variety of 4-ounce sample bags are also available. In addition, you can get single-serve pods and cans of cold brew lattes.
Their only true "instant" product is their hot cocoa. You simply add hot milk and stir.
What Flavor Is Shark Bite Bones Coffee?
Shark Bite is a limited edition Bones Coffee flavor that makes an appearance from time to time. It was released in 2018 and returned in the summer of 2021. It is a medium blend coffee made from 100% Arabica beans that are infused with spiced, buttered rum flavor.
Bottom Line: Bones Coffee – Worth The Hype?
In my opinion, Bones Coffee is a great option for any coffee lover that appreciates quality coffee in unique flavors. The company takes great pride in offering the best and freshest coffee possible.
At around $16 per bag, it's relatively affordable compared to other high-quality, gourmet coffee. You can also grab additional savings with their discounts and rewards program. And don't forget you can get 15% off using code SNACK15.
And finally, Bones would make a really great gift. I know I would love to get a surprise package of Bones Coffee in the mail! There are flavors and blends to suit every taste and the fun packaging is enough to make anyone smile. You can also get gift cards on the Bones website.
Bottom line: I highly recommend Bones Coffee company to any coffee lover looking for a high-quality, affordable product. My personal favorite is Salty Siren and I hope you try out some flavors to find your own personal favorite too. Thanks for reading!