Have you ever wanted to try a gourmet, artisan peanut butter, but just not sure if it's worth the money? We tried three BNutty Peanut Butter flavors and you'll be surprised at what we found.
This post contains affiliate links. As an Amazon Associate I earn from qualifying purchases. Please read our disclosure policy for more information.
Our BNutty Peanut Butter Taste Test
Before we get into our reviews, here's a little background info about BNutty Peanut Butter. The company was established in 2014 and is based in Indiana. Their peanut butter is made using freshly ground honey roasted peanuts as opposed to common lightly salted blanched peanuts. They have 10 mouth-watering, artisan flavors and some rotating seasonal flavors that are packed with mix-ins like chocolates, berries, oats, honey and even marshmallows and pretzels.
We received three flavors directly from BNutty Peanut Butter to sample. The flavors we put to the test are Totally Toffee, Irresistible Pretzel and Blissful Blueberry.
Without further ado, let's get to the reviews. Spoiler alert: YUM!
First up is …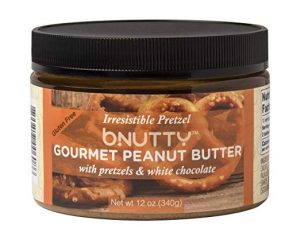 The Irresistible Pretzel peanut butter flavor is honey roasted nuts blended with pretzels and white chocolate. I was most excited to try this flavor because I love pretzels and white chocolate. It did not disappoint. It is packed with big pretzel chunks and tons of white chocolate chips.
It's actually hard to take a bite without getting some pretzel or white chocolate! The texture of the peanut butter is creamy, but grainy (in a good way). The pretzels add a great crunch – yep, they stay really crunchy even though they are covered in peanut butter! The white chocolate adds a nice pop of color, another interesting texture and a hint of sweetness.
Two big peanut buttery thumbs up on this one. Loved it! If you think this flavor sounds awesome (which it is!), you can get it here on Amazon – BNutty Irresistible Pretzel Peanut Butter.
The Totally Toffee peanut butter flavor is honey roasted peanuts ground into a crunchy nut butter then mixed with toffee bits and milk chocolate. The first thing that struck me about this flavor is the texture. It doesn't have big pieces of mix-ins like the Irresistible Pretzel flavor. Instead, the entire peanut butter is just all texture. It's a chunky, crunchy peanut butter with small bits of toffee and almonds that add tons more texture. The chocolate is soft and creamy which adds another textural delight for your mouth.
All of the flavors work together so well. There isn't a single flavor note that really stands out. It's just a beautiful blend of sweetness and crunch. It really is like eating a candy bar on a spoon.
This is the most versatile of the flavors I sampled. You could easily substitute this Totally Toffee flavor for any recipe that calls for peanut butter. It is equally good on a piece of toast or right from the jar.
I am majorly impressed with this flavor and highly recommend it. Can't wait to try it too? You can get it here on Amazon – Totally Toffee Peanut Butter.
The Blissful Blueberry peanut butter flavor is honey roasted nuts blended with blueberries and milk chocolate. To be honest, I wasn't too sure about trying this one. I don't even really like blueberries. And blueberries with peanut butter? That's just weird, right?
But for the sake of research, I knew I what I had to do. First I tried just a little bit of the peanut butter. To my surprise and delight, I liked it! I thought the mighty peanut butter would overpower the delicate blueberry, but boy, was I wrong. The blueberry was the star of the show and the peanut butter complemented it nicely.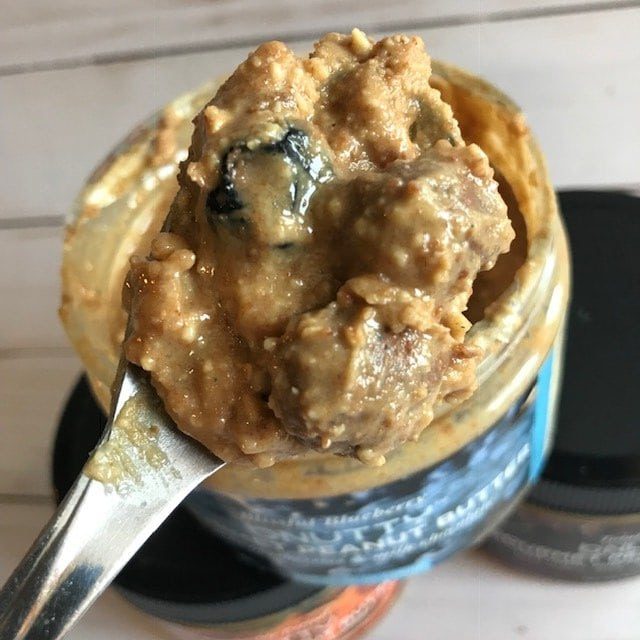 I was also surprised to find that the blueberries are whole and covered in chocolate. As you can see in the above photo, there is a whole blueberry near the center that some of the chocolate came off of. In the lower right, you can see two more huge blueberries totally enrobed in chocolate.
If you love blueberries or just trying interesting new foods, this Blissful Blueberry peanut butter is for you. You can order it here on Amazon – BNutty Blissful Peanut Butter.
RELATED READING: The Best of Reese's Peanut Butter in 2019

If you like what you've heard so far, keep reading. B Nutty has lots of other flavors too. If they are anything like the flavors we tried, they will be delicious.
The S'more Dreams peanut butter flavor is honey roasted nuts blended with graham crackers, milk chocolate, and marshmallows. Order S'more Dreams here on Amazon.
The Coco-Nutty peanut butter flavor is honey roasted nuts blended with roasted coconut flakes, dark chocolate, and almond slivers. Order Coco-Nutty here on Amazon.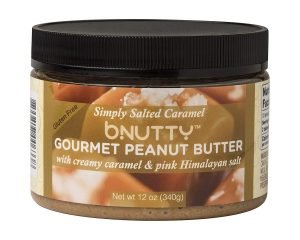 The Simply Salted Caramel peanut butter flavor is crunchy ground honey roasted peanuts mixed with a caramel ribbon and pink Himalayan sea salt. Order Simply Salted Caramel here on Amazon.
The Skinny Dip peanut butter flavor is honey roasted peanuts ground, granola, raisins, dried cranberries, almonds and honey combine for a unique crunchy peanut butter treat! Order Skinny Dip here on Amazon.
The Joyful Cranberry peanut butter flavor is honey roasted nuts blended with cranberries, white chocolate, and dark chocolate. Order Joyful Cranberry here on Amazon.
The Peacefully Plain Creamy peanut butter is honey roasted nuts in a creamy texture. Order Peacefully Plain Creamy here on Amazon.
The Peacefully Plain Crunch peanut butter is honey roasted nuts in a crunchy texture. Order Peacefully Plain Crunch here on Amazon.
Be sure to save your favorite BNutty Peanut Butter flavor to your 'MUST HAVE' board on Pinterest or share with your friends on Facebook, Instagram or Twitter.
If you've already tried BNutty or are looking forward to trying it for the first time, leave us a comment below. We can't wait to hear if you like BNutty as much as we do!
Micky Reed, a two-decade veteran in the food and baking industry, leverages her influential Three Snackateers food blog and Instagram presence to collaborate with industry giants like Ben & Jerry's and Crumbl Cookies. Her work has been featured on Delish, PopSugar and more. Her expertise as a product curator for one of the world's largest international snack subscription box companies solidifies her status as a key player in the field.