Don't let not drinking alcohol or watching your sugar intake stop you from having a delicious, refreshing cocktail.
Whether you're trying to stick to your New Year's resolutions, need a kid-friendly beverage for the holidays or are just looking for a light, summery drink, one of these 10 sugar-free mocktail recipes is perfect for you.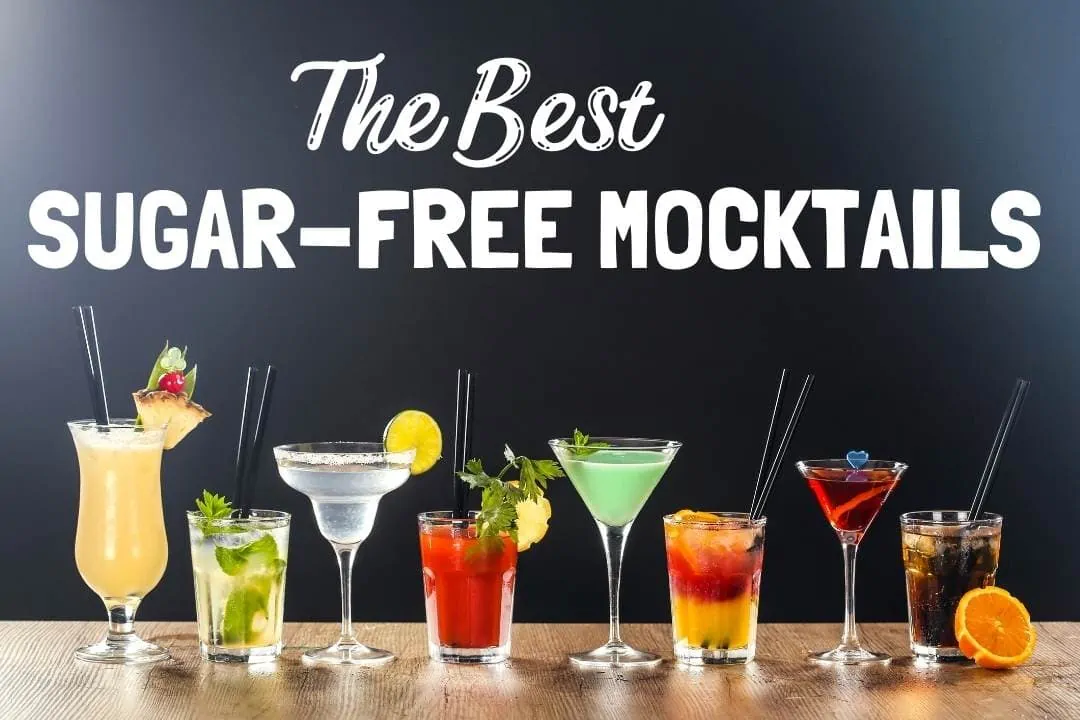 You may also like: 30 Easy Non-Alcoholic Christmas Punch Recipes For The Holidays
10 Best Sugar-Free Mocktail Recipes
You'll find everything in this list from fruity and refreshing pina coladas and mojitos to classy Tom Collins and Moscow mules.
So whether you're hosting a party or just enjoying a night in, be sure to give these tasty mocktails a try. Cheers!
Pina Colada Mocktail
Nothing beats a fruity pina colada on a warm, sunny day. This refreshing mocktail is a delicious alcohol-free version of the original cocktail.
Ingredients include pineapple, coconut milk, unsweetened pineapple juice, lime juice and optional maple syrup.
The recipe also includes several variations including a blended version.
No Sugar Added Sparkling Pear Mojito Mocktail
You only need four simple ingredients to make this healthy, non-alcoholic version of a delicious sparkly mojito.
A classic mojito typically includes white rum, sugar, mint, lime juice and soda water.
This mocktail has no added sugar, so all you'll need is sugar-free pear juice, fresh mint and basil, plus sparkling or soda water.
Peach Pineapple Mojito Mocktail
This creative mojito mocktail recipe uses zero sugar Coconut Pineapple Sparkling Ice Water to add delicious tropical flavor and fizz!
You'll also need fresh peaches, mint leaves, lime juice and pineapple juice to prepare this delicious virgin mojito recipe.
Mimosa Mocktail
Mimosas are the perfect drink for brunch, breakfast and baby showers. Traditional mimosa recipes use orange juice and champagne.
If you're looking to skip the alcohol, this mimosa mocktail will do the trick.
For this virgin mimosa with no added sugar, you'll need orange juice, sparkling white grape juice or lemonade and some fresh orange slices for a garnish.
Tom Collins Mocktail
This non-alcoholic Tom Collins recipe kicks up the traditional recipe by adding peach juice for a refreshing twist.
This summery mocktail tastes like delicious peach lemonade and of course, no alcohol or added sugars.
To make this recipe, you'll need peach juice, lemon juice and club soda. If you'd like, you can garnish with lemon slices and maraschino cherries.
Virgin Bloody mary
The Bloody Mary is another classic brunch cocktail that many people love. And everyone seems to have their own preference for garnishes to go on top!
This non-alcoholic Bloody Mary recipe is so packed with veggies, that it's almost like a meal in a cocktail glass (minus the vodka!).
Here's what you'll need: tomato juice, green olive brine, garlic, hot sauce, cucumber, celery, lemon juice, horseradish, and Worcestershire sauce.
And of course, add all of your favorite garnishes like green olives and celery.
Sugar-Free Grapefruit Ginger Mocktail
This sugar-free mocktail is sweet, sparkly and packed with flavor that both grown-ups and kids will enjoy.
With only 3 ingredients, it's quick and easy to make for any get-together.
To make this spritzer, you'll need pink grapefruit juice, ginger ale sweetened with Stevia (Zevia soda), ginger juice and grapefruit for optional garnishes.
Blackberry Lime Mocktail
This sugar-free mocktail is sweet, tart, refreshing and delicious. To make this recipe, you first start with a blackberry syrup made with alternative sweeteners called erythritol and stevia.
You'll also need fresh blackberries, water, sea salt, lime juice and a surprise ingredient, vanilla extract!
Sugar-Free Pomegranate Cranberry Mocktail
With its comforting and cozy flavors, this festive, sparkly non-alcoholic beverage is perfect for the fall and winter holidays.
This drink would be a delicious alcohol-free addition to your Thanksgiving or Christmas meal.
To make this mocktail, you'll need pomegranate juice, unsweetened cranberry juice, fresh orange juice and ginger kombucha. You can also use sparkling water instead of kombucha.
Moscow Mule Mocktail
A traditional Moscow mule cocktail is made with ginger beer, vodka, lime juice, mint and served in a signature copper mug.
With a few simple substitutions, you can enjoy a sugar-free, alcohol-free Moscow mule too. This is also a keto-friendly mocktail.
For this recipe, you'll need Zevia ginger beer soda, lime juice, grated ginger, mint leaves and a splash of diet soda instead of the vodka.
Frequently Asked Questions
What is the purpose of mocktails?
Mocktails are non-alcoholic beverages that imitate the flavor and presentation of cocktails. While mocktails have been a long time they have recently gained popularity as an alternative to alcoholic drinks as people are becoming more health conscious.
Many people enjoy mocktails because they offer all the flavor of a cocktail without the associated risks of alcohol consumption. Mocktails are a great option for pregnant women, young children, and designated drivers.
You may also like: 30 Easy Non-Alcoholic Christmas Punch Recipes For The Holidays
What are healthy mocktails?
Mocktails can be just as delicious as their alcoholic counterparts. When making a healthy mocktail, you'll want to avoid sugary mixers and instead opt for something like fruit juice, seltzer water, or sugar-free sodas.
You can also get creative with your garnishes to add extra healthy ingredients – think fresh fruit, herbs, or even edible flowers.
And don't be afraid to experiment – there are endless flavor combinations to explore when swapping out alcohol in your drinks.
Do mocktails contain sugar?
To make up for the alcohol, many mocktails contain added sugars, soda, and other sweeteners, which can make them quite high in sugar.
For example, a popular mocktail known as the Shirley Temple contains grenadine syrup and 7-Up, both of which are high in sugar.
However, there are also many mocktail recipes, like the ones in this article, that use unsweetened juices, sparkling water, diet soda, carbonated drinks and alternative sweeteners. These types of mocktails can be much lower in sugar, making them a healthier option.
So, if you're looking to limit your sugar intake, be sure to check the ingredients list before making or ordering a mocktail.
---
If you're looking for a delicious way to celebrate without alcohol, or you're simply trying to avoid sugar, the sugar-free mocktail recipes in this article are a perfect solution.
From fruity and refreshing to rich and decadent, there's something for everyone on this list. And the best part is, all the drink recipes all completely alcohol-free with no added sugars, but taste just as good as the real thing. Bottoms up!
10 Best Sugar-Free Mocktail Recipes
You'll find everything from fruity and refreshing pina coladas and mojitos to classy Tom Collins and Moscow mules with these delicious sugar-free mocktails recipes.
Ingredients
Instructions
Select your favorite sugar-free mocktail recipe.
Gather the ingredients and prepare the recipe.
Enjoy!