CBD gummies are a popular way to consume CBD, and there are many reasons why people love them. They're convenient, portable, and taste great.
However, CBD gummies often taste so good because they are loaded with sugar. Thankfully, there are a few reputable CBD companies out there that now offer sugar-free CBD gummies.
These delicious treats are perfect for those who want to enjoy the benefits of CBD without having to worry about consuming too much sugar. Sugar-free CBD edibles like gummies are a great option for people who are trying to watch their weight, manage their blood sugar levels or have diabetes.
Unfortunately, there aren't a lot of companies that offer CBD gummies without sugar. But don't worry! We've done the legwork for you and come up with a list of the best sugar-free CBD gummies that we could find.
BEST SUGAR-FREE CBD GUMMIES OVERVIEW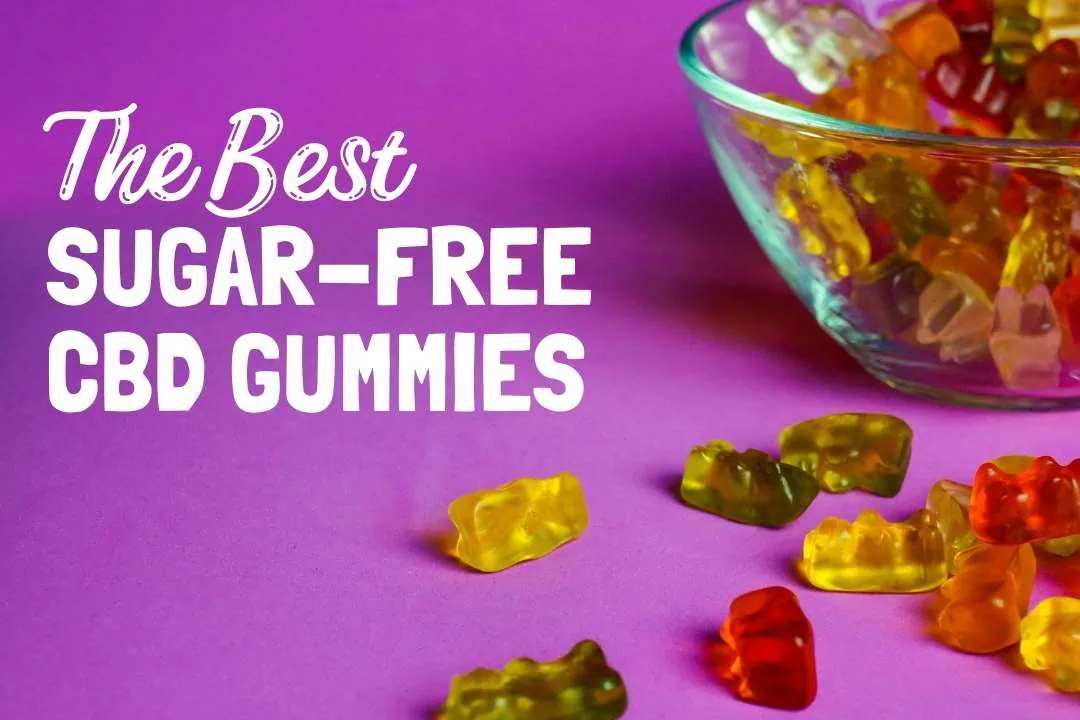 Do CBD Gummies Have A Lot Of Sugar?
CBD gummies are one of the most popular ways to take CBD, but many people wonder if they contain a lot of sugar.
The hard truth is that most CBD gummies do contain added sugar. The sugar is sometimes added to mask the taste of the CBD.
While the amount of sugar is different with every product, we've seen gummies with 4 or more grams of sugar per serving!
If you have diet restrictions, diabetes or other blood sugar concerns, a sugar-free CBD gummy might be a better option for you. Always check with your doctor before taking CBD.
Do CBD Gummies Come In Sugar-Free?
While it is true that most brands add sugar to their gummies, there are a few reputable CBD companies (like the ones on this list) that make CBD gummies without sugar. Some common sweeteners used in sugar-free CBD gummies are natural fruit juices, pectin, xylitol and maltitol.
Can Diabetics Eat CBD Gummies?
First and foremost, check with your doctor before taking CBD or any other supplement. CBD affects everyone differently and it can interact with other medications.
If your health care provider gives you the green light, one of the sugar-free CBD gummies on this list could be a good fit.
Best CBD Gummies With No Sugar
Sweetened with natural fruit flavors and pectin
About Batch Sugar-Free CBD Gummies
25 mg CBD per gummy
Full spectrum
Vegan, gluten-free
Natural flavors of blueberry, raspberry & mango
Wisconsin-grown hemp
Ingredients: Organic Tapioca, Pectin, Citric Acid, Distilled Full-Spectrum Hemp Extract, Natural Flavors (Fruit), Natural Colors (Fruit), Sodium Citrate, Refined Organic Coconut Oil.
Best Full-Spectrum Sugar-Free Gummies
Sweetened with Xylitol, a low-calorie sweetener naturally found in strawberries and plums
About American Shaman Sugar-Free Full Spectrum Gummies
25mg CBD per gummy
Made with full-spectrum hemp oil
Orange, blue raspberry and watermelon flavors
Use plant-based pectin instead of animal-based gelatin
Ingredients: Lycasin (hydrogenated starch hydrolysates), Xylitol Crystalline, Pectin, Hydrogenated Palm Kernel Oil w/ Soy Lecithin, Citric Acid, Watermelon Flavor & Color (propylene glycol, FD&C red 3), Full Spectrum Hemp Extract
Best Sugar-Free CBD Gummies For Anxiety
Known For Calming, Relaxing Products Inspired By Hawaii
About Verma Farms CBD Gummies For Stress & Anxiety
12.5mg CBD per serving
CBD isolate (no THC)
US-grown hemp
Organic, pesticide-free, GMO-free
Ingredients: Maltitol Syrup, Water, Gelatin, Lactic Acid, Citric Acid, Natural And Artificial Flavors, Pectin, Aspartame, FD&C Yellow #5 & #6, Red #40, Blue #1, Vegetable Oil (Coconut), Carnauba Leaf Wax (To Prevent Sticking), Cannabidiol
Best Sugar-Free CBD Gummies For Sleep
Includes melatonin to help you fall asleep and stay asleep
About Happy Hemp Sugar-Free Gummies For Sleep
Available in 250mg, 750mg, 1500mg concentrations
Formulated with melatonin to support restful sleep
Flavors include orange, strawberry and blue raspberry
Made in the US
Keto & Diabetic Friendly
Ingredients: Maltitol, Sorbitol, Modified Corn Starch, Gelatin, Citric Acid, Natural And Artificial Flavor, Glazing Agent, Beeswax, Carnauba Wax, Steviol Glycosides, Vegetable Oil, Yellow #5, Red #1, Cannabidiol.
You may also like: 10 Best CBN Gummies For Sleep and 15 Best CBD Gummies For Sleep
Best Sugar-Free CBD Gummies – 1000 MG
Available in FIVE sizes for all types of users
About Just CBD Sugar-Free Gummies
Available in 250mg, 500mg, 750mg, 1000mg, and 3000mg bottles
Made with CBD isolate
Sweetened with maltitol syrup and real fruit juices
Best Sugar-Free CBD Gummies On Amazon
None! We don't recommend buying sugar-free CBD or any other CBD products on Amazon. You're much better off buying directly from one of the reputable companies on this list.
The majority of companies selling products on Amazon are actually offering hemp oils, not CBD. Check out this helpful article from Joy Organics (another really great CBD company!), for more information about buying CBD on Amazon.
---
There you have it! If you're looking for a tasty and convenient way to get your CBD fix, be sure to check out some of the best sugar-free CBD gummies on this list.
You may also be interested in: