If you're looking to up your macaron game, you're in luck! There are a number of excellent macaron cookbooks on the market, each offering its own take on the classic French pastry.
We've gathered up seven of the best macaron recipe books you'll want to check out in your quest to make the perfect batch of homemade French macarons. Bon appetit!
The Best Macaron Cookbooks For Every Type Of Baker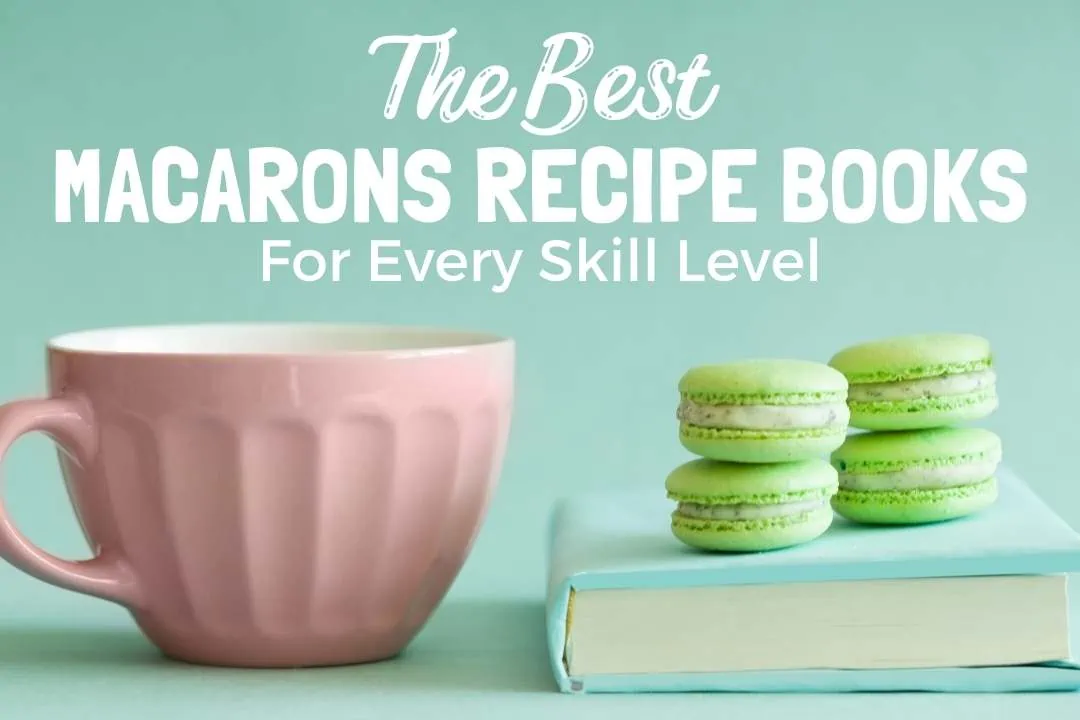 You may also like:
– Why Are Macarons So Expensive?
– What Do Macarons Taste Like?
– Blue Macarons: Flavors, Recipes & Where To Buy
Best For Serious, Advanced Bakers
Author: Pierre Hermé
Pages: 264 pages
Publish Date: 2015
Amazon Rating: 4.7/5.0
This cookbook, written by top French pastry chef Pierre Herme, has been called the 'definitive guide to macarons'. This chef's exquisite desserts are coveted around the world.
In this recipe book, he reveals his genius including his original flavor combinations like cucumber and tangerine, wasabi cream and strawberry, and hazelnut and asparagus. He also includes many of his newest recipes for a total of 60 gorgeous macarons you can make at home.
Due to advanced techniques and exotic ingredients, this book is best for the serious macaron baker or others with a higher level of baking expertise. However, this macarons cookbook has stunning photography, making it a beautiful coffee table book for any home!
---
Best Macaron Book To Give As A Gift
Author: Vincent Lemains
Pages: 320 pages
Publish Date: 2015
Amazon Rating: 4.7/5.0
This gorgeous book features the 130 iconic macarons created by Ladurée, one most well-known luxury pastry shops in the world. The book is loaded with beautiful photos and even comes with a whimsical poster highlighting the delicious macaron flavor combinations.
This is not a traditional recipe book, since it only contains recipes for some of the flavors to try on your own at home in your own kitchen. However, the design of the book is elegant and stunning. It even comes in a beautiful gift box. This beautiful book would make a perfect gift for a food or art lover.
This recipe book can be purchased on Amazon or Goldbelly. Goldbelly is also an amazing place to shop online for macarons from the world's best bakeries … including Laduree Paris!
---
Best New Macaron Cookie Book
Author: Camila Hurst
Pages: 168 pages
Publish Date: 2022
Amazon Rating: 4.9/5.0
Learn all the fundamentals from macaron master Camila Hurst who has baked thousands of macarons over the years! This book includes recipes plus sections dedicated to shell decorating, finding the right ingredients and tools, and troubleshooting common issues.
This modern recipe book is a stunning collection featuring brand new and innovative flavor combinations. It also has rave reviews on Amazon from bakers who are turning out batch after batch of perfect macarons with the help of this book.
---
Best Cookbook With The Most Recipes
Author: Natalie Wong
Pages: 216 pages
Publish Date: 2021
Amazon Rating: 4.4/5.0
This magical cookbook with transport you to the pâtisseries of Paris! Learn the French macaron method with this collection of over 100 classic and creative recipes like Thai tea macarons and crunch cinnamon cereal macarons!
This all-inclusive macaron recipe book is an essential guide for anyone who wants to master the art of macaron-making. It even comes with a comprehensive troubleshooting chart to help you along the way.
---
Best Book To Learn A Variety Of Macaron Techniques
Author: Kathryn Gordon
Pages: 270 pages
Publish Date: 2011
Amazon Rating: 4.6/5.0
This comprehensive guide to making perfect macarons provides detailed directions to make French, Swiss and Italian macaron shells plus numerous fillings.
You'll learn to make classic shell flavors like pistachio and red velvet with fillings like chocolate ganache and lemon curd. Also have fun exploring savory flavors too like saffron, parsley, and ancho chile paired with fillings like hummus, foie gras with black currant, or duck confit with port and fig!
---
Best Macaron Book With Creative Recipes For Every Occasion
Author: Mindy Cone
Pages: 272 pages
Publish Date: 2020
Amazon Rating: 4.3/5.0
This fun and user-friendly recipe book will take you way beyond your typical round macarons with basic, traditional flavors. You'll get over 75 macaron recipes with creative flavors and shapes that will make a statement for every season, holiday, and celebration.
With step-by-step instructions and templates, this book is great for beginners and the home cook. More advanced bakers will appreciate the creativity and find inspiration to apply to their own craft.
---
Best Macaron Recipe Book For Beginners
Author: Natalie Wong
Pages: 154 pages
Publish Date: 2019
Amazon Rating: 4.7/5.0
This comprehensive guide provides foolproof instructions to master the art of macaron making at home. You learn macaron basics as well as how to troubleshoot common missteps like cracked shells, grainy ganache and curdled buttercream.
Have fun creating delicious flavors by mixing and matching the 30 shell and 30 filling recipes.
If you're a macaron lover, you know that these delicate French cookies are not always easy to make. But with expert guidance from the right cookbook filled with delicious macaron recipes, you can be whipping up a perfect cookie like a pro in no time.
Here's a recap of five of the best macaron recipe books to help you create the magic of a French bakery in your own kitchen. Happy Baking!
Best Book For Serious Bakers: Pierre Hermé Macarons: The Ultimate Recipes from the Master Pâtissier
Best Beautiful Book To Give As A Gift: Ladurée Macarons Recipe Book
Best New Macaron Cookbook: Macaron School: Mastering the World's Most Perfect Cookie with 50 Delicious Recipes (2022)
Best Cookbook With Most Recipes: The Complete French Macarons Cookbook: 100 Classic and Creative Recipes
Best Book To Learn French, Italian & Swiss Techniques: Les Petits Macarons: Colorful French Confections to Make at Home
Best Recipe Book For Beginners: French Macarons for Beginners: Foolproof Recipes with 60 Flavors to Mix & Match