Looking for a way to destress during the day or relax when you get home? CBD seltzers might be just what you need! These CBD infused drinks are becoming increasingly popular as more people discover their potential health benefits.
CBD-infused seltzer is the latest craze to hit the wellness scene, and for good reasons.
CBD, also known as cannabidiol, is a compound found in cannabis plants. Unlike THC, CBD does not produce a high or psychoactive effect. This makes it an appealing option for people looking for relief from anxiety, pain, and other symptoms without any mind-altering effects.
Below, we will discuss the best CBD seltzers and sparkling waters on the market today. Best of all, you can shop online and have the CBD water shipped straight to your door.
Can't wait to dive in? Here's our quick list of the top 5 CBD Seltzers to order online.
If you'd like to learn more, keep on reading below for more information to help you choose the best CBD drink.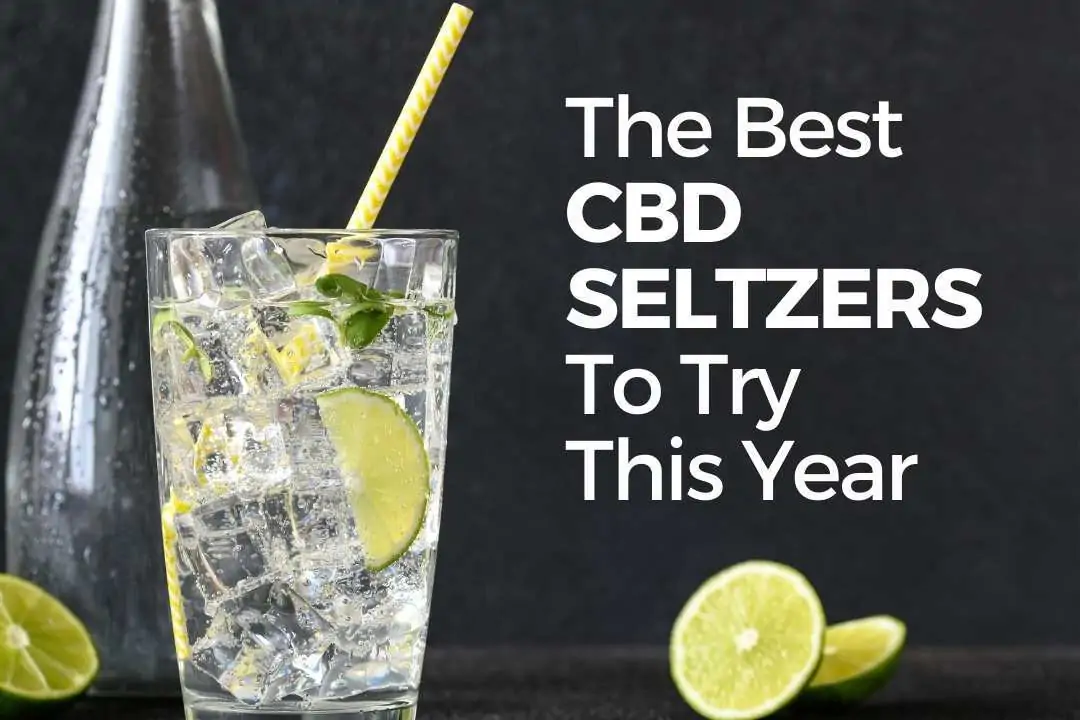 This is not medical advice. CBD is not intended to diagnose, treat, cure or prevent any disease. Products are intended for 18+ years old.
CBD Seltzers and CBD Sparkling Water
You'll notice we included both CBD seltzer and CBD sparkling water in our list. So, what's the difference? The answer lies in how the carbonation in the beverage is produced.
Seltzer is simply water that has been artificially infused with carbon dioxide. On the other hand, sparkling water is water that naturally contains carbon dioxide. In terms of health, there is no clear winner between the two types of drinks.
Some people prefer the taste of sparkling water, while others find flavored seltzer water to be more refreshing. Ultimately, it comes down to personal preference. And for that reason, we included both for you to choose from.
Other CBD Beverages
In addition to CBD seltzers, there are plenty of options to choose from when it comes to CBD-infused drinks. From water to tea and coffee to energy drinks, your CBD will only be a sip away.
CBD Coffee
CBD coffee is just like it sounds: coffee with added CBD. You may also see it called CBD-infused coffee, hemp-infused coffee or sometimes just hemp coffee. Just like regular coffee, it comes ground, whole bean and in pods (k-cups). There are a wide variety of flavors, strengths, brands and even cold brew coffee.
Learn more about our picks for the best CBD coffee here.
CBD Tea
Another relaxing CBD drink is CBD tea. Similar to ordinary tea, you can buy CBD tea from many stores and online shops. It comes in great flavors and a variety of strengths.
CBD Water
CBD water is made by infusing regular water with CBD particles. Proponents of CBD water believe that this delivers the benefits of CBD directly to the cells in your body, providing relief from conditions like anxiety and pain more quickly than other methods.
CBD Living is a popular brand that sells CBD water packed with 10 mg of nano-CBD.
CBD Energy Drinks
Energy drinks are another popular choice of CBD beverages. You can choose from energy shots, drink mixes and more.
Best CBD Seltzer and Sparkling Water
Without further ado, let's get back to the CBD sparkling water and seltzer. Below you'll find our top picks of delicious CBD beverages from reputable brands. Each product comes in awesome flavors. They can be ordered online, often with free shipping or other discounts.
1. Recess Sparkling Water
Perfect for any occasion, Recess is a CBD sparkling water that is infused with hemp and adaptogens to help you ease through the day.
It is made with 10mg of broad-spectrum hemp, plus American ginseng, lemon balm, and L-theanine. Each can of Recess promises to keep you calm, cool and collected by reducing stress, improving focus, and promoting a sense of calm.
Flavors include:
Blood Orange
Peach Ginger
Pomegranate Hibiscus
Black Cherry
Coconut Lime
Blackberry Chai
As an added bonus, Recess flavors contain less than 20 calories and 5g or less of sugar.
2. WYLD CBD Sparkling water
WYLD CBD sparkling water is infused with real fruit and contains 25mg of broad spectrum hemp extract. With only 10 calories and 2g of sugar or less per can, it's a great, refreshing way to get your CBD (THC-free).
The sparkling water is gluten-free and vegan-friendly. Flavors include blackberry, lemon, raspberry and blood orange.
3. CBD American Shaman Sparkling Water
This refreshing CBD sparkling water tastes like sunshine in a can!
The Coconut Grapefruit flavor contains real carbonated coconut water. The Watermelon Strawberry Lime flavor contains real carbonated watermelon juice and other natural flavors.
Each can contains 10mg full spectrum nano hemp extract.
4. Upstate Elevator Supply CBD Seltzers

Upstate Elevator Supply offers a line of CBD beverages that are infused with natural flavors and are totally THC-free.
They use a proprietary nano-technology that helps your body to absorb the CBD up to six times faster than regular CBD products.
Choose from CBD drinks like:
CBD Brazilian Passion Fruit Sparkling Fruit Water
CBG+CBD Caribbean Green Mango Sparkling Water
CBG+CBD Wild Strawberry Tangerine Seltzer
CBD Black Cherry Lemon or Rasperby Hibiscus Lime Seltzers
CBD African Ginger & Mexican Lime Soda
CBD beverages from Upstate are vegan-friendly and use CBD isolate for non-detectable levels of THC.
5. CBD Living Sparkling Water
CBD Living Sparkling Water is an excellent source of CBD plus other essential vitamins and minerals.
Each can contains 25mg of Nano CBD which helps the CBD pass easily into your body.
The CBD sparkling water also contains vitamins A, B5, B6, B12, plus potassium and zinc.
Choose from the great flavors listed below in 12-packs or single cans.
Apple Ginger
Black Cherry
Peach Honey
Orange Grapefruit
Strawberry Lavender
6. Bimble CBD Seltzers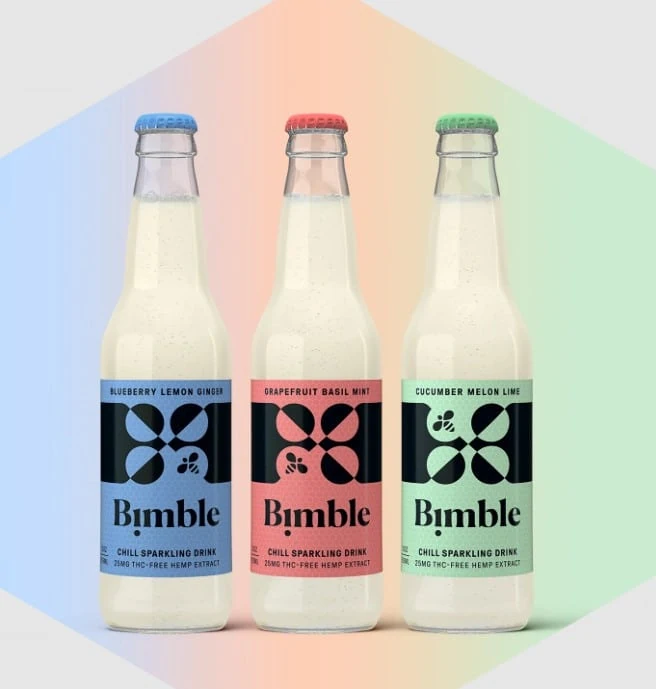 Bimble CBD seltzer is made with all-natural ingredients. It contains 25mg of domestically sourced CBD, CBG, CBC, and CBN. This unique combination creates a potent "entourage" effect that can help you feel calmer and more relaxed.
Another cool feature is that Bimble uses sustainably-sourced honey as a natural sweetener. It's also totally free of preservatives.
The Bimble CBD seltzers are available in three delicious flavors:
Blueberry, Lemon & Ginger
Cucumber, Melon & Lime
Grapefruit, Basil & Mint
And best of all, shipping is always free.
7. Mad Tasty CBD Sparkling Water
There's a lot to like about Mad Tasty CBD beverages. First off, they have a mysterious and delicious flavor called Unicorn Tears!
Each can includes 20 mg broad-spectrum hemp extract, less than 15 calories and no sugar or sweeteners.
Other fun flavors include watermelon kiwi, yuzu citrus and grapefruit. You can also snag a trial pack or mixed case to try several flavors.
8. Sweet Reason CBD Beverages
Sweet Reason is a company that delivers on one thing: great, high-quality CBD beverages. Their sparkling water contains 10mg CBD from organic hemp.
It comes in sophisticated flavors like cucumber mint, strawberry lavender and lemon rhubarb.
9. Sprig CBD Infused Sparkling Beverage
These CBD drinks are made with 20mg of high-quality, all-natural, hemp-derived CBD. Spring drinks have no caffeine and contain 0% THC.
Try the original citrus flavor that made Sprig famous. Or check out one of the zero sugar flavors – lemon team, melon and citrus.
10. Queen City Hemp Seltzer
Pick up a 6 or 12-pack of this yummy CBD seltzer that are packed with 20mg CBD per can. There is something for everyone with flavors like pink pineapple ginger, lemon lavender, guava and more!
11. Dram Adaptogenic Sparkling Water With Hemp
Dram CBD sparkling water is made with a unique, custom blend of adaptogens. Each can is also packed with 25mg broad spectrum CBD made from organic Colorado grown hemp.
Check out their "Beauty Bubbles" flavor that contains rosewater, bilberry, red raspberry leaf and COQ1o.
12. Untitled Art CBD Sparkling Water
This CBD sparkling water is free from caffeine, carbs, gluten and sugar. The only things it's not free of are flavor and CBD!
Each can has only 2 calories and is available in 4 flavors: strawberry, lime, blackberry and grapefruit.
FAQs About CBD Selzters and Sparkling Water
What Are the Best CBD Drinks to Buy Online?
As the popularity of CBD oil continues to grow, so does the number of CBD-infused drinks on the market. These drinks come with a range of benefits, but it can be tough to know which one is right for you.
This article shares some of the best CBD seltzers and sparkling waters to buy online so that you can find the perfect drink for your needs. Other CBD beverages include coffee, tea, water and energy drinks.
What Is CBD Sparkling Water?
To put it simply, CBD sparkling water is just like it sounds – sparkling water infused with CBD. CBD sparkling water is a type of drink that contains cannabidiol, or CBD. CBD is a compound found in the cannabis plant. However, unlike THC, CBD is non-psychoactive. That means it won't make you feel high.
The amount of CBD in each drink can vary. Some brands only contain trace amounts of CBD, while others may have up to 25 milligrams per can or bottle.
The type of CBD (full-spectrum, broad-spectrum and isolate) in infused drinks can also vary. Learn more about the different types of CBD products here.
Will CBD Drinks Make You Sleepy or High?
The short answer is no. CBD drinks will not make you feel sleepy or high. However, many people report feeling more relaxed after consuming CBD beverages.
Does CBD Sparkling Water Have Health Benefits?
Although more research is needed, some early studies suggest that CBD may have health benefits. Advocates for CBD share stories of improved sleep, reduced stress and anxiety, and other relief.
Conclusion
As you can see, CBD seltzers and CBD sparkling water beverages are a delicious way to enjoy the benefits of hemp. They're conveniently available online and in stores, and they come in amazing flavors and CBD strengths.
Just be sure to do your research before buying to make sure you're getting a high-quality product. The options in this list are a great start to finding the best CBD seltzers!
More CBD Product Recommendations
– Best CBD Lollipops
– Best CBD Oils
– Best CBD Chocolates
– Best CBD Gummies
– Best CBD Gummies For Sleep
– Best CBN Products
– Best Vegan CBD Gummies
If you enjoyed this article, save it for later on Pinterest, Instagram and Facebook. Also join our Facebook Group for more snack fun!