It was only a matter of time before America's favorite beverage (coffee!) merged with America's newest curiosity (CBD!) In this article, you'll learn how to find the best CBD coffee for you.
Millions of people jumpstart each morning with some caffeine by drinking a cup of coffee.
Some of those very same people are also looking for ways to relax, unwind and maybe even ease some anxiety.
CBD and coffee may be the solution!
If you're already a coffee drinker, you're familiar with the benefits of your daily cup of joe. But you may not be as familiar with the potential health benefits of CBD coffee.
What is CBD-infused coffee?
CBD coffee (also referred to as CBD-infused coffee, hemp-infused coffee or sometimes just hemp coffee) is simply coffee that has CBD added.
CBD coffee is similar to regular coffee in a lot of ways. It can be ground or whole beans. It comes in bags, pods (k-cups) and in cans.
You can choose from many different brands, flavors and roasts. You can find specialty CBD coffee products like cold brew coffee, organic beans, craft coffee and non-GMO options.
This is not medical advice. CBD is not intended to diagnose, treat, cure or prevent any disease. Products are intended for 18+ years old.
More CBD Product Recommendations
– Best CBD Chocolates
– Best CBD Gummies for Sleep
– Best CBD Gummies To Order Online
– Best Vegan CBD Gummies To Try
– Best CBD Seltzers and Sparkling Waters
Benefits of CBD Coffee
You may be wondering about the potential health benefits of CBD and CBD coffee.
First of all, it's important to know that CBD is not psychoactive which means it won't get you high.
CBD is currently being researched for possible benefits such as pain relief, sleep aid, anxiety reduction and more. It's also important to note that CBD is currently not regulated by the FDA.
CBD affects everyone differently. However, some CBD coffee drinkers report that it promotes relaxation, eases stress and takes away a bit of the jitters or anxiety that can come with drinking coffee.
It has also been said that CBD coffee is easier on the stomach for people that have trouble with the acidity of coffee.
Coffee Recipes You May Enjoy
– Affogato Coffee Dessert
– Gingerbread Coffee Cocktail
– Homemade Coffee Eggnog
How to Choose the Best CBD Coffee
There are many CBD coffee options, but choosing the best option for you doesn't need to be difficult. Here are some considerations that will help you narrow down the options.
Amount of CBD
Every brand and type of CBD-infused coffee will contain varying amounts of CBD. Check the packaging and/or manufacturer's website for the most current details as ingredients and formulations can change.
In most cases, you will be brewing your own CBD coffee at home, so it's important to remember that the amount of CBD in your cup may vary depending on how it is brewed.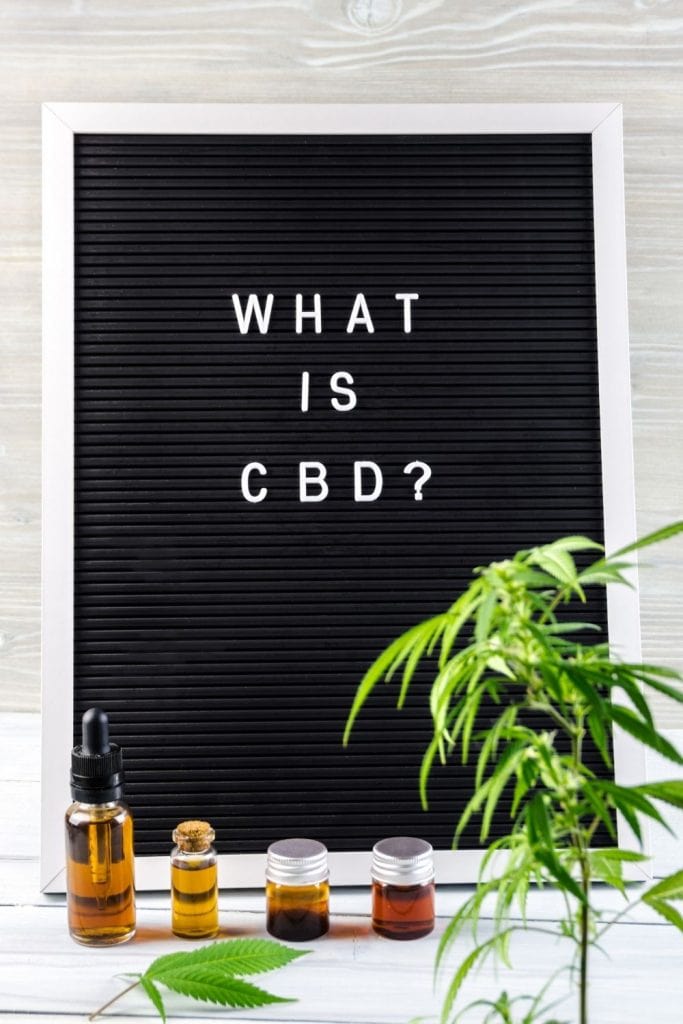 Type of CBD
You'll also have some choices when it comes to the type of CBD used in the coffee. The words you will most often see are isolate, full-spectrum CBD and broad-spectrum CBD.
Isolate contains only CBD. This is a good choice if you only wish to consume CBD and no other cannabinoids.
Full-spectrum and broad-spectrum CBD include additional cannabinoids. Some research has shown that these additional compounds can all work together to enhance the effects of CBD. This teamwork is often referred to as the "entourage effect."
Full Spectrum has CBD plus all of the cannabinoids and other plant compounds, including THC.
Broad Spectrum has CBD plus all of the cannabinoids and other plant compounds, but no THC. This is a great "middle ground" choice if you are interested in the potential benefits of other cannabinoids, but do not want to consume THC.
Learn more about the different types of CBD here.
You may also enjoy: Mexican Hot Chocolate Coffee Cocktail
CBD Coffee Flavor
When it comes to coffee, the taste is important. Everyone has a preference when it comes to the type of coffee they enjoy.
Some people love the taste of flavored coffee, while others enjoy a medium brew and yet others crave a bold cup of dark espresso.
CBD coffee is no different. Simply read the product description and choose a flavor profile that appeals to you most. You can even add some CBD honey to your coffee for an extra flavor boost too.
Here's a quick overview of coffee roasts that may be helpful when reading descriptions.
Light roast: mild in flavor, best for those who don't enjoy strong coffee, may have fragrant or fruity notes
Medium roast: richer than a light roast with more balance of acidity, flavor and aroma, may have nutty, chocolate flavor
Dark roast: dark in color, extra bold body, may have a bitter taste, great for those that enjoy espresso
Type of Coffee
Similar to regular coffee, CBD coffees come in a variety of options to fit your needs. In the list below, you'll find coffee beans, ground coffee, coffee pods and even iced coffee in a can.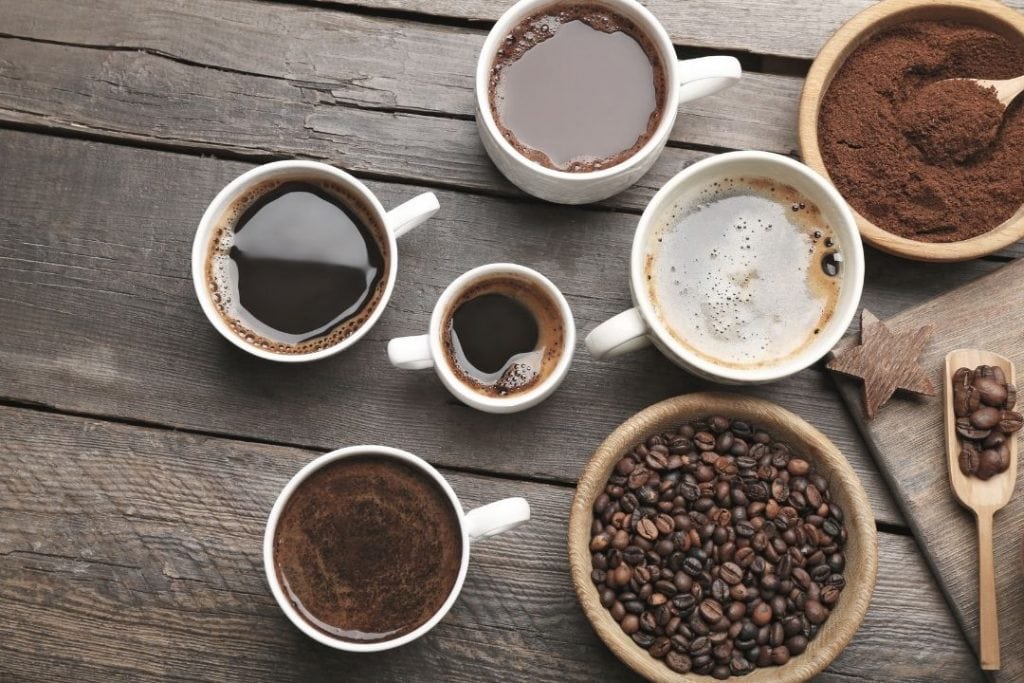 How To Make The Best CBD Coffee At Home
Making a batch of CBD coffee at home is as easy as making a regular batch of coffee.
With all of the CBD coffee options included in this article, the CBD is already incorporated into the grounds or beans. All you need to do is follow the instructions on the package just as you would for a regular brew.
CBD Recipes To Try At Home
– Easy CBD Cocktails
– 4 Ways To Make CBD Brownies
How Much CBD Coffee Should I Drink?
It's always important to consult your doctor before consuming CBD products, including CBD coffee.
Assuming CBD coffee is a good option for you, the amount you drink is a matter of personal preference.
Most CBD coffee products contain between 10-30 mg CBD per serving. Depending on the type of CBD coffee you are consuming, the actual CBD amount might be difficult to know with certainty.
If you're drinking a pre-packaged coffee drink (like #2 in the list below), the CBD amount will be listed on the can.
If you're using a K-cup or other CBD coffee pod (like #6 in the list below), the amount of CBD in your coffee should be pretty consistent as well.
Brewing your own CBD coffee will result in the most variability. It's usually a good idea to follow the guidelines on the product packaging.
But you can increase or decrease the amount of CBD simply by making it stronger or weaker (using more or less ground coffee) than suggested in the instructions.
If you are new to CBD, the general consensus is to start with a low dose to see how it affects you. You can gradually increase over time to achieve the desired results.
Is CBD-infused coffee good?
If you enjoy regular coffee, chances are you'll also enjoy CBD-infused coffee. The CBD does not add any additional color, flavor or taste, so feel free to shop for your usual favorite type of coffee.
There are plenty of options available, so have fun and experiment with new flavors and brands. You never know which one may be your new favorite
With the list below, you'll be well on your way to having a cup of the best CBD coffee!
Where can you buy CBD coffee?
CBD coffee can be purchased online or in many retail stores around the country. Some coffee shops even offer a selection of CBD coffees and other drinks.
Browse the list below for some great quality CBD coffee options that you can order online.
---
The 5 Best CBD Coffee Brands
BEST FLAVORED CBD COFFEE
Our Pick: French Vanilla & Hazelnut Hemp Flower Coffee from Green Roads
Green Roads is a great company to buy from because they have helped set the highest standards for CBD product quality since the earliest days of the industry.
About Green Roads CBD Coffee
Flavors include French Vanilla, Hazelnut and Founders Blend
12-oz and 2.5-oz sizes
Columbian ground coffee beans
Total CBD varies by batch
US grown hemp
Independent lab tested
Suggested use: 2 TB per 6 oz of water
**Use code SNACK10 for 10% off your order.**
---
BEST ICED CBD COFFEE
Our Pick: CBD Iced Coffee Drink The Hemp Division
The Hemp Division offers a great selection of CBD beverages including everything from coffee and tea to hot and iced brews to sparkling beverages.
About The Hemp Division CBD Iced Coffee
20mg CBD per can
Case of 8 cans
Made from a rotating selection of single-origin Ethiopian coffees
Handcrafted in New York
US-grown CBD hemp extract
Refrigerate after receiving
Ground CBD coffee also available
---
BEST COLD BREW CBD COFFEE ON TAP
Our Pick: Jibby Coffee
Jibby is known as the "feel-good coffee". It's a smooth blend that you can enjoy without the jitters. Plus 1% of sales are donated to charity:water to help provide water to communities without stable water sources.
20 mg CBD isolate (no THC) per serving
10 servings per container (100% recyclable)
Rich, Colombian blend; cold-brewed for 18 hours
Dairy-free, gluten-free, vegan, no added sugar
Made in the US
Also available in cans
---
BEST WHOLE BEAN CBD COFFEE
Our Pick: Full Spectrum Hemp Extract Roasted Coffee from Steve's Goods
Steve's Goods strives to spread awareness about the medicinal benefits of the hemp plant and support the continued education of CBD.
About Steve's Goods Whole Bean CBD Coffee
1/2 lb small batch coffee
Small batch coffee of Ethiopian origin
Contains 360 mg full spectrum hemp extract from Colorado
Light-medium roast with notes of apricot, cacao, subtle molasses and hint of blueberry
Suggested use: 2 TB per 8 oz of water
---
BEST DECAF CBD COFFEE
Our Pick: Dream Decaf Hemp Roast Coffee from Hakuna Supply
Hakuna Supply has a clear mission: to bring quality CBD goods to customers in a fun, friendly and sustainable way.
About Hakuna Supply CBD Coffee
8-oz and 1-oz sizes
8-oz package yields about 16-24 8 oz cups of coffee with approximately 5.4mg of full spectrum CBD in each
Coffee beans from Brazil
Beans go through a swiss water process to remove the caffeine
99.9% caffeine-free
Uses natural, Colorado-grown hemp oil manufactured by chemical-free CO2 extraction
Caffeinated CBD coffee (called Awaken Blend) also available
**Use code SHARE10 for 10% off your order.**
---
Final Notes on Buying CBD Coffee
When buying CBD coffee, you have a lot of options. Just remember a few simple guidelines and you'll be able to find a CBD coffee that's just right for you.
Guidelines For Buying CBD-Infused Coffee
Buy from a reputable CBD company that produces a high-quality product.
Instead of looking for a low-cost (and potentially low-cost product), look for sales, coupons or promo codes for high-quality vendors.
Know which type of CBD you are interested in: isolate, full spectrum or broad spectrum
If you're looking for familiar, choose a coffee blend similar to what you normally drink.
Have fun exploring the many brands, blends and types of CBD coffee that are on the market today.
YOU MAY ALSO LIKE: