Ben & Jerry's has always been known for their delicious and innovative ice cream flavors. But did you know that many of those flavors are inspired by music? And we're not just talking about the obvious ones like Cherry Garcia or Phish Food.
In this article, we'll cover 15 Ben & Jerry's ice cream flavors that were inspired by and/or named after music groups, musicians, bands and even music festivals.
The company's commitment to social responsibility also led the Ben & Jerry's to support a many charitable causes over the years. As you'll see below, proceeds from many of these musical ice cream collaborations went o support a variety of different charitable organizations.
Ben & Jerry's Flavors Named After Music Groups, Songs & Festivals
Grab your spoon and get ready to explore the sweet world of music-inspired ice cream!
1. Cherry Garcia
Cherry Garcia was released in 1987. The flavor was named after Grateful Dead guitar legend, Jerry Garcia.
In fact, this groovy flavor is the first ice cream named after a rock legend. This gluten-free pint features cherry ice cream with cherries and fudge flakes.
While the packaging has changed over the years, the love for this flavor has not. Cherry Garcia continues to be a fan-favorite year after year.
---
2. Phish Food
The Phish Food flavor was inspired by the popular band called Phish. Ben & Jerry's and Phish share Vermont roots, so it made sense they partner up to create an epic ice cream flavor.
Phish Food was released in 1997. The flavor features chocolate ice cream, gooey marshmallow and caramel swirls, plus fudge fish.
---
3. Mint Chocolate Chance
In 2022, Ben & Jerry's teamed up with Grammy-winning superstar Chance the Rapper on a flavor called Mint Chocolate Chance.
The flavor was inspired by the rapper's love of mint ice cream packed with his mom's homemade brownies. Mint Chocolate Chance was also released in a non-dairy version made with sunflower butter.
---
4. Bohemian Raspberry
In 2006, Ben & Jerry's released Bohemian Raspberry as a tribute to the late Queen singer, Freddie Mercury. The flavor featured vanilla ice cream with fudge brownies and raspberry swirls. A portion of the proceeds went to the Mercury Phoenix Trust.
---
5 (and 6). Bob Marley's One Love / Satisfy My Bowl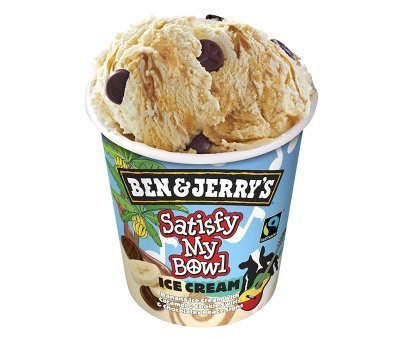 Satisfy My Bowl, released in 2014 as a limited-batch flavor, featured banana ice cream, caramel and cookie swirls, plus chocolatey peace signs. This flavor partnered with the 1Love Foundation to support Bob Marley's vision for a fairer world.
Satisfy My Bowl was later reintroduced under a new name, One Love. The flavor was released in the UK in 2016 and in the US in 2017.
---
7. Dave Matthews Band One Sweet Whirled
In 2002, One Sweet Whirled was launched in partnership with Dave Matthews Band and SaveOurEnvironment.org. The collaboration was formed to contribute to the fight again climate change.
The One Sweet Whirled flavor featured caramel and coffee ice creams with marshmallow and caramel swirls plus coffee-flavored fudge chips.
---
8. Dave Matthews Band Magic Brownies
Dave Matthews Band partnered with Ben & Jerry's again in 2004 for the group's Lick Global Warming campaign. A portion of the proceeds also went to SaveOurEnvironment.org.
The duo launched a limited-edition Dave Matthews Band's Magic Brownies flavor. The flavor had a black raspberry ice cream base swirled with sweet cream ice cream and fudge brownies.
---
9. Barenaked Ladies If I Had 1,000,000 Flavours
In 2011, Ben and Jerry's Canada released a new pint called If I Had 1,000,000 Flavours. The flavor was inspired by the popular song called "If I Had A Million Dollars" by the Barenaked Ladies.
Despite the clever name, the actual ice cream actually contained only six flavors: chocolate & vanilla ice creams mixed with chocolate-covered toffee, white chocolate chunks, peanut butter cups, and chocolate-covered almonds.
---
10. Goodbye Yellow Brickle Road
Goodbye Yellow Brickle Road, a Scoop Shop exclusive flavor, was released in 2008. This tribute flavor to Elton John had chocolate ice cream with peanut butter cookie dough, butter brickle and white chocolate chunks.
---
11. John Lennon's Imagine Whirled Peace
This flavor, dedicated to John Lennon, launched in 2007. This pint promoted peace and love through ice cream. Caramel and sweet cream ice creams swirls with fudge peace signs and toffee cookie pieces were packed in this delicious pint.
---
12. Willie Nelson's Country Peach Cobbler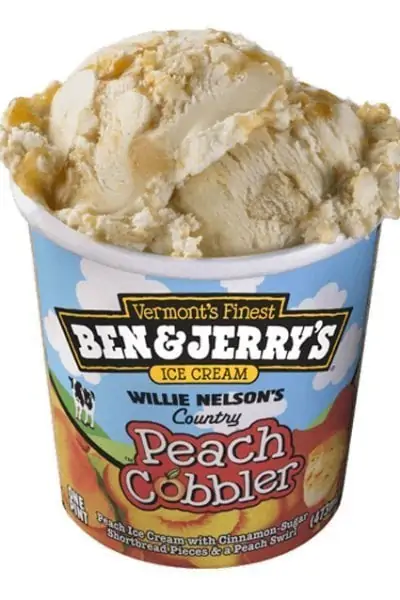 Ben & Jerry's appreciated Willie Nelson's music and activism enough to honor him with his own flavor in 2007. A portion of sales from Willie Nelson's Country Peach Cobbler was given to Farm Aid to help support family farmers in America.
This peach cobbler flavor featured peach ice cream with cinnamon shortbread pieces and peach swirl.
---
13. Bonnaroo Coffee Caramel Buzz
Bonnaroo, a popular music festival, was honored with a pint in 2010. The flavor, called Coffee Caramel Buzz and Bonnaroo Buzz, featured coffee and malt ice creams with whiskey caramel swirls and English toffee pieces.
---
14. Glastonberry
Glastonbury Music Festival is a huge event in the United Kingdom that draws in the biggest names in music, dance and the arts.
The Glastonberry flavor from Ben & Jerry's was released in 2006 as a tribute to the festival. It featured vanilla ice cream with fudge brownies and raspberry swirls.
---
15. Wavy Gravy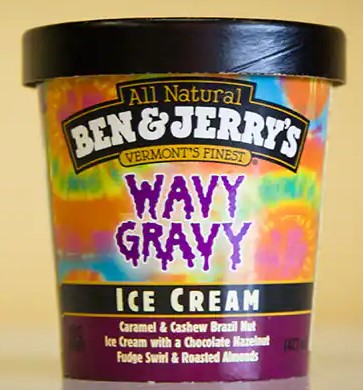 The real Wavy Gravy was an iconic 1960's peace activist clown that emceed at Woodstock. Ben & Jerry's created their own ice cream version of Wavy Gravy in 1993.
Wavy Gravy was a nut lover's dream as it featured caramel and cashew Brazil nut ice creams with hazelnut fudge and roasted almonds.
---
Well, there you have it: 15 Ben & Jerry's ice cream flavors named after music groups, artists, songs and festivals! While many of these were limited-batch flavors, a few like Cherry Garcia and Phish Food are still around.
So head on out and grab a pint of Ben & Jerry's or keep on reading about ice cream with one of these fun articles: