Ben & Jerry's Cookie Dough Core Ice Cream is a dream come true.
In a slight departure from their regular ice cream flavors, the new Cookie Dough Core lineup features a "core" of solid cookie dough that is surrounded by creamy ice cream. Cookie dough lovers rejoice!
The three new flavors are:
Chocolate Chip Cookie Dough Core
Sweet Life Sugar Cookie Dough Core
Wake & "No Bake" Cookie Dough Core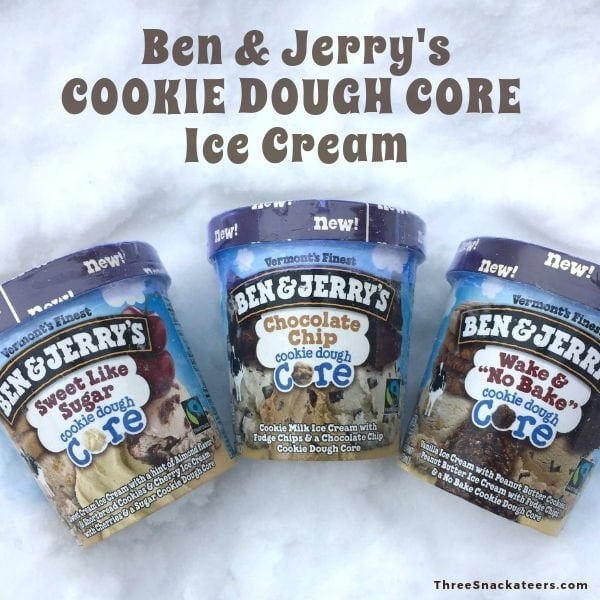 We are some very lucky Snackateers. Ben & Jerry's sent us pints of each new flavor to try We were literally jumping up and down in excitement when they arrived. Let's dig in!
You will also enjoy:
Ben & Jerry's Chocolate Chip Cookie Dough Core Ice Cream
What better way to pay tribute to Ben & Jerry's Original Chocolate Chip Cookie Dough flavor released in the late 1980s than to add more cookie dough. This flavor features cookie milk ice cream with fudge chips & a chocolate chip cookie dough core.
The ice cream is super creamy. It reminds me of a vanilla milkshake.
The chocolate chip cookie dough tastes just like you are eating it right out of the package. The fudge chips compliment the ice cream very well.
Ben & Jerry's Sweet Like Sugar Cookie Dough Core Ice Cream
I was most excited to try this flavor. Sugar cookie anything is my all-time favorite.
It features sweet cream ice cream with a hint of almond flavor & shortbread cookies & cherry ice cream with cherries & a sugar cookie dough core. That is a whole lot of flavors packed into one pint! And they all work so well together.
This flavor is sweet and creamy. I absolutely love the hint of cherry from the cherry ice cream and large chunks of cherries. They compliment the sugar cookie dough very well.
The large chunks of shortbread are nice and soft and add a little something extra to the overall taste. My favorite of the three, I can't put this one down!
Ben & Jerry's Wake and "No Bake" Cookie Dough Core Ice Cream
This one is for you, peanut butter lovers! This flavor features vanilla ice cream with peanut butter cookies, peanut butter ice cream with fudge chips & a no-bake cookie dough core.
The ice cream in this flavor is delicious. I was happy to see vanilla ice cream as opposed to chocolate ice cream. The mixture of the vanilla ice cream and the peanut butter ice cream gives you a subtle, creamy peanut butter taste with each bite.
The no-bake cookie dough brings a slight chocolaty taste to the party. Together with the soft peanut butter cookie chunks and fudge chips, your chocolate peanut butter taste buds are satisfied. There is definitely more emphasis on the peanut butter, though.
Don't be too upset if your cookie dough core is not right down the middle of the pint. I found with all three of these flavors that the core was more off to the side and you could scoop it all out in one or two huge chunks. But have no fear, there was plenty of cookie dough to go around.
In conclusion…
Ben & Jerry's does not disappoint with these three new flavors. They were everything we had hoped for and more!
These flavors are currently available at Ben & Jerry's Scoop Shops and major retailers nationwide. For more information on Cookie Dough Cores near you, check out benjerry.com/cores.
If you love this review of Ben & Jerry's Cookie Dough Core Ice Cream,
please consider sharing to Pinterest, Instagram and Facebook!