Today we are going Behind the Brand with Mod Mallows! We had the pleasure of (virtually) meeting Raneen earlier this year. We quickly fell in love with her cute and delicious marshmallows.
We admire her creativity, passion and vision, so we knew she was the perfect fit for our very first Behind The Brand feature.
So without further ado, let's hear from the lady of the hour, Raneeen Saleh!
AN INTERVIEW WITH MOD MALLOWS
My name is Raneen Saleh and I am the owner, book keeper, marketer, chef, and flavor developer at Mod Mallows. I make Halal/Kosher, Artisan Marshmallows in a variety of 3D shapes and flavors. While I do almost everything for my business on my own, I could not do it without the support of my family and friends. Mod Mallows is a brand new business- only 7 months old! I operate from my Maryland home and sell on Etsy.
This post contains affiliate links. As an Amazon Associate I earn from qualifying purchases. Please read our disclosure policy for more information.
What inspired you to start Mod Mallows?
When I was a kid I LOVED eating Peeps. I waited for those pastel colored chicks every springtime. Unfortunately, a family friend told my mother that Peeps contained gelatin (pork)!
My family and I are Muslims and consuming pork products is not permissible in our faith; so, I had to stop eating them. Years later, halal marshmallows became widely available but they were horrible! They always tasted stale.
One day I decided I was going to stop settling for sub par marshmallows and I put my 10 years of pastry/candy making experience (I am self taught) to work. I made my first batch of marshmallow Peeps and they took me right back to being a kid!
My homemade marshmallows were soft and melted in my mouth! I knew my marshmallows were better than the Halal versions and I wanted to share with other marshmallow lovers like myself. And the rest, as they say, is history.
Tell us more about your product, Mod Mallows. What makes them special?
Four things make Mod Mallows special:
We flavor all our marshmallows naturally. Real vanilla beans, freshly squeeze lemon juice, home brewed coffee/tea, real strawberries etc. We do not use extracts and artificial flavors. You can taste the difference!
We are Halal and Kosher. Most mainstream brands of marshmallows are made with pork gelatin and are not Muslim or Jewish friendly.
We have unique 3D shapes that make a normally mundane treat into a conversation piece and a delightfully cute gift!
Mod Mallows are homemade. Homemade marshmallows taste much different than their mass produced counterparts. They are creamy, softer and just melt in your mouth. You just have to experience the difference for yourself!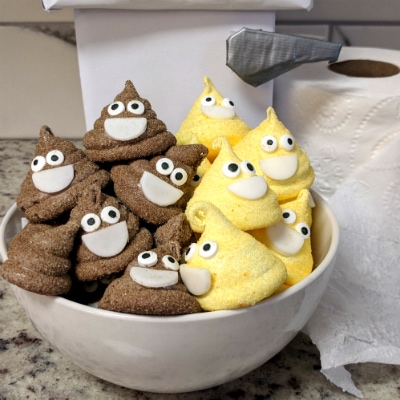 Without revealing any trade secrets, can you tell us a little bit about how your mallows are made?
Marshmallows are fairly simple to make. You basically boil a sugar, water and corn syrup solution and then whip it in a stand mixer with bloomed gelatin. The difficult part is pipping out different 3D shapes. Freshly whipped marshmallow is extremely sticky! It took over a year of experimentation and practice to learn how to pipe marshmallows into different shapes with ease.
What is your favorite/best part about running Mod Mallows?
I get to make my own hours, do something I love, be my own boss and work from home with my kiddo!
Do you have any fun or interesting stories to share?
We are planning to expand into farmers markets soon and some current flavors we are working on include maple and peanut butter and jelly! We also have more ideas for cute 3D marshmallow mug toppers.
Any other insider secrets or behind the scenes info you think our readers would be interested or surprised to learn about you and your business?
I have 2 failed businesses under my belt. I originally sold cake pops in college and while there were very well received, I just could not handle school and a business. After I graduated college I tried to sell cakes and other homemade desserts again but it just did not work out for me for a variety of reasons. I learned a lot from my mistakes. I knew what to do and what not to do with Mod Mallows. I still have so much to learn but this is the farthest I've ever come and I feel very thankful and blessed for all the support and business Mod Mallows has been getting. When starting a business, its best to start small but dream big!
The products shown above and many more fun shapes and flavors are available on Etsy.
Also be sure to follow Mod Mallows on Instagram and Facebook for new products, specials and more mallow fun!