These adorable Back To School Wafer Cookies will earn you an A+!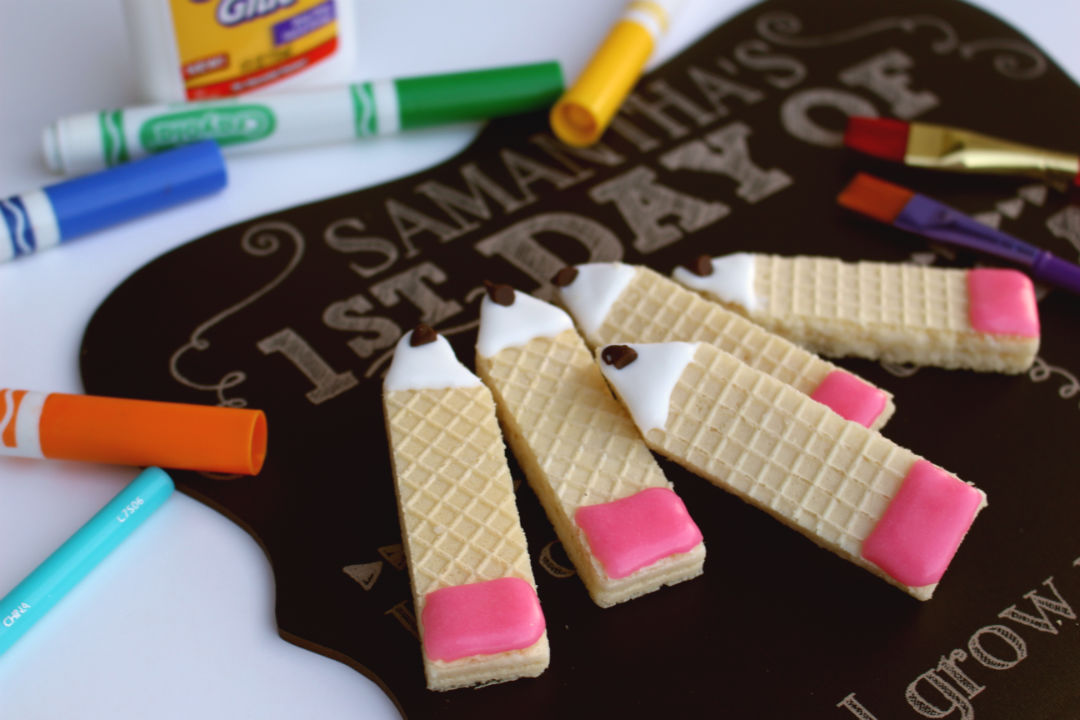 When you are a professional snacker and your mom is a school teacher that loves Pinterest, great things are bound to happen. My mom mentioned she saw some really cute pencil cookies that she was planning to make for a back to school treat. I hopped online, did a google search and found some inspiration here.
Ingredients for Back To School Pencil Cookies
My inspiration recipe was already so easy. I mean, there are only 3 ingredients: wafer cookies, melting chocolate and chocolate chips. But my inner child wanted to be the teacher's pet, so I decided to do extra credit and make it even easier.
Instead of using melted white and pink chocolate, I opted for ready-made cookie icing pouches. I found mine at Walmart. But you can find these in most grocery stores or you can also get them on Amazon here. A few advantages to using the pouches:
Prep time and clean up are a breeze with no extra bowls and utensils to worry about.
The icing comes in a variety of colors and is ready to go right from the tube. No need to keep melted chocolate at the perfect temperature or deal with food coloring.
Wafer cookies are really sweet. Applying a small amount of icing to the TOP of the cookie only keeps the added sweetness in check.
The pouches have a built-in decorating tip that allows you to get the icing exactly where you want it.
You'll have plenty of leftover frosting to use for another recipe – like these cute and easy Flip Flop Cookies.

How to make Back To School Pencil Cookies
After you gather up your ingredients, adding the pencil elements is simple. Three easy steps.
Step 1:
Cut one end of the wafer cookies to create a point.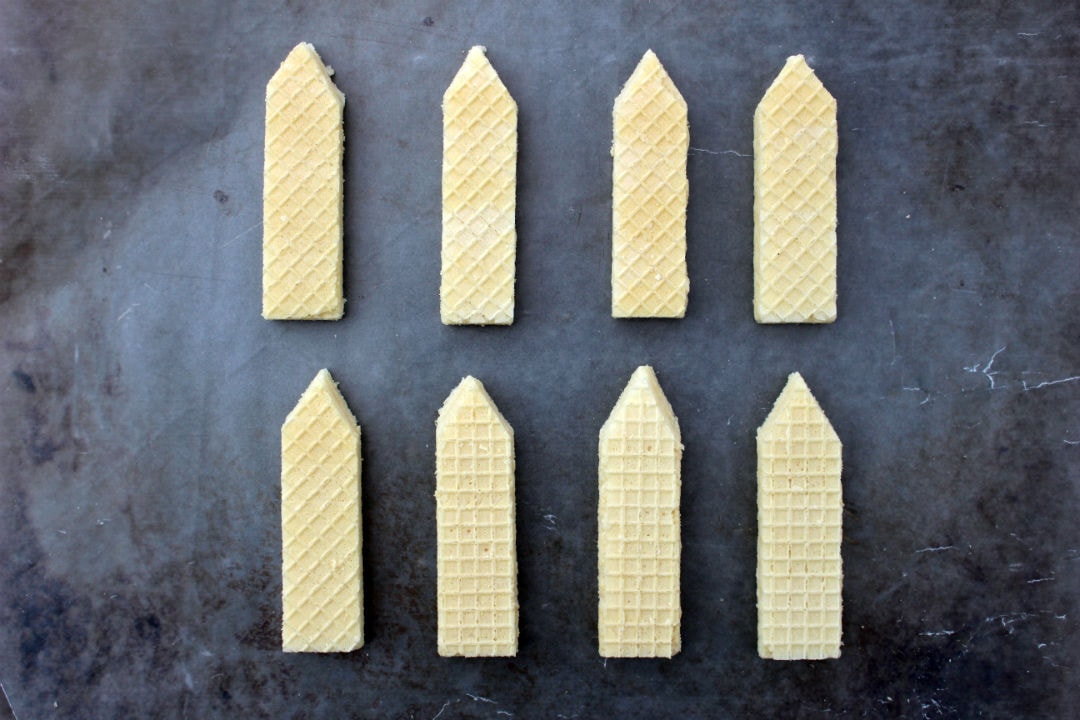 Step 2:
Draw a square pink eraser on the other end.

Step 3:
Fill in the point with a white frosting triangle and add a mini chocolate chip for the 'lead'.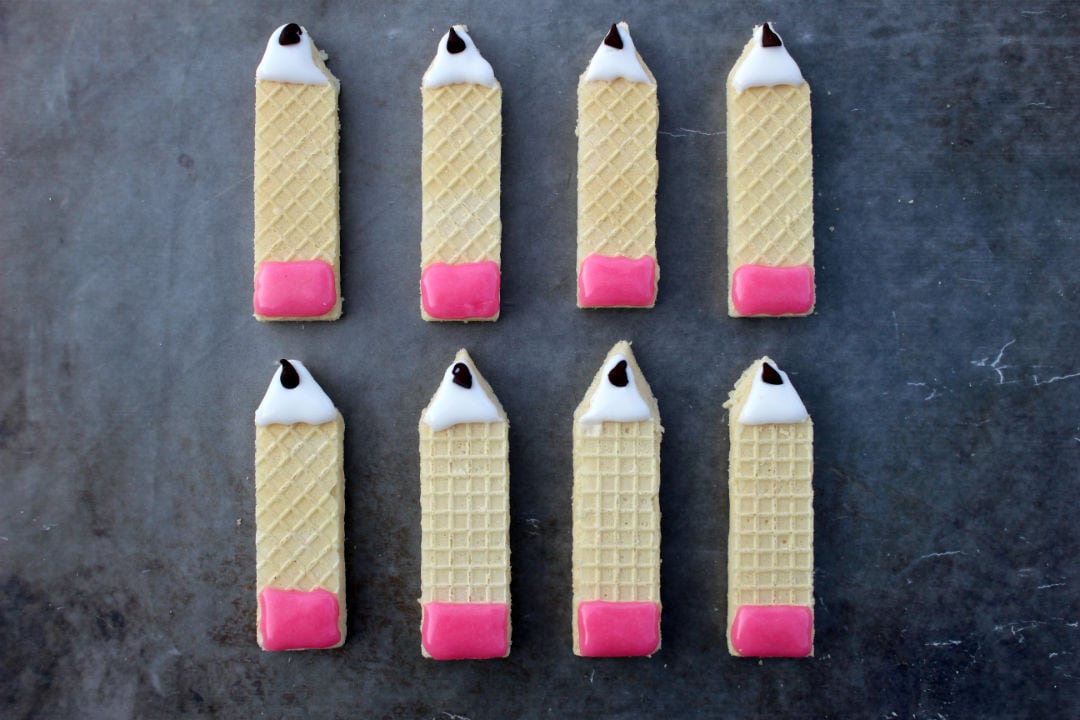 If you are making these for a party or a class treat, you could get extra fancy and use the icing pouches to write names on the pencils too!
Did you try this recipe for BACK TO SCHOOL WAFER COOKIES?
We'd love to hear what you think! Leave a comment below or tag us on Instagram, Facebook, Twitter or Pinterest to show us your finished product!

MORE FUN RECIPES THE KIDS WILL LOVE
Back To School Pencil Cookies
These adorable Back To School Wafer Cookies will earn you an A+!
Ingredients
Vanilla Wafer Cookies
Pink Icing Pouch
White Icing Pouch
Mini Chocolate Chips
Instructions
Cut one end of the wafer cookies to create the sharp 'point' of the pencil tip.
Place wafer cookies on a cookie sheet that has been lined with wax paper.
Using the pink icing, draw your 'eraser' on the un-sharpened end of each pencil.
Next, fill in the pointy end with white icing. Do 1 or 2 at a time, then add a mini chocolate chip at the tip of the white icing to look like the lead of the pencil.
Allow some time for the icing to set before handling the cookies.
Micky Reed, a two-decade veteran in the food and baking industry, leverages her influential Three Snackateers food blog and Instagram presence to collaborate with industry giants like Ben & Jerry's and Crumbl Cookies. Her work has been featured on Delish, PopSugar and more. Her expertise as a product curator for one of the world's largest international snack subscription box companies solidifies her status as a key player in the field.