If you're looking for some easy oven baked donuts, you've come to the right place. We've rounded up some of the best baked donut recipes that we could find.
From classic doughnut flavors like chocolate and cinnamon sugar to fun flavors like red velvet or maple blueberry, you're sure to find something you and your family will love.
How To Make Baked Donuts
First, find an easy recipe for baked donuts. The list below is a great start.
Second, you'll want to invest in a good baked donuts pan. Two pans is even better to get your baking done faster.
I personally use this non-stick donut pan that is available on Amazon.
I love that it's dishwasher safe for easy cleanup. And I've never had an issue with doughnuts sticking in the pan. They come out perfect every time.
Can I Make Baked Donuts With Cake Mix?
Yes! Several of the easy recipes listed below are prepared with a cake mix.
We've also included homemade baked donut recipes for those that prefer to bake from scratch.
Do Baked Donuts Taste Like Fried Donuts?
In my experience, baked donuts are delicious, but are different from fried donuts. The main difference is the texture. I find baked donuts to be more similar to a springy, cake texture.
And as an extra bonus, you won't have a greasy stain on your napkin when you set down a baked doughnut!
11 Easy Oven Baked Donut Recipes
We hope you enjoyed these recipes for Easy Oven Baked Donuts!
Be sure to save to your favorite Pinterest board!
You May Also Like: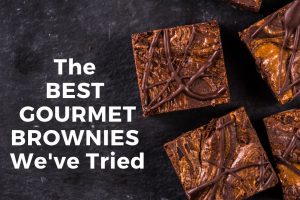 Micky Reed, a two-decade veteran in the food and baking industry, leverages her influential Three Snackateers food blog and Instagram presence to collaborate with industry giants like Ben & Jerry's and Crumbl Cookies. Her work has been featured on Delish, PopSugar and more. Her expertise as a product curator for one of the world's largest international snack subscription box companies solidifies her status as a key player in the field.