Snow cones have come a long way from the simple summer carnival treat available in cherry and grape flavors.
But why settle for just a few basic flavors when you can explore a world of creative and delicious snow cone flavor combinations?
In this blog post, we'll take a deep dive into the world of shaved ice and explore classic flavors as well as some unique and inventive recipes that are sure to satisfy your sweet tooth.
From traditional favorites like strawberry to more adventurous blends like cherry cola, unicorn and piccadilly (#63 in the list below), get ready to discover a whole new world of frozen delights.
Cool down after a day out in the sun with 101 of the best snow cone flavors and syrups below, starting with the classics. 
Classic Snow Cone Flavors And Syrups
Grab your snow cone machine and a bottle or two of these flavored syrups to quickly whip up delicious snow cones. With so many flavors to choose from, you'll definitely find options that everyone will love.
All of the snow cone syrups listed below can be ordered from the experts at Hawaiian Shaved Ice. They also sell a variety of snow cone makers to help you shave the ice as well.
If you're looking to go a different route, most of the syrups, as well as snow cone makers, can also be found on Amazon. I've also spotted a limited selection of snow cone supplies at retailers like Target and Walmart.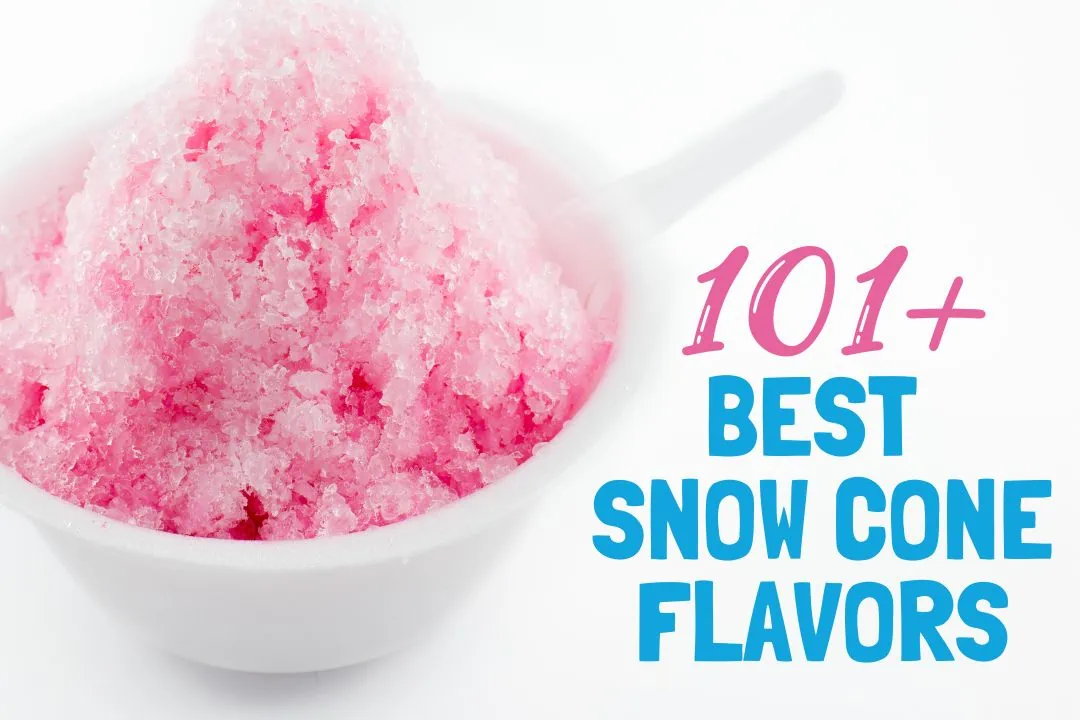 You may also like:
– Everything You Need To Know About The Bahama Buck's Menu
– The Best Boba Tea Flavors
With its sweet iconic flavor, it's no wonder cherry flavor is a fan-favorite and top-seller!
Black cherry is very similar to regular cherry flavor, but has a slightly deeper flavor and color.
The sweet cherry flavor you love without the red coloring.
Sweet cherry with classic cola tastes just like the soda!
Tastes just like the classic fountain drink we all know and love.
It's fun to say and even more fun to eat! Bahama Mama syrup contains orange, cherry, pineapple, and coconut flavors.
This bold and popular flavor combines strawberry, watermelon and coconut flavors.
Nothing says SUMMER like a sweet and fruity strawberry snow cone.
Rich cheesecake paired with a burst of fresh strawberry flavor is a perfect combo.
This cocktail-inspired flavor combines strawberry with a hint of lime (no alcohol!)
This iconic flavor is a mashup of all of the best fruity flavors.
Enjoy the sweet, tropical flavor of banana with this syrup.
Get a taste of the country fair in sno cone form!
Blue cotton candy tastes like vanilla with a little bit of colorful fun.
This flavor tastes like the bubblegum of childhood.
Pretty, pink and tastes just like the real thing!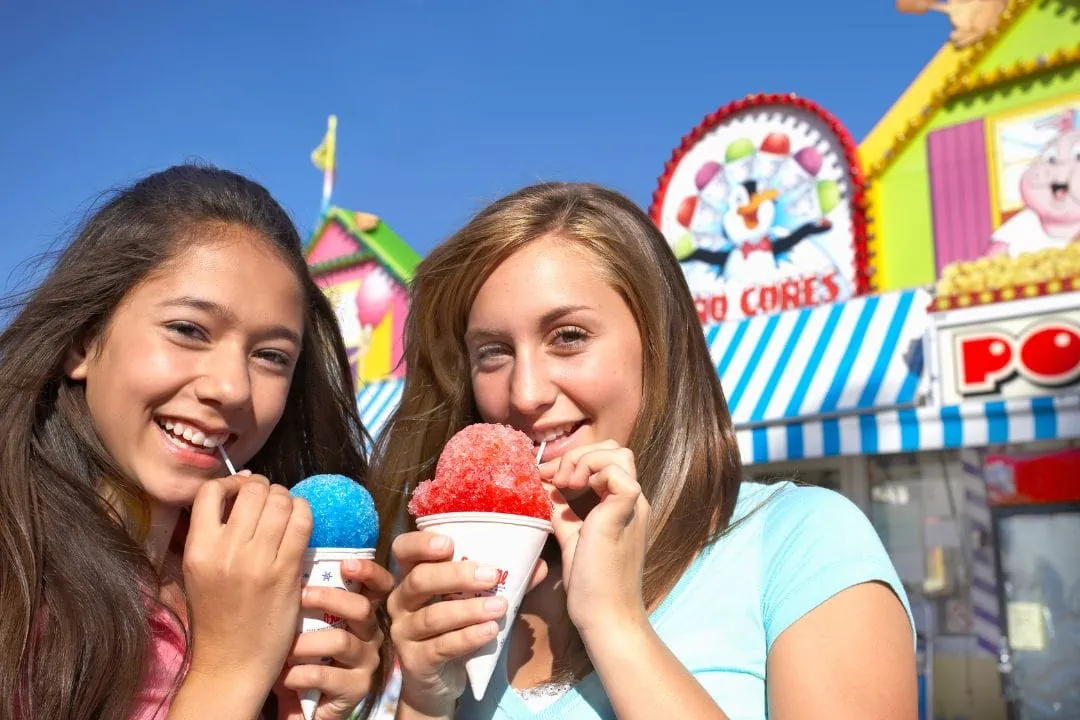 Hawaiian syrup tastes similar to delicious tropical punch.
A refreshing island punch flavor mixed with coconut.
Purple and packed with grape flavor.
Perfectly sweet and tart, just like a green apple.
This syrup has a sweet apple flavor paired with just a hint of candied cinnamon.
Just like a glass of lemonade, this flavor is tart, tangy and refreshing.
All the flavor of lemonade with a little extra tartness and a fun pink color.
With just a bit of tart, this flavor is bursting with fresh lemon and lime flavors.
Enjoy the flavor and aroma of freshly squeezed lime juice!
Classic raspberry flavor – a little sweet, a little tart, totally delicious.
Blue raspberry flavor is similar to regular raspberry, but is a bit less tart and of course, a bright blue color.
Enjoy the blue raspberry flavor without the blue tongue!
Blue and bursting with berry flavor.
Dark, fruity and delicious!
Enjoy a taste of the tropics with classic coconut that pairs great with so many fruity flavors.
A simple coconut syrup with a gorgeous island color added to it.
With its vibrant pink color and sweet watermelon flavor, all that's missing are the seeds.
Just like a real mango, this syrup flavor has notes of peach, plum and citrus.
All your favorite flavors from a margarita drink, but without the alcohol.
Bright, fresh-squeezed orange juice flavor that can't be beat.
Orange plus pineapple is a match made in heaven when you're in a tropical mood!
This flavor tastes just like a classic orange push pop.
This straightforward flavor is simply sweet, fruity and delicious!
This classic syrup tastes just like a fresh peach.
Another cocktail-inspired flavor, fuzzy navel is a yummy blend of peach and orange.
Another super popular flavor, pina colada has hints of coconut and pineapple, but no alcohol.
Tastes just like you're biting into a chunk of fresh-cut pineapple.
This flavor tastes just like licking the bowl!
Made with real sweet vanilla, this tried and true flavor is a winner every time.
No need to wait for a wedding with this delicious cake-flavored syrup.
While we aren't quite sure where this flavor got its name, we do know that it's a delicious mix of vanilla and almond flavors.
This milk chocolate flavor is a unique and interesting choice for a snow cone.
This unique flavor tastes just like a sweet custard dessert.
Tastes just like a frosty mug of ice-cold root beer!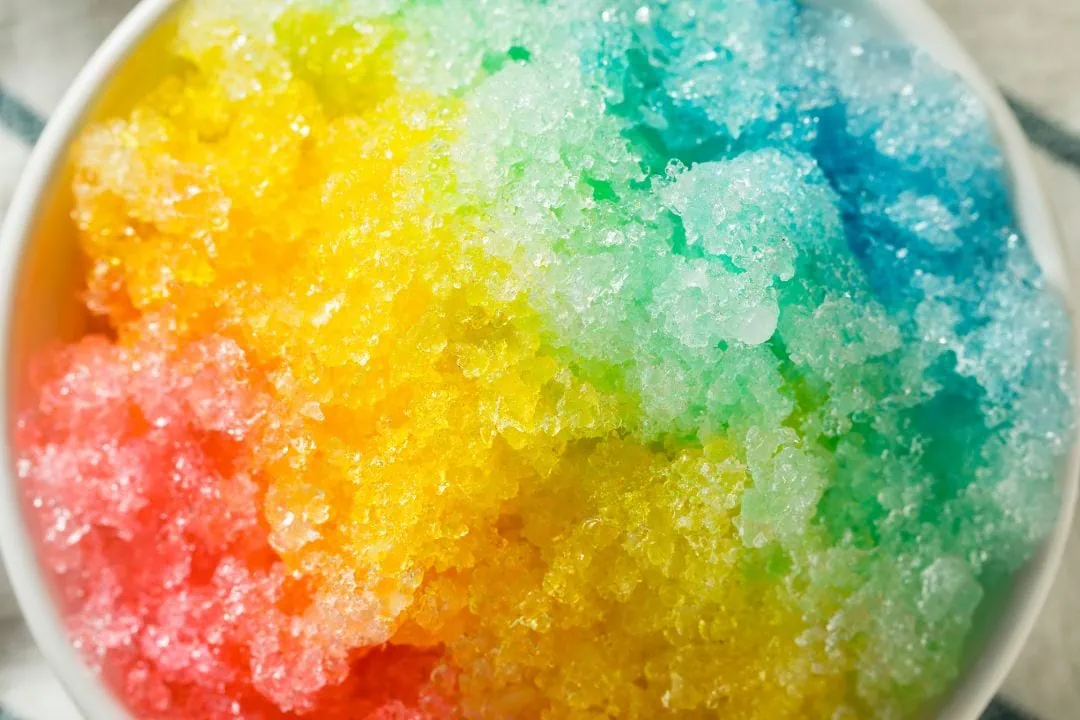 Snow Cone Flavor Combinations And Recipes
With a shaved ice machine, and some creative mixing, you can create new flavors that are a must-try. 
For most of the ideas in the list below, you just need a few different flavors snow cone syrups that can be ordered from specialty shops like Hawaiian Shaved Ice or even from Amazon.
We've also included some recipes that use a few extra ingredients like whipped cream, sweetened condensed milk, sprinkles and even pickles! Let's get started!
51. Unicorn
Kids will love this colorful treat. Add strips of pink bubble gum, blue bubble gum and yellow banana syrups over your shaved ice and top with sprinkles!
52. Taste Of The Tropics
Top your shaved ice with stripes of white pina colada, yellow pineapple and green lemon-lime syrups.
53. Pretty In Pink
Add pink bubble gum and wedding cake syrups to your snow cone, then top it with pink sprinkles or edible glitter.
54. Grape Ape
Top half of your shaved ice with pretty purple grape flavor and the other half with bright yellow banana. Top it with your favorite colorful candies like Nerds or Runts.
55. Mexican Flag
A stripe of green margarita, white coconut and red strawberry syrups resemble the Mexican flag! For extra flair, top it with your favorite sour candies.
56. Coffee
Combine chilled espresso with vanilla syrup, then add to your shaved ice for a caffeinated treat.
57. Chocolate-Covered Strawberry
Simply add a stripe of chocolate and strawberry syrups to make this tasty treat.
58. Chocolate-Covered Cherry
Just like the chocolate-covered strawberry flavor, except swap out the strawberry for cherry or black cherry flavoring.
59. Chocolate Orange Peel
Recreate this candy shop favorite by adding chocolate and orange syrups to your snow cone.
60. Apple Pie a la Mode
Recreate the flavors of apple pie with ice cream by adding stripes of green apple and vanilla syrup to your snow cone. Then top with whipped cream, a sprinkle of cinnamon and a swirl of caramel sauce!
61. Cherry Pie a la Mode
Similar to the apple pie combination above, you can mimic the flavors of cherry pie with black cherry and vanilla syrup. For extra creaminess, you can top it with a swirl of sweetened condensed milk and/or whipped cream.
62. Ocean Blue
This is a fun one for the kids. Add blue coconut and lemon-lime syrups to your snow cone, then top with gummy fish for an ocean surprise.
63. Piccadilly
It sounds weird, but people LOVE this flavor that combines cherry syrup and pickle juice. Top your snow cone with bright cherry flavoring, then add a drizzle (or as much as you like!) of pickle juice. Top with diced pickles. If you like spice, you can also add a touch of chamoy sauce, cayenne pepper or chili salt.
64. Berry Delicious
Add raspberry, blueberry and strawberry syrups to your snow cone. Top it off with mini chocolate chips or white chocolate chips.
65. Sour Strawberry
Make a strawberry-flavored snow cone, then spray with Warheads Super Sour Spray!
66. Sour Watermelon
Top your watermelon snow cone with Warheads Super Sour Spray for a fruity and sour treat.
67. Sour Cherry Blast
Add a blast of Warheads Super Sour Spray to your cherry snowcone for an unexpected burst of fun.
68. Cherry-Dipped Cone
Cherry dip cones are an ice cream stand classic. Recreate this treat in snow cone form by adding a scoop of vanilla ice cream to a dish. Top it with shaved ice with cherry syrup and finish with whipped cream, sprinkles and a cherry.
69. Root Beer Float
Add a scoop of vanilla ice cream to a dish. Add shaved ice on top and pour root beer flavoring over it. Finish with whipped cream on top.
Another variation is to skip the ice cream layer and just use root beer plus vanilla syrups for a similar flavor. Add a drizzle of sweetened condensed milk if desired for a little creaminess.
70. Mocha
Combine chilled espresso with vanilla and chocolate-flavored syrups for a mochalicious treat. Drizzle over your snow cone and top with whipped cream and chocolate sprinkles.
71. Fourth Of July
Add a stripe of red cherry, white lemonade and blue raspberry syrups to create this patriotic treat.
72. Strawberry Lime
So simple, so tasty – just add strips of strawberry and lime syrups to your shaved ice.
73. White Chocolate Strawberry Cheesecake
Make a snow cone with strawberry cheesecake flavoring, then drizzle with white chocolate and bits of real strawberry.
74. Strawberry Margarita
Strawberry syrup + margarita syrup = YUM!
75. Chocolate Cake
Combine chocolate and wedding cake syrups to satisfy your cravings for a slice of chocolate cake. Top with whipped cream and a drizzle of chocolate ice cream topping.
76. Chocolate Coconut
Add chocolate and coconut syrups to your snow cone to recreate this classic flavor combo that's often found in your favorite boxes of chocolates.
77. Mermaid
This flavor combo is every kid's dream – bright, sweet orange paired with zesty, green lime. Top with colorful sprinkles!
78. Vanilla Coke
Recreate this soda shop classic by combining vanilla and cola syrups.
79. Raspberry Cream
Simply delicious – pair tart raspberry with sweet, creamy vanilla syrup.
80. Coconut Cream Pie
Grab your coconut and egg custard syrups to create this pie-inspired flavor.
81. Cookies and Cream
This one is so good! Make a snow cone with half chocolate and half vanilla syrups. Then top with whipped cream and Oreo cookie crumbs.
82. Limeade
Like pink lemonade, but with lime! Just pair your lime and pink lemonade syrups to make this combo.
83. Bananarama
This one reminds me of bubble gum flavor from the 80's! Just combine strawberry and banana flavors for this fruity flavor blast.
84. Banana Pudding
A clever use for two unique flavorings! Create the flavors of banana pudding by combining banana and egg custard syrups.
85. Sunrise
Add the colors of the sunrise to your snowcone with stripes of cherry, orange and lemon.
86. Double Bubble
You can't go wrong with stripes of pink and blue bubble gum flavors. So pretty!
87. Christmas In July
Grab any two red and green syrups to create Christmas in July. Try green apple and cherry or lime and strawberry! A stripe of white vanilla adds another pop of flavor and festiveness!
88. Peach Mango
Two slightly under-rated flavors join forces for a flavor explosion when you combine peach and mango syrups.
89. Party Time
It's a party in your mouth when you combine pink and blue bubble gum flavors with wedding cake syrup. And of course, sprinkles on top!
90. Banana Split
You guessed it – this flavor combo features stripes of banana, vanilla, chocolate and strawberry syrups. Add whipped cream, chocolate topping and a cherry too.
91. Lime in the Coconut
You put de lime in the coconut and you drink 'em all up!
92. Strawberry Pineapple
Strawberry paired with pineapple syrup is such a fruity and refreshing combo.
93. Watermelon Sugar High
Add watermelon syrup and cotton candy syrup to your snow cone for this tasty pairing.
94. Just Peachy
A scrumptious combination of strawberry and peach snow cone syrup.
95. Orangeade
A simple but delicious pairing of orange and lemonade flavors!
96. Strawberry Lemonade
Summer in a snow cone: strawberry + lemonade flavors!
97. Shark Bite
Pair the bite of tiger's blood flavor with the ocean vibes of blue Hawaiian syrup.
98. Blackberry Cobbler
Combine blackberry and vanilla flavorings for a treat that will remind you of blackberry cobbler. Top with a drizzle of sweetened condensed milk for a little extra creaminess.
99. Sweet Tooth
Combine your favorite combination of pink and/or blue bubble gum flavoring with pink and/or blue cotton candy flavors. Add some sprinkles on top for even more fun.
100. Neapolitan
Add stripes of chocolate, strawberry, and vanilla syrups to create this iconic color and flavor combination.
101. Rainbow
Grab a syrup from every color of the rainbow and get striping! Try cherry, lemonade, orange, lime, bubble gum and grape.
Final Thoughts On The Best Snow Cone Flavors
In conclusion, whether you're a snow cone traditionalist or an adventurous flavor seeker, there's no shortage of options when it comes to this classic summertime treat.
With classic flavors and endless possibilities for creative combinations and recipes, the only limit is your imagination.
So next time you're looking for a refreshing way to cool down, grab a cup of ice, your snow cone machine and get creative with your snow cone flavors!